How to Buy Seint Without a Color Match
Have you heard of the viral makeup on social media called Seint makeup?? Does it have you curious and you want to try it out?? The best way to find your right makeup colors is to work with a Seint Artist to get a custom color match. But if you would rather work solo, then here's how to buy Seint makeup without a Color Match so you can be on your way to a quick and gorgeous beauty routine!
What is Seint IIID Foundation?
First off, what is
Seint IIID Foundation
?? IIID foundation is a cream makeup that is meant to be worn in just one layer. Say goodbye to the days of layering tons of makeup on your face and say hello to one quick layer. Each foundation color (highlight, contour, cheek, and illuminator) is a foundation but in a different color. So, you use a paint-by-numbers method to apply the makeup and blend! It looks really funny and might seem awkward at first, but once you get the hang of it, you will love the simplicity of the process and how it makes you look and feel! And the best thing about Seint makeup is that everything (minus mascara) fits into just one compact! One!! No more wasting time digging around your makeup bag or drawer looking for the product you want to use. Everything is right at your fingertips! Each makeup comes in a tin that you put in a magnetic compact. You can move the colors around, completely customize your compact, and replace as needed! You no longer have to wait until all the other colors are used up in your compact. You can replace each tin when it's gone. You save so much space, time, and money with this makeup!
A Guide to Picking Your Seint Makeup Colors
If you want a step-by-step guide helping you know which makeup colors will work best for you, then the
Color Match Guide
will be your best friend! It will walk you through finding your correct highlight, contour, lip & cheek, and illuminator shades. If you want quick and easy, then the
pre-built collections
will be your best friend! If you want to start very basic, then the
No. 4 Collection
is a great start. If you want a bit more choice and flexibility with your makeup, then the
No. 8 Collection
is a great choice. If you want lots of options and love makeup, then the
No. 12 Collection
is perfect for you!
How to Buy Seint without a Color Match
Once you decide what collection number you want, how do you know what colors to buy?? Here's how:
Click on the collection you want
On the upper right, click on "FIND YOUR SHADES"
Scroll through the pictures of different level options and find the skin color that most represents your skin coloring
Click "SELECT"
Click "ADD TO BAG"
Your collection will be added to your shopping cart. At this point, don't forget to add a brush! Visit the Brushes & Tools page and pick a brush to start with. A brush is KEY with this makeup! These brushes are specifically formulated to work with cream makeup. They make applying and blending the makeup a breeze! My favorite brushes to begin with are the Blush/Bronzer Brush (where you apply the makeup with your finger and blend with the brush in the Cheetah method), the Detail Brush, or the Buff Brush.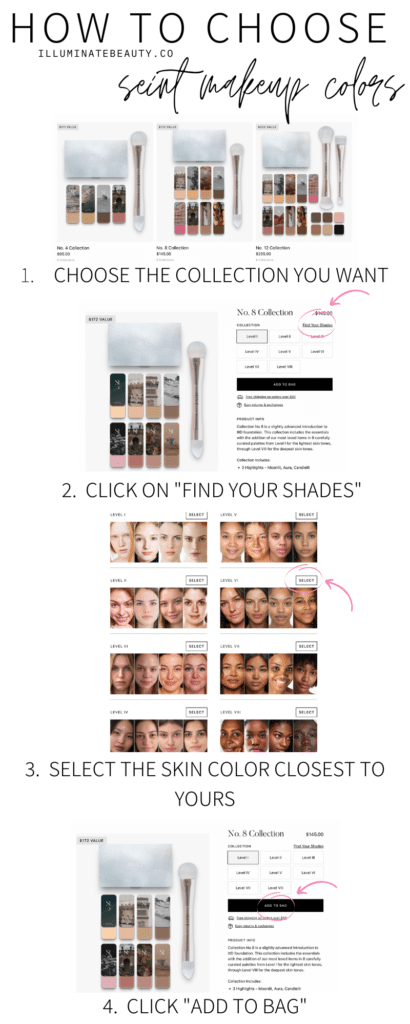 Seint Makeup Satisfaction Guarantee
Unfortunately, when you purchase a collection, you can't customize the colors in the palette. But, if you get a color that isn't working well for you, Seint has 100% 30 day guarantee. You have 30 days to return or exchange any product. If you return, you have to pay a small shipping fee.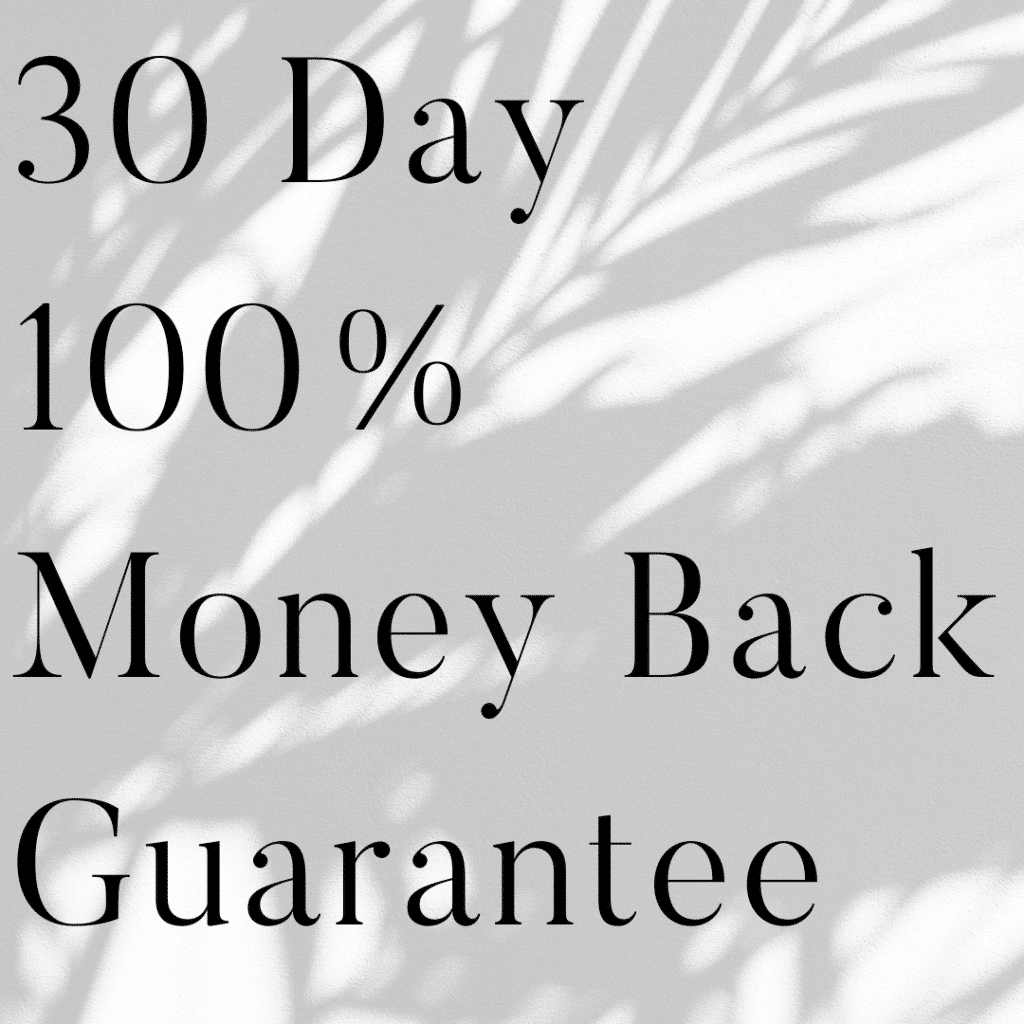 If you would rather get a personalized color match, then fill out my quick
Seint makeup survey
so I know what your makeup needs and preferences are and I can recommend the right products for you!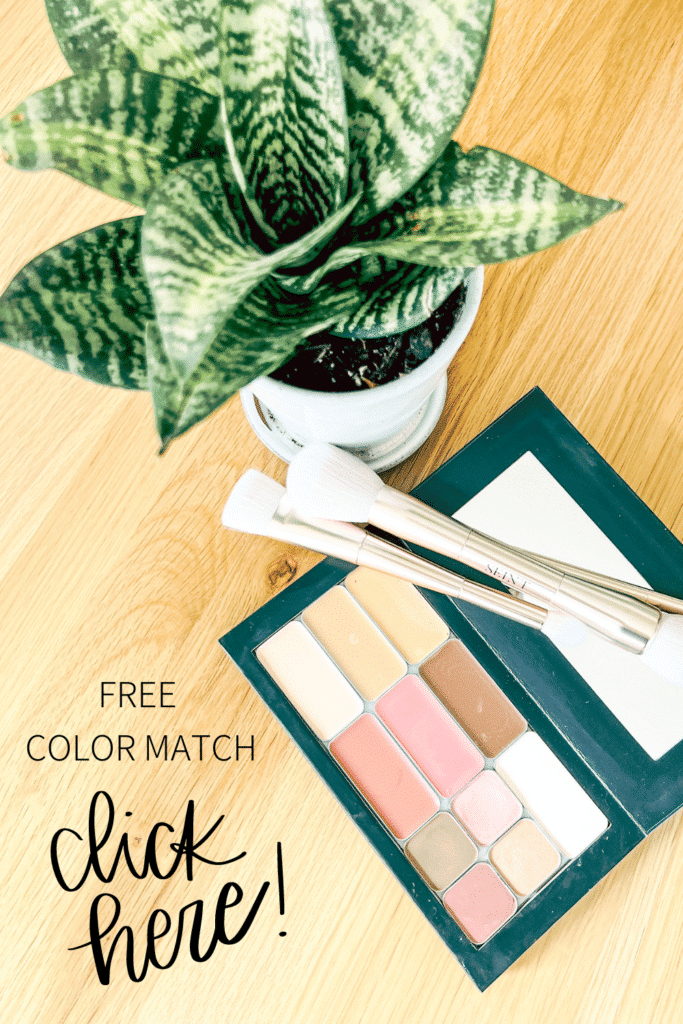 Whether you decided to buy Seint makeup without a color match or opt for having help from a Seint Artist, you will love how easy it is to use and how it enhances your natural beauty!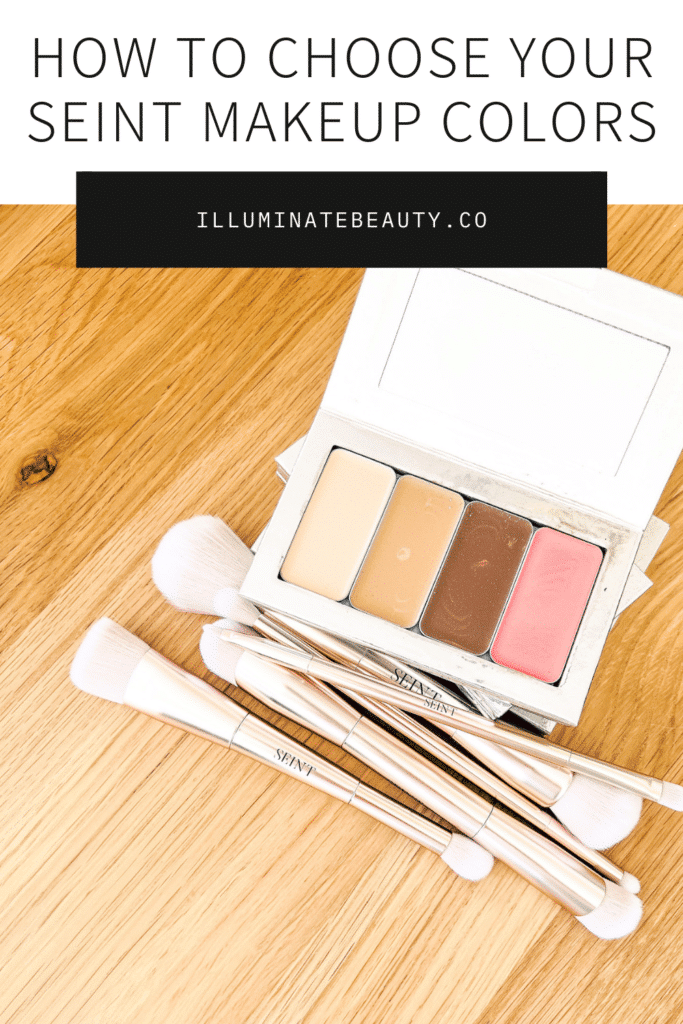 *This post contains affiliate links. If you choose to purchase an item featured in this post, I get a small portion from the sale. Thank you! It does not affect you at all.