What is the Best Face Toner?
The three basic skincare products….Cleanser. Toner. Moisturizer. Wait what….toner?? What is toner? Why do you need to use toner? What is the best face toner to use? How do you use face toner?? So many questions! I'm breaking it down for you to keep it super simple so you feel confident in your skincare routine. I want you to love the skin you're in! I've got you…
What Is Face Toner?
First off, what is face toner? Face toner is a liquid solution that you apply to your face after cleansing and before moisturizing.
What Does Face Toner Do?
Toner is a simple solution that packs a lot of punch! Here are 3 reasons why you should use face toner
Restore Your Skin's Natural pH Level: After you've cleansed your face, you have stripped your skin's natural oils and have imbalanced it. So, toner is meant to help restore your skin's natural pH level.
Second Cleanse: After you've cleansed your face, applying toner can help give your skin a nice second cleanse to get it extra clean! When you apply your toner with a cotton pad and wipe your face, you'll help remove the excess oil, dirt, makeup, and sweat that you may have missed in your first cleanse. It will help remove dead skin cells so your face is extra clean.
Minimizes Pores: Toning is also one way to help minimize pore size. The best way to have healthier pores is to follow a simple skincare routine, with toning included!
When to Use Face Toner
After you cleanse your face at night, you want to apply toner. This will restore your skin's natural pH and get it healthy and happy. Then, follow up with moisturizer.
How to Use Face Toner
There are a few ways you can use toner. My personal favorite way is to spritz a
cotton pad
with the toner and then wipe your face with the cotton pad. This will help it apply evenly as well as wipe up any excess dirt, oil, and makeup that may be left from cleansing. When I do it this way, my skin feels extra clean! Another way you can use face toner is by spritzing your face directly with the solution. Spray the toner a few times on your face and let it air dry. Make sure your skin is dry before applying moisturizer.
What is the Best Face Toner?
When picking the best face toner to use, you want to make sure you use one that is gentle for your skin and works well for the type of skin that you have. You don't want to be using one that is specifically for a different skin type than the one you have It's best to know what skin type you have so your skincare products work the best on you with the maximum results! Here are some great options:
Rose Water
or
Thayers Witch Hazel
– If you have sensitive skin, then either of these options are great for you. They are very gentle and natural.
Seint Toner
– If you have normal skin, then this is a great option for you.
UNBLEMISH Clarifying Toner
– If you have blemishes and acne, then this toner is best for you.
REVERSE Intensive Brightening Toner
– If you have hyperpigmentation, sunspots, sun damage, or melasma, then this toner is best for you.
REDEFINE Pore Refining Toner
– If you have fine lines, wrinkles, or mature skin, then this toner is best for you. When choosing a toner, it's best to use the same brand as your cleanser and moisturizer. Skincare brands specialize in formulating products that work well together. If you use hodge podge products, you'll get hodge podge results. And we all want our skin to look its best..right?!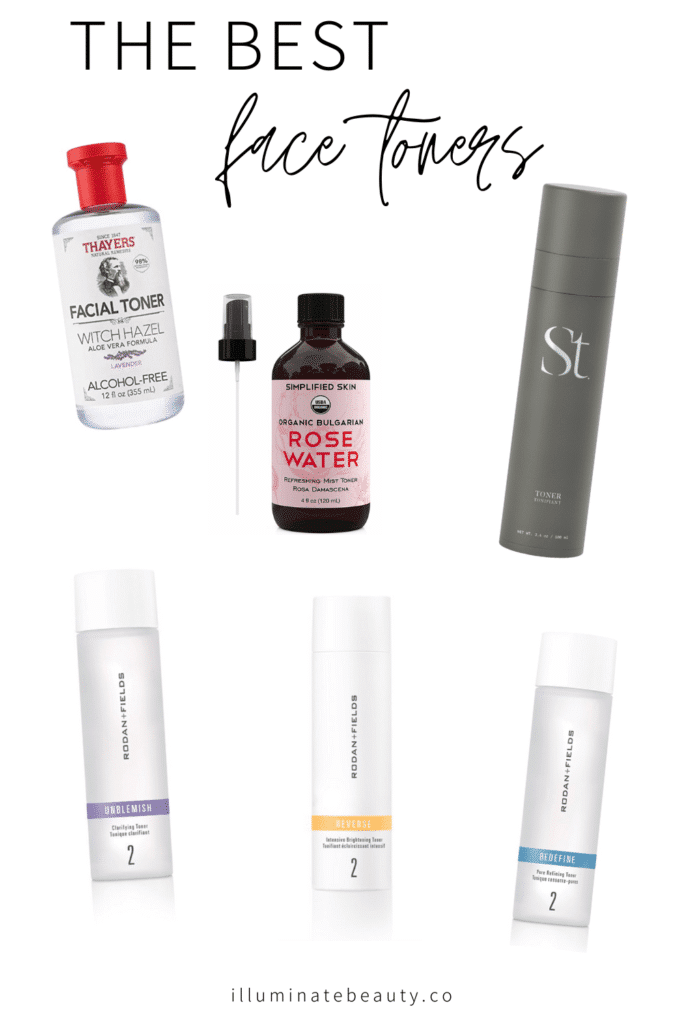 Face Toner for Men
What toner is good for men to use? Toner has no bounds and doesn't play preferences. The same toner that works well for women, works well for men. It's super simple! Refer to the list above to know which face toner for men will work well for you.
Simple Skincare Routine
Skincare doesn't have to be overwhelming and complicated. Keep it simple! A very simple skincare routine consists of cleansing, toning, and then moisturizing. That's it! Keep it simple. The most important time of the day to do your skincare routine is at night. Think of all the sweat, oil, dirt, grim, product buildup you have on your face after a long day! You definitely don't want to sleep with that! Cleanse, tone, and moisturize your face at night before bed so your skin can renew itself while you sleep. When you commit to taking better care of your skin and taking a few minutes each day to complete your skincare routine, your skin will be happy and healthy! My very favorite skincare is
Rodan + Fields
. R+F specializes in customized skincare so you use the perfect products for your needs. Skincare can be an investment. But you can save money by joining the
PC Perks program
. Who doesn't like to save a buck or two?! And there you have it! Your questions answered! Now you know what the best face toner is to use and how and why to use it. It's a simple step to add to your skincare routine. With consistency, you'll notice a big difference in your skin's health and appearance! If you need help figuring out what type of skin you have and what products will work well for it, take this quick
skincare analysis
to learn!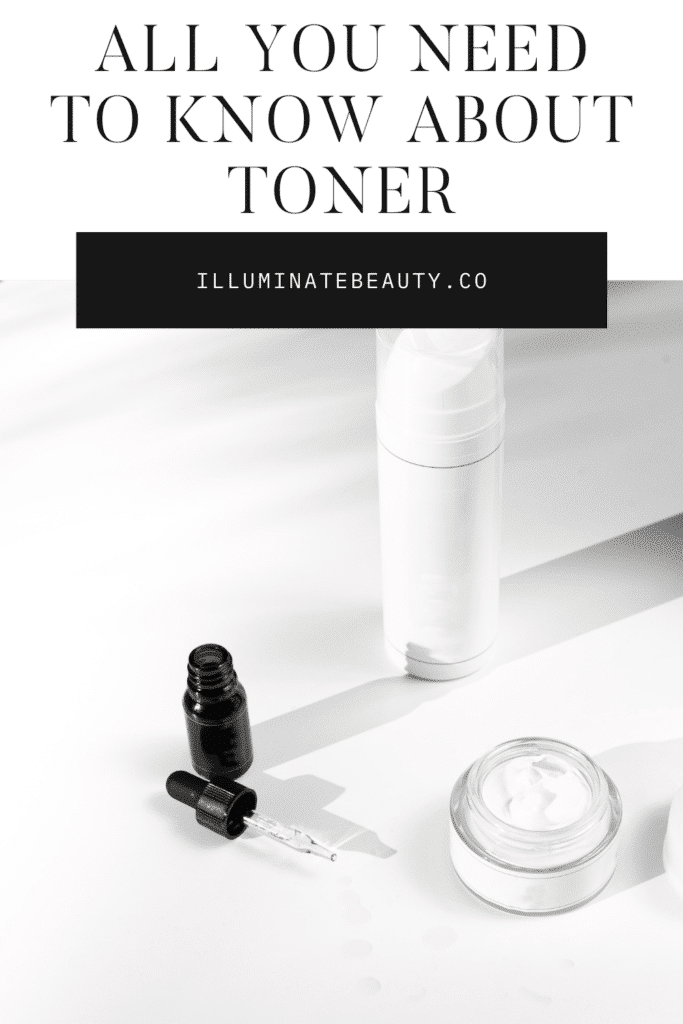 *This post contains affiliate links. If you choose to purchase an item featured in this post, I get a small portion from the sale. Thank you! It does not affect you at all.