Contour and Bronzer Guide
Have you been wondering what's the difference between contour and bronzer? Isn't brown, brown? Can't you just use bronzer as contour and vice versus?? NO! Read this contour and bronzer guide to learn the difference and how and where to apply them.
What is Contour?
What is contour?? Contour is meant to add shape, shadow, and dimension to your face with an ashy brown color. You know how after you apply foundation all over your face, your face looks flat, right? Sure, you've evened out your skin tone but you have erased those natural shadows. So, contour adds that shape back into your face! Contour helps you look more alive and 3d…as you should be!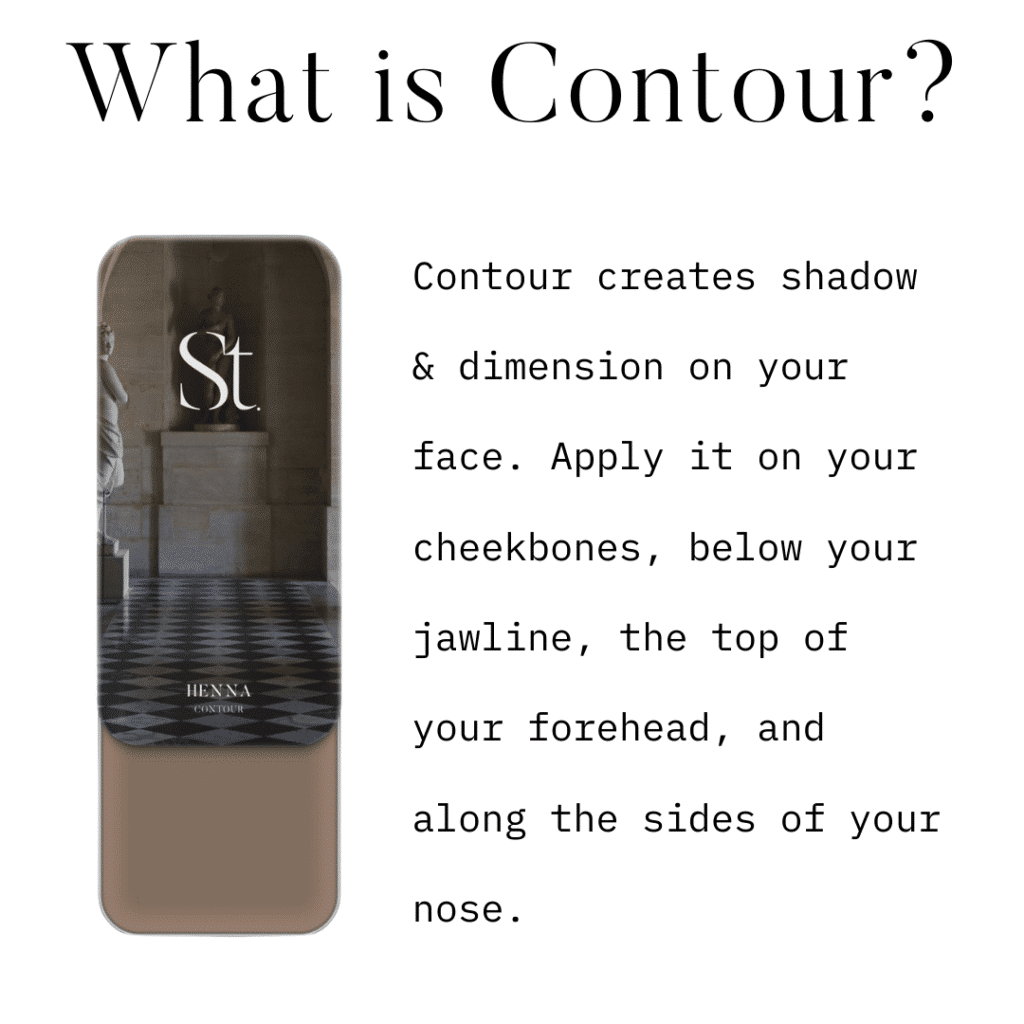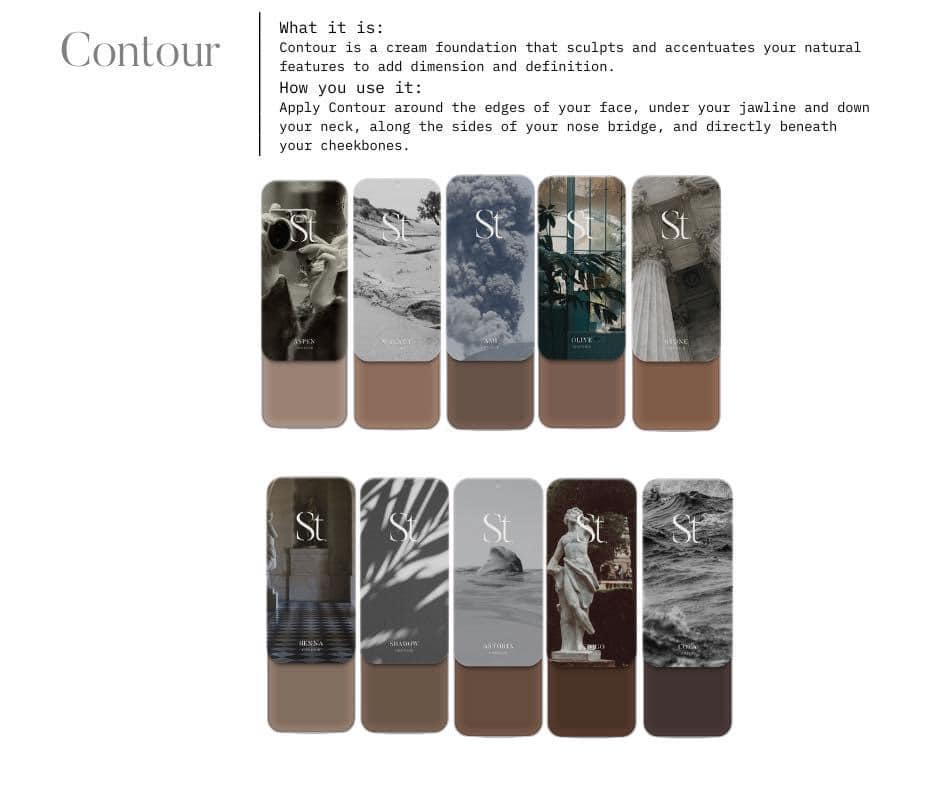 What is Bronzer?
Bronzer is meant to give you a sun-kissed glow year-round. Bronzer is a warm brown that helps you look tan on certain areas of your face.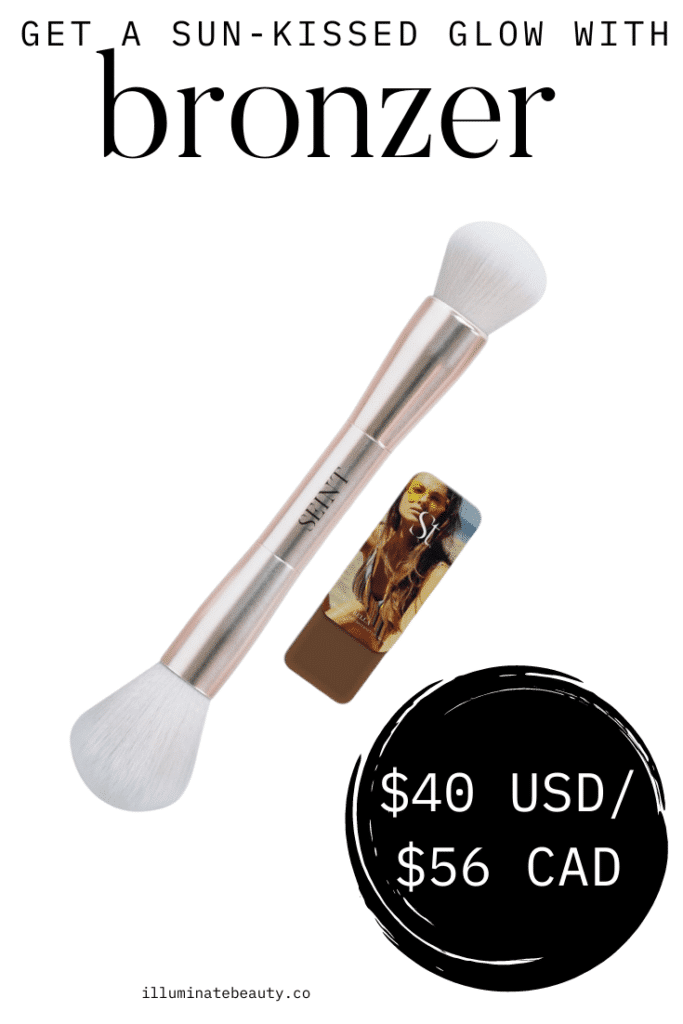 How Do You Apply Contour?
Where should you put that ashy brown on your face? Apply contour on your cheekbones to help them pop, along your forehead and hairline to give it a nice shadow, on the sides of your nose to slim and define it, and along your jawline to help them look more chiseled. You want to apply contour on your cheekbones, forehead, jawline, and nose. Make sure you have a great
contour brush
because it will make all the difference! These are the areas that you want to add shape.
Cheekbones- When applying contour to your cheekbones to help chisel them out, you want to find your bone in the middle of your face. Start at your hairline, follow along the bone, and end at the corner of your eye. Make sure to blend it really well so it looks like a natural shadow. Bending it upwards will help give your cheekbones that pretty lift.
Forehead- For your forehead, follow along your hairline and blend it into your hair to avoid any unnatural lines.
Jawline- Contouring along your jawline will help define that area and slim out your face. Apply contour along the jawbone and blend it down along your neck.
Nose- If you want to slim your nose, then apply contour along the sides of your nose. Make sure to blend well so you don't see any brown lines.
Using a
cream contour
is a game changer! It goes on really smoothly and blends like a dream! It makes the contouring process super easy! All contour colors are not created equal..there are some that are warm, cool, or neutral browns. Depending on your skin tone will depend what shade will look best on you. You can read the
Color Match Guide
to see what contour shade will work best for you. You can use cream contour with the makeup you currently use or you can simplify your makeup routine with
IIID foundation
and have all your makeup in one compact!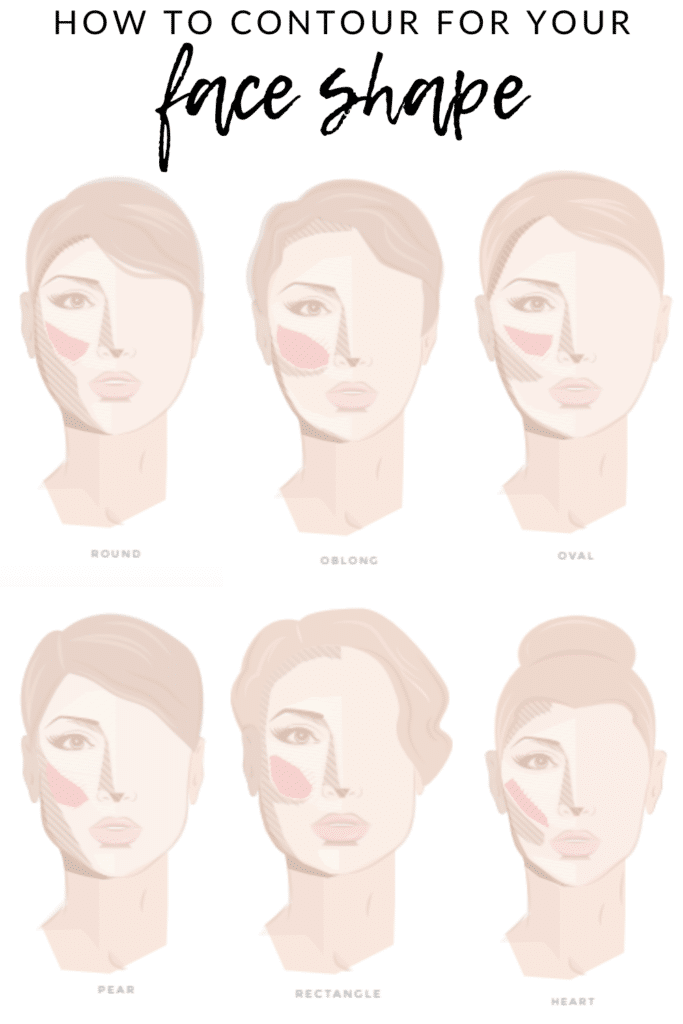 How Do You Apply Bronzer?
If you want a natural looking sun-kissed glow, then apply bronzer where the sun would naturally hit your face. Focus on your forehead, the top of your nose, chin, and cheeks. Bronzer is a great way to look like you've been out in the sun, without having to be out for hours in the sun! When applying bronzer, you want to focus on the parts of your face where the sun would naturally hit. These will be the highest parts on your face…your cheeks, cheekbones, forehead, nose, and chin. Using a big fluffy
bronzer brush
will help you get a light touch and even coverage. Simply get your bronzer and your brush and lightly apply bronzer after you've applied your foundation and contour. Cream bronzer is a great way to get a natural look. I love
Bella Crème Bronzer
because it's the perfect shade of warm brown…it's not an orange that will leave you looking like an Oompa Loompa! When you buy the bronzer and brush as a
bundle
, you save $10!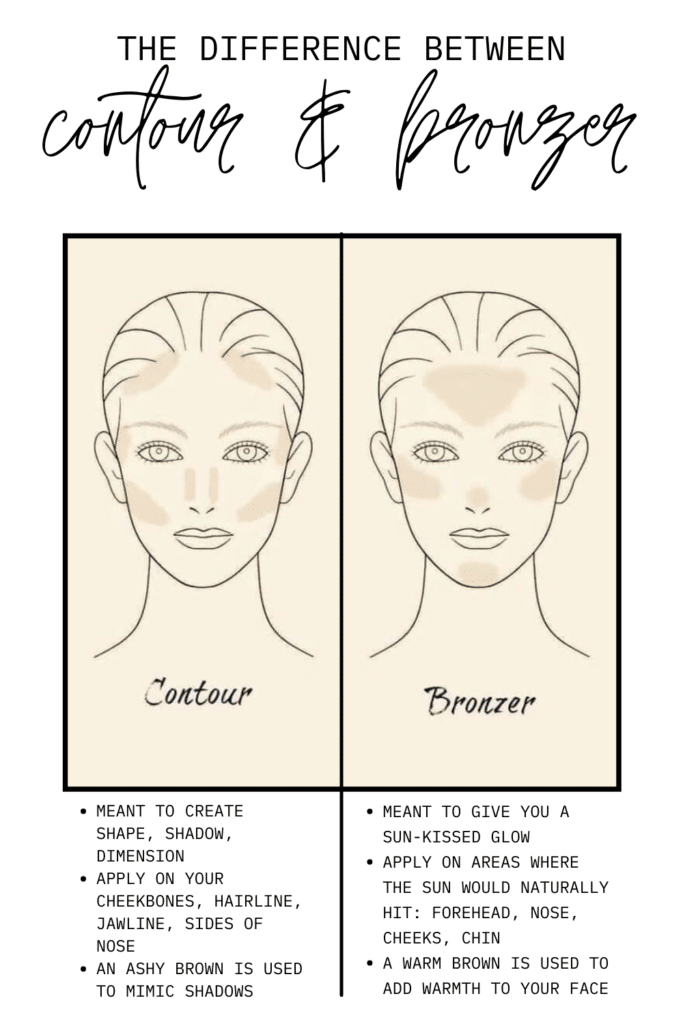 How to Choose Contour Color
How do you know what contour color will look great on you?? Follow this contour guide to know what contour shade will look great on you: (ranging from light to dark skin) Warm skin tone: Walnut, Stone, Olive Cool skin tone: Aspen, Ash, Henna Neutral skin tone: Astoria, Indigo, Cola Fair Skin: Walnut, Aspen Medium Skin: Stone, Ash, Henna, Olive Dark Skin: Astoria, Indigo, Cola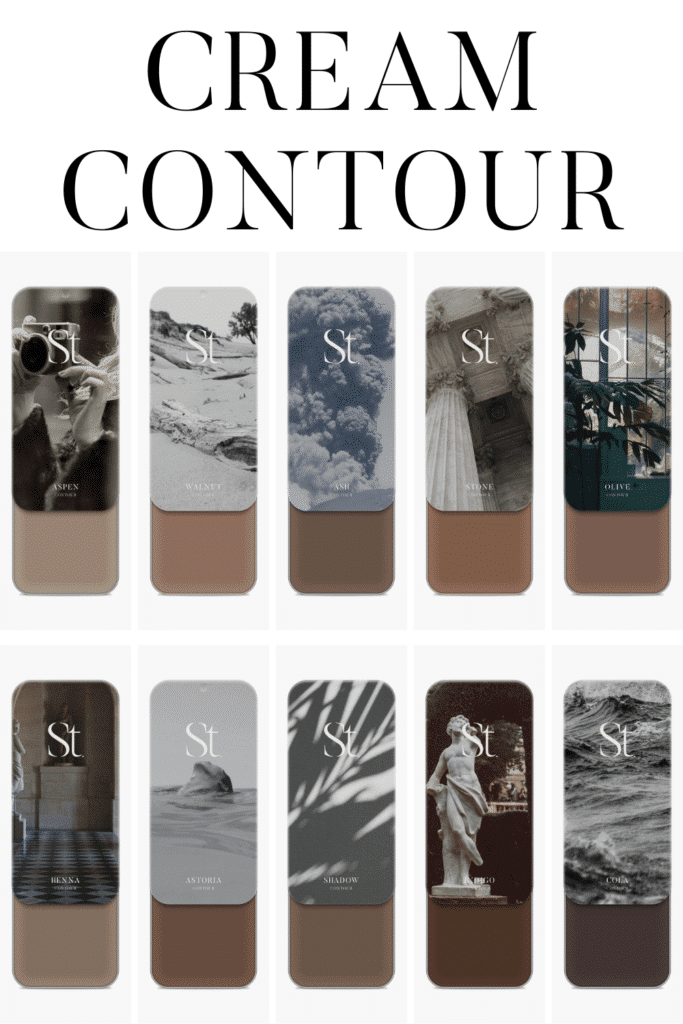 And you can't forget a good brush to contour! Any of these
brushes
are great for contouring.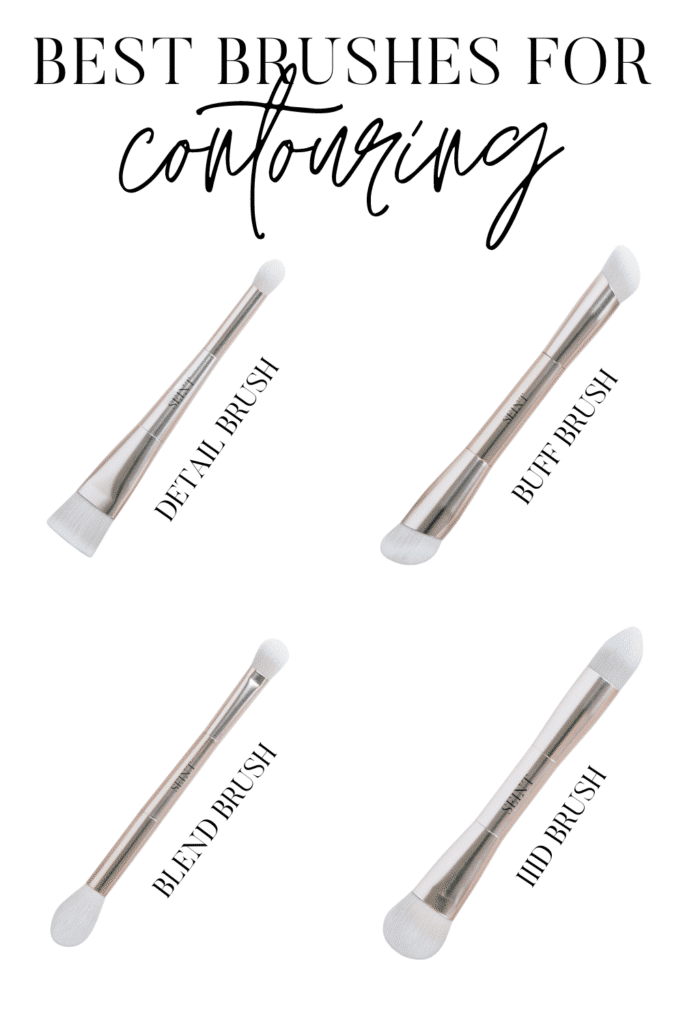 How to Choose Bronzer Color
Not all bronzers are created equal! You definitely want to steer clear of bronzers that make you look orange! Say no to the Oompa Loompa look! =) Cream bronzers look very natural. Use this guide to help you find what bronzer color will look great on you: Fair skin: Tanlines Light to medium skin: Palm or Bella Medium skin: Bella Dark skin: Heatwaves And you must have the right brush to apply your bronzer! This
Blush/Bronzer Brush
helps you get a nice soft blended sun-kissed glow…you'll love it!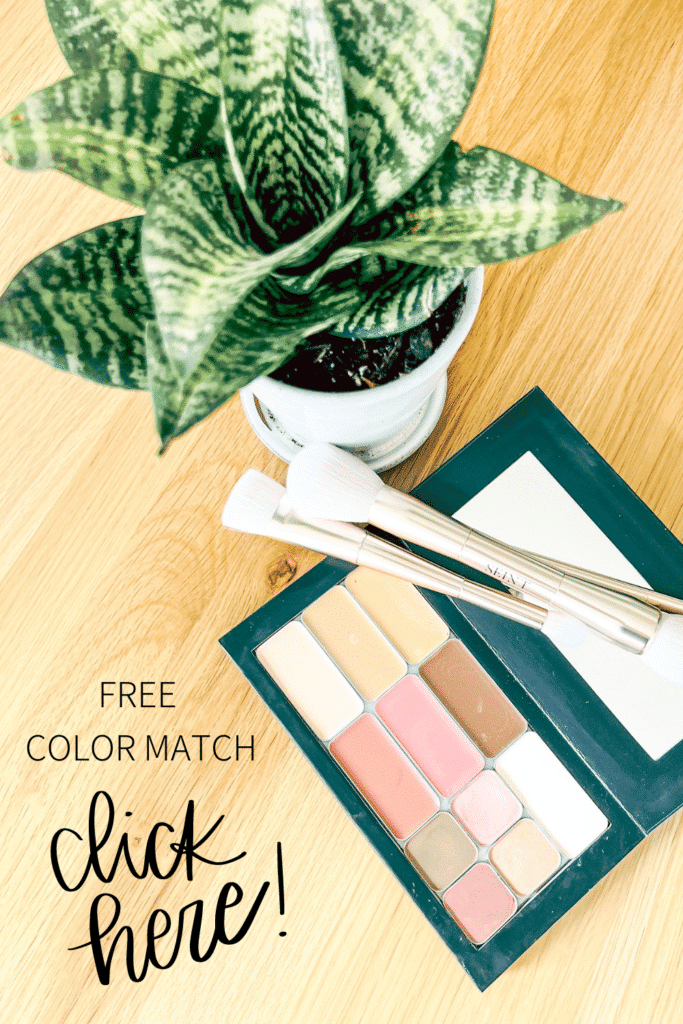 Hopefully this contour and bronzer guide will help you know how and where to apply bronzer and contour so you look and feel your best!

*This post contains affiliate links. If you choose to purchase an item featured in this post, I get a small portion from the sale. Thank you! It does not affect you at all.