Free Color Match Quiz
Hi! So, you're interested in learning more about Seint makeup, but you don't know where to start, right?! Well, you're at the right place! If you want to try the famous Seint IIID foundation out but you don't want to work with a Seint Artist in person or send a selfie to a stranger to get color matched online, then this is for you! I'll show you how to Seint color match yourself so you can pick out your makeup colors and be on your way to a new simplified beauty routine! I am a trained Seint Artist and specialize in helping women find their right makeup colors online. I've made this guide to help you determine what colors will be best to put in your custom IIID foundation makeup palette.
What is Seint IIID Foundation?
First off, what is Seint IIID Foundation?? IIID foundation is a cream makeup that is meant to be worn in just one layer. Say goodbye to the days of layering tons of makeup on your face and say hello to one quick layer. Each foundation color (highlight, contour, cheek, and illuminator) is a foundation but in a different color. So, you use a paint-by-numbers method to apply the makeup and blend! It looks really funny and might seem awkward at first, but once you get the hang of it, you will love the simplicity of the process and how it makes you look and feel!
And the best thing about Seint makeup is that everything (minus mascara) fits into just one compact! One!! Each makeup comes in a tin that you put in a magnetic compact. You can move the colors around, completely customize your compact, and replace as needed! You no longer have to wait until all the other colors are used up. You can replace each tin when it's gone. You save so much space, time, and money with this makeup!
How to Color Match Seint Makeup
If you've wanted to try Seint iiid foundation but don't know what colors are right for you, there are a few ways you can color match Seint makeup.
You can take the quick and easy color match quiz to generally see what colors will work for you.
You can head to the Seint Collections No 4, No 8, or No 12 and click on "Find Your Shades". Then scroll through the group of women and choose the level that most looks like your skin coloring. 
You can take the quick Seint makeup survey to get personalized help from me as your Seint Artist. I will recommend colors and products based on your needs and preferences. 
You can scroll through this Seint Color Match Guide and customize your palette to your liking!
A Guide to Picking Your Right Seint Makeup Colors
Buying makeup online can seem daunting. There are so many color options that you have no idea what shade will look best on you! Here's a guide that will help walk you through what colors and products will be best for you and your coloring. You can try your best to determine what colors will work for you, but if you happen to get a shade that doesn't work well for you, no worries! Seint has an amazing return policy! You have 30 days to return or 60 days to exchange any item that doesn't work well for you. You just have to pay for return shipping.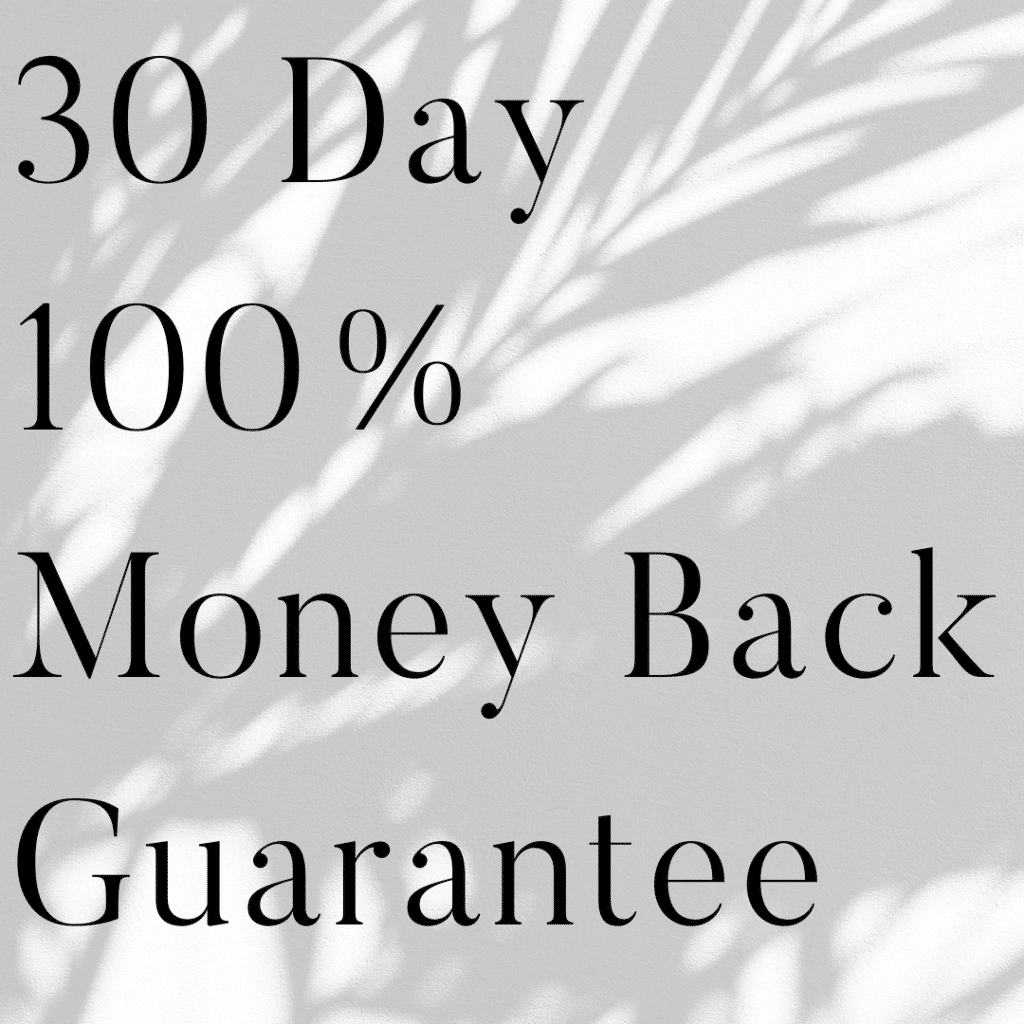 Seint Color Match Highlight Help
When it comes to finding your perfect highlight (foundation) shade, it's helpful to see what shades work well for other women. Most women that buy Seint makeup like to buy 1-3 highlight colors. Your highlight can act as our foundation color to help even out your skin tone and it can also act as a concealer and or brightener. Our skin changes shades throughout the year so it's helpful to have a few highlight colors to bounce between. Most women are darker in the summer and lighter in the winter so it's great to have a lighter and darker highlight shade in your custom compact.
As you look at the pictures of women below, try to find a skin coloring that looks the most similar to yours. If you are between colors, then I suggest investing in more than one highlight to ensure you have the right match. Determine what color you look like the most and then shop the HIGHLIGHT shades and add it to your shopping cart. (I purposefully didn't include Moonlit or Sunlit as option. Moonlit is rarely used on women because it is so light. It works great as a brightening highlight for under the eyes though. Sunlit is a great but finicky color and it's very hard to match online).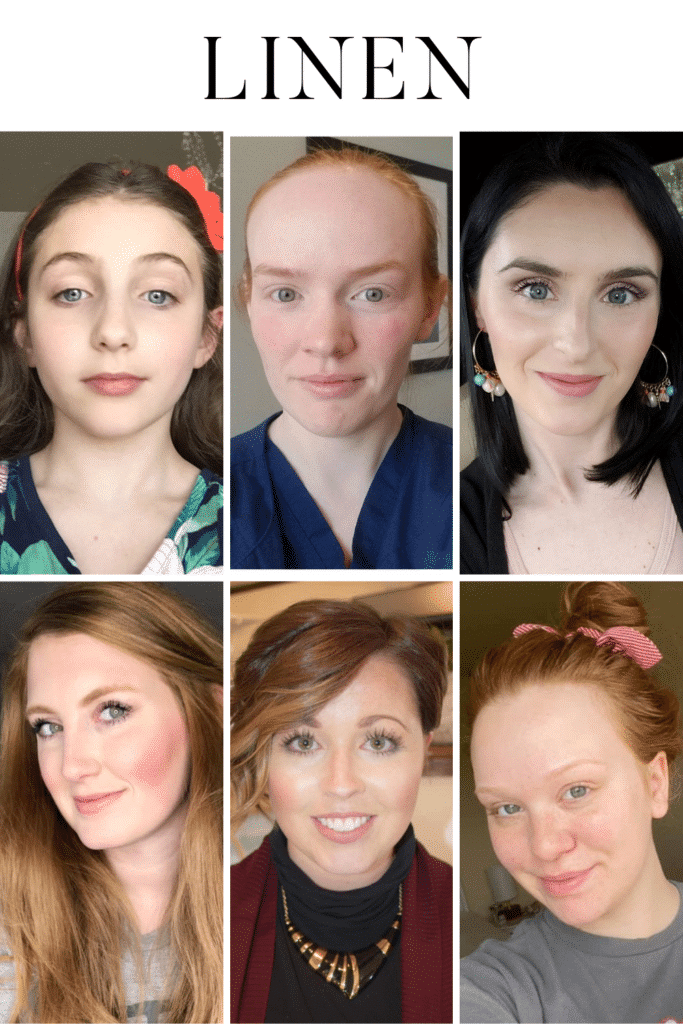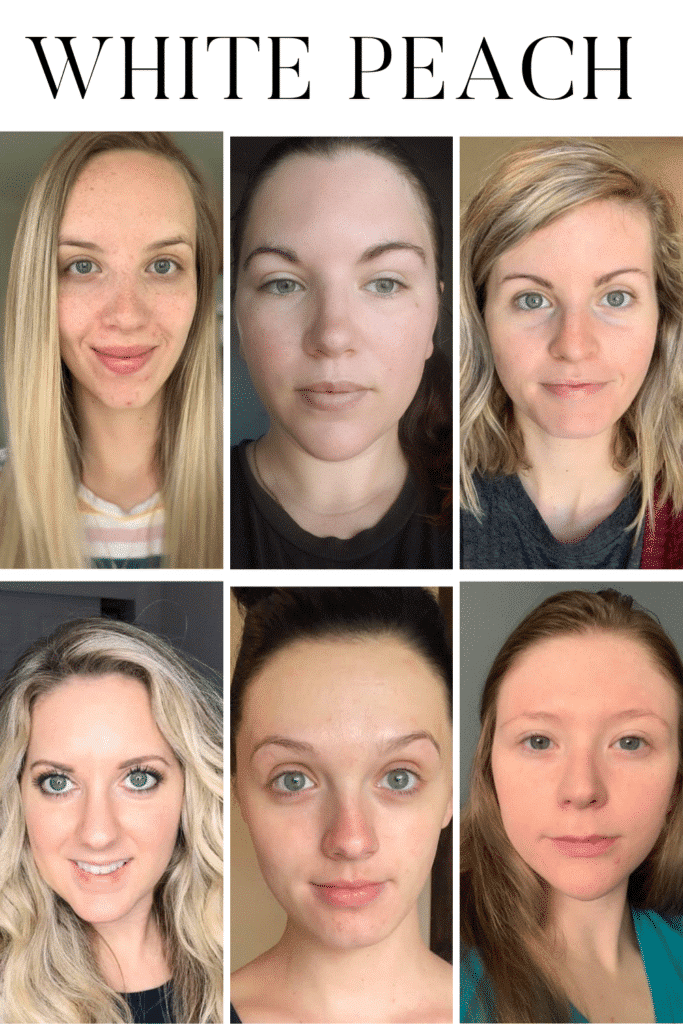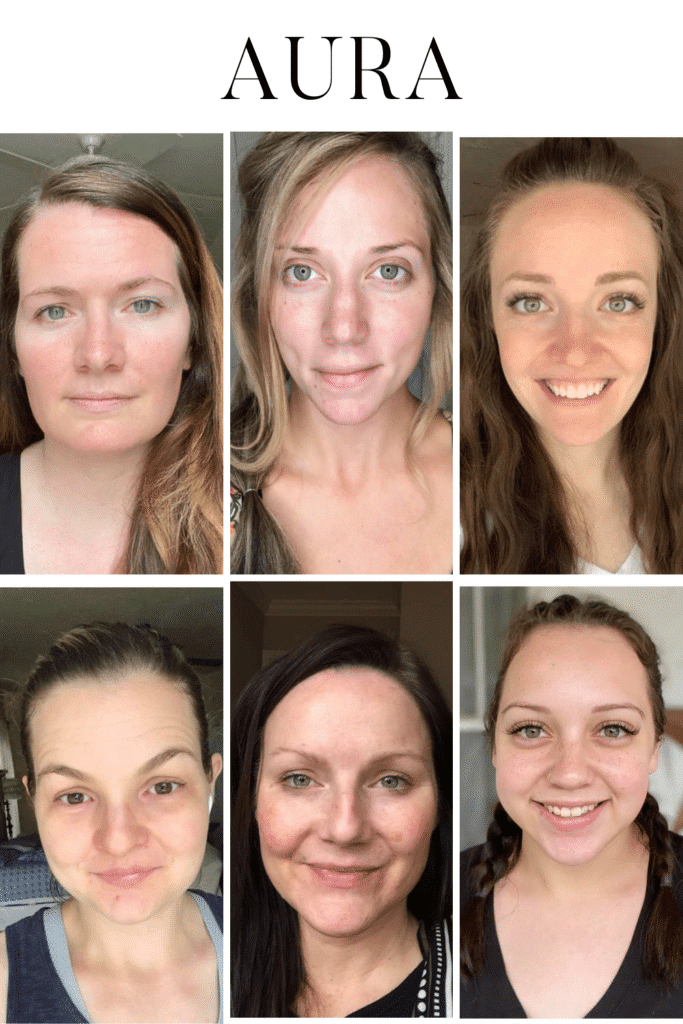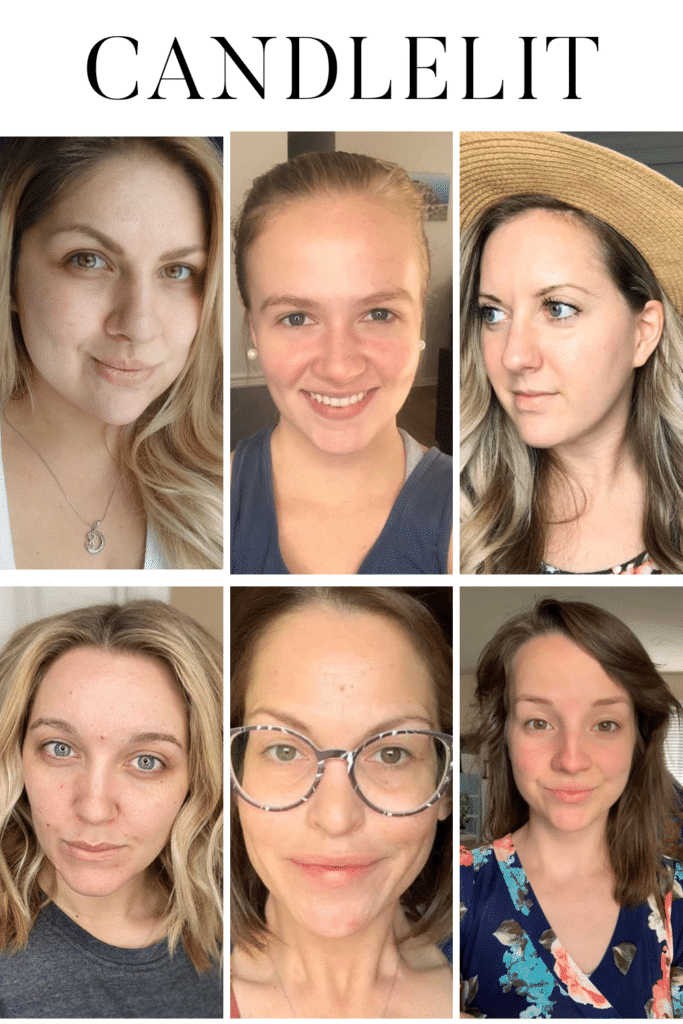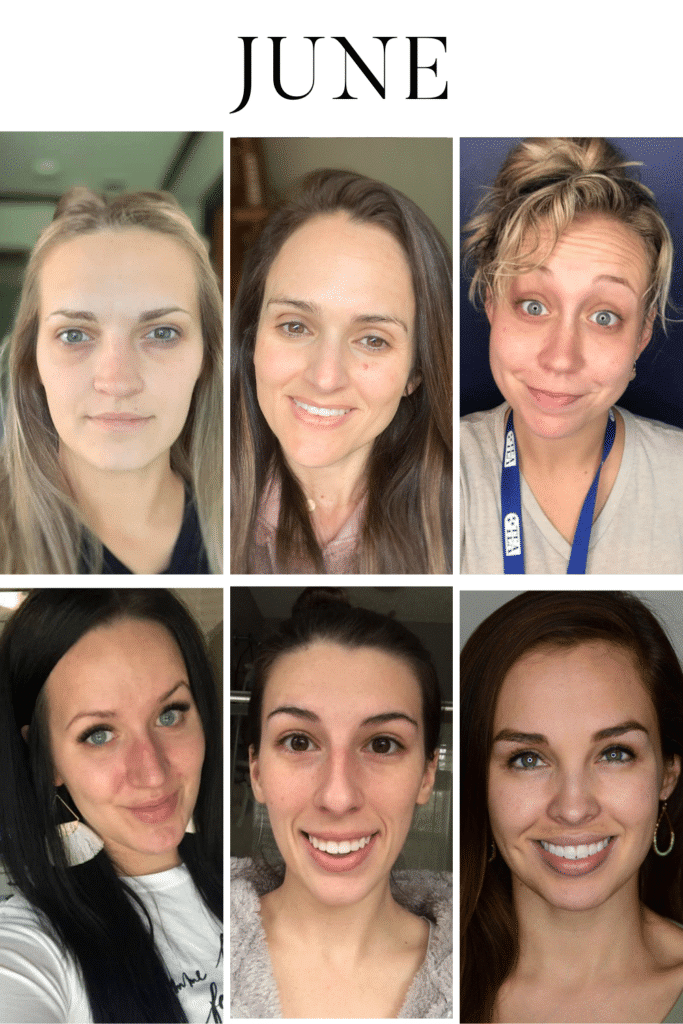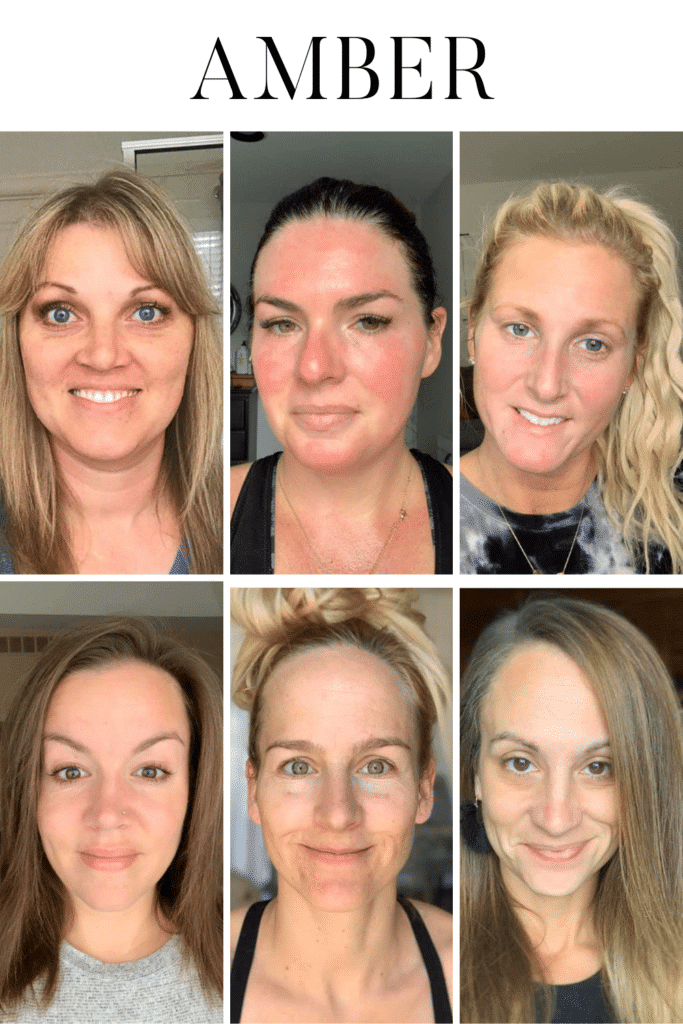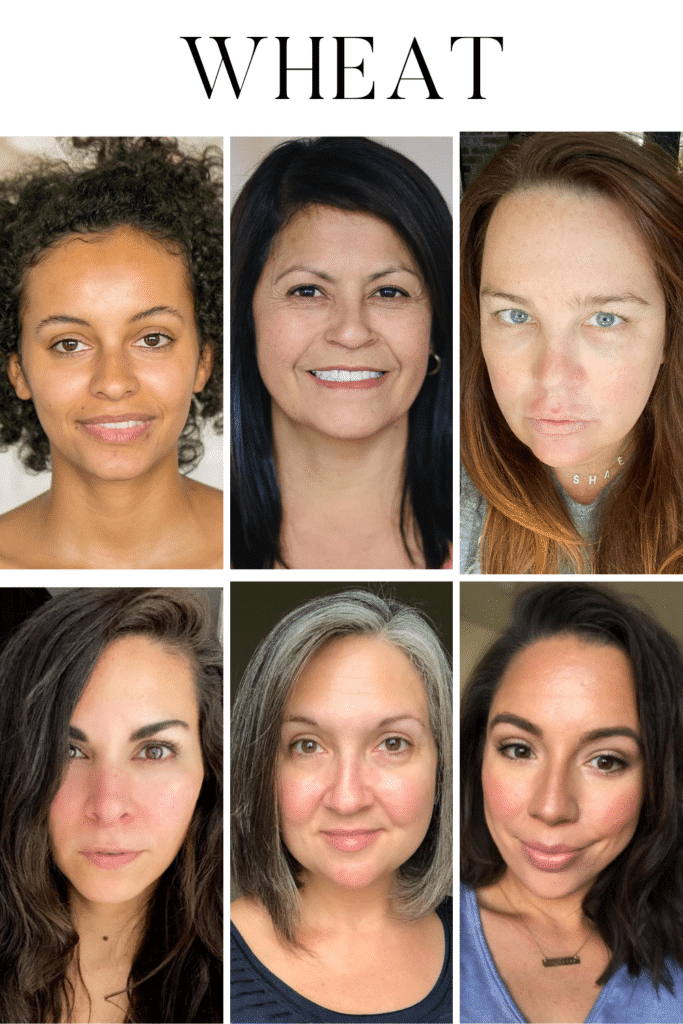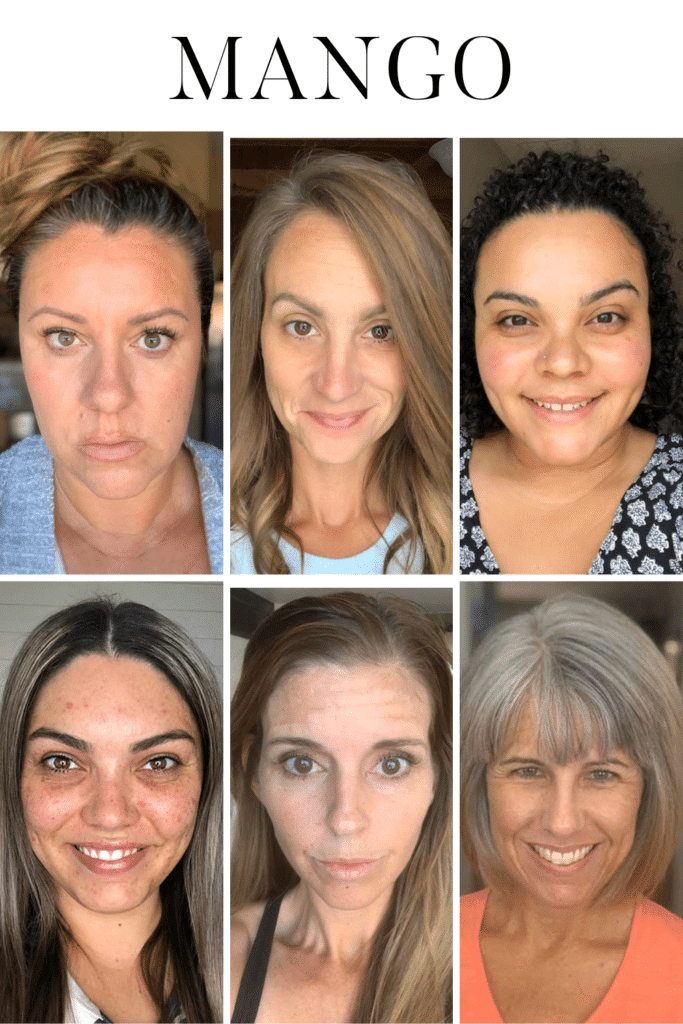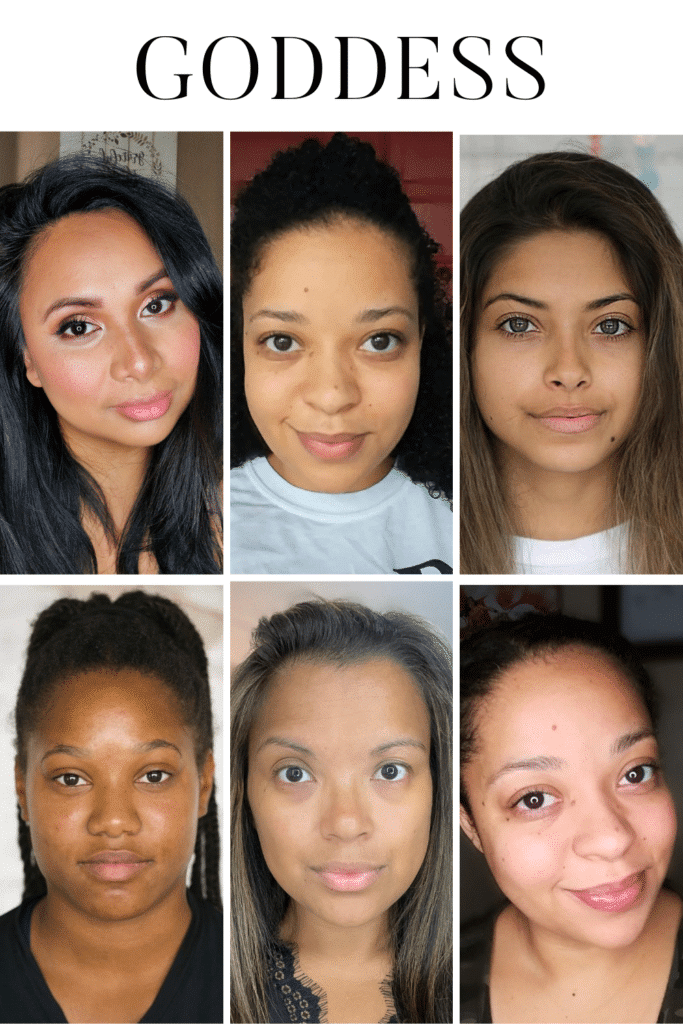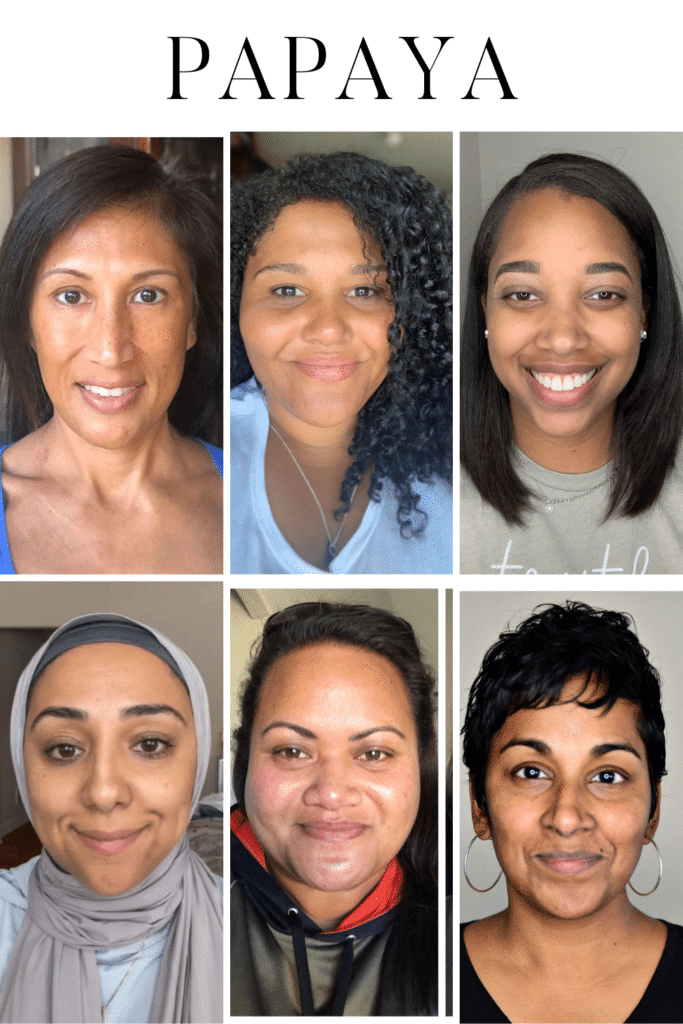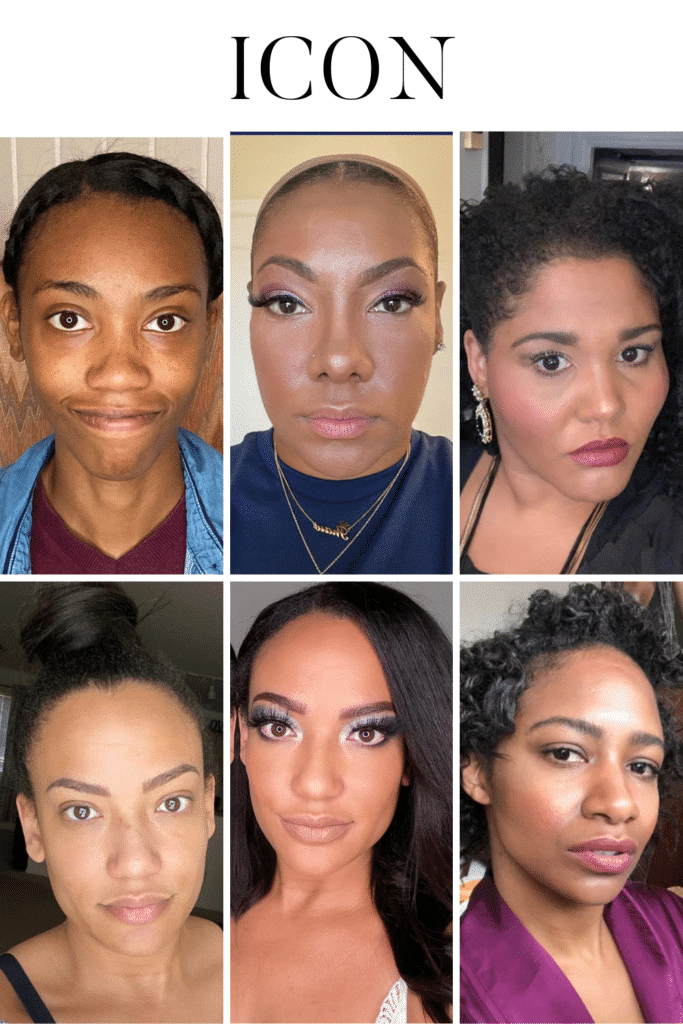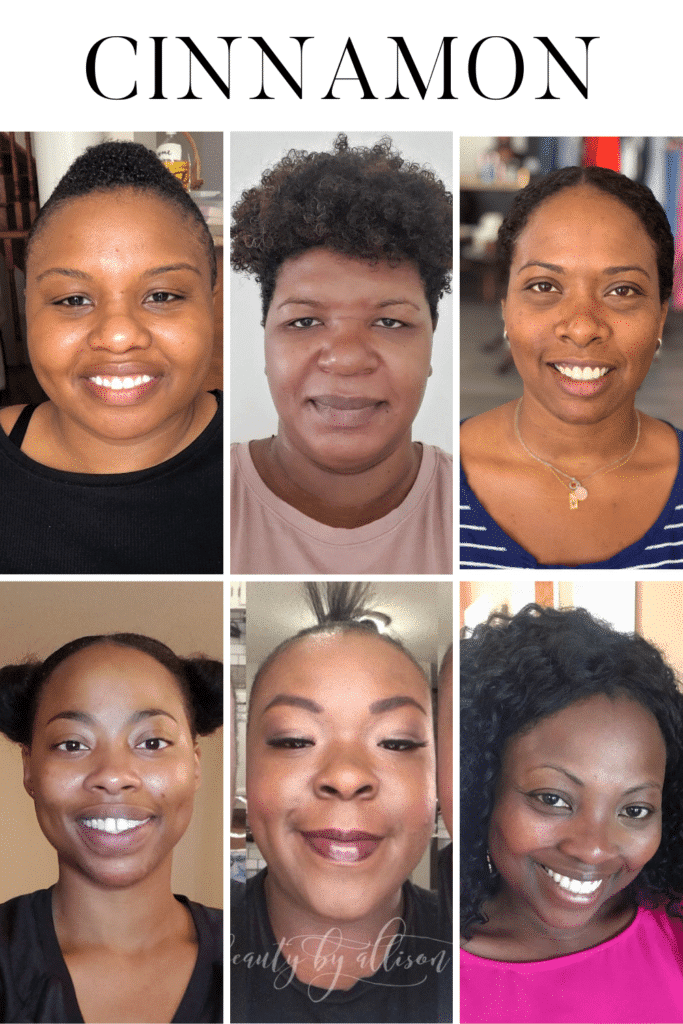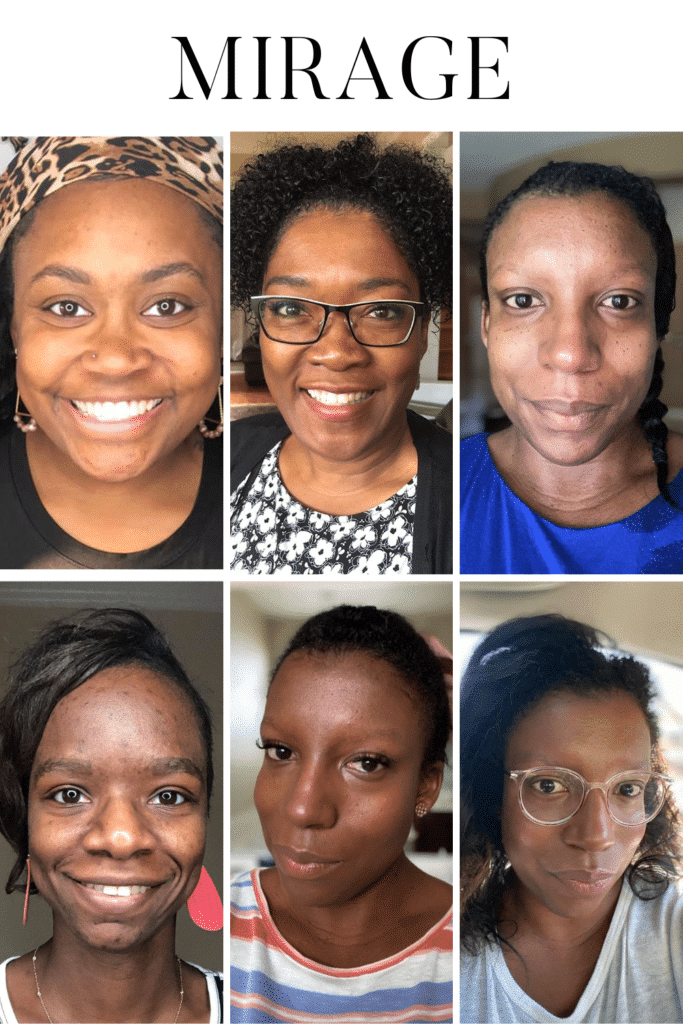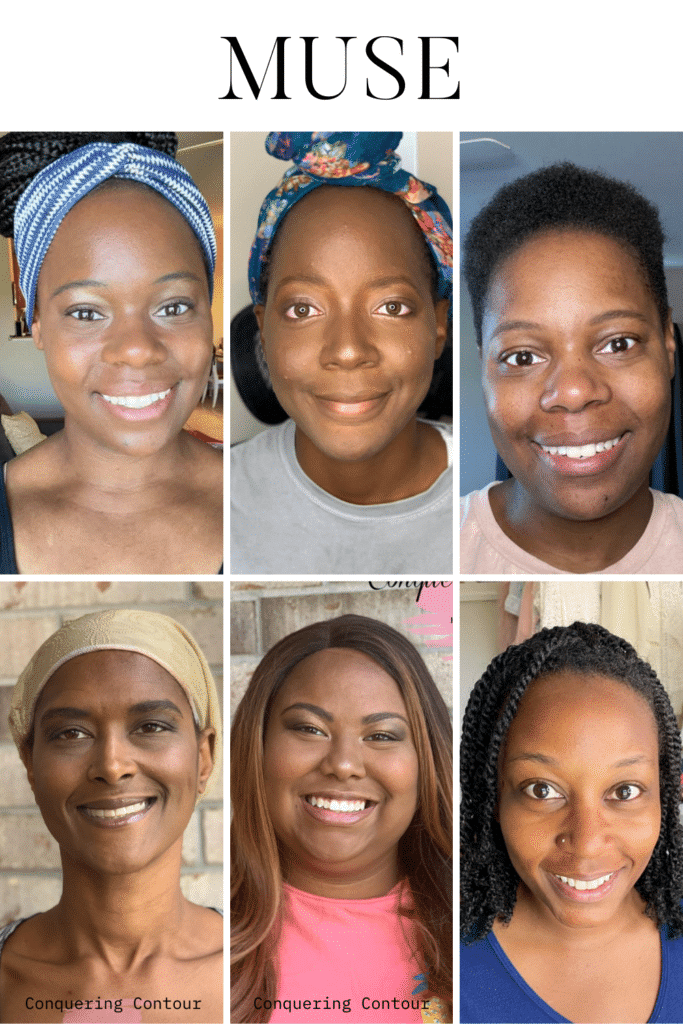 You can also take a closer look at these Seint highlight swatches…
Seint Color Match Contour Help
Let's talk about CONTOUR! This is the best part about Seint IIID foundation! Contour is the magic sauce to your makeup routine! But, not all contour colors will look great with your skin coloring. So, let's break it down….
Determine if you have light, medium, or dark skin coloring.
If you have light skin, then these will work great on you: Aspen, Walnut, Ash, Stone, Olive, Henna
If you have medium skin, then these will work great on you: Olive, Henna, Astoria, Indigo
If you have dark skin, then these will work great on you: Indigo or Cola
Cool Contours: Aspen, Ash, Henna
Warm Contours: Walnut, Stone, Olive
Neutral Contours: Astoria, Indigo
To help narrow down what contour shade to choose, look at your hair! If you have an ashy hair color, then a cooler contour would look great on you. If you have a warmer/golden hair color, then a warmer contour will look great on you.
You can also determine whether you're cool, warm, or neutral skin tone by this simple little quiz:
What are the colors of the vein on your wrist?

Blue/purple
Green
In between

When you wear jewelry, which color helps you feel more radiant and glowing?

Silver
Gold
Both

What colors help you feel more alive & beautiful when you wear them?

Black and white
Off-white and browns
Both

What color hair do you have?

Blonde, brown, black or hair with ashy tones
Strawberry blonde, red, brown, black or hair with golden tones
A mixture or gray hair

What colors do you tend to wear and gravitate towards?

Blues, greens, blue-greens, pink, purples
Yellows, oranges, reds, yellow-greens, ivories, olive greens
All the colors
Answers:
Mostly As: cool skin tone
Mostly Bs: warm skin tone
Mostly Cs: neutral skin tone
Or, another way to choose your cream contour is by your hair color. If you have warm, cool, or neutral tones in your hair and the depth of color for your hair will help you know whether to go light or dark, warm or cool.
Check out these Seint contour swatches so you can get a better idea…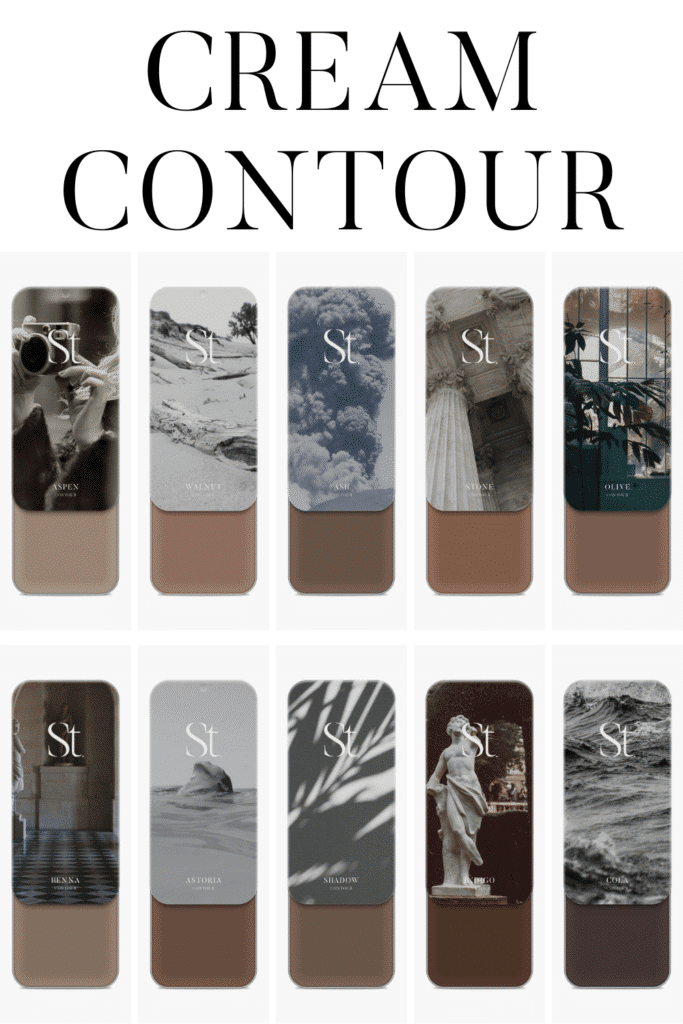 Seint Color Match Lip & Cheek Help
Seint LIP & CHEEK colors double as both a blush and lipstick/lip gloss! Finding a blush and lip color is fun! It's all about your personal preference and lifestyle. But here is a little advice when choosing your shade… If you're looking for a good cheek color, then a satin finish will be best. The satin lip & cheek colors will apply and stay better on your skin. If you're looking for a good lip color, then the gloss or semi-gloss work great. And you can even layer and mix colors to create your own look! Most women like to have several lip & cheek shades in their compact so they can mix and match and choose a color depending on their mood and outfit.
Check out these Seint Lip and Cheek swatches to see what you'll like best!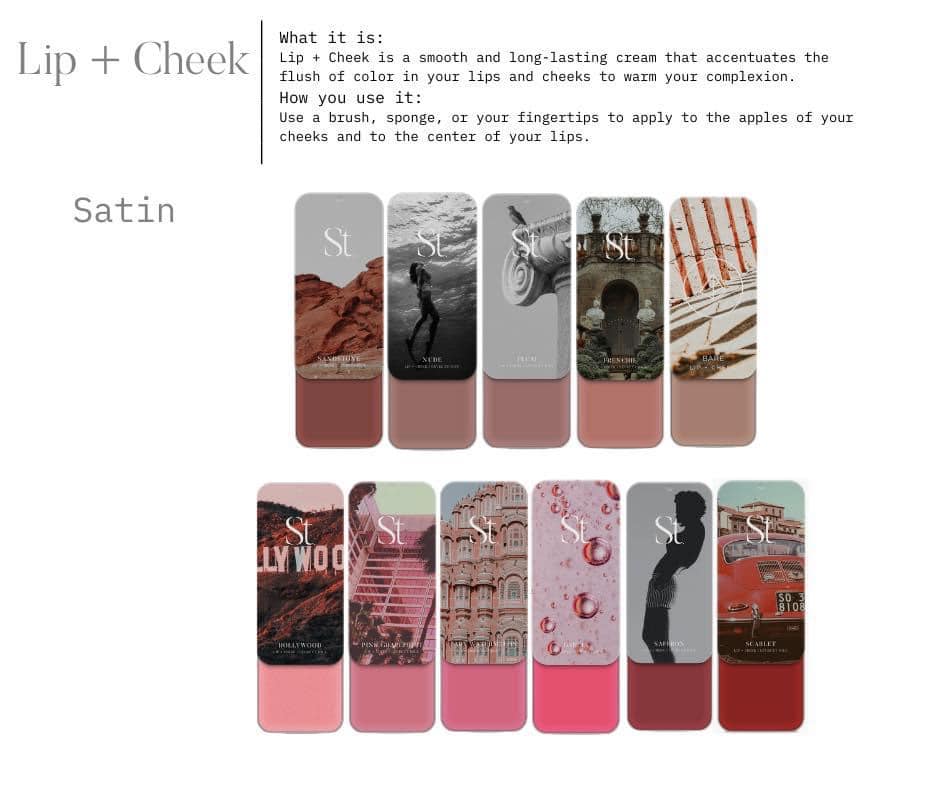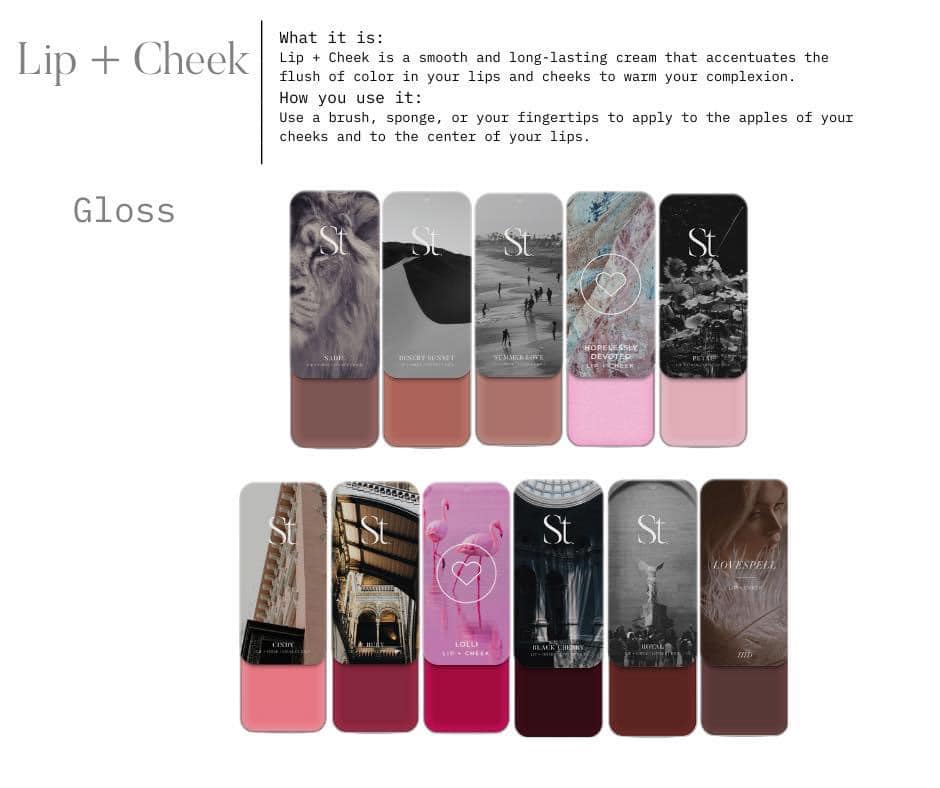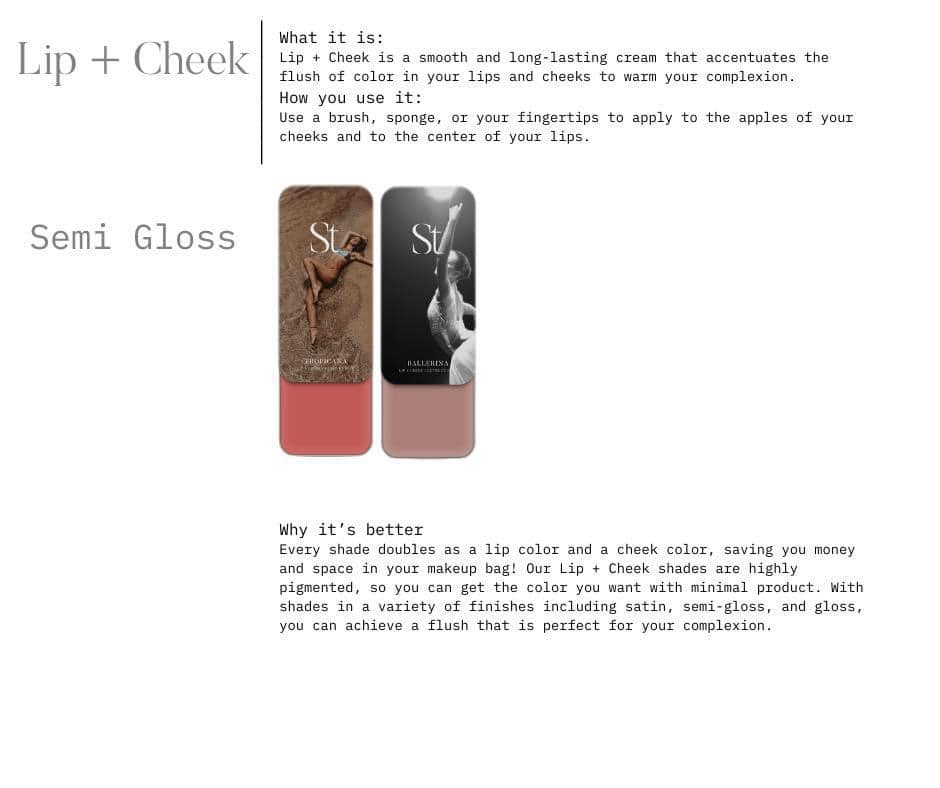 Seint Color Match Illuminator Help
What is ILLUMINATOR? Illuminator is meant to add a pretty glow! You can apply it to the top of your cheekbones, the bow of your lip, under your brow…anywhere you want to have a glistening goddess glow! If you want a subtle glow, then the cream illuminators will work best. If you want a more dramatic glow, then the powder illuminators will be your best friend!
The cream illuminators are really easy to apply because you can use your finger. The cream illuminators are great for a soft and subtle glow. The powder illuminators are more of a statement with the sparkle and require a brush to apply. The powders add more drama and are great for women with oily skin. Here's a guide to know which cream illuminator to buy:
Light Skin: Pearl or Honey
Medium Skin: Honey, Angel, or Rose Gold
Dark Skin: Rose Gold or Glow
Powders: it's a matter of preferences on the tone of sparkle you want…pearly, pinkish, or gold.
To get a better idea, look at these Seint illuminator swatches to see what will work best for you.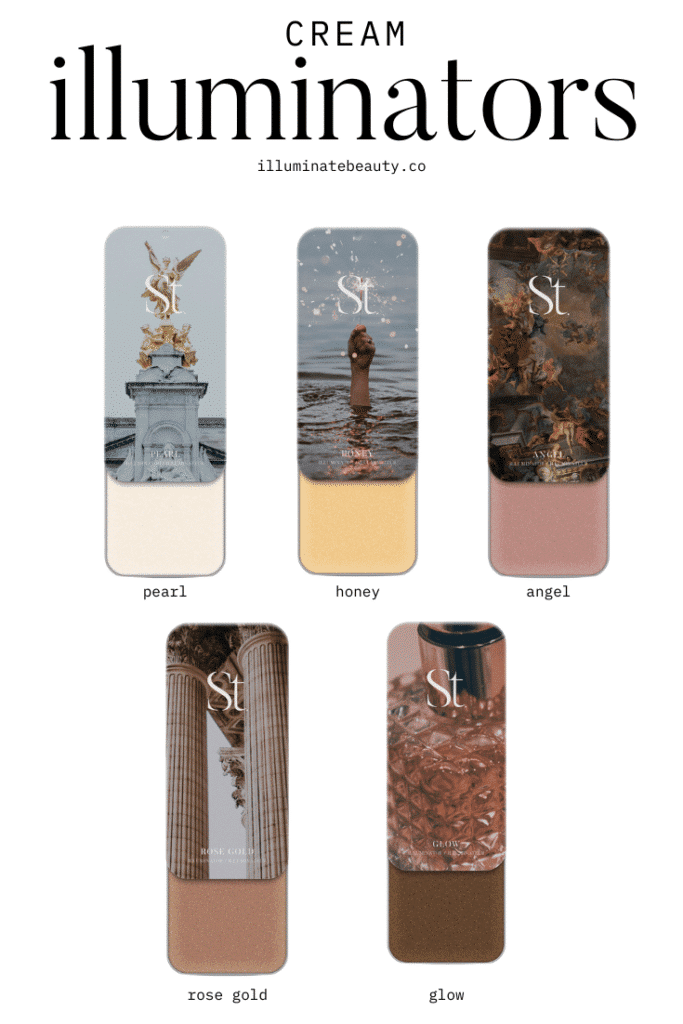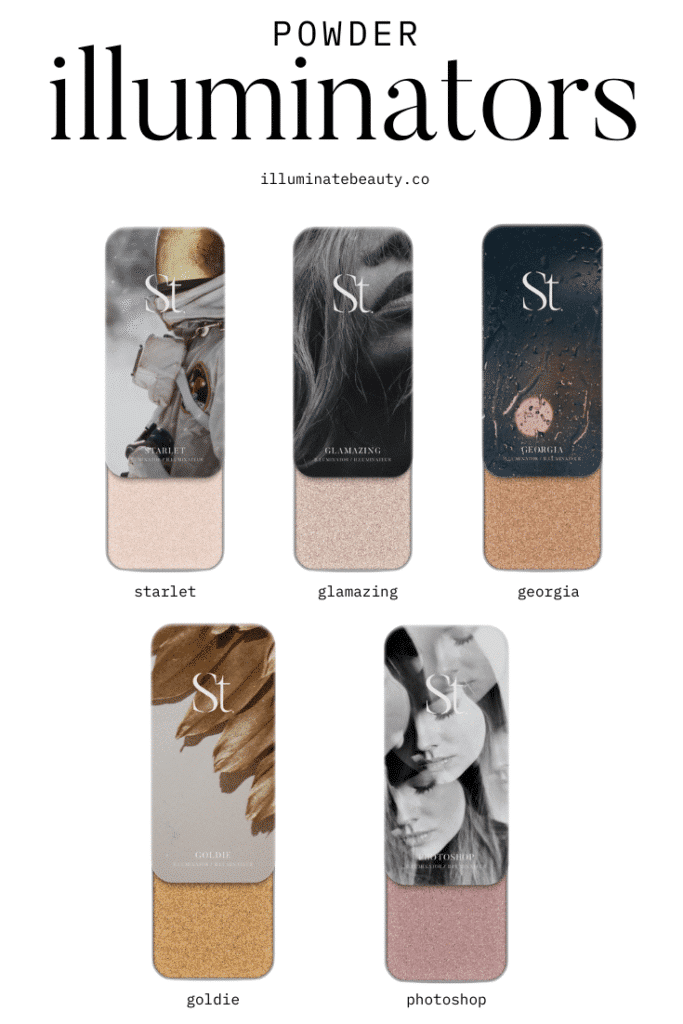 Seint Collections
If building a custom palette is overwhelming, then you can purchase Seint collections. These collections are prebuilt palettes. They come in 3 options, No 4, No 8, No 12. Depending on your needs, preferences, and budget, you can get exactly what you need to get started with a simplified makeup routine!
These collections make it really easy to checkout. Simply click on the collection that you want (No 4, No 8, No 12), then click on "Find Your Shades", choose the group of pictures that most closely represents your skin coloring, add to bag, and check out!
The awesome thing about collections is that you save money! It's an easy process and you can save between $20-$59. Win win!

What Seint Brushes Should You Buy?
Just like an artist needs good brushes to create a masterpiece, you need good makeup brushes to apply your makeup! A good brush makes ALL THE DIFFERENCE!! These Seint makeup brushes are designed to apply and blend cream makeup. They make the beauty process so simple and easy! Here's a guide to help you know which brush would work best for you. You can do your whole face with one brush or several, it's totally up to you! And you won't want to miss out getting the brush cleanser that makes cleaning your brushes a breeze!!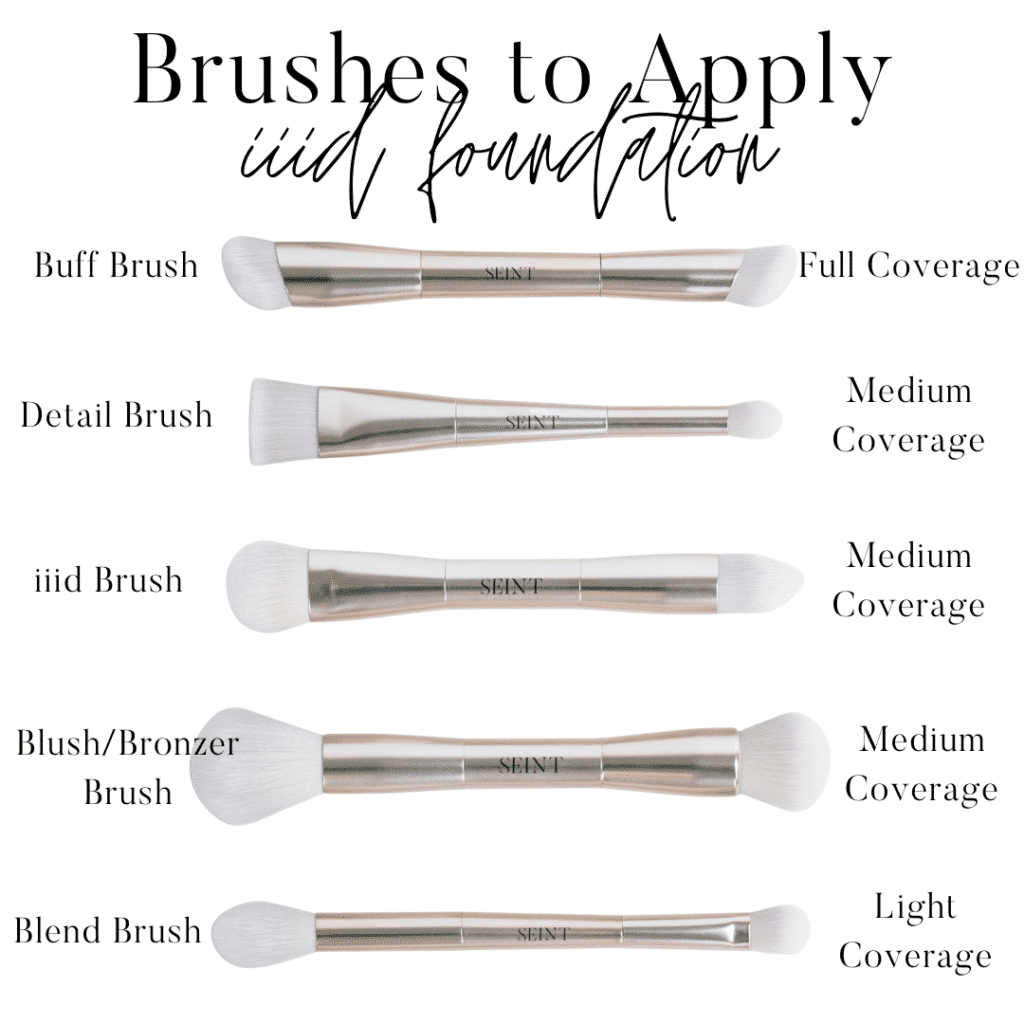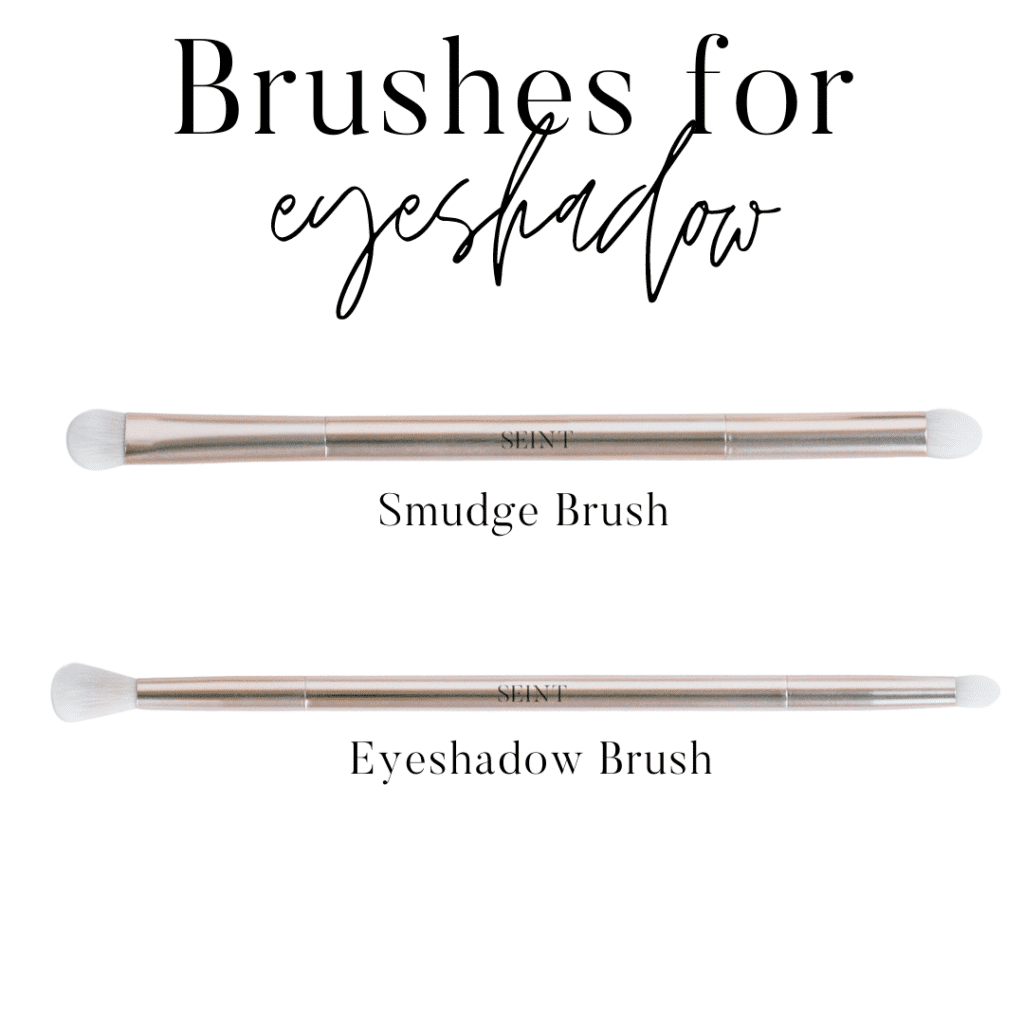 How to Apply Seint IIID Foundation
IIID foundation is different makeup than you're used to, but it is so easy once you get the hang of it! Instead of putting 4 layers on your face, you're only focusing on putting the color right where you need it. Follow the images below to see how to place the makeup and then blend. You can watch this Seint makeup tutorial on the easiest way to apply the makeup!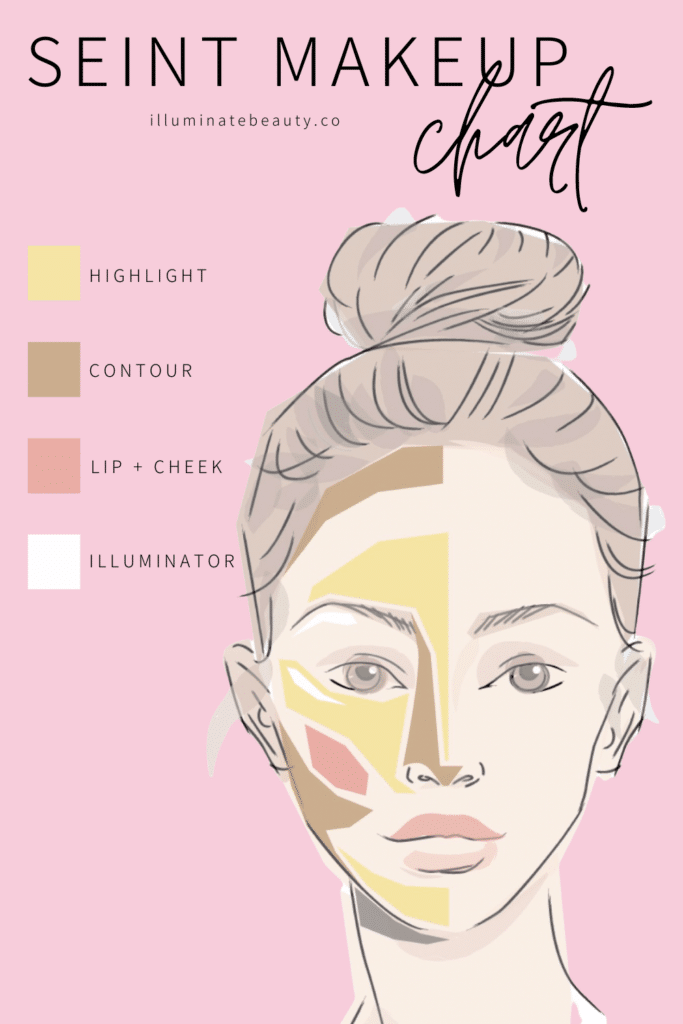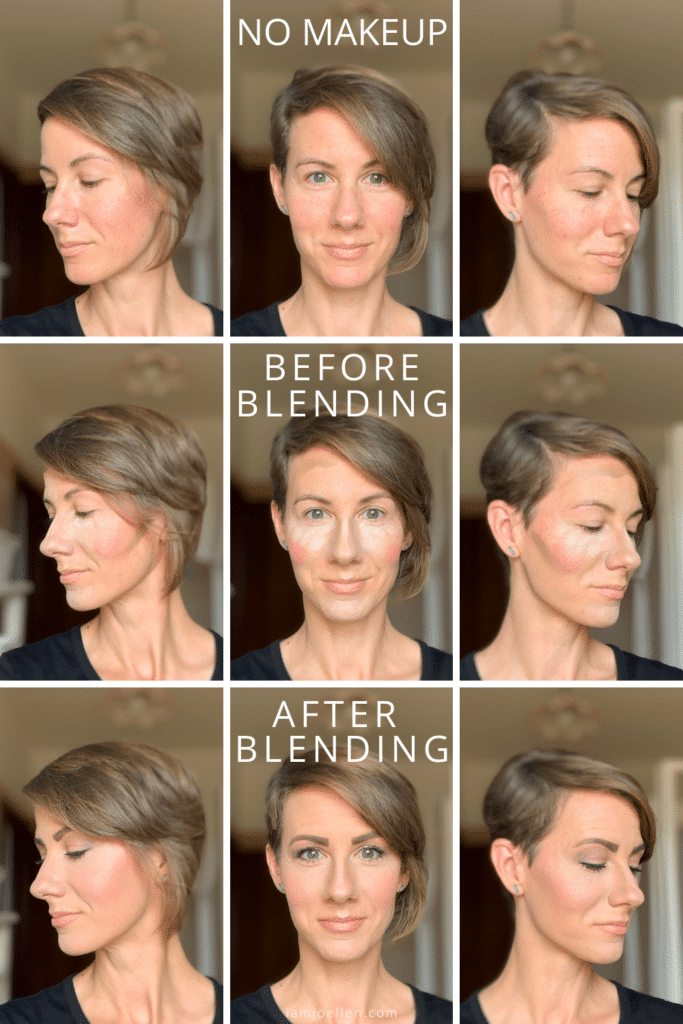 The awesome thing about ordering from me as your Seint Artist is that I am your beauty expert in your back pocket! You won't get that when you order from Amazon or any other beauty store. You can email me with any beauty questions you have. As one of my personal customers, I send you a special beauty guide ebook that teaches you all you need to know about how to use the  makeup and other beauty products. You can find tutorials on my YouTube, Instagram, or Facebook to help you master the makeup!
This Seint makeup works well with mature skin or oily skin and anything and everything in between! Don't just take my word for how awesome this makeup is, read some Seint makeup reviews and how it compares to drugstore makeup. If you purchase the makeup and notice it isn't quite right, you can learn how to combat common troubleshooting techniques until you learn to love it!
You might also like these posts:


*This post contains affiliate links. If you choose to purchase an item featured in this post, I get a small portion from the sale. Thank you! It does not affect you at all.
color match quiz