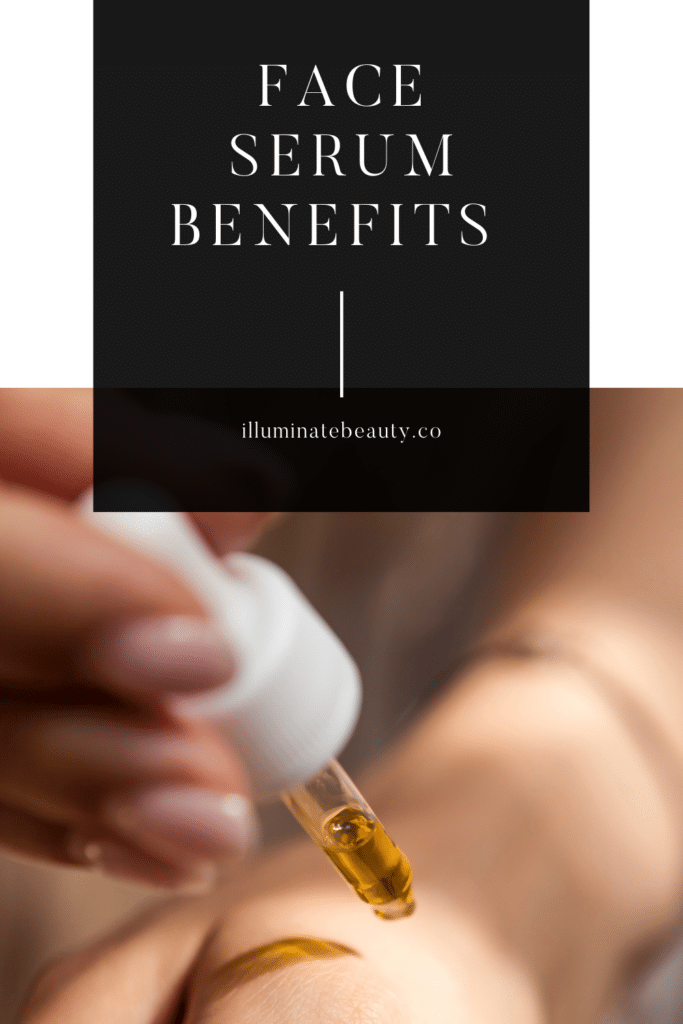 We've heard it over and over again…take good care of your skin! A good skincare routine consists of cleansing, toning, and moisturizing. But you know what else you need to add to your skincare routine?? Face serum! I've been a dedicated and responsible skincare person for years! I did the required 3 steps daily. But it wasn't until I added serum into my routine that I started noticing healthier and more hydrated skin! So, I'm sharing face serum benefits and why you need to use it too!
What is Face Serum?
Face serum is a lightweight liquid that absorbs easily into your skin. Serums are made of highly concentrated ingredients meant to improve the appearance of your skin. Some serums specifically target fine lines, pores, or hyperpigmentation.
Why Do You Need to Use Face Serum?
Oh boy…face serum benefits are amazing! Each serum has its specific benefits, but in general face serums helps hydrate your skin, smooth fine lines, reduce hyperpigmentation, and revive dull looking skin. Let's break it down a little more…
Hydrate- Just like your body needs water to stay hydrated, your skin needs moisturizer to stay hydrated too! Moisturizer is meant to help hydrate your skin. But when you add serum into your skincare routine too, it helps lock in that moisture so your skin can achieve its healthiest state.
Fine Lines (anti-aging)- Face serums are great for smoothing out those fine lines. It's the perfect anti-aging product to add into your skincare routine.
Hyperpigmentation- Sun spots, melasma, and any other hyperpigmentation can be lightened with the right face serum.
Revive Dull Skin- Does your skin appear dull? Do you want to add that glow back in? Then face serum will help you achieve that!

When Do You Use Face Serum?
After you've cleansed and toned your skin, apply serum to your clean face. This will help prep your face for moisturizer. Adding serum will help prepare your skin to get maximum benefits.
The Best Face Serums to Use
There are a ton of face serums on the market! It can get overwhelming knowing what to buy. My absolute favorite serums are the Active Hydration Serum, the Total RF Serum, and the Redefine Intensive Renewing Serum.
Active Hydration Serum– "A super-hydrating face serum that balances moisture levels and preps skin to better receive products applied after." (R + F website)
Total RF Serum– "A powerful anti-aging serum that revitalizes skin to help you see stronger, healthier, more resilient skin. Achieve visible results when using this serum on its own and even better results with a Regimen." (R + F website)
Redefine Intensive Renewing Serum– "A revitalizing face serum that reduces the appearance of fine lines, wrinkles and loss of firmness for more refined, smoother skin." (R + F website)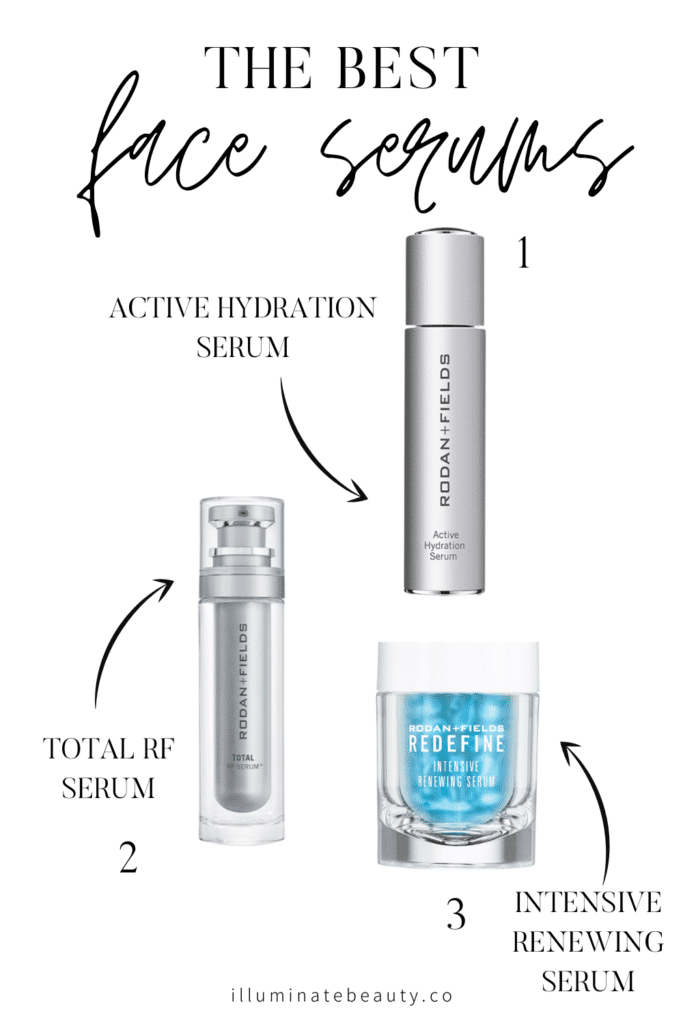 To Get Maximum Results
If you want maximum results in your skincare routine, it's best to use products that have been formulated to work together. A hodge podge skincare routine will give you hodge podge results. I love all of the Rodan + Fields skincare products because they are specifically formulated to work hand in hand. You can mix and match any product and your skin will love it!
Another way to get maximum results is by prepping your skin to receive the products you are putting on it. The best way to do this is to use a derma-roller. Think of it like aerating your skin just like you would with your grass before putting fertilizer on it. Putting tiny little holes in your skin preps your skin to drink up the serum and moisturizers. This Redefine AMP MD System works great with any serum!
And that's a wrap! Do you see how the face serum benefits your skin?? If you care about your skin and want healthier, glowing, happier skin, then make sure to add face serum into your routine…you'll love the difference it makes!
If you need help figuring out what skincare products will be best for your skin, take this Skincare Analysis so you can see what type of skin you have and what products you need to get it to its healthiest state! If you have specific questions, please EMAIL ME and I can guide you in the right direction. I want you to love the skin you're in and I'm happy to help!
If you want to get longer lashes, then read this post about 3 ways to get longer lashes!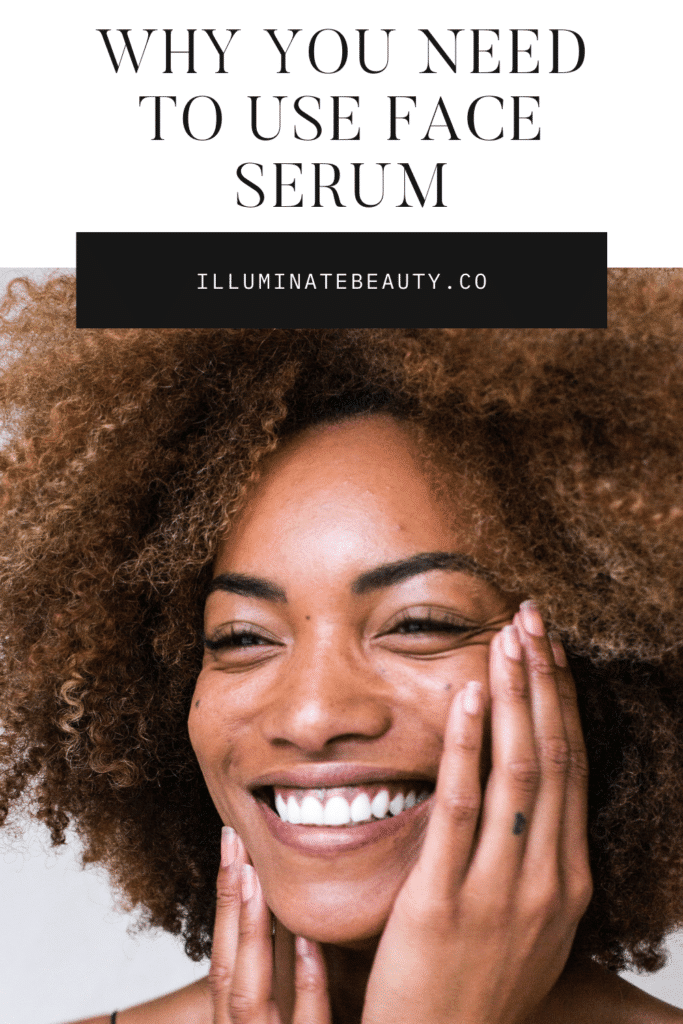 *This post contains affiliate links. If you choose to purchase an item featured in this post, I get a small portion from the sale. Thank you! It does not affect you at all.