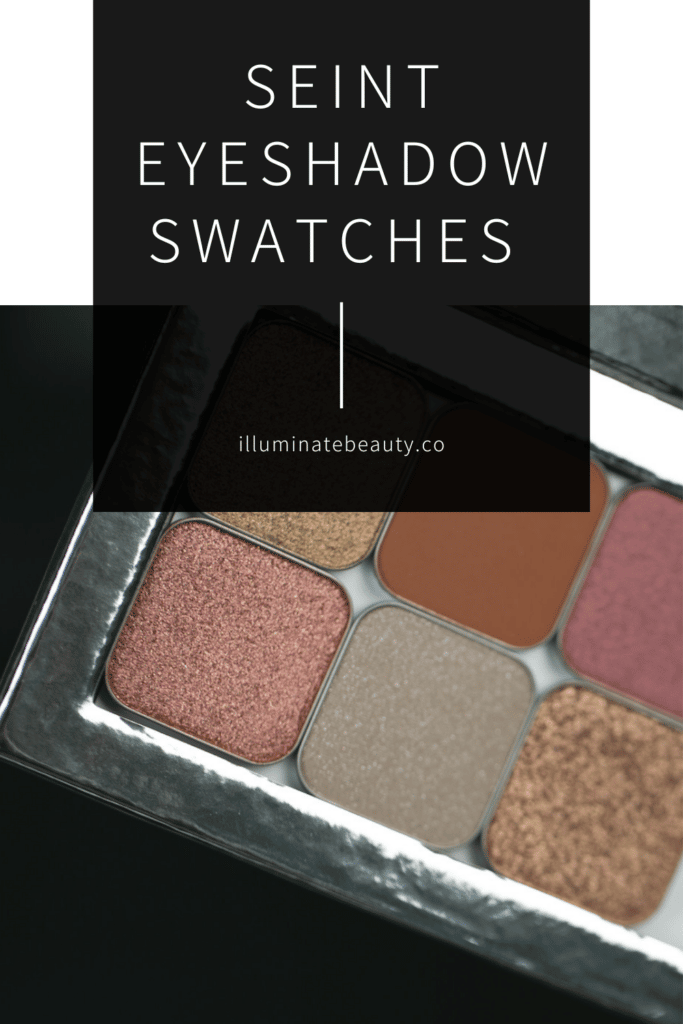 It can be hard knowing what makeup colors to buy online when you can't see them in person. I get it! So, I've compiled some Seint eyeshadow swatches to guide you in knowing what colors to buy for your custom palette. Seint eyeshadows come in matte, shimmer, cream, and glitter. You are bound to find shades you love!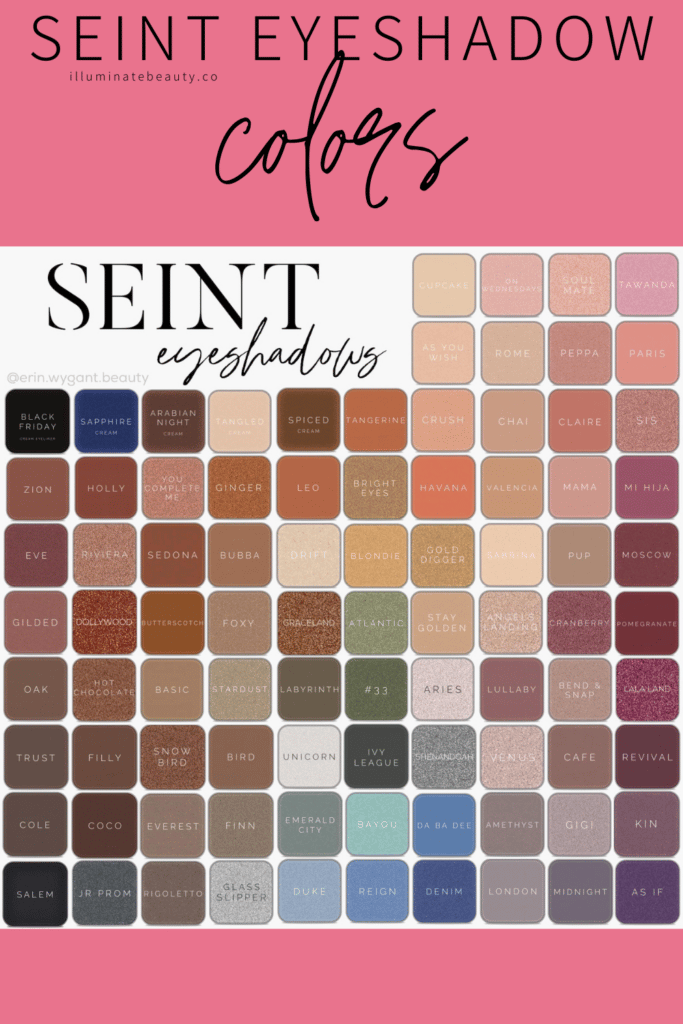 Why Are Seint Eyeshadows Different?
Seint eyeshadows are different. You most likely have seen eyeshadows that come in a prebuilt palette. This is great because you have a collection of colors that look great together. But this isn't great because you most likely use one or more of the colors more often than another and you go through the colors at different rates. This leaves you stuck with a palette of partially used product that you have to wait to finish or that you toss because you need more colors.
Or perhaps you have seen eyeshadows that come in their own pot. This is great because there's no waste this way. You can use each color at their own rate. But it's not great because then you have a large collection of pots that take up a lot of space.
This is why Seint eyeshadows are different. They come in individual tins so you can use them at their own rate AND they can be placed in a magnetic palette. You can mix and match your own palette to your heart's content! It saves space because everything fits in one place and you save money because you're not wasting money on prebuilt palettes that only get partially used. Win win!!
Seint Eyeshadow Swatches
It can be really hard really seeing the makeup color online. The colors are always a little off. So here are some Seint eyeshadow swatches that can help you see what the colors truly look like. They are swatched by color, so each image has a mix of matte and shimmer eyeshadows. You can read more below about the different Seint eyeshadow finishes…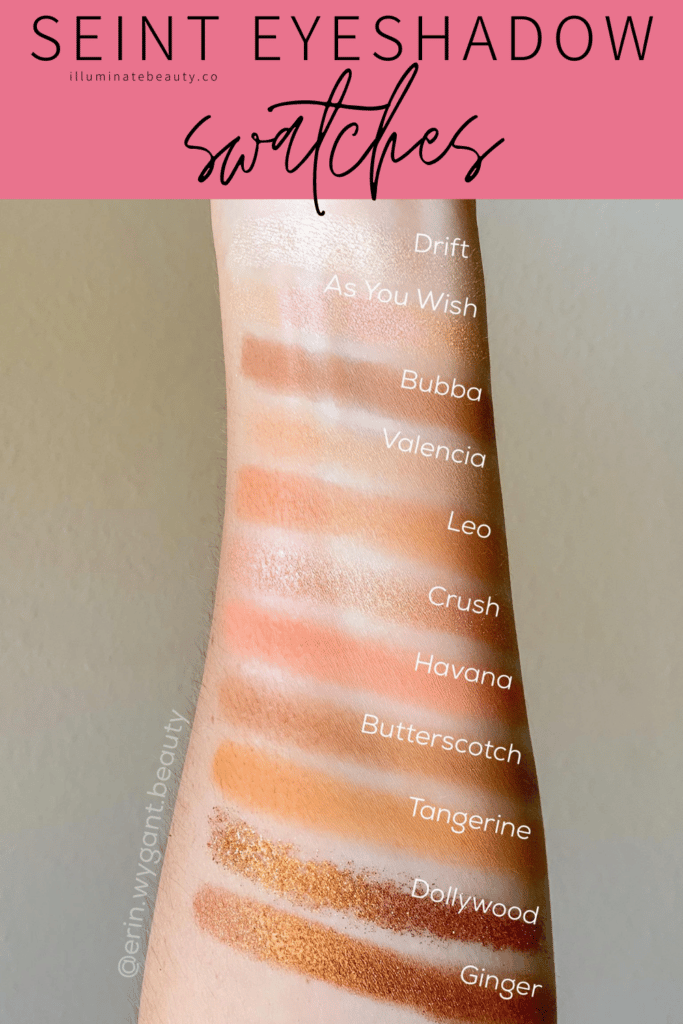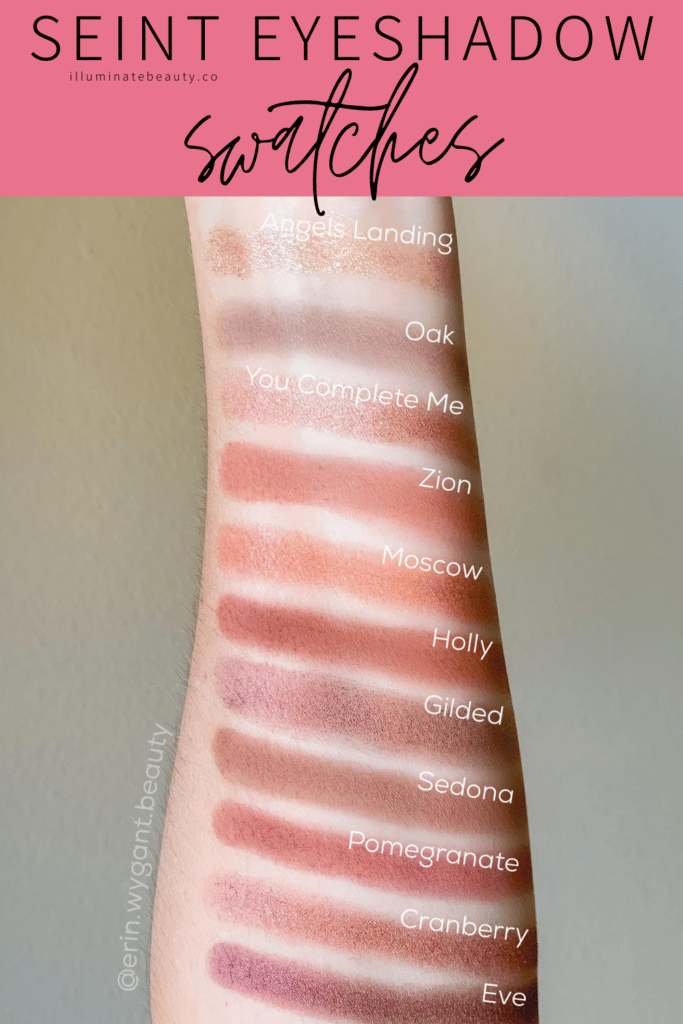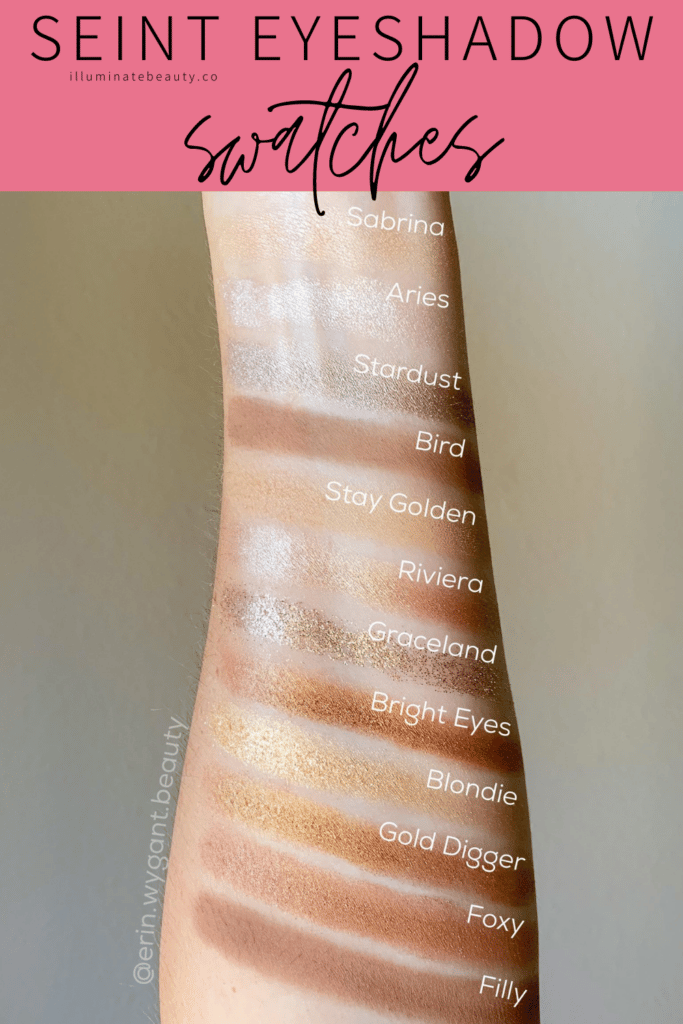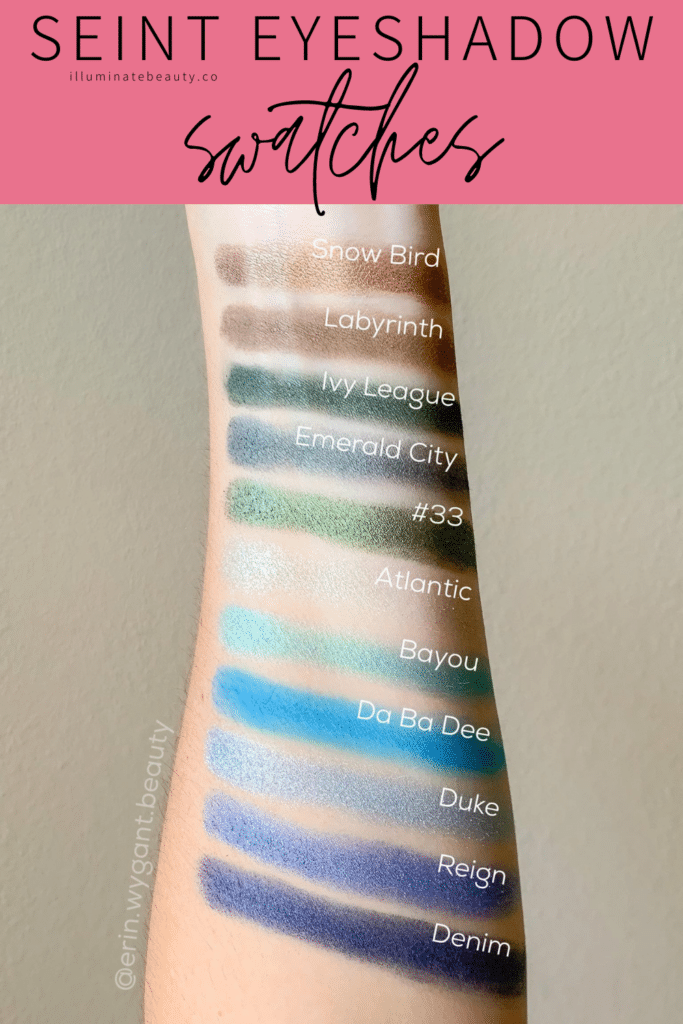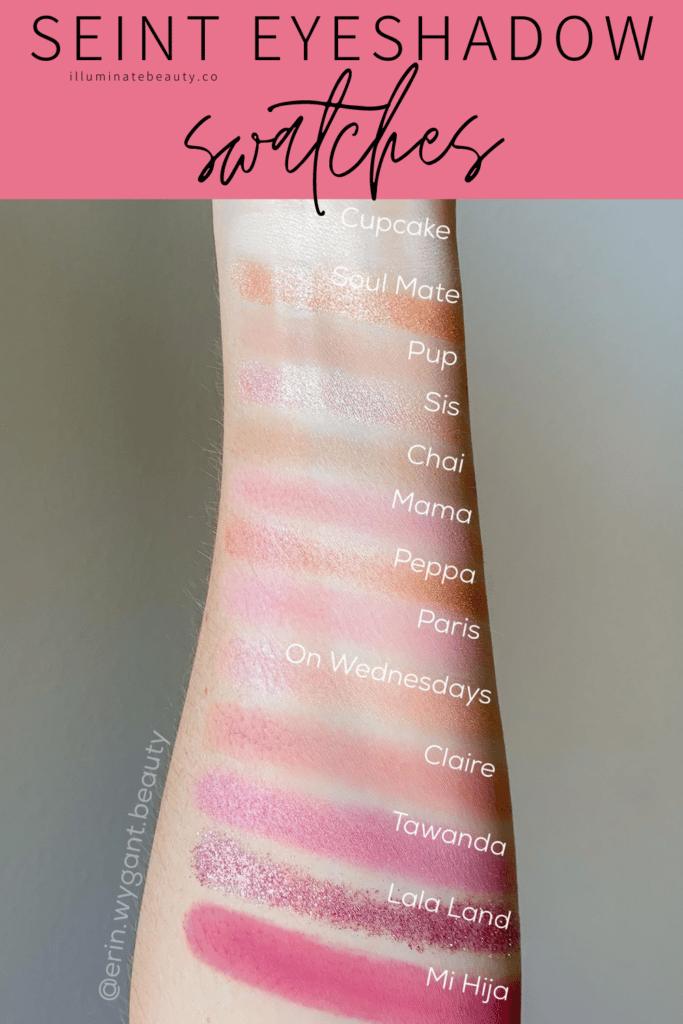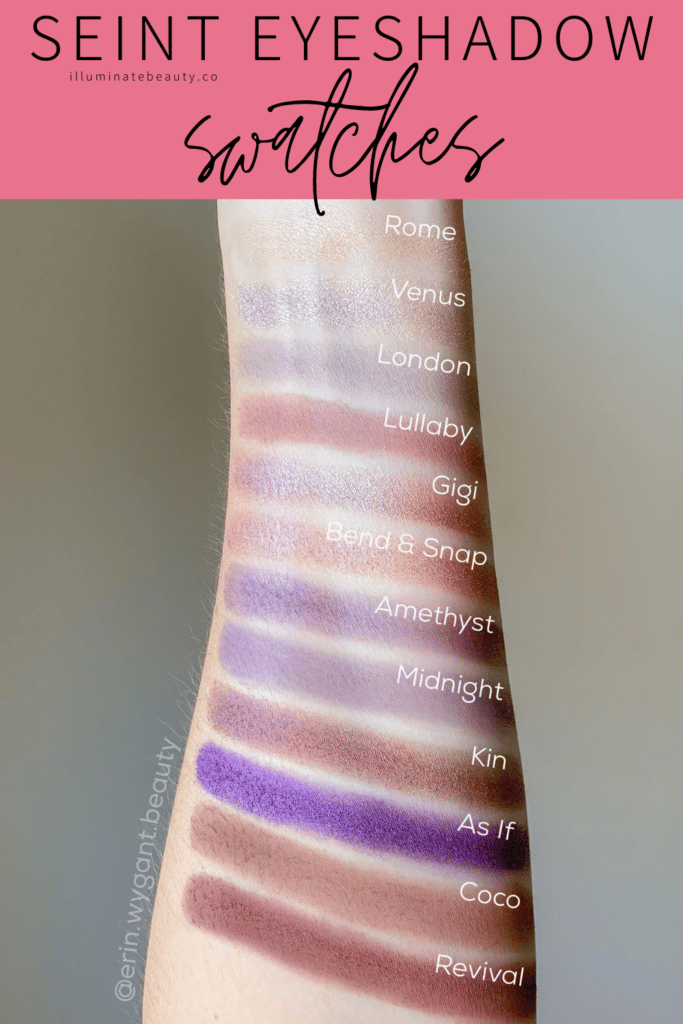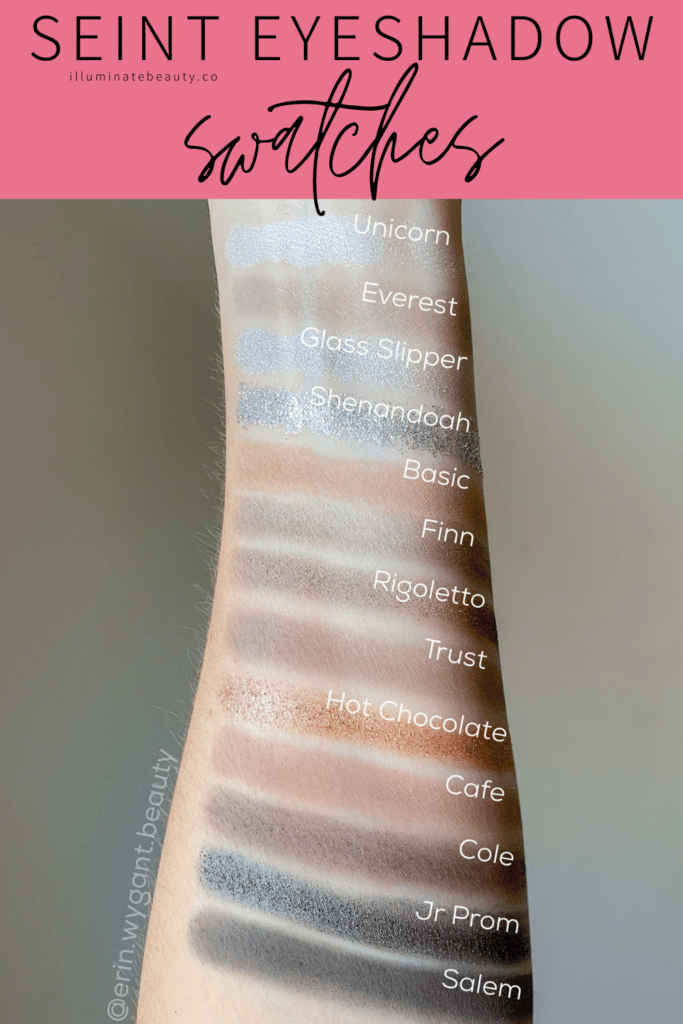 Seint Matte Eyeshadow Shades
If you prefer matte shades, then you are in luck! Seint has a wide range of matte eyeshadows to choose from. Anywhere from pink to taupe, to brown, to purple, to blue…they have it!
Seint Shimmer Eyeshadow Shades
Seint shimmer eyeshadows are great because they aren't too dramatic and glittery. They are a creamy powder that goes on like butter! The best way to apply shimmer eyeshadow is with your finger! This will pack more punch! Swipe your clean finger in the eyeshadow and then swipe it on your eyelid. If you prefer to use a brush, then the Smudge Brush or the Multitasker Brush work great.
Seint Glitter Eyeshadow Shades
Glitter eyeshadows are a fun way to dress up your eyes! They are great for holidays, dances, special events, and performances. To get a great application, spray your makeup brush with setting spray and/or use glitter primer to help the glitter stay all day.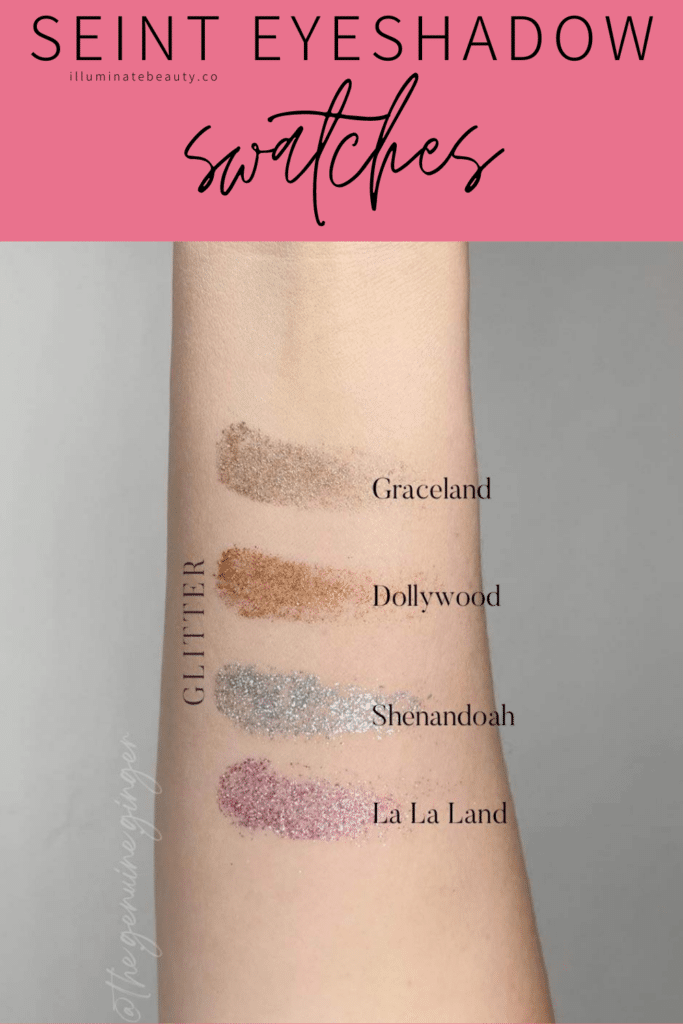 Seint Cream Eyeshadow Shades
Cream eyeshadows are just that…cream! They melt into your skin giving it a nice light appearance.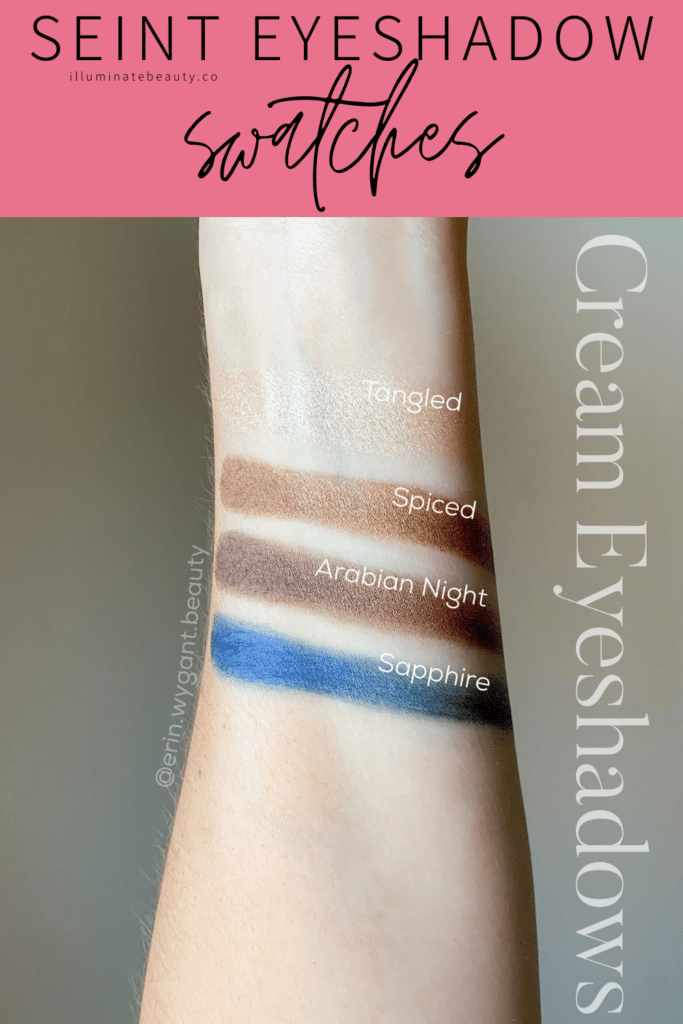 Seint Eyeshadow Brushes
If you want a great makeup application, it's important to have a great makeup brush! Seint has 3 eyeshadow brushes that are amazing! They're high quality, they're versatile, and they help give you a great eyeshadow application.
Eyeshadow Brush– This brush is amazing! Blending is key to a great eyeshadow look and this brush blends beautifully!
Smudge Brush– This brush has denser bristles, making it easy to apply more pigment to your eyelid. I like using this brush for shimmer eyeshadows and exact placement.
Multitasker Brush– This brush is great for applying glitter eyeshadows. Spray the brush with Setting Spray, swipe the brush in the eyeshadow, and pat it onto the eyelid.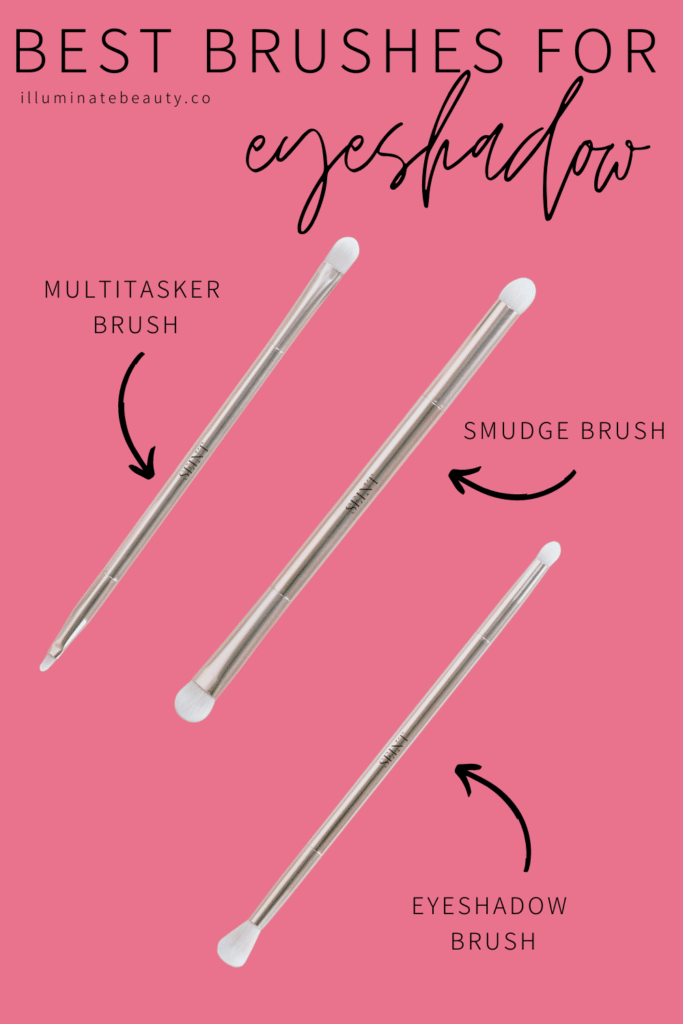 Hopefully these Seint eyeshadow swatches give you a good idea in what colors to invest in to create your custom eyeshadow palette.
Here are other blogposts you might enjoy:
How to Color Match Yourself with Seint Makeup
Eyeshadow Tips for Deep Set Hooded Eyes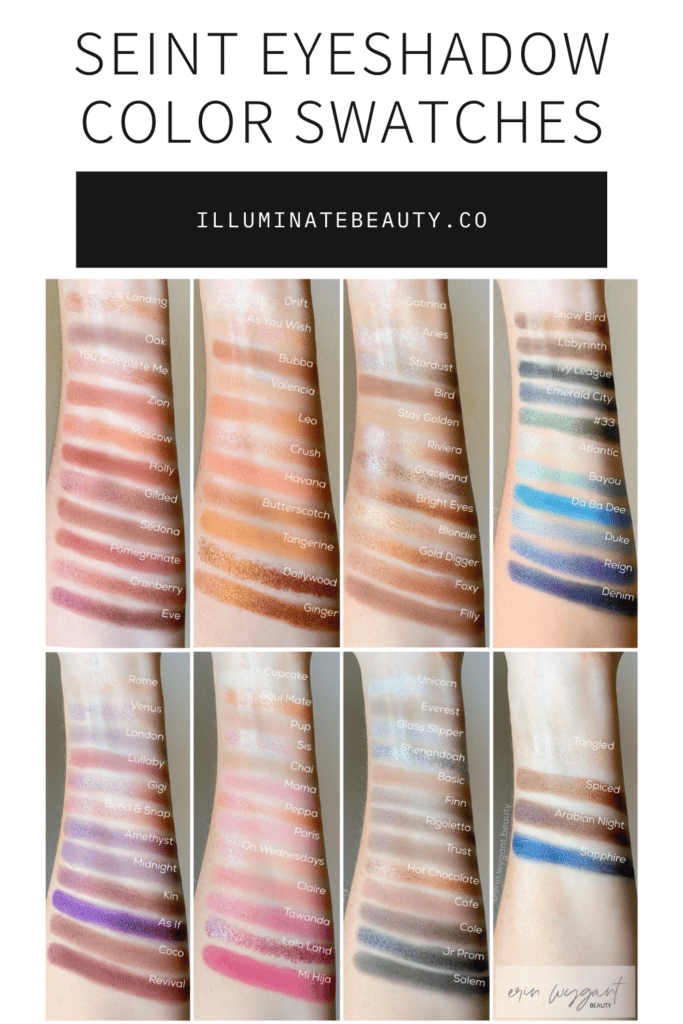 *This post contains affiliate links. If you choose to purchase an item featured in this post, I get a small portion from the sale. Thank you! It does not affect you at all.