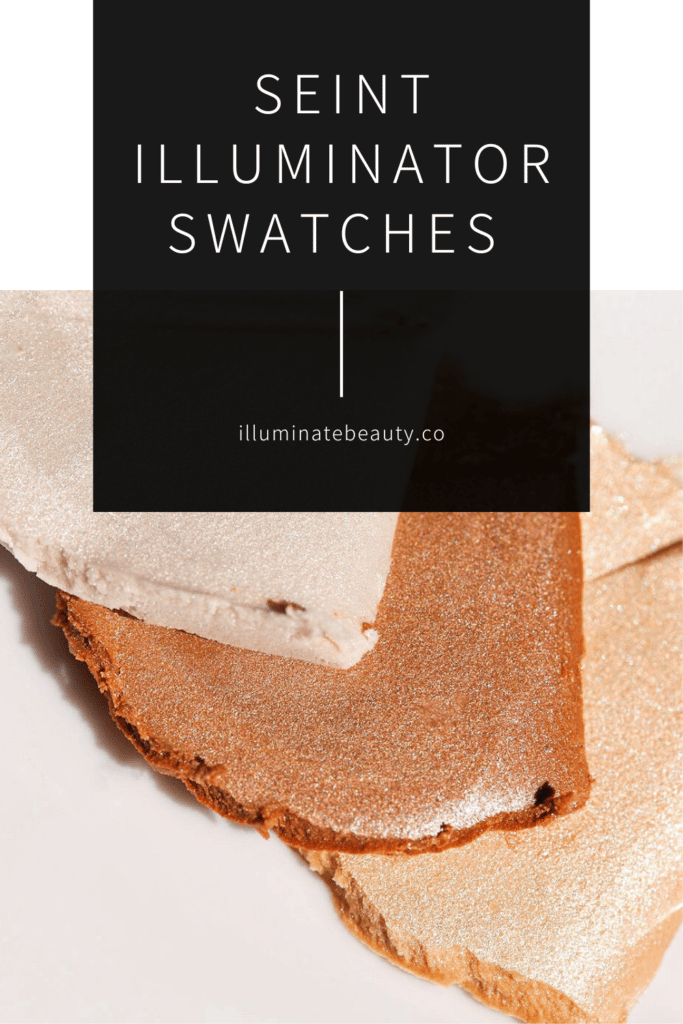 It can be hard knowing what makeup colors to buy online when you can't see them in person. I get it! So, I've compiled some Seint illuminator swatches to guide you in knowing what colors to buy for your custom palette.
What is Illuminator?
First off, what is illuminator? Seint illuminator is what highlighter is in other makeup brands. Illuminator literally illuminates your skin. It gives you a pretty glow in just the right places. It leaves you looking like a Greek goddess!
Seint Illuminator Placement
Where do you apply illuminator? You can choose where you want to add an extra glow, but here are the main places to apply it:
Cheekbones
Underneath the brow
Inner corner of the eye
Cupid's bow of the lip
Tip of the nose
You can also use illuminator as eyeshadow or layer it on top of your lipstick. It's very versatile!
Cream Illuminator Versus Powder Illuminator
What's the difference between cream and powder illuminator? Cream illuminator is a cream product that adds a subtle shimmer. It's best applied with your clean finger. Powder illuminator is a powder product that adds a more dramatic shimmer. It's best applied with the Powder Brush or the Blend Brush. Cream is great for women that have dry to normal skin. Powder is great for women that have oily skin.
These are the cream illuminators:
Angel (my personal fave!)
Glow (this looks great with Bella Bronzer to give you a sun-kissed glow)
These are the powder illuminators:
Photoshop (my personal fave!)
Seint Illuminator Swatches
Here are some color swatches of the illuminators so you know what they look like and can make a better decision on what shade will look best on you.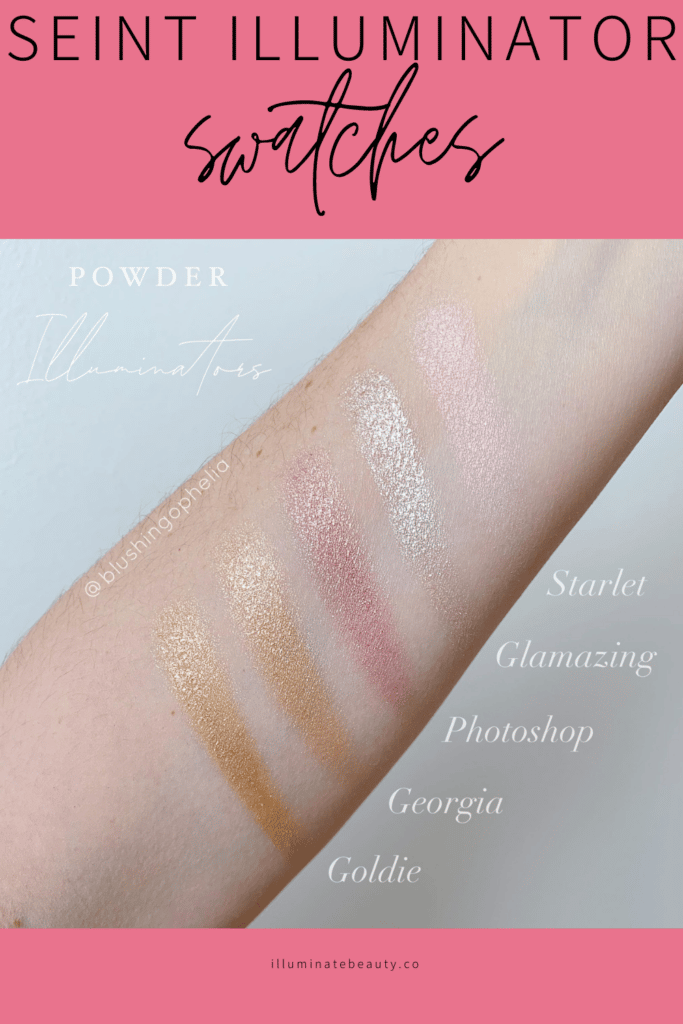 Seint Illuminator Collection
Still not sure what to buy?? Why not get the illuminator collection?! This collection includes 3 cream illuminators. It consists of Rose Gold, Honey, and Pearl. You save $10 when you buy it as a bundle!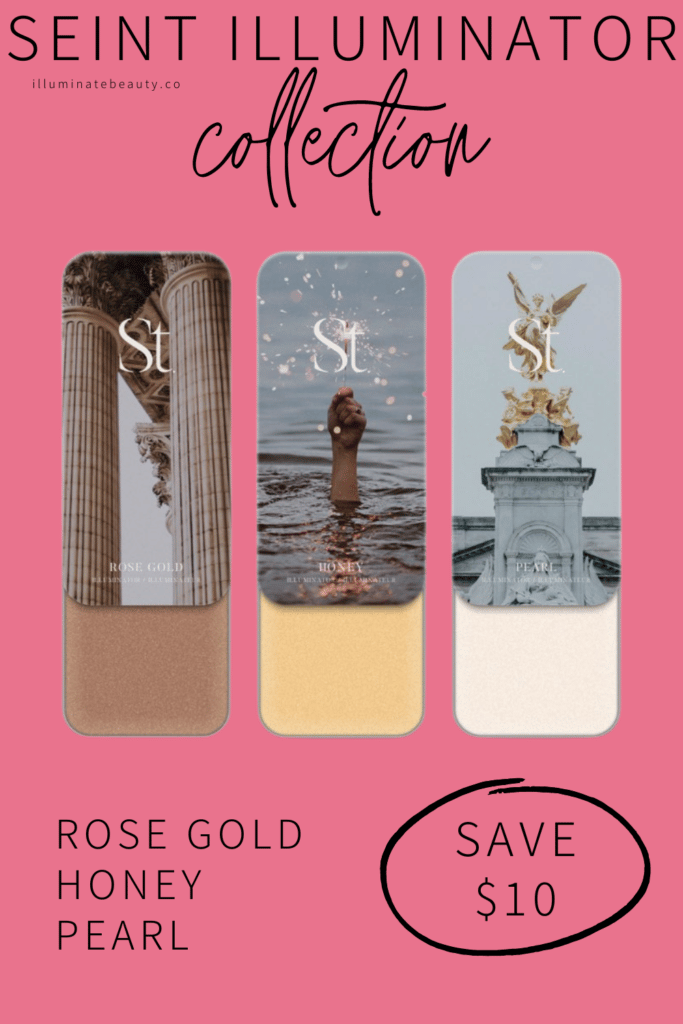 And that's a wrap! Hopefully these Seint illuminator swatches give you a better idea of what they look like. It's a great way to add a beautiful glow to your skin!
Here are other blogposts you might enjoy:
How to Color Match Yourself with Seint Makeup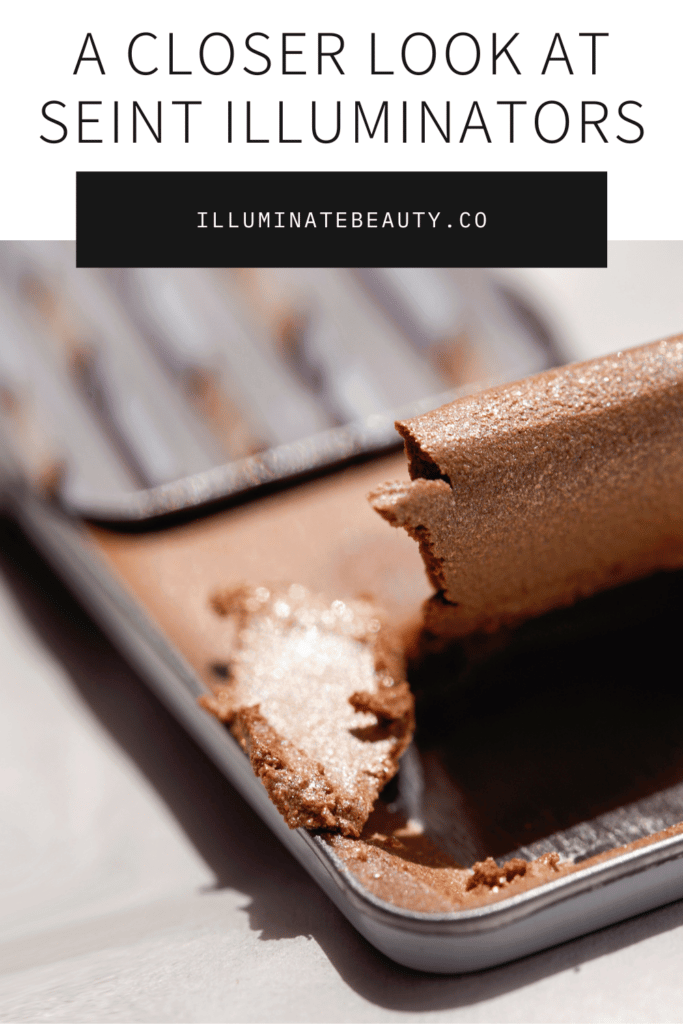 *This post contains affiliate links. If you choose to purchase an item featured in this post, I get a small portion from the sale. Thank you! It does not affect you at all.