Stop buying clothes that are cheap and fall apart easily, clothes that can only be worn in one way, and that aren't comfortable. Start buying clothes that are well made, versatile, and that are comfortable! Build your closet around basics that can be worn over and over. A white tee shirt is one of those great closet basics! Here's how to style a long sleeve tee different ways….think outside the box and make you closet work hard for you!
Closet Basics
Why is it important to build a closet with basics?? Isn't that boring?? Every closet needs a strong foundation of basics! Your closet basics are pieces that are simple and versatile. They're pieces that can be worn on their own or that can be layered. They're pieces that can be dressed up or dressed down. Do you see the potential and the importance of these pieces?? They will work hard for you!
That's why it's important to invest in high quality basics. You're going to wear them a lot so you want them to last! A few of my favorite places to buy closet basics are: Everlane, Quince, and The Classic T-Shirt Company.
Long Sleeve Tee
A long sleeve tee is a great closet basic to have. You can layer it, wear it on its own, wear it throughout the seasons, dress it up or down…the options are endless!
But, it's important to invest in a good one. When putting those basic pieces in your closet, you may have to pay a little more than you're used to. You need to say goodbye to shopping the sale rack at Target or Walmart or grabbing a steal on Amazon. Most of those pieces will fall apart quickly or pill after a few wears. And in the long run, you actually waste more money! Commit to saving your money and investing in higher quality pieces that will last you longer.
See below the different ways to style a long sleeve tee. The options are endless! Think outside the box when getting dresses. Think about how you want to feel and the activity you'll be doing. When you have a closet full of basics, you can create so many great looks for your lifestyle!
You can find the exact shirt I'm wearing HERE. It's one of my favorite pieces in my closet because it's comfortable, it's high quality, and it's versatile!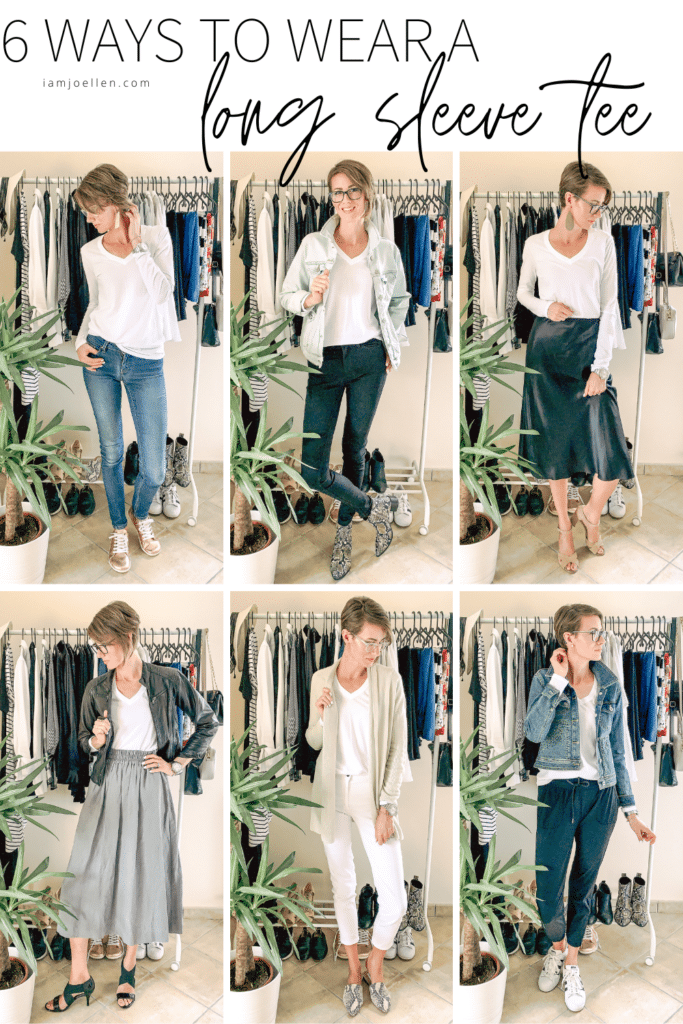 Stop making those inexpensive and poor quality clothes purchases. And start putting a little more intention about what goes in your closet. Build a closet you love! You can read more about how to find your signature style HERE.