Silk is such a great timeless fabric to have in your closet! It's classy and clean. It's pretty and feminine. And it's versatile! Here's How to Style a Silk Blouse Different Ways. You'll want to add one in your closet too!
Silk Fabric
Silk is a great fabric to add to your closet! It's a fabric that instantly dresses up any look. It's timeless, classy, high quality, and versatile!
When I think of silk, I think of the book Polish Your Poise with Madame Chic by Jennifer Scott….have you read it?? It's so good! You can find it HERE. It's all about learning the art of poise. I think silk is a fabric that a poised woman would wear. You may think that silk is a dressy fabric that should only be worn for those dressy occasions. But Madame Chic would disagree! She believes you should wear something nice everyday. I love what she says:
"Get into the habit of wearing your nice clothes on a regular basis. Poised people always put thought into their presentation. They do not settle for drab, old clothes because they're saving their best for a later day. Each day is a gift. Each day could be your last day on earth! Don't save your nice clothes for later, wear them today." (Jennifer Scott)
When you take time to look and feel beautiful, you show up better. You show up for yourself, for others, and for the tasks you need to do. And silk is a great way to look your best!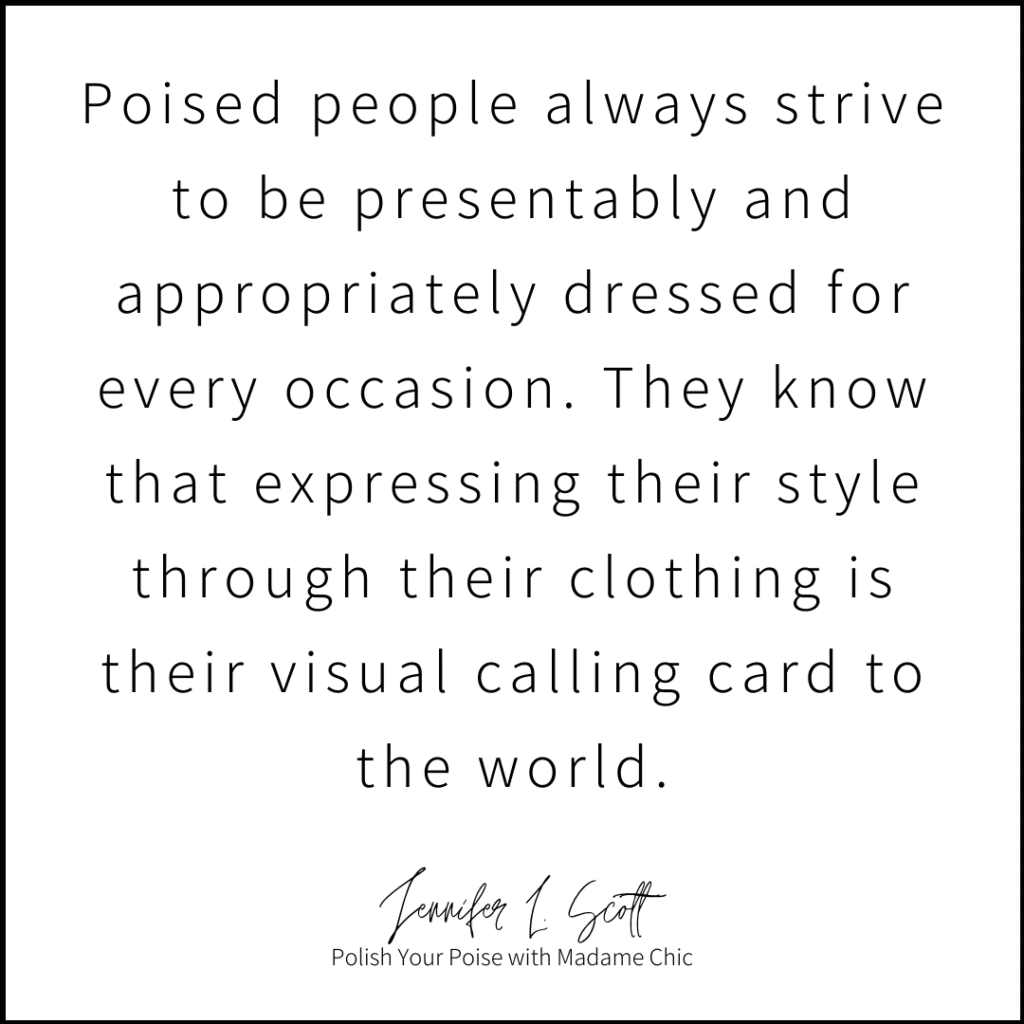 How to Style a Silk Blouse
A silk blouse can be dressed up or dressed down! You can wear it with sneakers, sandals, or boots. You can pair it will jeans, culottes, or a skirt. The options are endless! Invest in pieces in your closet that can worn in multiple ways with multiple things. Put those versatile pieces in your closet so your closet works hard for you! You want to consider quality over quantity so you don't add clutter to your closet.
Here are some ways you can style a silk blouse…think outside the box!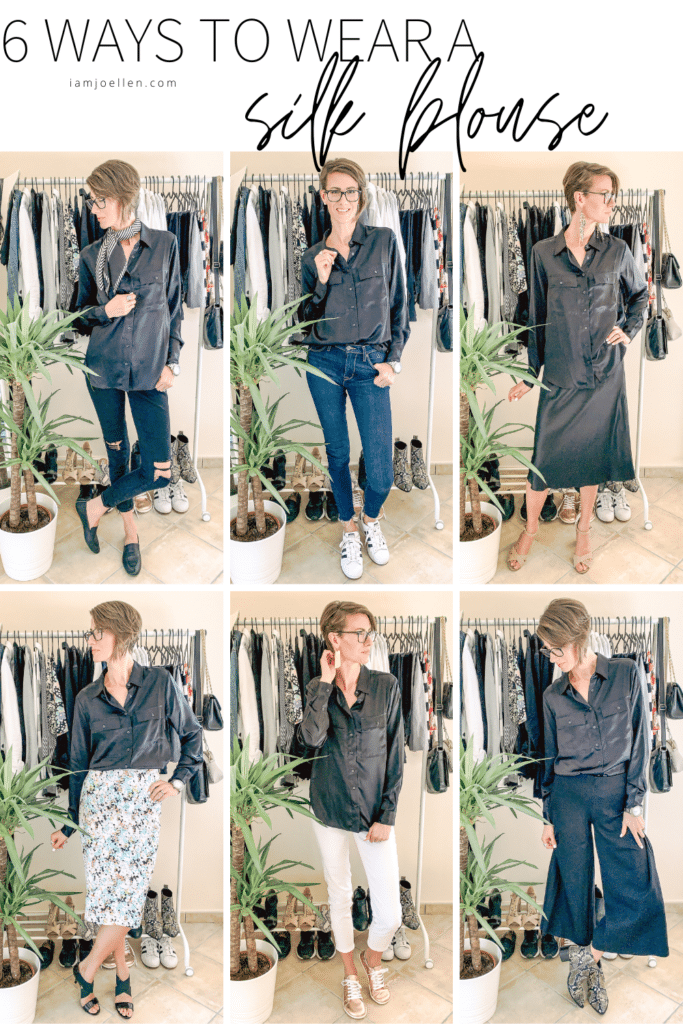 Affordable Silk
Silk usually seems like a really expensive fabric to invest in…and it can be! But I've found a really great brand that makes and sells simple and beautiful silk pieces that any woman can afford! They take out the middle man in their production and marketing process so they can provide high quality pieces at affordable prices. When you shop their great products HERE and get $10 off your first purchase!
You can shop the exact shirt I'm styling HERE. I also have their silk skirt that I love. You can find the silk skirt HERE.
Learn how to build an intentional closet on a budget HERE.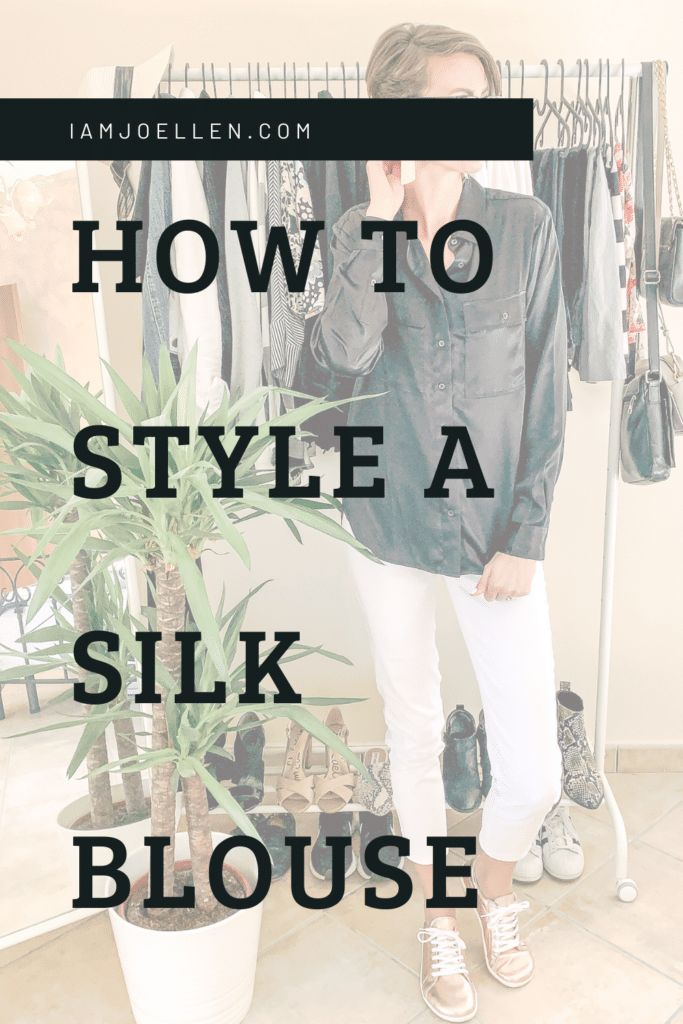 *This post contains affiliate links. If you choose to purchase an item from a link featured in this post, then I get a small portion from the sale. Thank you! It does not affect you at all.