Christmas is just around the corner! It can get overwhelming knowing what to buy for the gal on your shopping list…or let's be real…for yourself! I unapologetically shop for myself! It's what works best for my marriage…I'm happy, my husband is happy…it's a win win! But no matter who you're shopping for, there are so many options out there! The sales, the trends, the gimmicks…it's hard to know where to start! As a minimalist, I try to gift myself and others presents that add value, are high quality, are useful, are timeless, or that help you look and feel beautiful. I like my gifts to have meaning and purpose. I don't want to add more clutter to someone's home and waste money on something they won't use and love. So, I've compiled some simple gift guides that I actually use and love. These items fit all my gifting requirements. Here are some intentional gift guides for any gal on your list that I hope you find helpful!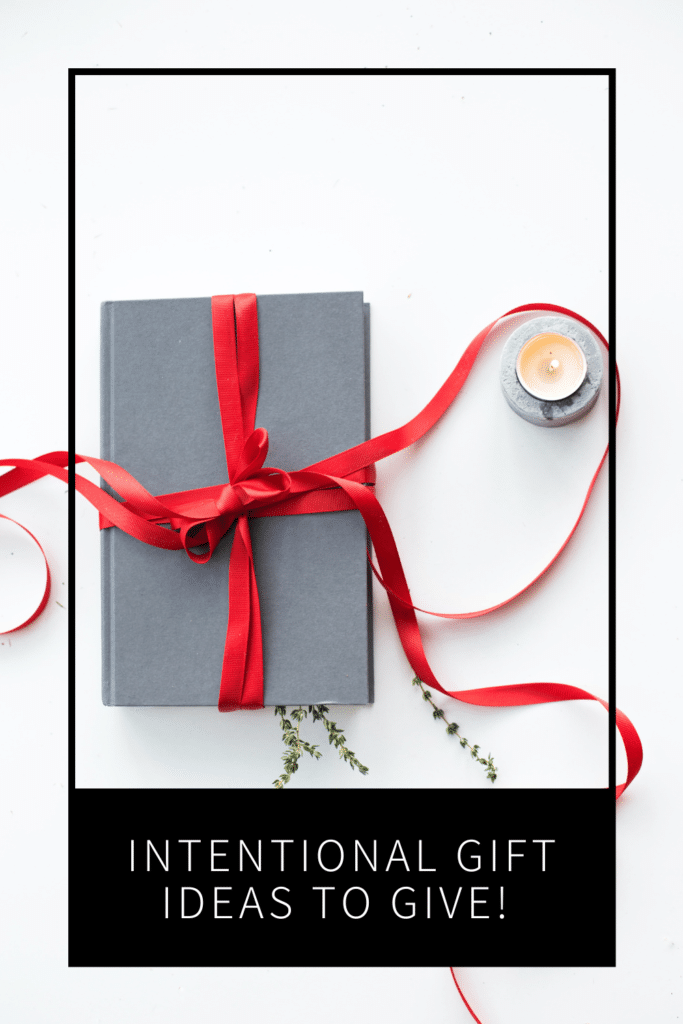 Beauty Gift Guide
Let's start with beauty! What woman doesn't want to look and feel beautiful?! Beauty items are such a great intentional gift because it helps a woman feel pampered and pretty. She may have a hard time splurging on beauty items for herself so give her that pleasure of something that will boost her confidence!
Makeup– Gift your gal some top-notch makeup that she will love! It may be tricky to pick what her perfect foundation color is, so stick with a custom eyeshadow palette, custom lip & cheek colors, or fun illuminators. If you need help picking out what colors will look great on you or her, email me HERE and I would be happy to help! You can also take my quick eyeshadow quiz HERE that will guide you to finding great colors that will complement certain eye coloring.
Makeup tools– Makeup brushes are one of those things that you will have for YEARS! Great quality brushes will help your makeup apply a million times better and will last for a long time!
Hair tools– Everyone has to do their hair every day, so why not invest in high quality hair tools that will help the daily process go more smoothly?!
Skin care– Makeup is great but having a good skin care routine is even better. It's so important to take good care of your skin, but many women don't like to spend the money to do it! I love and use all of these skin care products and my skin loves me for it! You can find my two favorite places to purchase skin care HERE and HERE.
(Click the numbers below to take you to the exact links in the image.)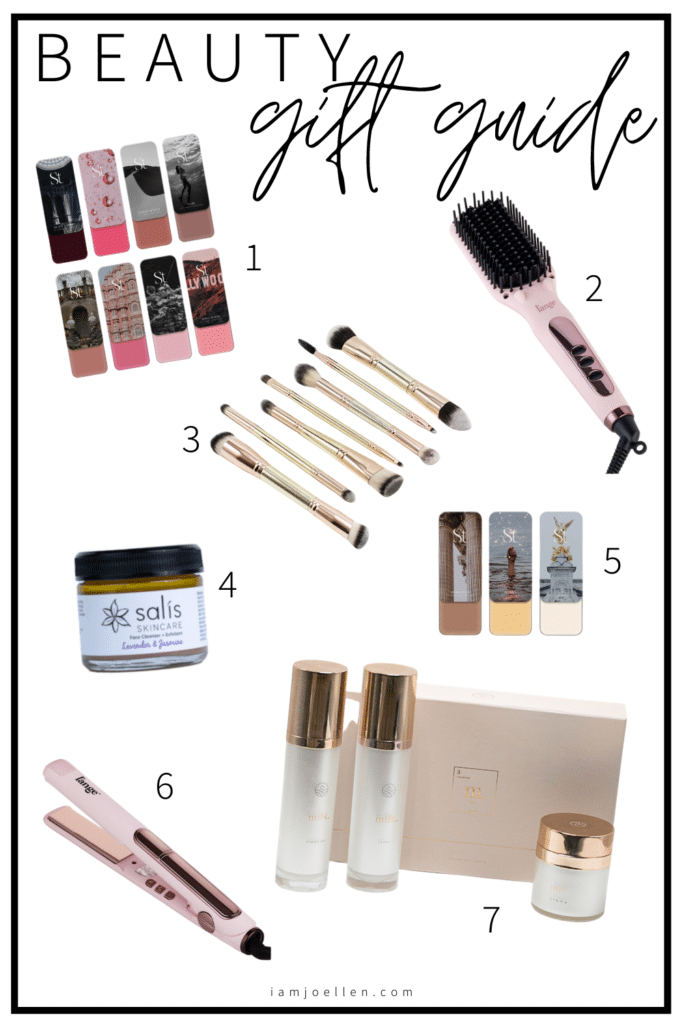 Style Gift Guide
An intentional closet it full of pieces that are high quality, versatile, and timeless! Gift your gal pieces that are just that! Cashmere, silk, linen, leather, silver, gold! These are all materials that she'll have forever! She will love any of these pieces:
Cashmere– Cashmere is one of those classy fabrics that is comfortable and stylish and timeless! Any woman will love a cashmere sweater or scarf in their closet! My favorite place to invest in affordable cashmere is HERE. (When you use that link, you get $10 off your purchase!)
Silk– Silk is oh so beautiful! It's smooth and luxurious and pretty! My favorite place to find affordable silk is HERE. (When you use that link, you get $10 off your purchase!)
Linen– Linen is such a great fabric! It's timeless and lasts forever! My all time favorite place to purchase linen is HERE. There are so many great pieces to choose from! You can customize your pieces and get just what you want!
Boots– Boots are one of those investments that you'll have for a long time! When you buy leather, they'll last forever!
Leather Purse– A leather purse is a woman's best friend! It goes everywhere with her and carries everything she needs! So investing in a good leather piece is such a such smart purchase! I love the leather purses HERE. They're affordable and simple! (When you use that link, you get $10 off your purchase!)
Jewelry– Any gal loves a beautiful jewelry piece to feel pretty! Gift her a simple everyday item that she can wear on its own or layer with other of her favorite pieces. I have tons of silver pieces from HERE and leather pieces from HERE and I always love the quality and style! It's timeless!
(Click the numbers below to take you to the exact links in the image.)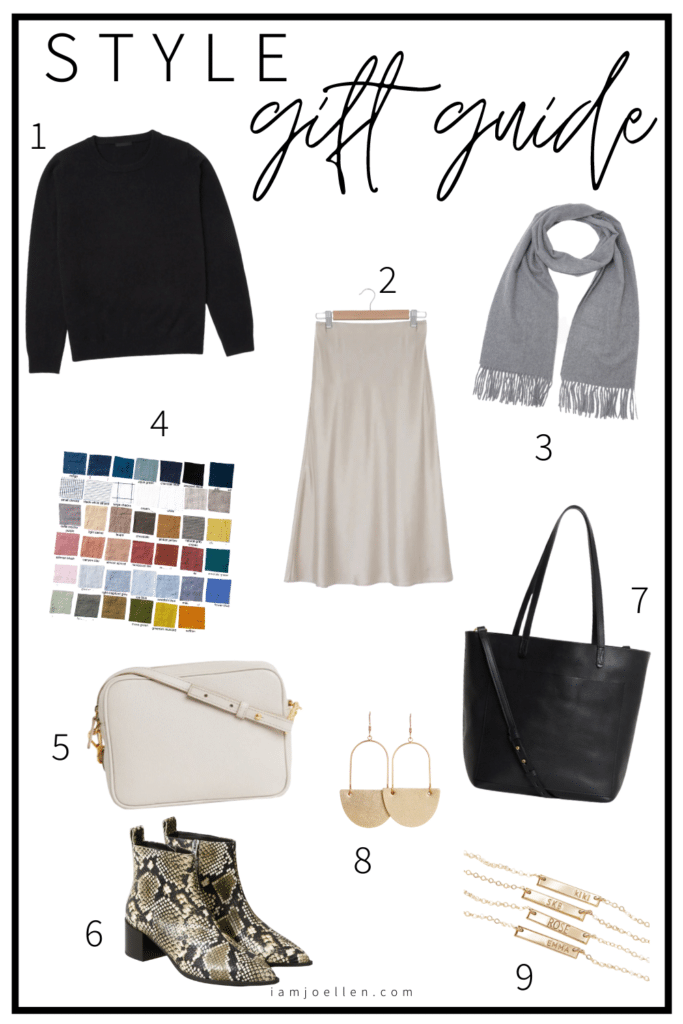 1 | 2 | 3 | 4 | 5 | 6 | 7 | 8 | 9
Experiences Gift Guide
The best intentional gift is an experience! You don't have to give a physical item for it to be meaningful.
Pilates Membership– It's hard making the investment in your health. You know you want to take good care of your body but you have a hard time spending the money to do it. Gift her a Pilates membership! I have been a Pilates fan for years! I'm a member of this Pilates program and I LOVE it! I have access to tons of Pilates workouts on my phone ranging from 5 minutes to an hour. I can choose what area of my body I want to target or how much time I have to dedicate to a workout. There are also tons of great healthy and yummy recipes. This membership is worth every penny! It is such a great intentional gift idea!!
Style eBooks– Many women are completely confused about what to wear! They have no idea what colors or style will complement their features and shape. I've created 2 eBooks that guide you to shopping smarter and dressing more confidently. Give the gift of knowledge and confidence with Your Color Match Closet Guide and Your Body Shape Style Guide!
Airbnb– Who doesn't love a getaway?! Gift your gal an Airbnb gift card so she can visit somewhere fun and make fun memories! Our family has used Airbnb ALL around the world! We've had some awesome priceless experinces! (When you use that link, you get $50 off!)
Vidangel subscription– There are so many great shows and movies to watch online, but there is also a lot of garbage. Our family has been Vidangel fans since day one and we can't live without it! We can choose to filter out certain content to make our viewing more pleasurable. We can filter out bad language, violence, sex scenes…whatever makes you feel uncomfortable. We are huge fans and it's definitely worth the monthly subscription!
(Click the numbers below to take you to the exact links in the image.)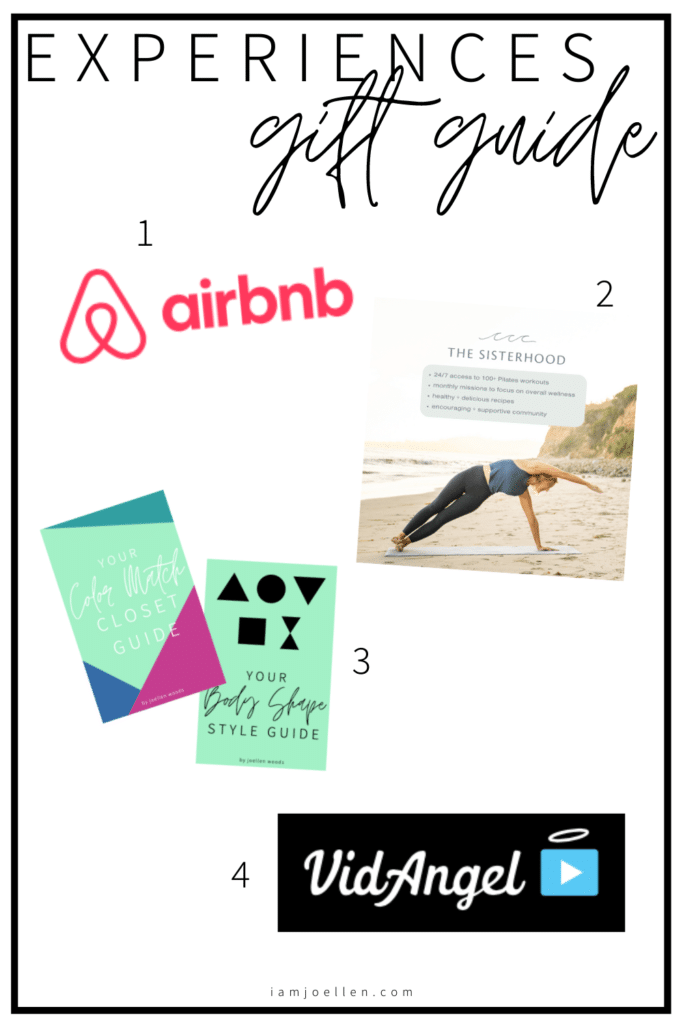 These are some great intentional gift ideas for any gal on your list! Put some thought in your gifts this year and commit to adding value to their life. Don't just be suckered by a sale or a trend…give her something that will help her look and feel beautiful and that she'll love and use!
You can find stocking stuffer ideas HERE!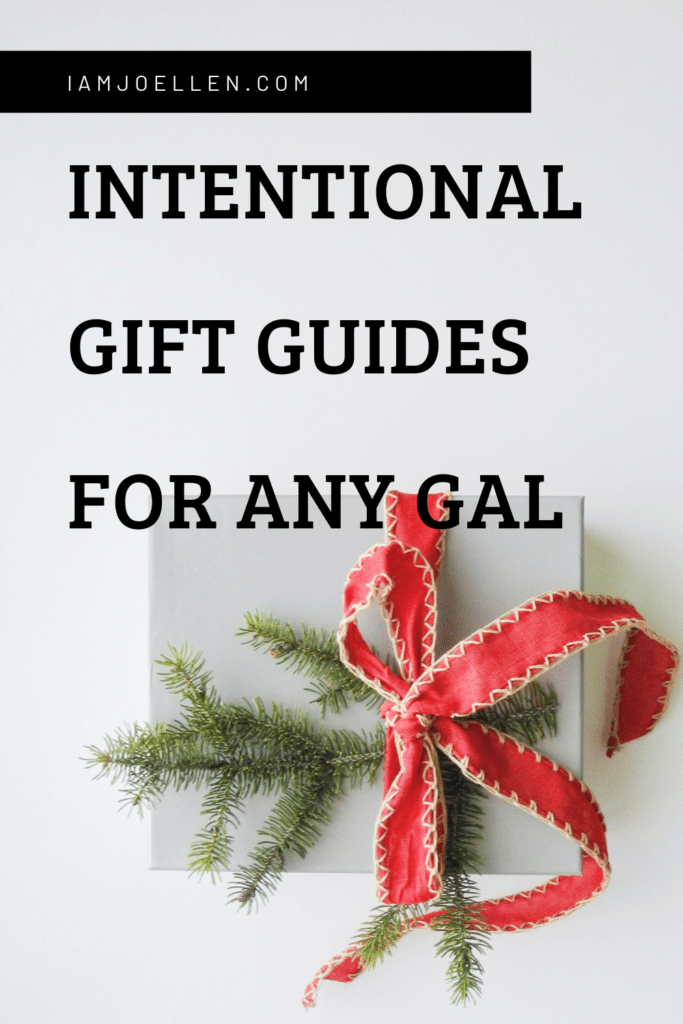 *This post contains affiliate links. If you choose to purchase an item featured in this post, I receive a small portion from the sale. Thank you! It does not affect you at all.