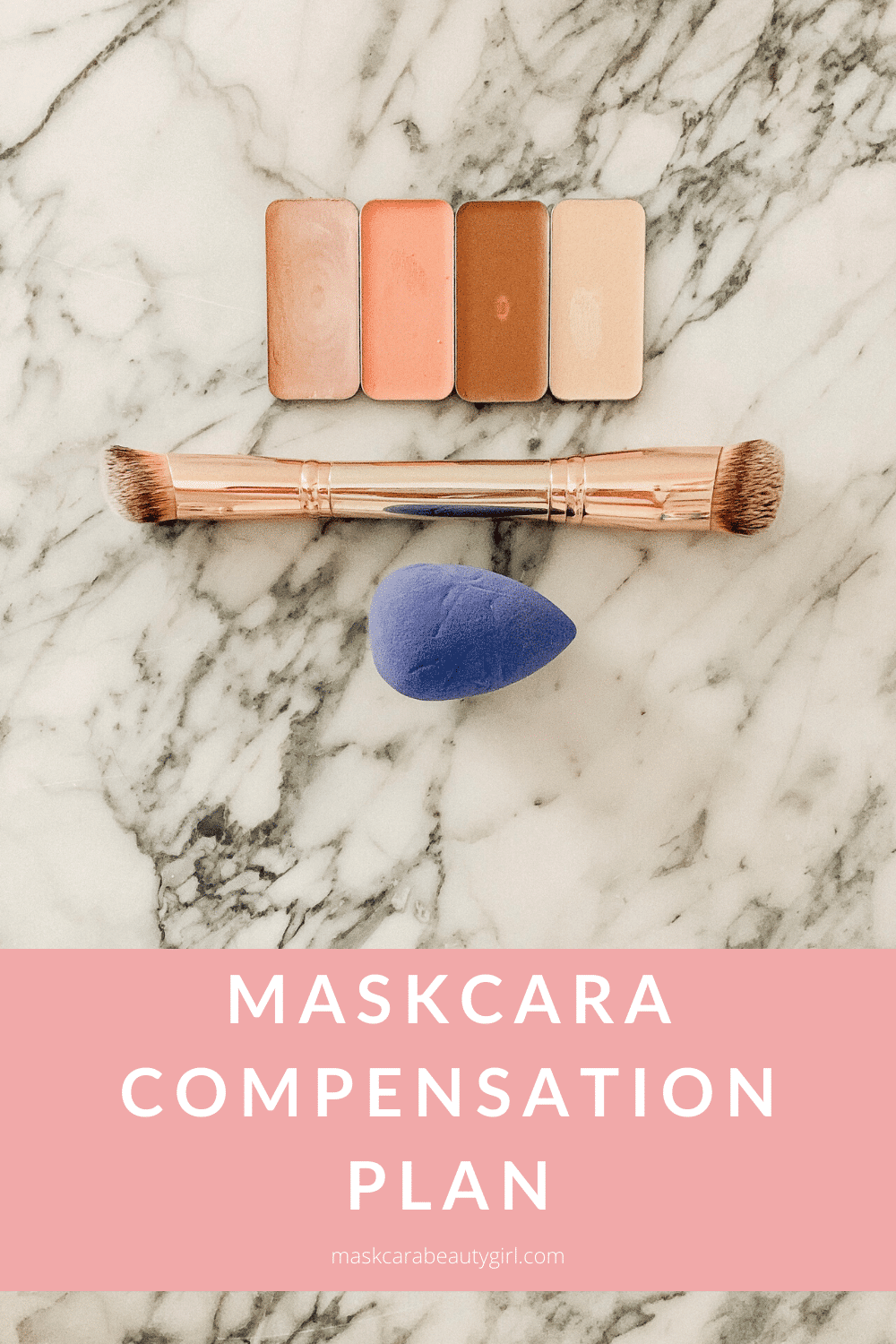 You've heard about Maskcara, right? You have seen it on your Instagram feed and are intrigued by the makeovers and the time saving claims. But, is the Maskcara business the right thing for you? Let's dive into the ins and outs and the Maskcara Compensation plan.
What is Maskcara Makeup?
Maskcara Makeup is a makeup line created by Cara Killpack, a blogger and makeup artist. The makeup is designed to simplify your beauty routine by having to apply only one layer of makeup and in one simple compact. Maskcara is known for their iiid foundation that consist of a highlight, contour, blush and illuminator combo. The iiid makeup uses Highlight and Contouring (HAC) which uses a highlight shade to brighten your face and a contour shade to add dimension to your face.
Early in 2017, Cara turned her makeup line into a direct distributor company (or MLM) and artists are able to sign up and earn commission on selling the makeup.
How much does it cost to enroll?
The Basic Kit is $199 and the Pro Kit is $399. Deciding which kit you want will depend on your goals for your business, if you are going to do in-home parties or want to do personal makeovers. If you answered yes to either of those questions, go for the Pro Kit. It has incredible value and allows you to be prepared to do anyone's makeup anytime. You can learn more about the Maskcara Artist kits HERE.
If you have questions on which kit is right for you, we'd love to answer your questions. Email us HERE!

How does the Maskcara Compensation plan measure up?
What is a compensation plan anyways? A comp plan is the money you get paid for selling a product. Compensation plans can be confusing, but that is one of the biggest reasons we love Maskcara. The Maskcara compensation plan is simple. You get at least 20% commission on anything you sell. You can earn more if you sell more or if you get people to sign up under you, but no matter what you get that 20%.
Here is how Maskcara's Compensation plan stacks up against the other MLMs out there.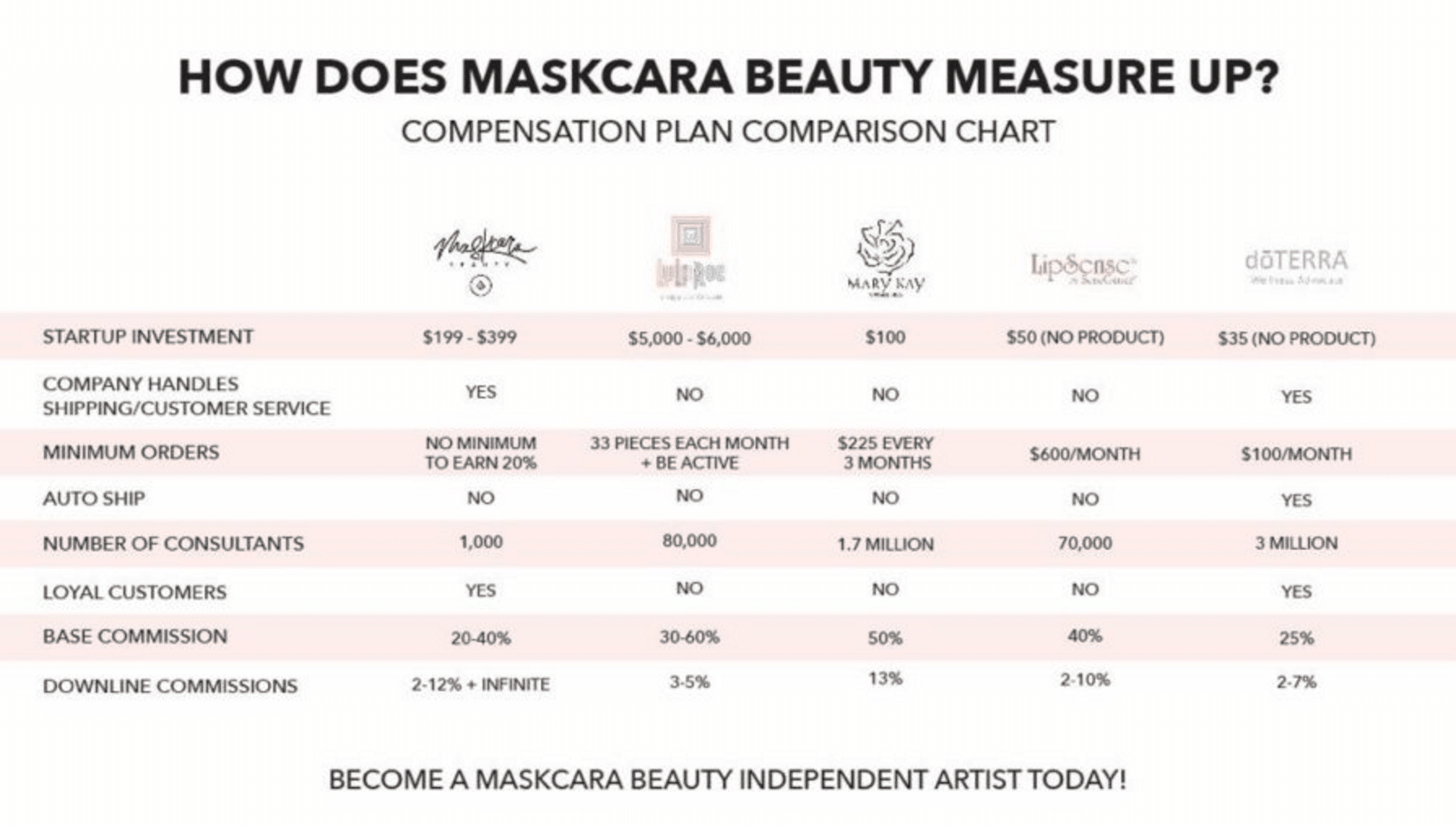 Things we love about the Maskcara Compensation Plan:
No monthly minimum
Always get at least 20% commission
You have the potential to earn up to 40% commission on sales…the more you sell, the more you make!
You get a 20% discount on your purchases
Your personal purchases count toward your monthly sales
Once a customer buys from you, they are assigned to you forever. So, if they make an order on their own, you will get credit for it.
If you decide to build a team, you get a percentage from their sales
We over here at Maskcara Beauty Girl love the flexibility and potential of the business of Maskcara and we especially love the Maskcara compensation plan. If you are thinking of joining, we'd love to chat. Email us HERE or if you are convinced and eager to join, Click HERE and enter in artist #185629 to join our team.
Perks of being on our team:
We are a no pressure, trying to prove that being a part of an MLM is bad wrong kind of team! Our team focuses on individuality. We embrace our differences! We have women that are stay at home moms, travelers, working women, students, single, married, and everything in between. We have women that are young, middle aged, and more mature. We have women that like to run their business online, in person, or a bit of both. I work with each woman individually to set their goals and accomplish them. If you want to make this a little hobby, I fully support that! If you want to go big and work hard, I totally have your back! But the main thing is building a business around you and your strengths and talents and not just around the makeup. You are not one dimensional, and neither is your brand! I believe we all have gifts that we are meant to share with others to lift them up and make a difference in their life. And Maskcara is a great avenue to do this…
Want to learn more about joining our awesome team? Click HERE!
Want to be in the know on some popular MLM terms? Click HERE to learn!