Maskcara Cream Foundation
There's debate about what kind of foundation is best for a women's beautiful face. Powder or cream?? Well, Maskcara cream foundation is pretty darn amazing. Once you try it, you will want to convert to the cream lovers' side and never look back! But what's so amazing about this cream foundation? Be prepared for a whole lotta made up words and adjectives…
Maskcara Cream Foundation is Blend-able
Maskcara cream foundation is blend-able! Because it is a cream formula, it is easy to smear and blend on your face. You can simply apply the product to your face with your favorite brush and it will blend like a champ. You can use your brush or sponge to blend the makeup out with perfection.

Maskcara Cream Foundation is Wipeable
Maskcara cream foundation is wipeable. Once you apply the product, you can easily wipe any product off that you want to correct. Did you put too much on? Put it in the wrong place? No worries! Simply take a makeup remover wipe and wipe it off and start again. Easy peasy.
Maskcara Cream Foundation is Smudge-able
Maskcara cream foundation is smudge-able. You can dab, smear, wipe, smudge that cream foundation to your heart's content! Have a bad blemish? Have no fear! Simply smudge on some highlight and cover that baby up.

Maskcara Cream Foundation is Foolproof-able
This cream foundation is foolproof-able. Does the HAC process have you intimidated? Highlight and contouring can seem a bit daunting. But with the cream foundation, it is foolproof-able! You can start, stop, re-do, and practice until you feel like you have it just right. It's so easy that anyone can do it! The cream foundation is so forgiving. Seriously.

Do we have you convinced yet? The biggest problem with  cream foundation is making sure you have the right colors. Because if you don't, then your makeup won't blend as well. So if you have questions or need help troubleshooting or picking your colors, email us so we can help! We want you to fall in love with this makeup just like we have!
Want to know the Best of Maskcara?? Click HERE!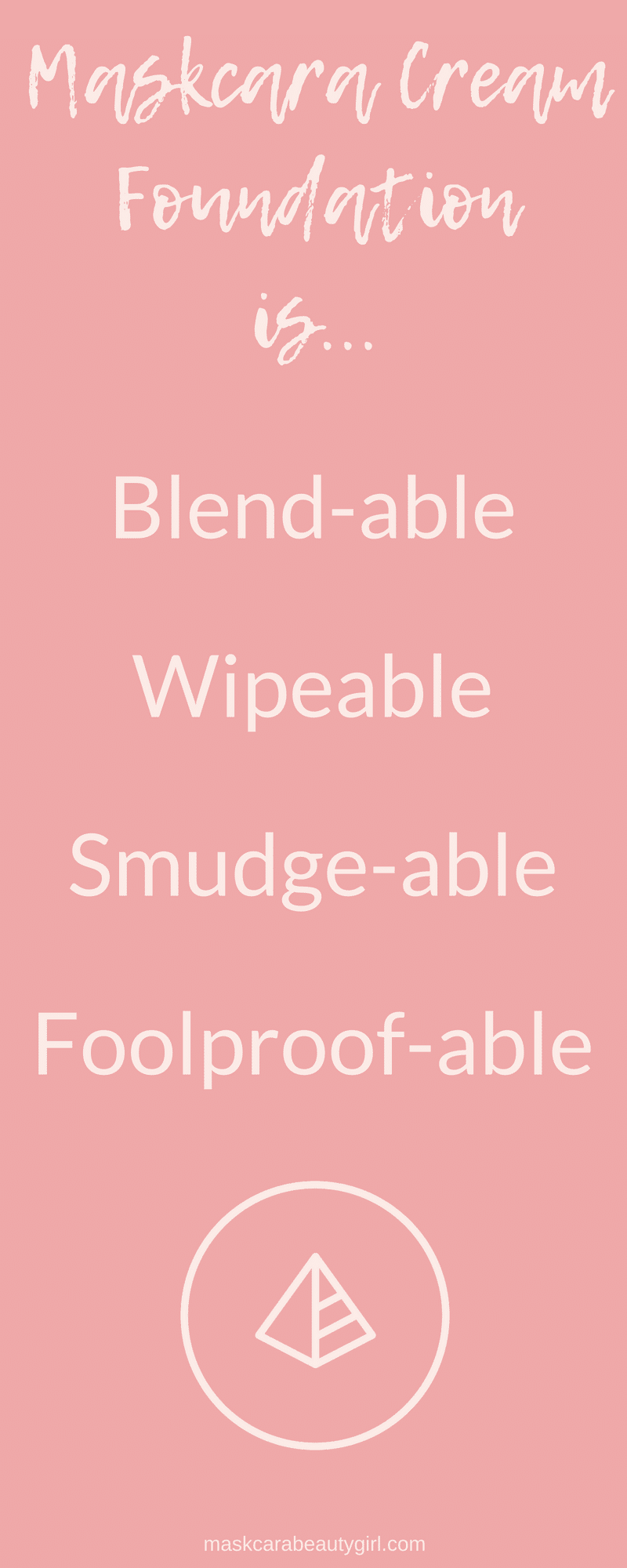 *This post contains affiliate links. If you purchase an item featured in this post, then we get a small portion from the sale. Thank you! It does not affect you at all.