Maskcara Mother's Day Bundles to Give
Are you the kinda gal that knows what she wants for a gift but then your significant other fails to read your mind?? Yeah….that happens to us all the time too! So let's help a brother out and make his Mother's Day gift giving extra easy for him this year. These are the best Maskcara Mother's Day Bundles to give this year that you will love! Share this website with him and all he has to do is click the shopping links and you get what you want…win win!! There are gifts for all price points and you will love any one of them! Go on….go for it girl….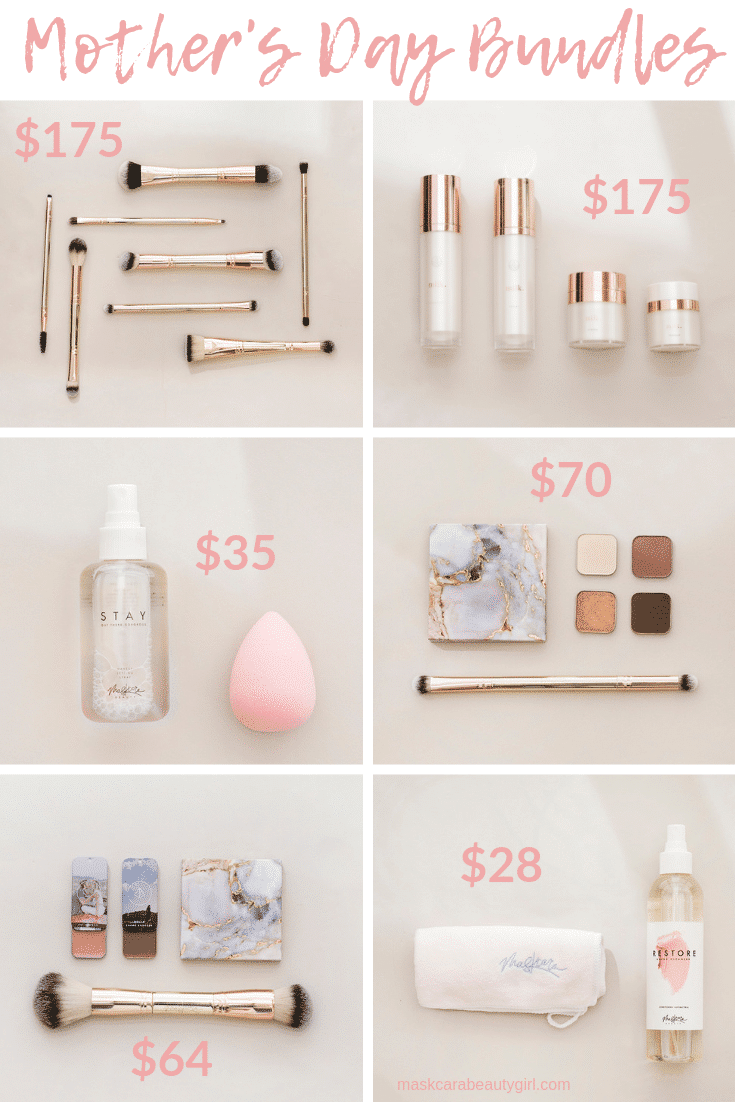 Tres Leches & Milk Masque Bundle ($175)
What woman doesn't want glowing skin?! This is the perfect bundle to get! It includes the Tresh Leches system (Milk Cleanser, Milk Toner, Milk Moisturizer), the Milk Masque, and a set of 3 microfiber cloths. Yes please! Your skin will thank you for taking such great care of it! It's the perfect pampering gift you could ask for. You save $15 with this bundle!
Special Brush Bundle ($175)
Just like a good artist needs good brushes to create a masterpiece, every woman needs good makeup brushes to apply her makeup. A good tool makes all the difference! You will love this makeup brush collection! It includes: the Hotline Brow Brush, Best Blend Forever Brush, Multitasker Brush, 30 Second Hac Brush, Buffy Brush, Blend & Tap Eyeshadow Brush, Detail Hac Brush, and I Shadow Everything Brush. You get the I Shadow Everything Brush free with this bundle…that's a savings of $18!
Stay Awhile, Gorgeous Bundle ($35)
This bundle is perfect for helping your makeup last all day! It comes with the Stay Setting Spray and the Perfector Sponge. Spray the damp Perfector Sponge with the Stay Spray and blend your makeup out while setting it at the same time. If you have oily skin, do this before and after you apply your makeup for extra great hold. You save $6 with this bundle.
Summertime Essentials Bundle ($64)
This bundle includes the new Summer Love Lip & Cheek color, Bella Crème Bronzer, B Squared Bronzer and Blush Brush, and you get a marble square compact for free! This is THE perfect bundle to get you summer ready! It includes all of our personal faves!
So Fresh So Clean Bundle ($28)
This bundle is a must for every beauty girl! The Restore Brush Cleaner and a pink microfiber cloth are the perfect tools to keep your makeup brushes clean and bacteria free!
Glowing Shadows Bundle ($70)
Are you like every other woman and you just don't know what eyeshadows to buy? Then this is perfect for you! This bundle includes Cupcake, Lullaby, As You Wish, and Filly eyeshadows, the Blend & Tap Brush, and a Square Marble Compact. These colors will look beautiful on anyone!
Whether you want to give your hubby or kids a little hint hint for their Mother's Day gift or whether you want to pull the trigger on your own, we won't judge! But take advantage of these deals while supplies last….because they won't last long! Click HERE to shop!
Learn more about Maskcara makeup brushes HERE!