Seint Makeup Compared to Drugstore Makeup
I've been using Seint makeup for 5ish years and I love it! I had forgotten what my old makeup routine consisted of, so I wanted to do an experiment! I bought a bunch of drugstore makeup and wanted to compare it with my current makeup routine. How is Seint makeup compared to drugstore makeup?? I'll show you!
Drugstore Makeup
In preparation for this experiment, I got on Amazon and bought the same types of products I currently have in my custom Seint compact: foundation, concealer, contour, blush, illuminator, bronzer, powder, eyeliner, brow pencil, eyeshadow, lipstick, and brushes. I got all the things! And let me tell you, it filled up a huge makeup bag! It was a lot of products! As I applied the drugstore makeup to one side of my face, I noticed how many layers I was putting on! I first applied foundation, then concealer, then contour, then blush, then bronzer, then illuminator, then powder…all on top of each other. That's 7 layers on my face! It felt cakey and it looked fake. I noticed that the foundation, concealer, and eyeshadows weren't very pigmented. The blush was reeeally hard to blend! The bronzer made me look orange. The illuminator was way too sparkly. Honestly, I felt like I looked like a clown! The brushes were a bust. They soaked up too much product and didn't blend my makeup well. I didn't like that I had to have so many different brushes for all the different tasks. I wasted a lot of time rummaging through my makeup bag looking for the product or brush I needed. It was like a treasure hunt!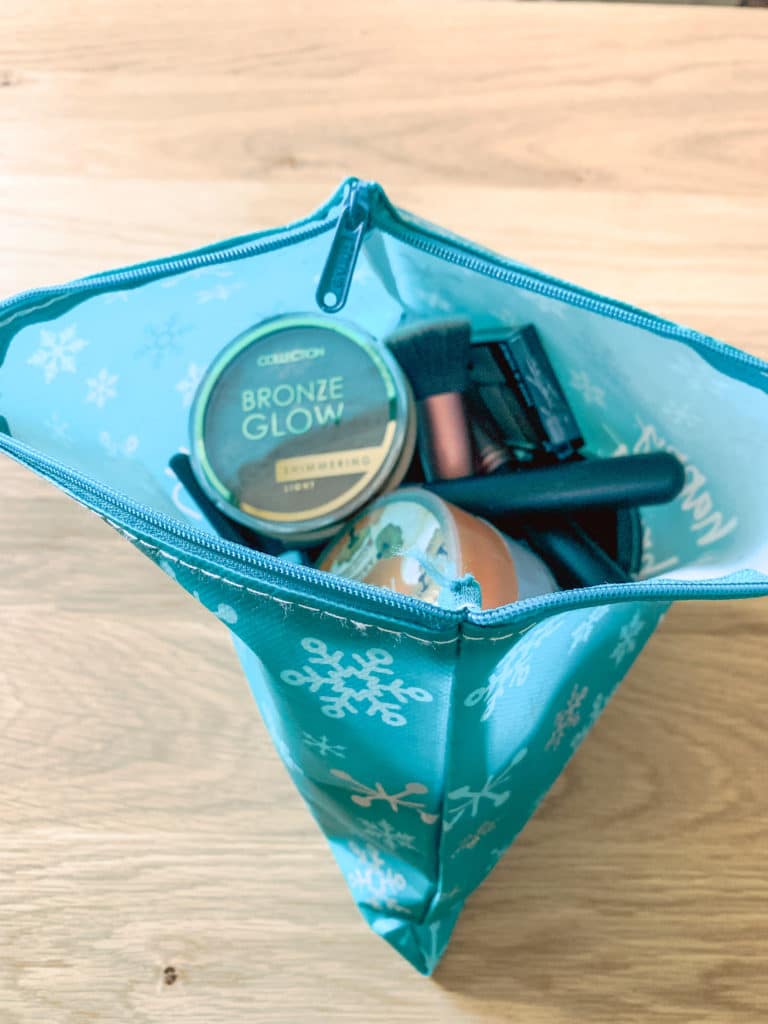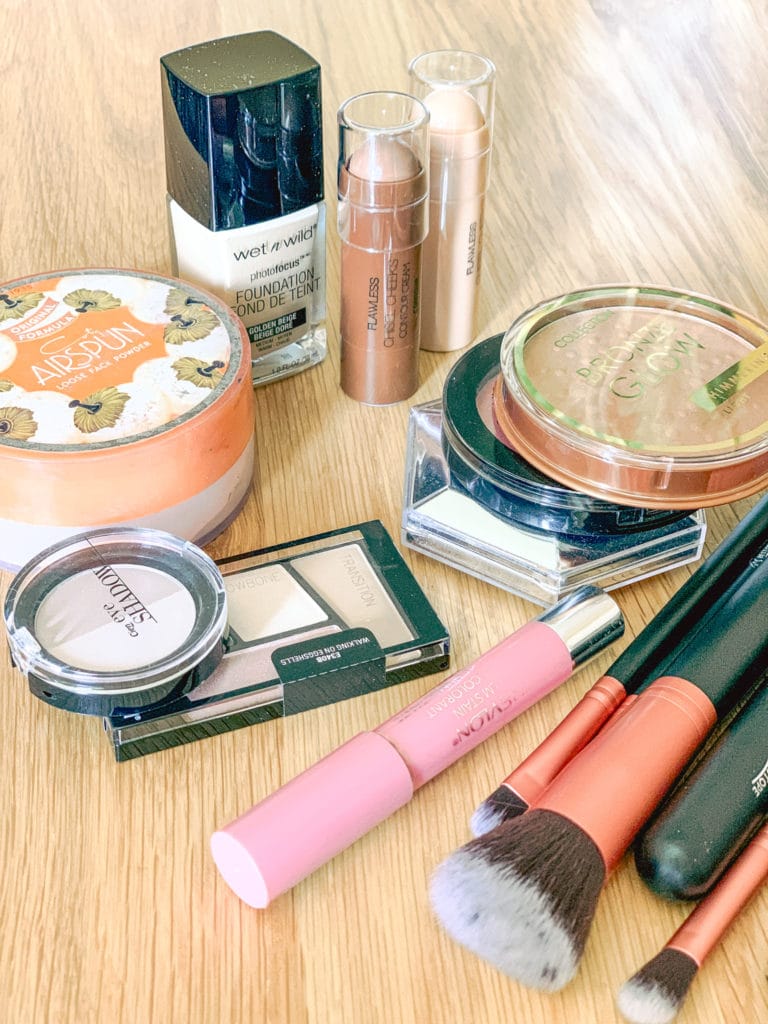 Seint Makeup
On the other side of my face, I applied Seint makeup. I applied foundation, concealer, contour, blush, bronzer, illuminator, and powder but only in the places I needed it. Instead of 7 layers on my face, I had one. It looked more natural and felt lighter.The eyeshadows were very pigmented and showed up well on my eyelids. Because each Seint brush is double ended, I used less brushes. They were higher quality and blended my makeup well. My makeup colors were perfectly matched to my skin tone and blended nicely into my face. It provided good coverage but it didn't make me look fake!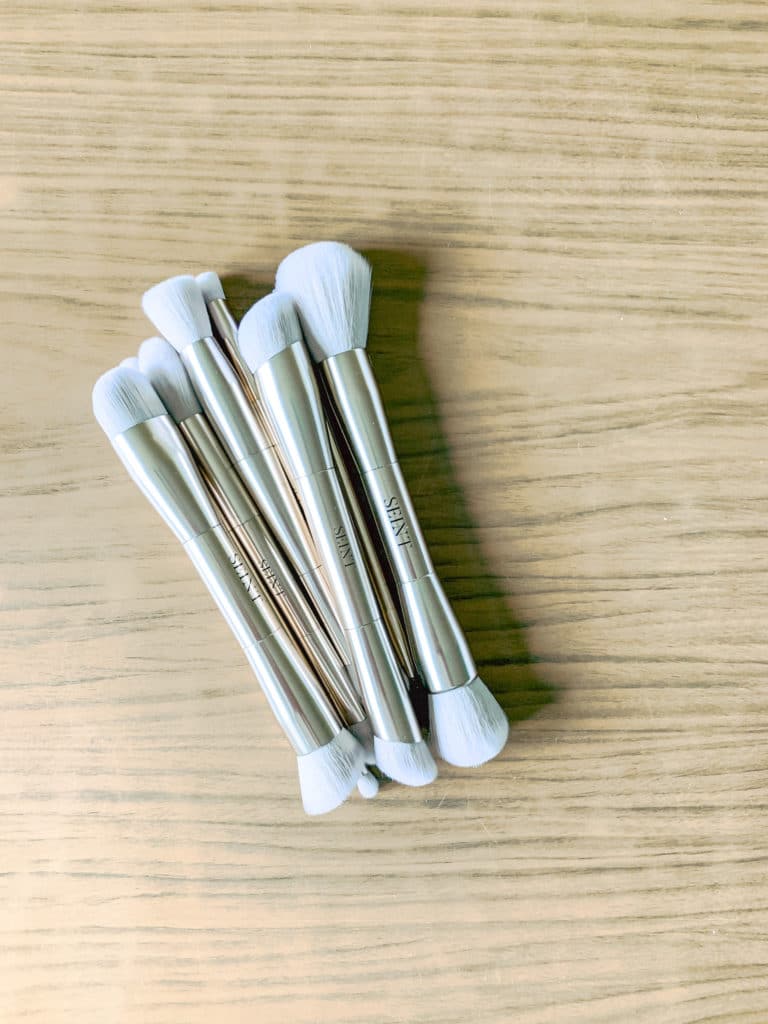 Why Seint Makeup is Better
Let me break down the reasons why Seint makeup is better than drugstore makeup:
Less layers: IIID foundation allows you to apply your makeup in just one layer! Instead of layering product over product and giving you a cakey and fake look, IIID foundation is lighter and more natural looking.
Provides better coverage: Even though you only apply one layer, the cream makeup provides great coverage! The makeup is really pigmented. You only need a little to get good coverage.
Saves space: You don't need a whole makeup drawer of makeup bag full of products! Everything fits into 1 compact! It saves so much space!
Saves time: You waste so much time rummaging through your makeup bag looking for the right product. When it's in one compact, everything is literally at your fingertips!
Perfect colors: Buying makeup online or in a store can be confusing. You have no idea what colors to buy! It's a gamble! You end up wasting money or time returning products that don't work well. But buying Seint makeup from an Artist (like me!) will help you find the perfect colors and help you troubleshoot.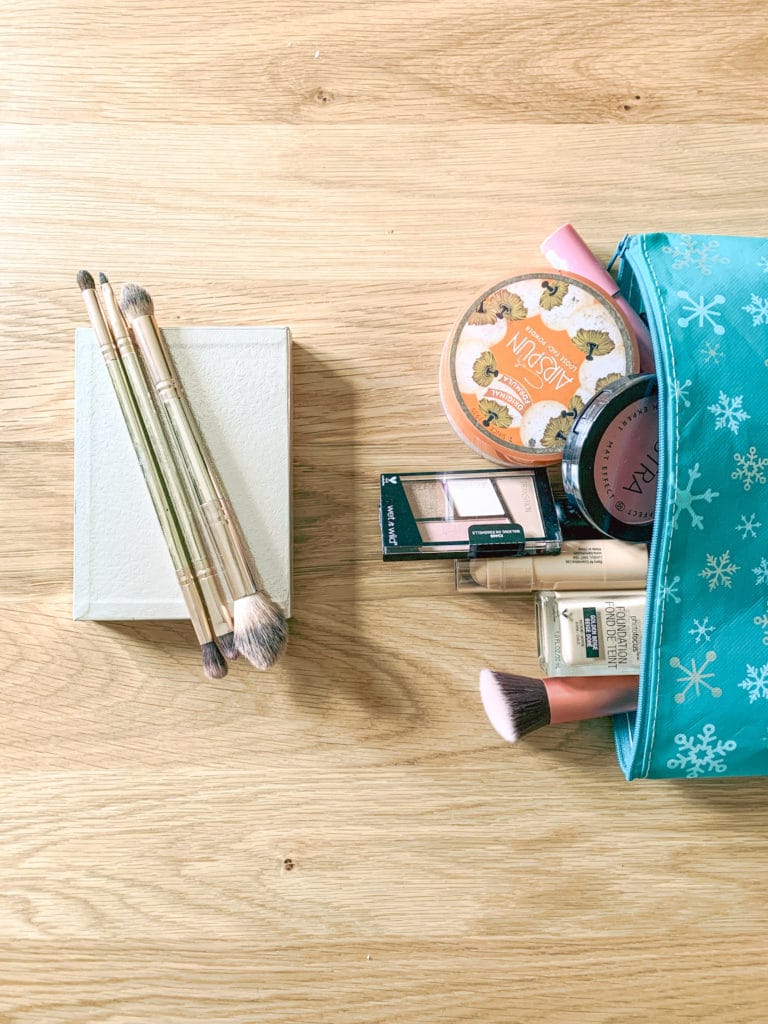 How to Buy Seint Makeup
It's time to toss your drugstore makeup! It's time to invest in Seint makeup! Get rid of the clutter and the so-so makeup and invest in makeup that saves space, time, and money and that makes you look amazing! How do you buy Seint makeup?? You can click
HERE
to shop and browse. But the great thing about purchasing from me is that I'm your personal makeup mentor. I can help you choose the perfect colors that will suit your needs and lifestyle. You can fill out my
makeup survey
so I know how to best help you. Make sure you send me a selfie so I can help you find your perfect colors! I want to help you simplify your makeup routine and love the way you look! This was such an interesting experiment! It was eye opening! I knew I loved Seint makeup, but using my old makeup routine helped me realize how much better Seint makeup is than drugstore makeup! The winner is clear in the Seint Makeup Compared to Drugstore Makeup experiment…Seint wins by far!

You can learn more about Seint makeup
HERE
.