It's so important to build a wardrobe that is full of intentional pieces. Pieces that will work hard for you, pieces that you can wear over and over, pieces that you can dress up or down, pieces that are versatile. I like to refer to them as closet workhorses or adaptable apparel. One piece that is a closet workhorse is a pair of black joggers. Your closet needs them!
What are Black Joggers?
First off, what even are black joggers?? These are pants that are baggier in the hip area and fitted at the ankle. They're a loose lounge pant that are usually worn for exercise or relaxing. So why in the world would I suggest that every closet need exercise wear?? Oh my…you can wear them in so many more ways! 
Not Just for Exercise
Although you can definitely wear these pants to exercise and lounge in, they are not just for that! Joggers come in lots of different colors, but when you get a pair of black joggers, it's a game changer! 
Black pants in general are a great staple for any closet. From black jeans to black leggings to black trousers to black joggers…they're all a great idea and are timeless pieces. But when you combine the jogger pant with the color black, it's a dynamite duo! Joggers are the ultimate comfort pant. And who doesn't want to be comfortable? But the thing is, is that they don't look frumpy or lazy when you pair it with the right top pieces. You can be comfortable and stylish if you dress right. And style doesn't get much better than that, in my opinion!
How to Wear Them
Besides wearing them to run in or rest in, when you pair them with the right top, it can look so so cute! When you're trying to put a nice outfit together, it's all about the shoes and top and accessories. You can make any jogger look dressed up if you have the other pieces right. Here are just a few ways that I put some fun outfits together: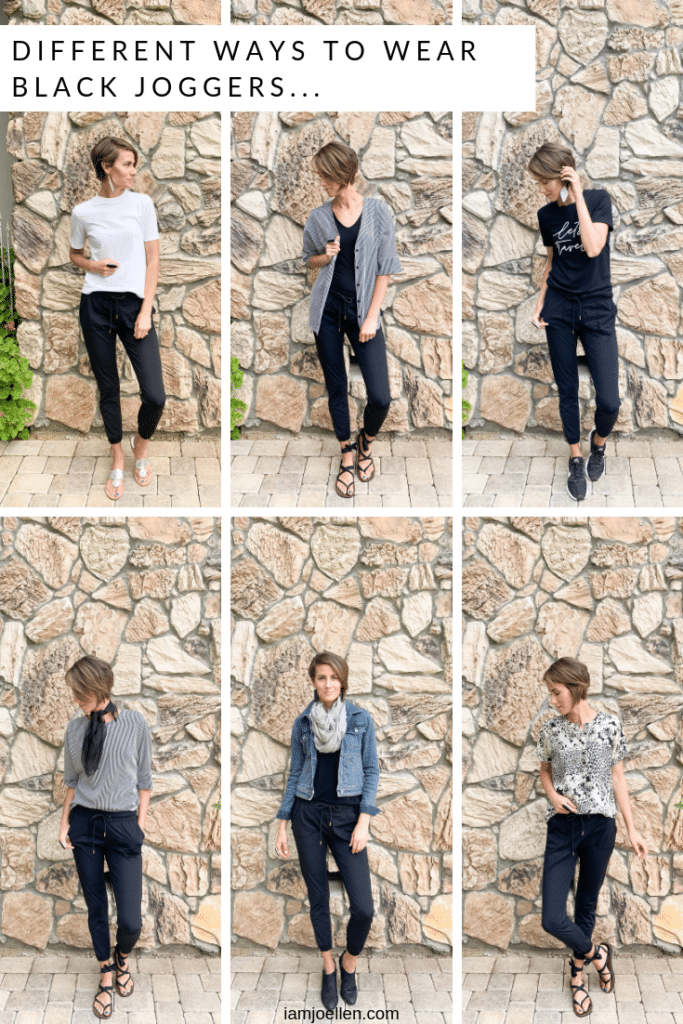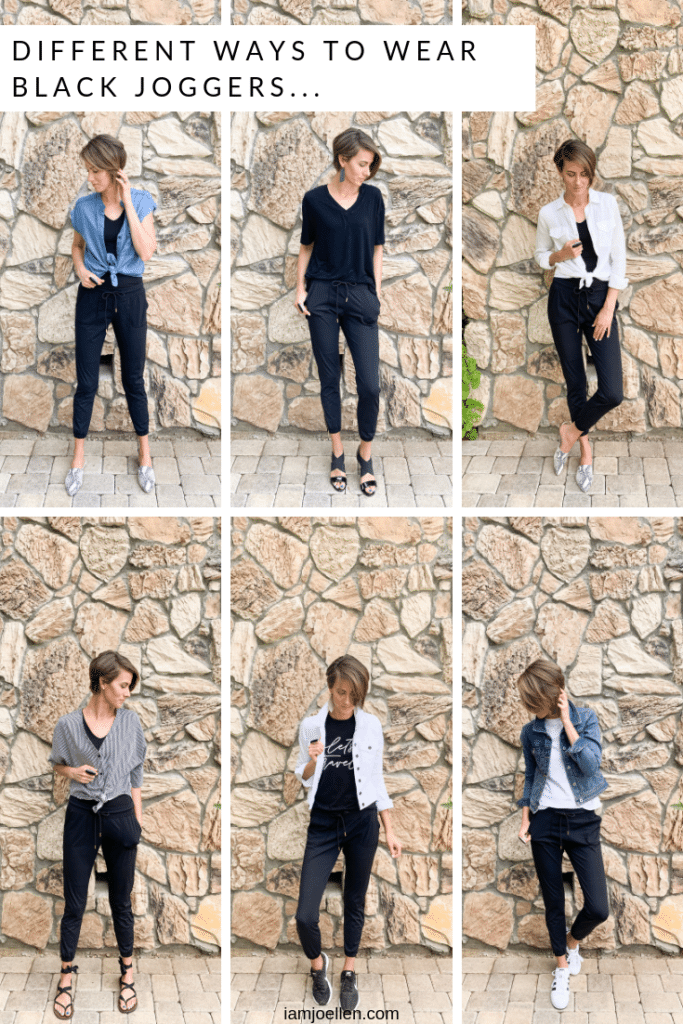 My Favorite Black Joggers
With all of that being said, not all black joggers are made the same! There are definitely ones that are made of higher quality, nicer looking fabric, and better style. You have to be smart about your investment…because it definitely is an investment! With these pants being such a staple piece in your closet, you want to make sure you get the best of the best because you will be wearing them every day! For real. You want them to be durable, stylish, and well made.
When I was looking for the perfect pair of joggers, I was looking for fabric and fit. I wanted a fabric that would be easy to toss in a suitcase and not wrinkle. I wanted a fabric that would be quick to dry but still keep me warm. I wanted the fabric to look like I was wearing a nice pair of pants and not a pair of sweats that will pill and look worn over time. I wanted a fit that didn't look frumpy. And I found them! The Zyia Black Peak Zipper Jogger is the clear winner! I love that they have pockets, a drawstring waist, zippers at the bottoms of the legs, and best of all…the fabric is what dreams are made of! 
You know when you find something that is just so so good, that you want to shout it from the rooftop?! Well, this is one of those things! I want everyone to experience the comfort, style, and quality of these pants. Before I put a new piece in my closet, I make sure that it is versatile, comfortable, made of high quality, and something that I love! Those are all requirements when I'm shopping. I don't make exceptions because I want my closet to be filled with smart pieces. 
So, if you don't already have a pair of black joggers that you love, then you must (must!) try THESE ones out! They're the perfect closet workhorse, the perfect adaptable apparel for any closet.