Eyeshadow for Hooded Eyes
Do you have hooded eyes? Do you struggle with how to apply eyeshadow? You're not alone! Keep reading to learn some simple tips that will help you master eyeshadow so you can look and feel your best!
What Are Hooded Eyes?
According to the Cadogan Clinic, "Hooded eyes feature a heavy brow bone with a deep-set crease. In hooded eyes, skin hangs down over the crease. This makes your upper eyelid look smaller. If you cannot see the crease when your eyes are open, then this means you have hooded eyes." (
resource
) There are lots of women that have hooded eyes! It's not a good or a bad thing…it's just natural. But knowing how your eyelids are made will help you know how to apply eyeshadow so you look your best.
How to Apply Eyeshadow for Hooded Eyes
There is a strategy in applying eyeshadow for hooded eyes. Here are a few simple tips that you can use:
Apply a medium brown in the crease of your eye to give it dimension. Apply it with your eye open and blend it back and forth in the crease. This will help apply the color in and above the crease so you can see the color when your eyes are open.
Apply a light color on the inner 1/3 of your eyelid. This helps open and brighten up your eyes.
Apply a dark color on the outer corner of your eye. This helps draw the eye out. Apply it in a sideways V shape and blend it UP! This will lift the eye up.
Add a light color under the highest part of your brow and on the inner corner of your eye. This lifts and brightens the eye.
Don't apply eyeliner on the entire upper and lower lid. Just focus on the outer corners. If you apply it fully on the upper and lower lashes, then it makes the eye look smaller. Focusing on the outer corners will help them look bigger.
For mascara, apply it on your top AND bottom lashes. This will help them look bigger and wider.
Eyeshadow for Hooded Eyes Tutorial
Watch this simple tutorial to see how eyeshadow on hooded eyes helps lift and brighten them!
Eyeshadow Tools for Hooded Eyes
It so important to have the right tools when applying makeup! These tools are great investments that will help make your eyeshadow process easier:
If you found this helpful, read this tutorial on a really
simple makeup look
! Don't fret if you don't know how to apply eyeshadow on hooded eyes! Use these tips to master the process and you'll love the results!!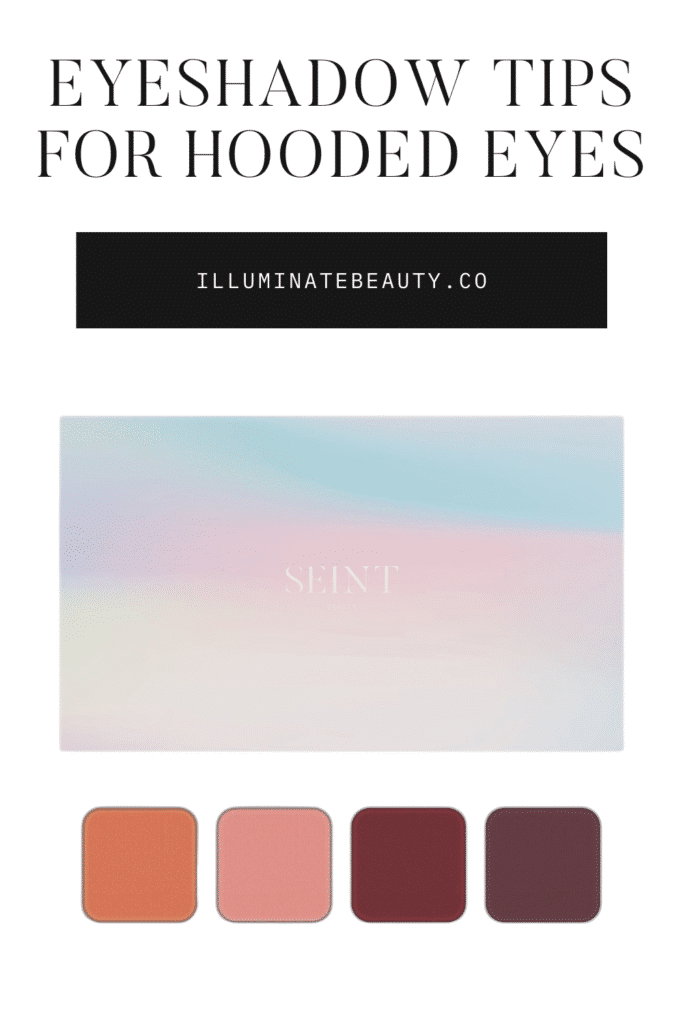 *This post contains affiliate links. If you choose to purchase an item featured in this post, I get a small portion from the sale. Thank you! It does not affect you at all.