Having Problems with Maskcara? These Tips Can Help!
Are you a Maskcara Beauty (now Seint) makeup user? Are you having a few problems with the products? It can be frustrating investing in new makeup and then not have it work how you want it! So, if you're having problems with Maskcara, these tips can help!
Texture or Large Pores
If you're finding that the highlight color is causing texture or accentuating your pores, then nearly 100% of the time it's because you have the wrong color! The solution is that simple! Your highlight shade may be too light or too dark. When you have the right color for your skin, it will blend nicely and pretty much melt into your face! When you don't have the correct color, it will give you that added texture and look gross on your face…and we don't want that!
If the highlight color appears dry or chalky or adds unwanted texture to your face, then the color is too light. Try a shade darker.
If the highlight appears yellowy or orangey, try a shade lighter.
If the highlight melts nicely into your face, then you have the perfect shade!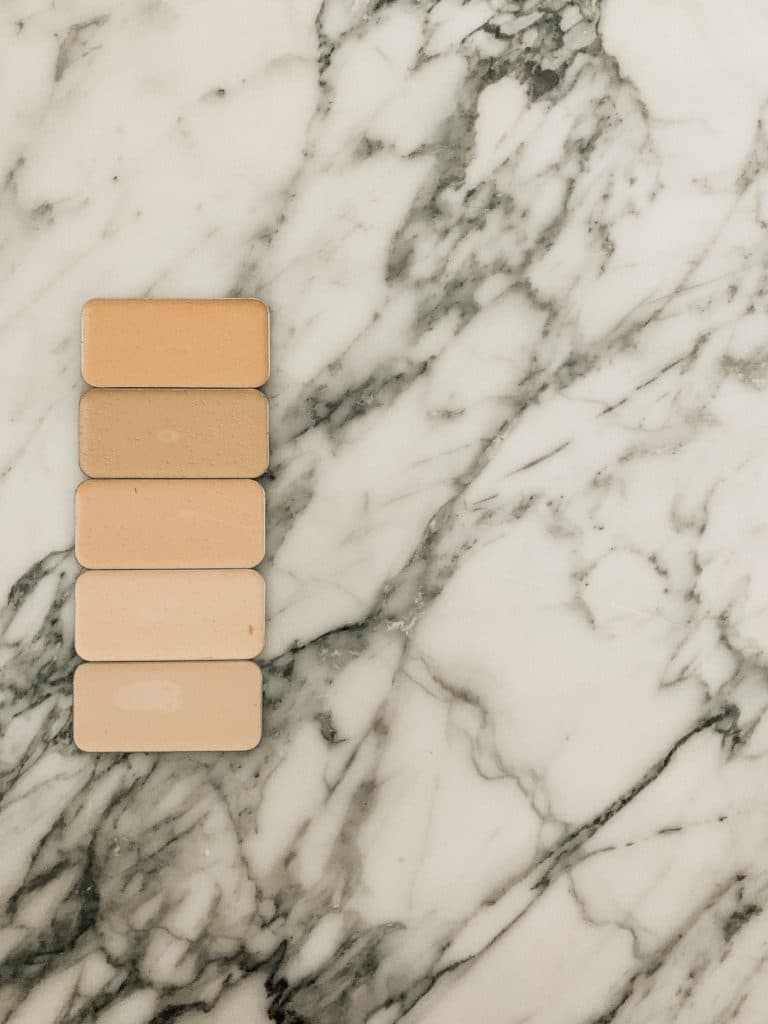 Color Correcting
You may have different shades on your face. Most women do! You may have redness, melasma, brown spots, or dark circles under your eyes. And if that's the case, then you will need an additional highlight color or two to help you color correct.
Here's a simple image helping you find what color you need to minimize those imperfections: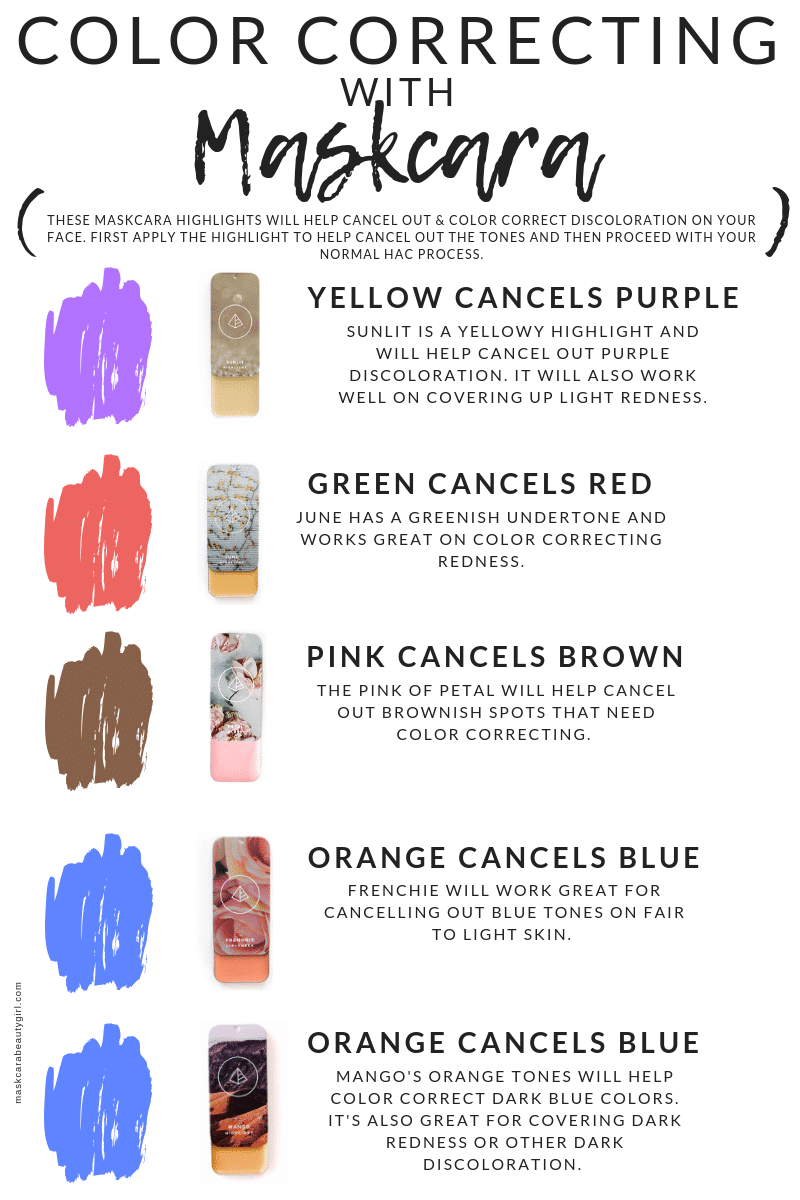 We feel like the best one size fits all color to help you correct is Mango! It works well for dark circles, for deep redness, and for dark spots. You can apply it to the area that you need to color correct and let it sit. Then you can go over with your normal highlight color. Give it a try!
Warm or Cold Weather
Since Maskcara 3D foundation is cream, it can melt! So, in the warmer months, your makeup may appear extra loose. In the colder months, it will be harder. You might notice that it's easier to apply when it's at a good room temperature. If your makeup gets too cold in the winter, then you can take your blow dryer and lightly blow it for a few seconds for it to get a little looser.
Makeup Sliding Off
Are you having problems with Maskcara foundation sliding off your face?? It's most likely because you put moisturizer or a primer on before and it needs to soak in better. If you use the Milk Moisturizer or another moisturizer before applying your makeup, then make sure you give it a good few minutes to really absorb into your skin. This will help your makeup apply better and stay on better!
You also might need to set your makeup. You can use the Maskcara Stay Setting Spray or a powder or both! This will help your makeup stay on all day.
Too Oily/Shiny
Is your face appearing extra oily or shiny by the end of the day? Since Maskcara makeup is cream, it will definitely add a dewy look to your face. But if you have oily prone skin, then you will need to set your makeup with a powder to absorb that excess oil.
We love the Vanilla Dust Setting Powder! It's best applied with the Power Powder Brush. You can press the powder exactly where you want it. Or you can use a loose powder like Airspun. A good trick is to let it "bake". After you apply your highlight, contour, and blush, take a good amount of loose powder with a brush or sponge and dab it on the areas of your face that are extra oily. Then let it sit for a few minutes to really let it absorb the oil. After a few minutes, you can take the B Squared Bronzer and Blush Brush to brush away the excess powder. You will be left with a nice matte look and your makeup should stay all day and you shouldn't be shiny!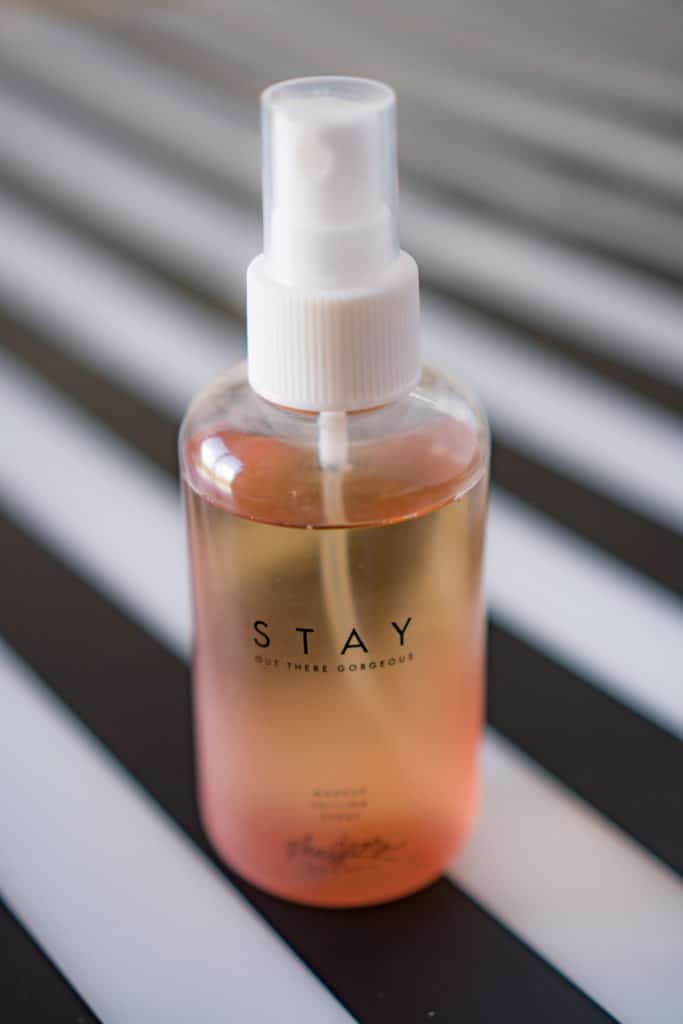 If you're having problems with Maskcara makeup, don't give up! Give a few of these tips a try and see if it works better for you. If you have specific questions, email us HERE and we'll help you troubleshoot! We want to make sure you are happy with your investment and feel beautiful in your skin.
You can learn more about how to get great coverage with 3D foundation HERE!


*This post contains affiliate links. If you choose to purchase something that is featured in this post, we get a small portion from the sale. Thank you! It does not affect you at all.