How to Get Color Matched for Seint Makeup
Have you heard of Seint makeup and want to try it out? You want to try it out, but you don't know how? I'll show you how to get color matched for Seint makeup all from the comfort of your home!
Take the Seint Color Match Quick Quiz
If you're a no-nonsense gal and you want to know really quickly what colors will work on you, then you can take this quick quiz. It's simple quiz with a few questions that will help you determine what colors will look best on you. You'll get an email with your recommending colors. It's easy peasy! Even though it's really fast and easy, it's not the most accurate way to get color matched for Seint makeup…

Read the Seint Color Match Guide
After taking the Seint Color Match Quiz, if you still feel unsure about whether the colors are right for you, then you can read the Seint Color Match Guide to help you determine the best products for you! It will guide you through picking the right highlight, contour, lip & cheek, and illuminator colors that will best suit your coloring and lifestyle. It makes buying makeup online super easy!
Send a Selfie
If you want a more accurate way to get color matched for Seint makeup, then send me a selfie of your beautiful face! I know it can be intimidating sending a no-makeup selfie to a stranger. But rest assured! I have seen THOUSANDS of women's bare faces and they are all beautiful! I never share any pictures that are emailed to me. You can send it to me in full confidence.
But not any selfie will do. I need one with good natural lighting so I can give you my most accurate suggestions. Simply find a window with natural lighting, face it, take a few steps back, snap a picture of your makeup-free face and email it to me. Make sure you don't have any lights on in the background and no filters added to the picture.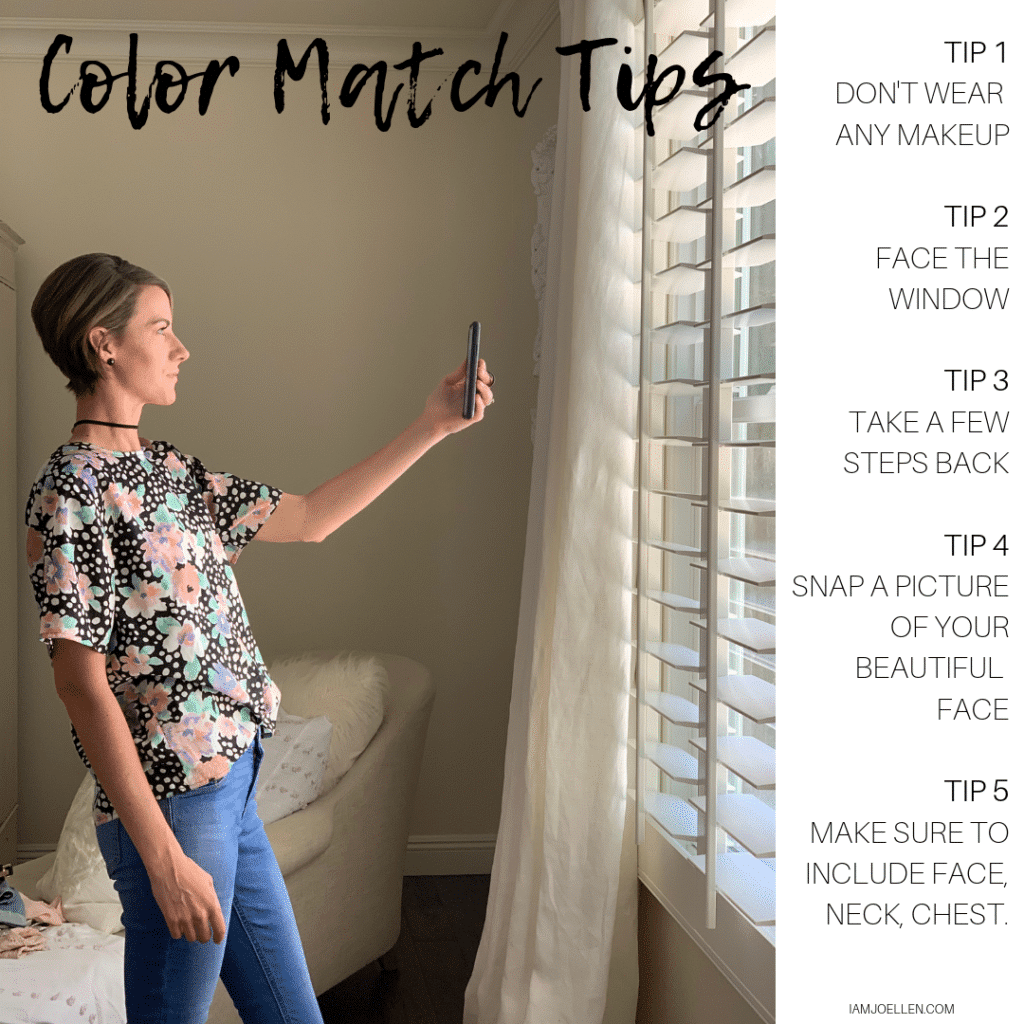 Take the Survey
The best way for me to help you figure out what Seint makeup colors will work best for you is to fill out the Seint Color Match Survey. It will help me know what your makeup needs and preferences are so I know what to recommend to you. I don't want to give you suggestions for all the things when you just want simple. Or I don't want to just give you the basic suggestions when you want all the things! See what I mean?! I want to give you personalized help so you look and feel your best!
Once you get your color match for Seint makeup through email, you can shop the suggestions HERE or if you want to make it really easy, I can build a shopping cart for you. Just let me know!
Getting color matched for Seint makeup is really easy! No need to leave your home. No need to attend a party. No need to go to a store! If you're not satisfied with the colors that you got, Seint has an amazing return policy! You have 30 days to return or 60 days to exchange anything that isn't working well, you just have to pay for return shipping.
Let me know if you have any questions. I'm happy to help you on your Seint makeup journey! I strongly believe that when you feel good, you do good.

Learn more about Seint makeup!
You can learn how to apply Seint makeup for beginners!