Fall and Winter style can be so fun! It's a great time of year to layer and stay warm. An easy way to add warmth, texture, color, and style to your look is by wearing a scarf. But so many women don't know how to style one! So, here are some simple ways to tie a scarf so you can add that extra element to your look.
Types of Scarves
When it comes to wearing scarves, there are lots of different options. There are scarves for all style preferences and needs. If you want to be extra toasty, then shoot for wearing a blanket scarf. If you just want to add some color to your look, then a simple bandana or neckscarf will do. And then there are all the sizes in between!
Blanket: Basically, it's like wrapping a blanket around your neck and chest! It adds wonderful chunky warmth.
Neck: A simple small scarf tied around the neck.
Wrap: A larger scarf that can be worn like a shawl or wrap.
Cowl: A small circular ring of fabric that is worn right against the neck. It provides warmth without the bulk.
Infinity: A larger circular ring of fabric that can be wrapped a few times to create a layered look.
Pashmina: A classy shawl that can worn in so many different ways! They are usually lighter weight and can be worn all year round.
Bandana: A square of fabric that can be tied close to the neck or loosely to add pattern or color to your look.
Scarves come in different materials too: cashmere, cotton, linen, wool, silk, and lots of manmade options. If you want something to last long, then make sure it is made from natural fibers and is well made.
How to Wear a Scarf
Depending on what type and length of scarf you have, you can tie and style your scarf in so many ways! Here are some simple ways to tie a scarf: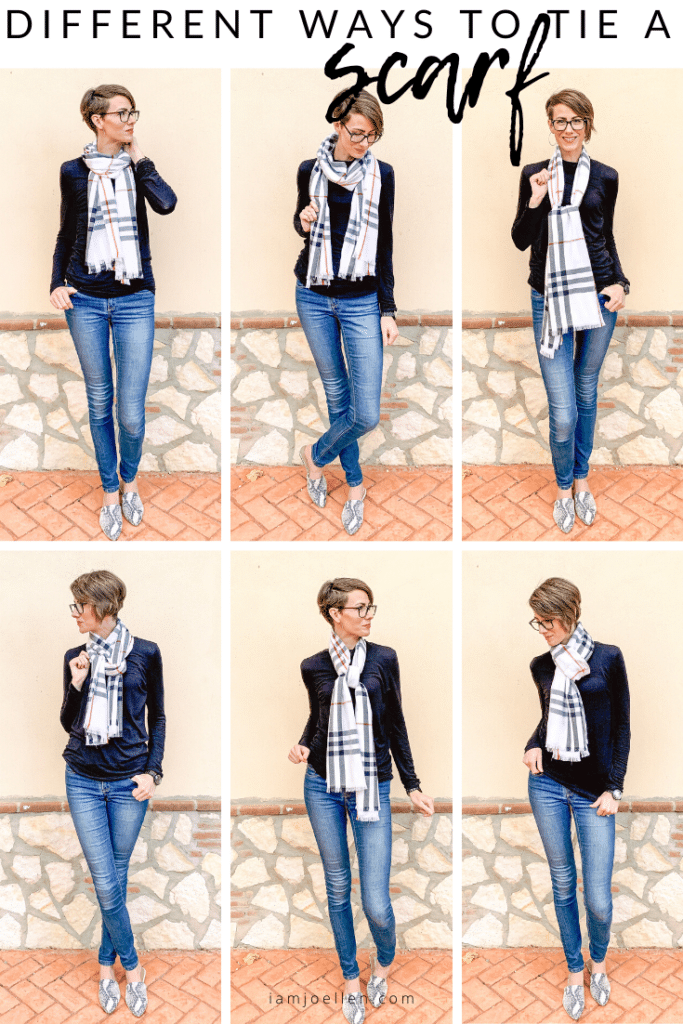 You can also watch this video here to see more ideas!
Where to Buy
You can find scarves in lots of different stores! Some of my favorite places to find scarves are: Everlane, Scarf Shop, or Nordstrom.
I love that scarves add some personality to any look. Depending on the fabric choice and scarf style, you can take your look up a notch! Don't let wearing a scarf overwhelm you. Now that you have those simple ways to tie a scarf, you don't have anything stopping you!