Creating wardrobe capsules is a great way curate a closet of pieces that you love! It's a great way to have a simple closet with intentional pieces. It's a great way to cut back on a closet full of clutter. There are different ways to create wardrobe capsules: yearly capsules, 10×10 capsules, 30×30 capsules, travel capsules, or seasonal capsules. Here are some tips to build a spring capsule so you will have a closet full of great pieces all throughout spring!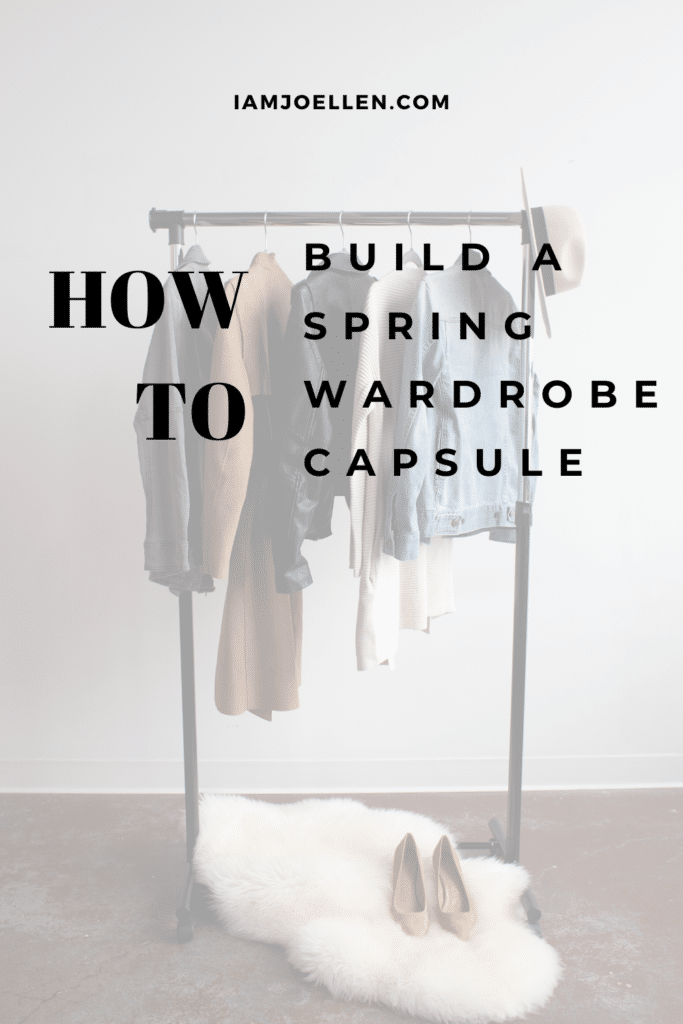 What is a Wardrobe Capsule?
First off, let's review. What is a wardrobe capsule? A wardrobe capsule is a small collection of clothing that you curate to fit your lifestyle. You weed through your huge closet full of clothes and build an intentional wardrobe of pieces that are versatile, classic, and fit your fashion needs. You say goodbye to the fluff and unnecessary pieces and hello to your everyday foundational pieces. 
Color Scheme
Do you have favorite colors? Do you feel and look great in certain colors? Does your closet already consist of clothes that are in a certain color scheme? Choose colors that look great together. If you pick a color scheme, then you'll be able to mix and match your pieces (your tops and bottoms, your jackets and sweaters, your skirts and blouses) easily to achieve so many different looks. Even though you'll have less clothes, having common colors or complementary colors will help you create so many different outfits. 
Weather
When creating a wardrobe capsule, it's important to consider the weather. What is the weather like where you live in spring? Is it warm and sunny, cloudy and cold, or in between? Pick pieces that will fit your weather needs. If you live somewhere that is still chilly, then your spring capsule will need to consist of good layering pieces: jackets, sweaters, pants, long sleeve shirts, boots. If you live somewhere that is warm in the spring, then you want to include warmer weather pieces: lighter weight fabrics, short sleeve shirts, light weight jackets, shorts, skirts, sandals.
Spring Capsule Staple Pieces
This is the most important tip! When curating a wardrobe capsule, it is essential to include staple pieces. You must have those foundational pieces in your closet that will be timeless, high quality, and versatile. Pieces that you can mix and match. Pieces that won't go out of style. Pieces that will wear for years to come. 
When considering staple pieces, think basics. White tee, black tee, skinny jeans, black leggings, leather jacket, jean jacket, chambray shirt, jean skirt, white pants…and so on. All of these pieces never go out of style and can be worn in so many different ways! 
You can read more about what some great staple pieces for your closet are HERE, HERE, and HERE.
Spring Capsule Options
Here are some great options for a versatile spring capsule. By investing in or curating a capsule with basics, you will be able to create o many different looks!
I LOVE Everlane! They have the best high quality, sustainably made basics! You can build a spring capsule so easily with their pieces. Here are just a few ideas to get you started on your wardrobe capsule. All their products come in different colors, so you can take the bones of these ideas and create a capsule that best fits your taste and needs.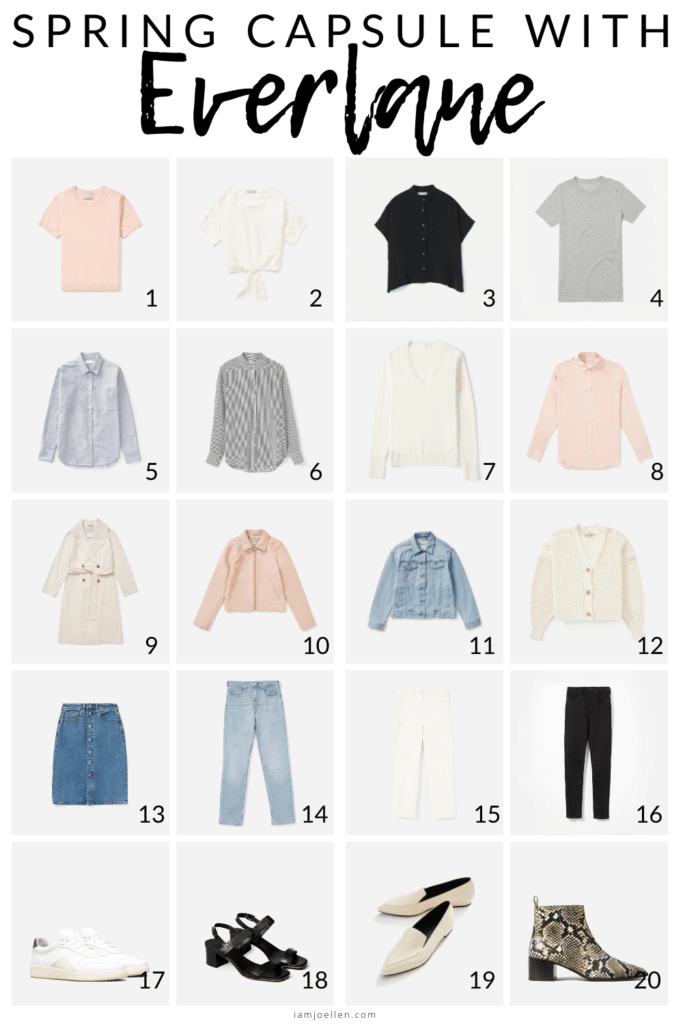 1 | 2 | 3 | 4 | 5 | 6 | 7 | 8 | 9 | 10
11| 12 | 13 | 14 | 15 | 16 | 17 | 18 | 19 | 20

The best brand for versatile pieces is Vetta Capsule! They create pieces that can used in multiple ways…versatility is a minimalist's best friend! You can add just a few pieces to your closet and get so many different looks and options out of them. Here are just a few options that would be great for spring!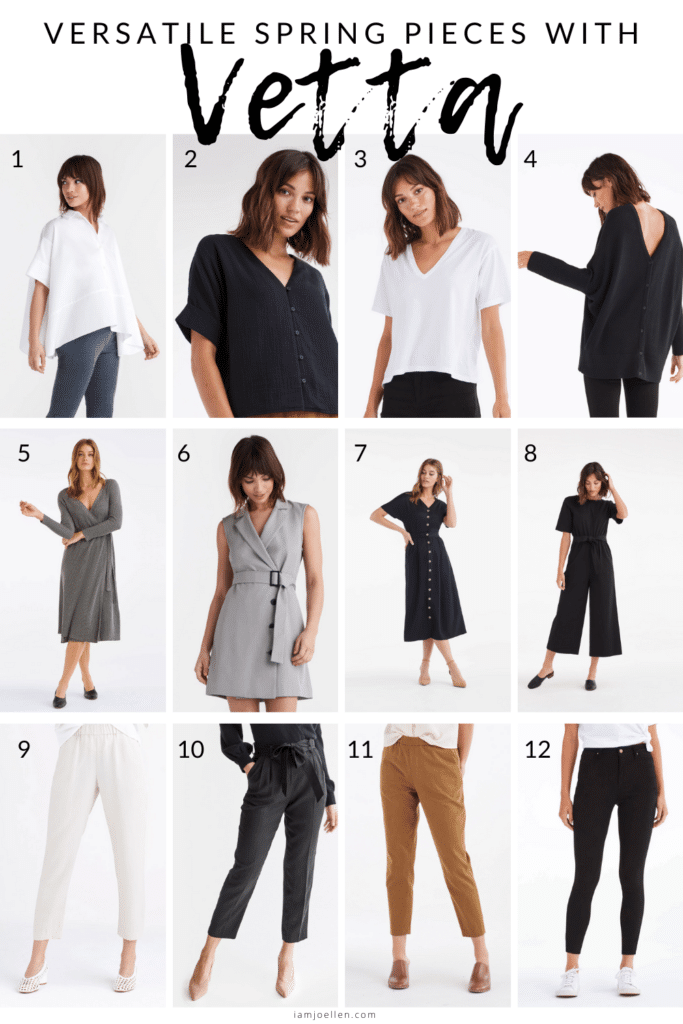 1 | 2 | 3 | 4 | 5 | 6 | 7 | 8 | 9 | 10 | 11 | 12

Creating wardrobe capsules is so fun! Being a minimalist does not have to be boring! With some thought, planning, and intention, you can look and feel great with a small closet.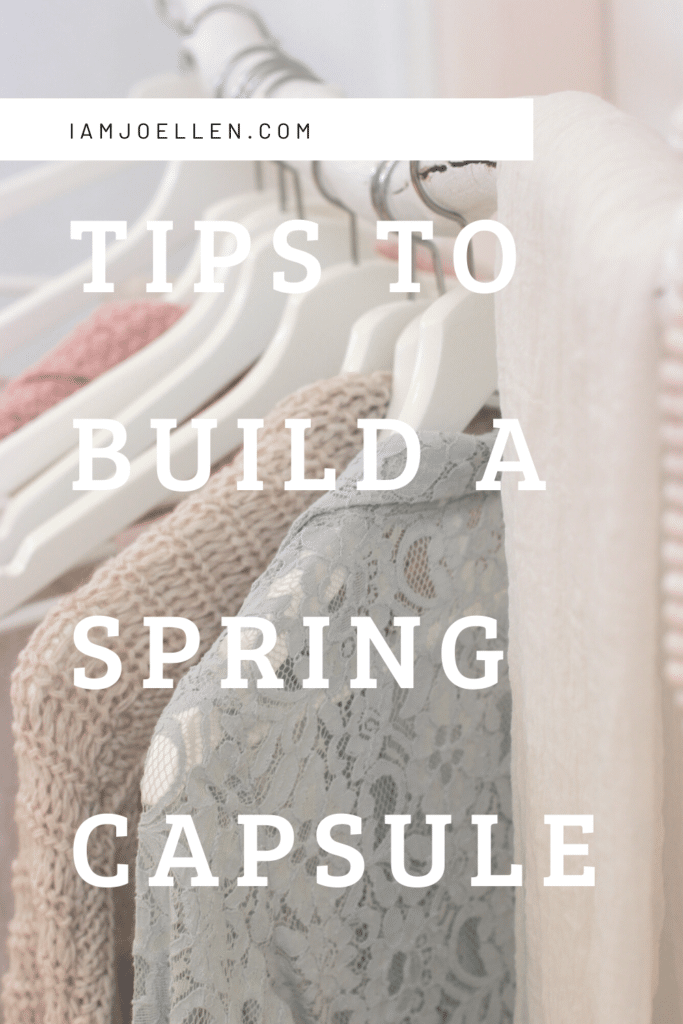 *This post contains affiliate links. If you choose to purchase from the links provided, I get a small portion from the sale. It does not affect you in any way. Thank you for your support!