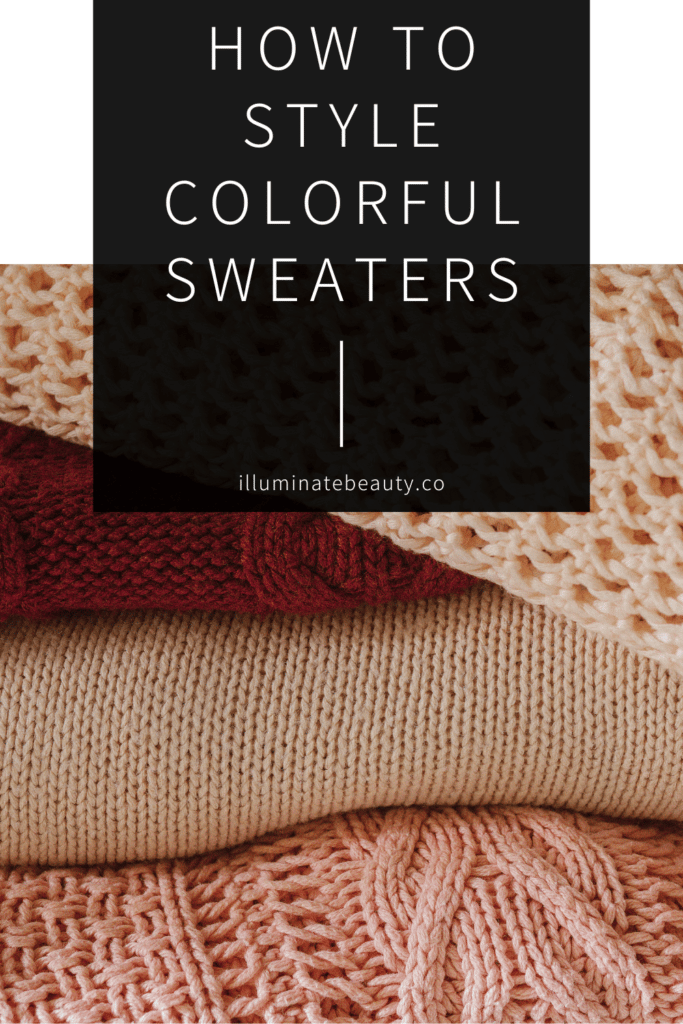 Fall and winter are sweater seasons! Sweater weather is so fun because you get to bundle up in warm layers, feel cozy, and look cute! If you don't want to look blah during the cold weather months, then invest in a few fun colorful sweaters to add some spice to your look. Here's how to style colorful sweaters so you look and feel confident all season long!
Invest in High Quality Pieces for Your Closet
There are TONS of sweater options out there. And there are tons of cheap sweaters. Sweaters that fall apart after one wash, sweaters that pill like crazy, sweaters that stretch easily. Don't waste your money on these types of sweaters. Invest in higher quality sweaters so you can wear them year after year.
If you want a sweater that will last, then look for sweaters that are made from cotton, wool, or cashmere. These natural fabrics are made to last!
Wear Clothes that You Feel and Look Great In
You are never going to be confident in the way that you look and feel if you don't feel comfortable in what you're wearing! Invest in clothes that you feel great in! Don't worry about the size, get clothes that fit. Stop buying cheaply made clothes that fall apart and look frumpy after a few wears and invest in better quality so they last a long time. Clothes matter. You don't have to have a lot of clothes, but it's important to have clothes that fit you well, clothes that are high quality, and clothes that are versatile.
How to Keep Your Sweaters Looking Nice
Once you invest in good sweaters, you want to take good care of them so they will last! Here are a few tips that will help them look nice, season after season:
Fold and store your sweaters on a shelf. Don't hang them on hangers because they will stretch!
Only wash your sweaters when they are dirty. It might sound gross, but trust me on this. The more you wash your sweaters, the more you break down the fabric and the more worn they look. Only wash them when they start to stink or you have a stain on them. A way to help your sweaters go longer in between wears is to wear a base layer under your sweater. Wear a wool or cotton shirt underneath so it protects the sweater from your skin's oils and smells.
Invest in a sweater shaver/depiller. This is the coolest and most satisfying tool! It literally shaves off the little pill balls that form on sweaters. After a little TLC, your sweater will look as good as new!
The Best Place to Shop for Colorful Sweaters
You can find sweaters in all sorts of places! But my very favorite place to buy sweaters is Quince. They have the best sweater selection! They have sweaters made of cotton, cashmere, wool, alpaca and they have a wide range of colors! All of Quince's sweaters are timeless styles so you will have them for years! Not only are Quince's sweaters great quality and style, but amazing prices! They cut out the middleman, making their prices really affordable. I'm talking cashmere sweaters for $50! Yes please!!
Two other great places to buy sweaters are ABLE and SummerSalt. They also have some stylish options that are high quality.
Save $20 on Quince when you shop from this Quince discount link.
Save 15% on ABLE with this ABLE discount code at checkout: JOELLEN15
Save 10% towards your SummerSalt purchase with this code at checkout: JOELLENJS10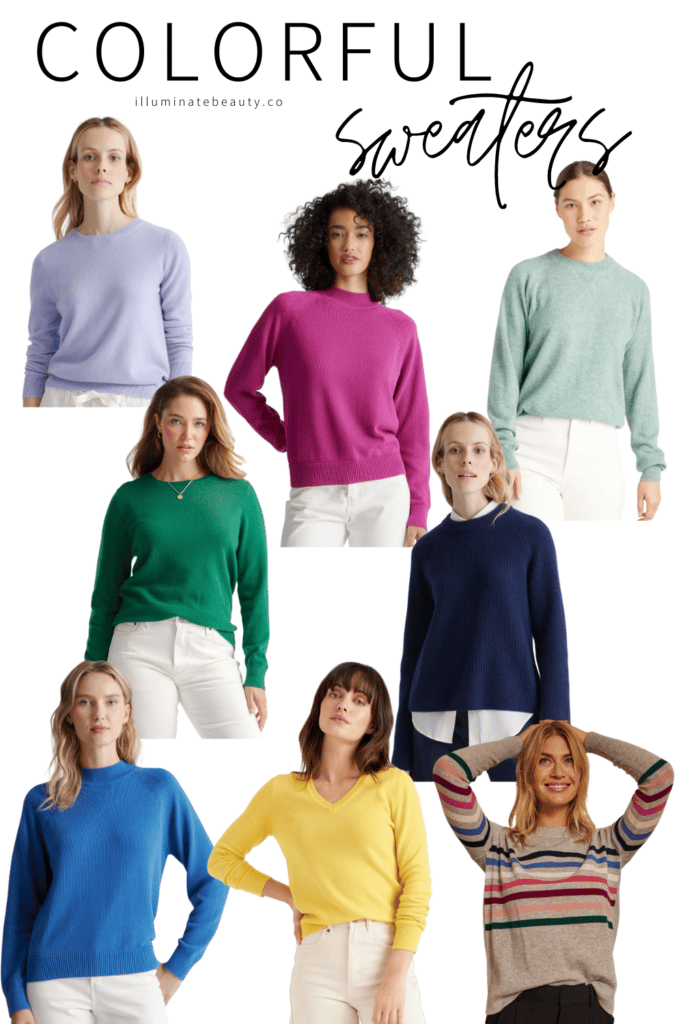 Colorful Sweater Outfit Options
Colorful sweaters might seem a little bold. But they can be really fun! When styling a colorful sweater, keep these things in mind:
Pair the colorful sweater with neutrals. Pick neutral pants, neutral shoes, neutral accessories. Let the sweater do the talking!
Tie in the bold color with something else you're wearing. For instance, match your shoes, a scarf, your bag, or even your makeup. Pick something to help tie the outfit together.
Go monochromatic! For a bold look, wearing different shades of the same color is fun!
Here are some colorful sweater outfit options: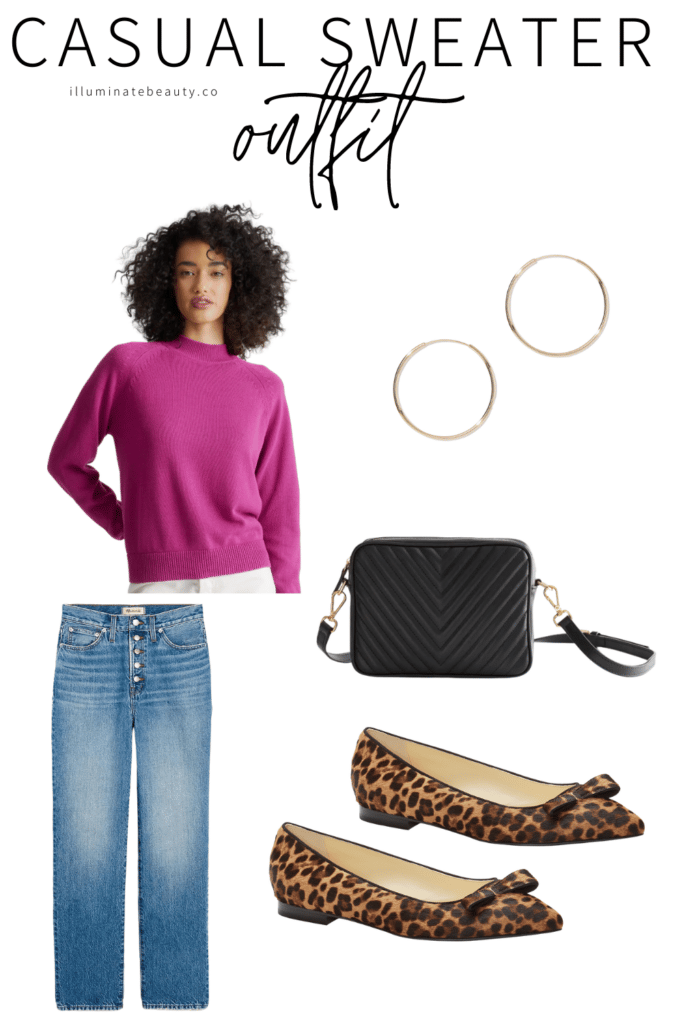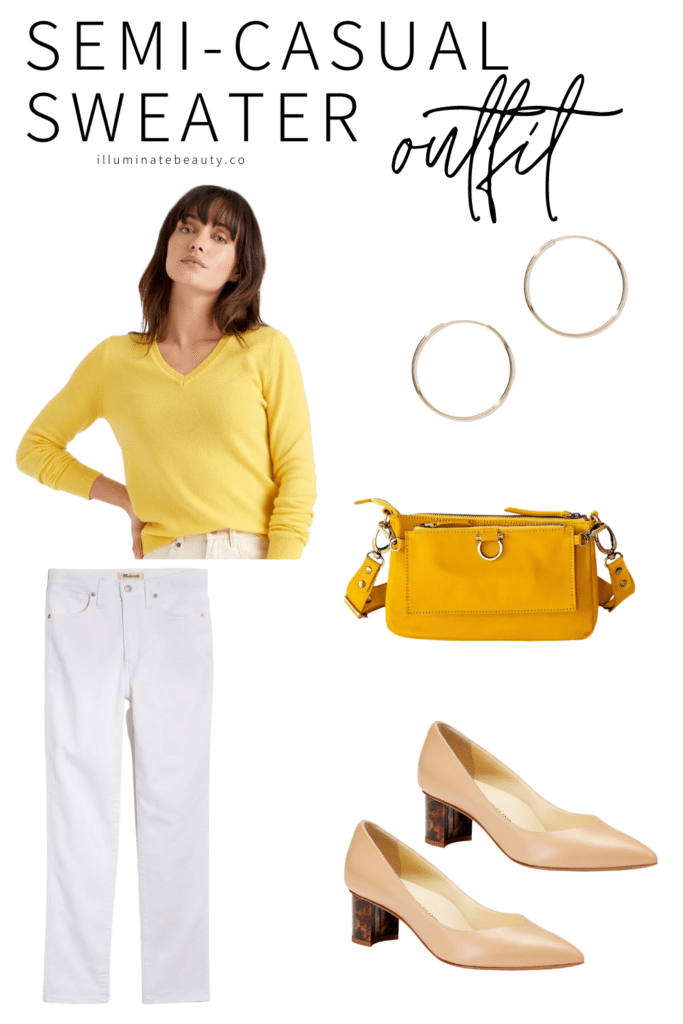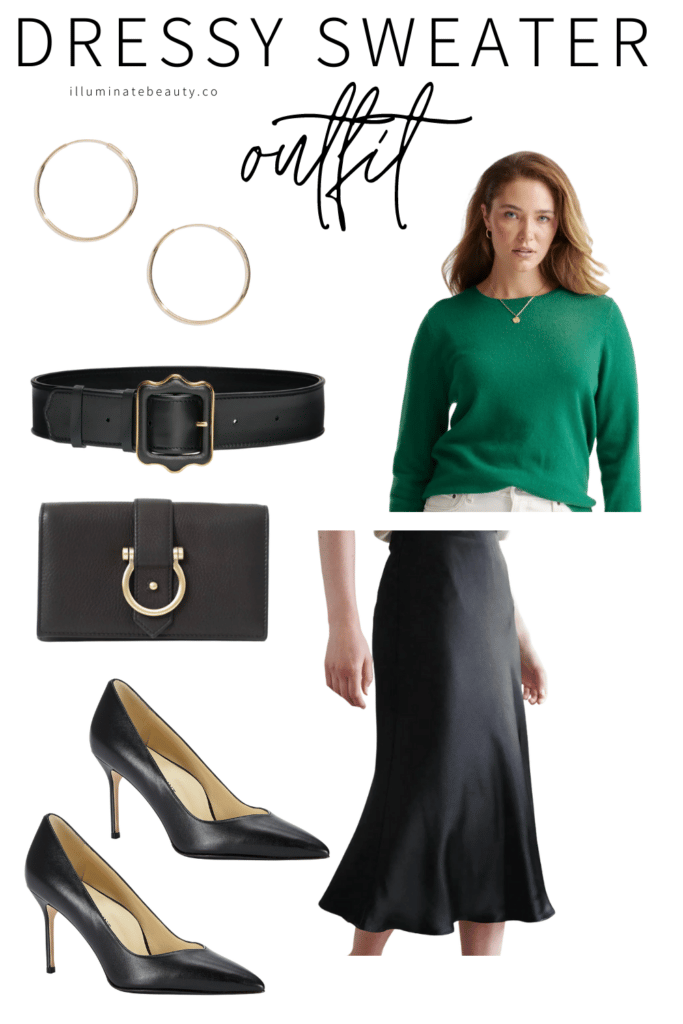 And there you have it! Different ways on how to style colorful sweaters so you look great all season long! Commit to buying better clothes so you look and feel better too!
Here are a few other blogposts you might enjoy:
How to Build a Fall Capsule Wardrobe
How to Get Designer Shoes for Less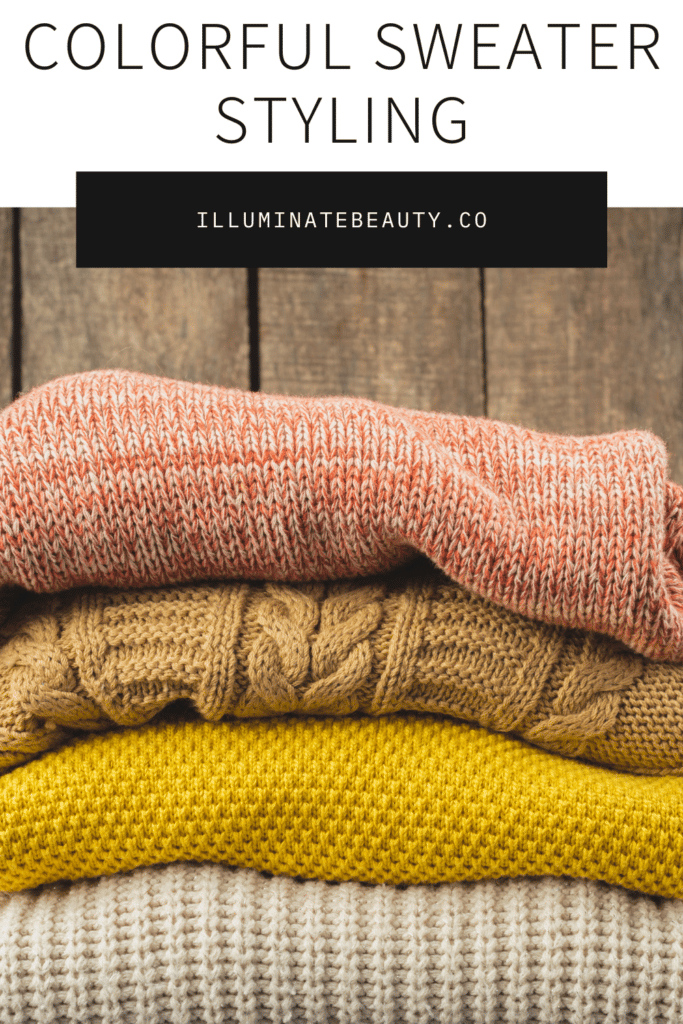 *This post contains affiliate links. If you choose to purchase an item featured in this post, I get a small portion from the sale. Thank you! It does not affect you at all.