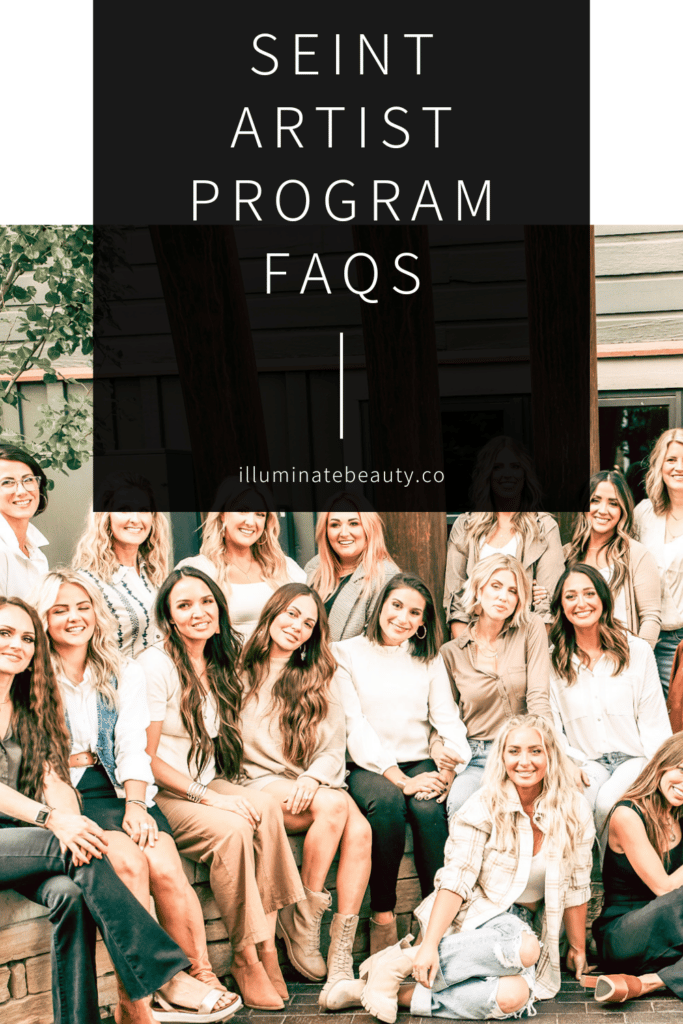 Hi! That's so great that you're interested in learning more about the Seint Artist Program! You probably have lots of questions, so this is a great place to get lots of answers! Here are some common questions that others have when looking into taking this leap of faith. Here are some common Seint Artist Program FAQs…
What is a Seint Artist?
A Seint Artist is someone that helps women see their true beauty. Seint Artists work one on one with women to find their right colors and products to help them look and feel beautiful! You do not have to have any makeup experience or training in order to become a Seint Artist. As long as you are willing to learn and grow, you can become an Artist!
What is the Seint Mission Statement?
This is the Seint mission statement: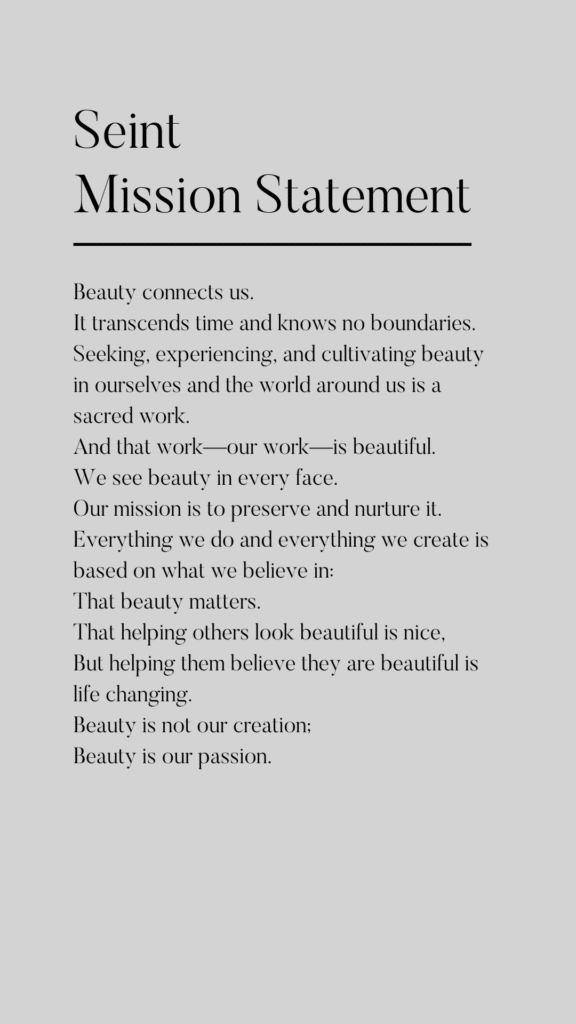 When Did the Seint Artist Program Launch?
The Seint Artist Program first launched in January 2017.
How Many Artists are There Today?
As of December 2022, there are 26,074 Seint Artists in the USA and 3,942 Seint Artists in Canada. The total Artists are: 30,016.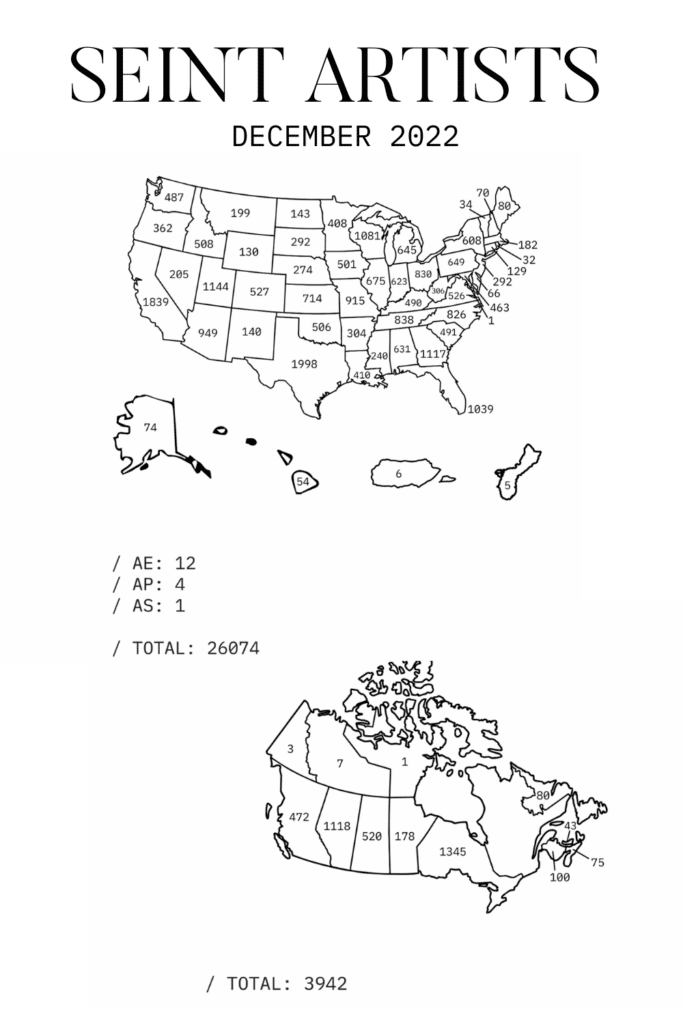 How Much Does it Cost to Join?
There are 3 Seint Artist Kits available:
The Essential Kit– This kit is $99 USD/$139 CAD. You can read more about this kit HERE.
The Basic Kit– This kit is $225 USD/$315 CAD. You can read more about this kit HERE.
The Pro Kit– This kit is $450 USD/$630 CAD. You can read more about this kit HERE.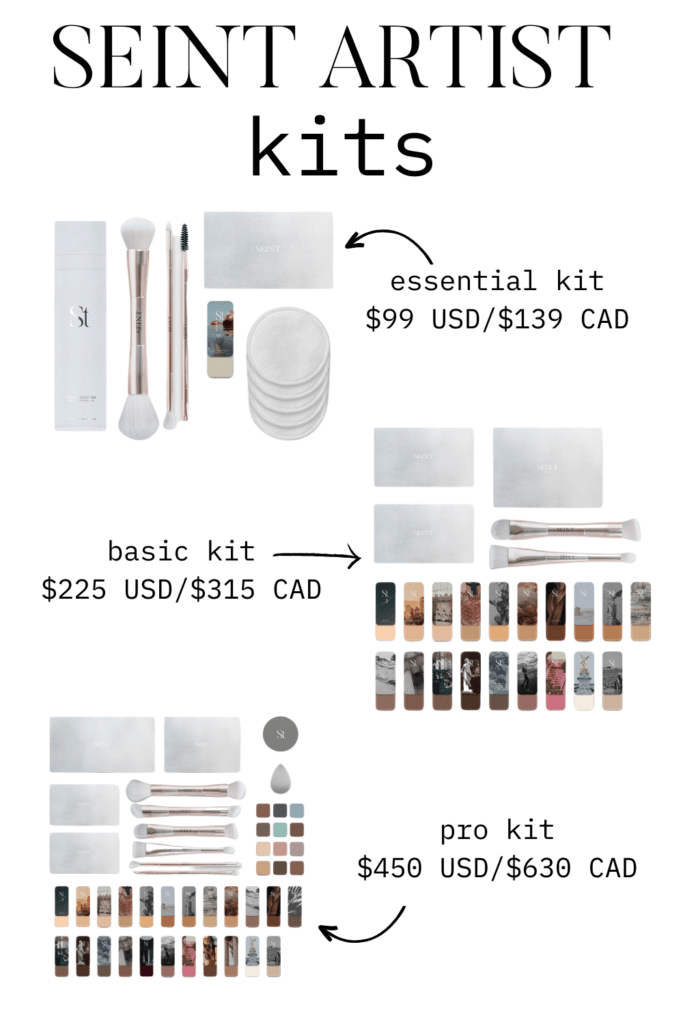 What Seint Artist Kit Should I Get?
If your budget can afford it, I strongly recommend getting the Pro Kit! You will get the most bang for your buck, plus it will set you up for success! The Pro Kit includes everything you need to start color matching in person and getting to know the colors so you can best serve the women you will be working with. Many times, women get the smaller kits to begin with and regret it!
When color matching, knowing the highlight and contour shades is key and this kit includes the most highlight and contour selections. Even if you plan to build you business online, it's best to know how the colors work on different skin tones. The Pro Kit will help you play around with the shades and have them on hand for customer service and your own knowledge.
Can I Just Buy the Seint Artist Kit for a Seint Discount?
The Seint Artist kits are designed to help you grow a business. The kits cannot be customized and come with a random selection of makeup colors, so there is no guarantee that your kit would come with products that you could use personally. The kits comes with a wide variety of shades to help you color match other women for your business.
It's best to only buy the kit if you have the intention of making a business out of it. If you want a Seint discount, then you can save money by purchasing a collection or having your Seint Artist set you up a personal shopping link so you can earn points to redeem towards free products.
Are There Any Other Fees I Should Know About?
There is a fee of $12.95/month that you will be paying to sustain your back office and replicated site fees. Both are needed to sell to your customers. It's a small price to pay for the amazing benefits it entails! Seint takes care of all customer service and shipping fulfillment!
What is the Minimum Amount I Have to Sell Each Month?
There is no minimum amount that you have to sell to earn your own sales commissions. However, if you want to earn bonuses or earn your downline commissions if you have a team, there are minimum requirements to stay active.
Do I Get a Discount as a Seint Artist?
Yes, you always get 20% off. There is also an option to pay full price but earn up to 40% commission on your own purchases. You can even open your own party link and accumulate points to redeem for free products!
What Commissions Can Seint Artists Make?
You will always make at least 20% off of any sale you make…no matter how big or small! The more you sell, the more you have the potential to make. You can earn up to 40% commission, plus bonuses if you're building a team. You can also make money from your downline's commission too!
How Often Do Seint Artists Get Paid?
Once a week and once monthly. So technically, 5 times a month! Each weekly commission payment is based on your personal sales. Each monthly payment consists of any bonuses you have, the extra percentage payments >20%, and downline commissions (if you choose to build a team).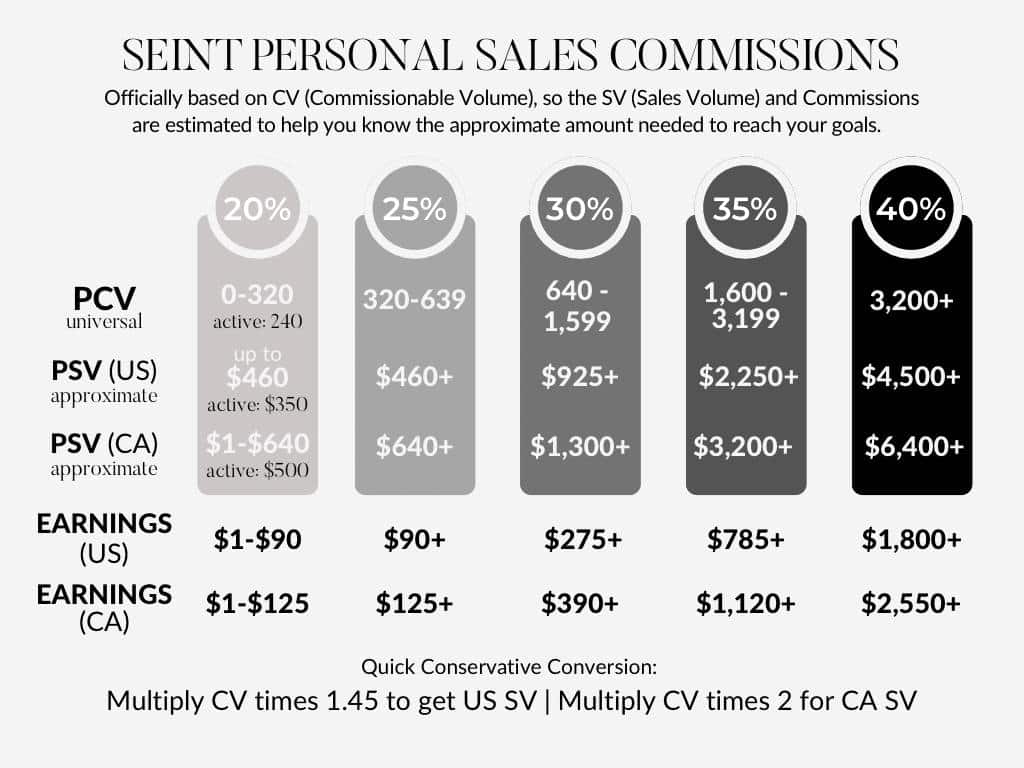 How Do Seint Artists Get Paid?
They have a secure website that all payments go to. You can choose to have them transferred to a special Seint debit card or have them transferred to your bank account.
Is There a lot of Competition Between the Distributors?
No! Artists will not compete for a customer each time they make a sale because once a customer buys from you, they are your customer for life! The computer registers them as being yours so you will get the credit each time they login to purchase. This way, you can build a great relationship with your customers and don't do all the hard work of acquiring them, then losing them to someone else!
Do Seint Artists Keep Inventory?
No! Seint takes care of all shipping fulfillment and returns/exchanges!
Do Seint Artists Have to Build a Team?
No, you do not have to build a team nor will you be pressured to build a team. You can make a good income off of your own sales commissions alone. However, if you want to eventually have a passive income and earn more money, then building a team has a lot of benefits!
Is It Better to Join Under Another Seint Artist or Directly Under Seint Corporate?
JOIN UNDER AN ARTIST! If you sign up under corporate, you won't have the personal one on one coaching, training, and relationship that a leader can give you. Being a part of a team allows you to bond, learn, and grow together. Each team provides their own training and sisterhood.
What Countries is the Seint Artist Program Currently Available In?
United States (July 2017), Canada (March 2019)
Where Do Seint Artists Get Their Marketing Material for Social Media, Parties, etc.?
We are provided with both paper and electronic marketing materials. Artists are able to access photos and videos for social media via a special hub online called Seint Gallery and a mobile app, for artists only.
What Kind of Training Will Be Provided for Color Matching?
Color matching is one of the most common questions! Our team provides Color Match training, your upline will guide you step-by-step through the process until you feel confident, and corporate also provides tools to help you learn. You will definitely be taken care of and taught how to color match!
How Do I Learn to Color Match?
Our team website has a lot of color matching resources to help you learn how to color match! Even if you plan to build your business online, I strongly recommend practicing with the makeup on people! Grab your friends and family's faces and get to know how the highlights, contours, and lip + cheek shades work on different skin tones. Practicing in person will be the foundation for your success in color matching!
What is the Seint Artist Community Like?
Being a part of the Seint community is amazing! It is such a positive group to be a part of as we all cheer each other on and help each other out.
There is a joined Facebook group for all the artists where we can go in and ask questions, get feedback, help each other, etc. Cara, the creator of Seint, gets on monthly and does live webinars and we can all be a part of the conversation. There are also other Facebook groups dedicated to sharing images and color matching tips. Everyone is happy to share and help others grow!
What is the Seint Compensation Plan Like?
A compensation plan is basically how you will get paid and how your salary can increase. The Seint compensation plan is one of the best around!
There are 6 ways to be paid as a Seint Artist:
Retail Commissions
Artist-in-Training Bonus
Enroller Bonus
Level Bonus
Personal Leader Bonus
Generation Bonus
Refer to the charts below for more information: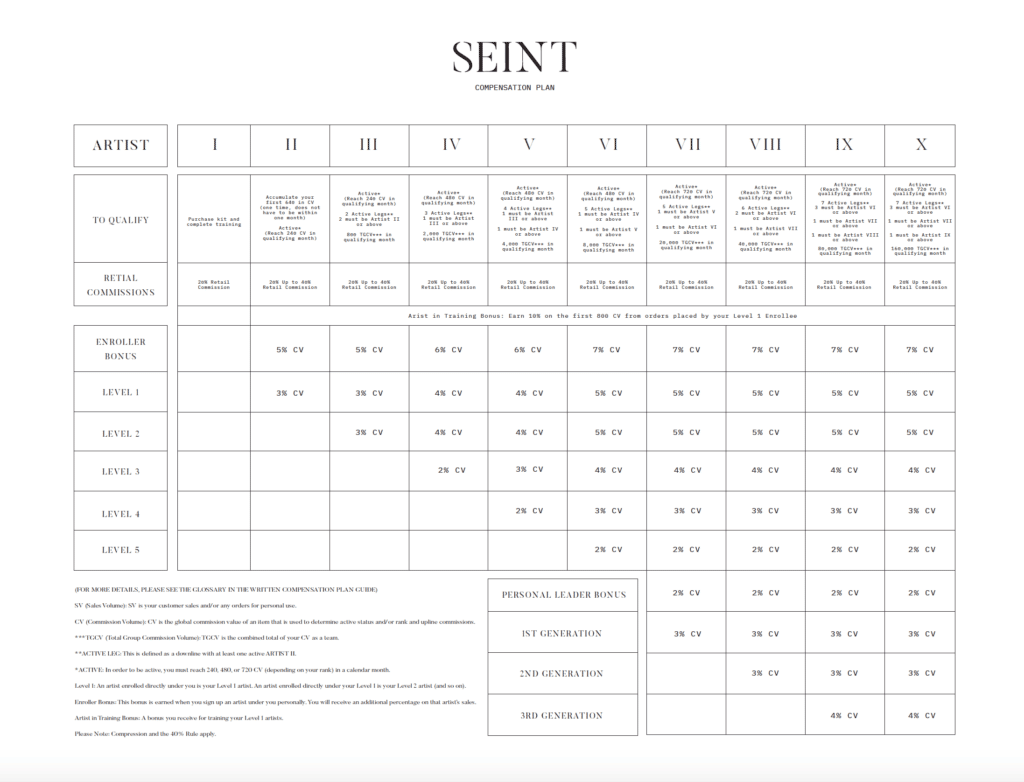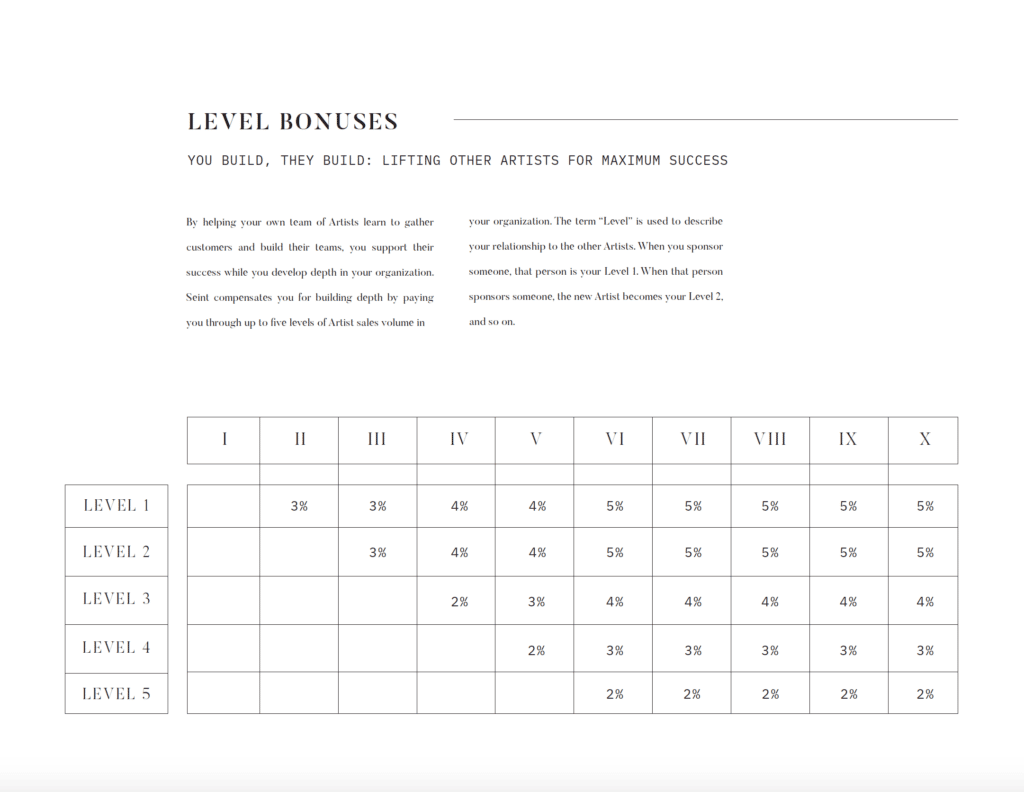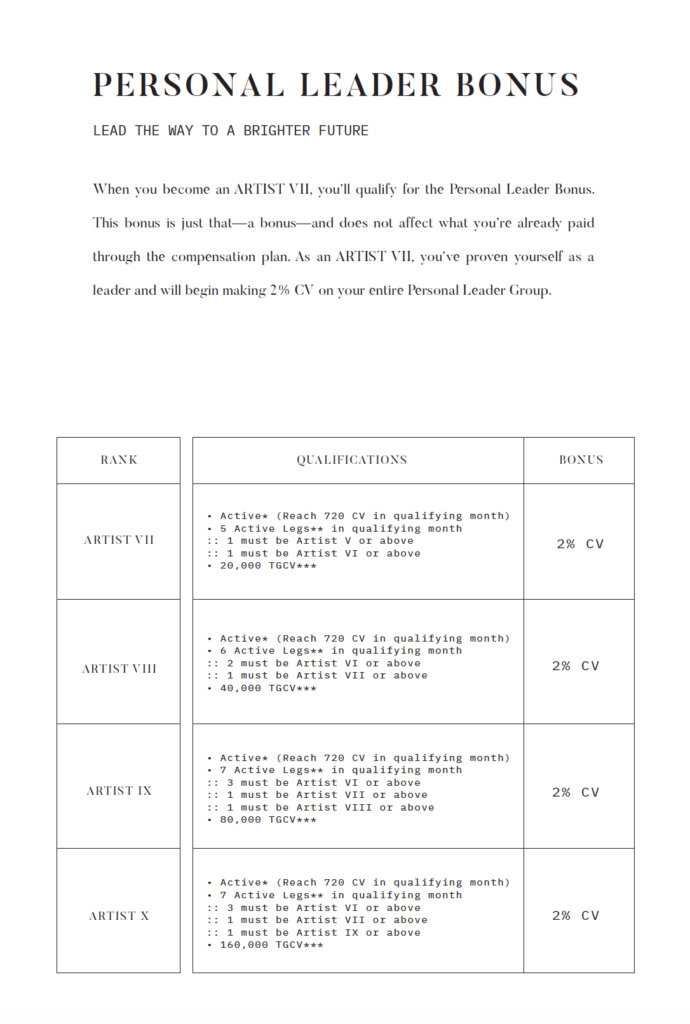 What are Some Seint Artist Perks?
Seint is a network marketing company that allows women to create business around their strengths and interests. You can choose to make this business a hobby, part-time, or full-time job. The options are endless! Here are some great perks to being a part of this company:
You do not need to hold inventory. Seint corporate takes care of all shipping and handling for you!
Seint corporate takes care of customer service, returns, and exchanges for you too!
You get paid 5 times a month- every Friday and also on the 10th of the month.
There is no sales minimum. You always earn 20% off your sales and have the potential to earn 40% off your sales.
It's a low startup fee of either $99, $225, or $450.
You can earn incentive trips.
You have a supportive leadership.
There is endless growth potential.
There is a friendly job culture.
It has a great compensation plan!
Does Seint Have Conferences or Retreats?
Each year, Seint hosts a conference for all their artists, called a reunion. This is a great time to come together and connect with other likeminded women! There is training galore, activities, and team building opportunities to grow. It's such a great community of uplifting artists that learn from each other.
There are also retreats that top leaders and the Seint Advisory Committee (STAC) gather for to learn how to continue to build their business and improve the Artist Program. For those that want to make this a more serious career, it's a great way to collaborate and come together to grow.
I'm personally on the STAC social media committee. I work with 4 women to educate Seint Artists on how to improve their business using social media. We meet once a year in person at a retreat to collaborate and monthly virtually.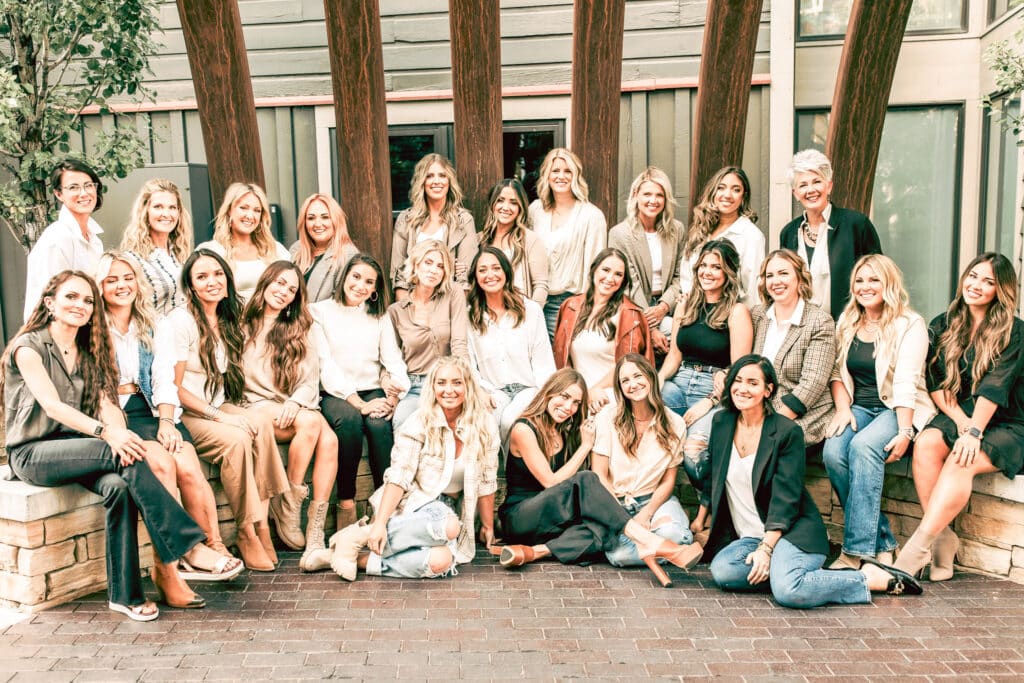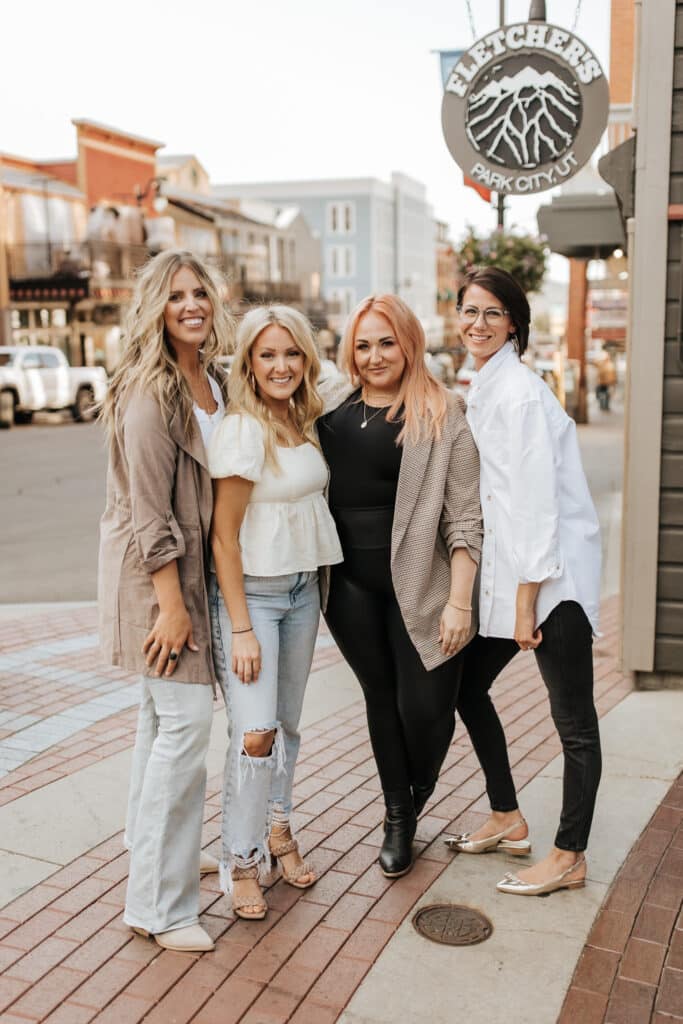 Are There Seint Incentive Trips?
Each year, Seint offers incentive trips to earn. It causes you to push and work towards something to reward yourself with! I've personally earned 4 rewards trips and Seint truly spoils their artists! All-inclusive resorts, fun activities, dinner parties, and gifts!
The awesome thing about this company is that you can make your business however you want. You can treat it like a little hobby and dabble here and there or you can create a full-time career…the options are endless! You can embrace your lifestyle and make it work for you and your interests.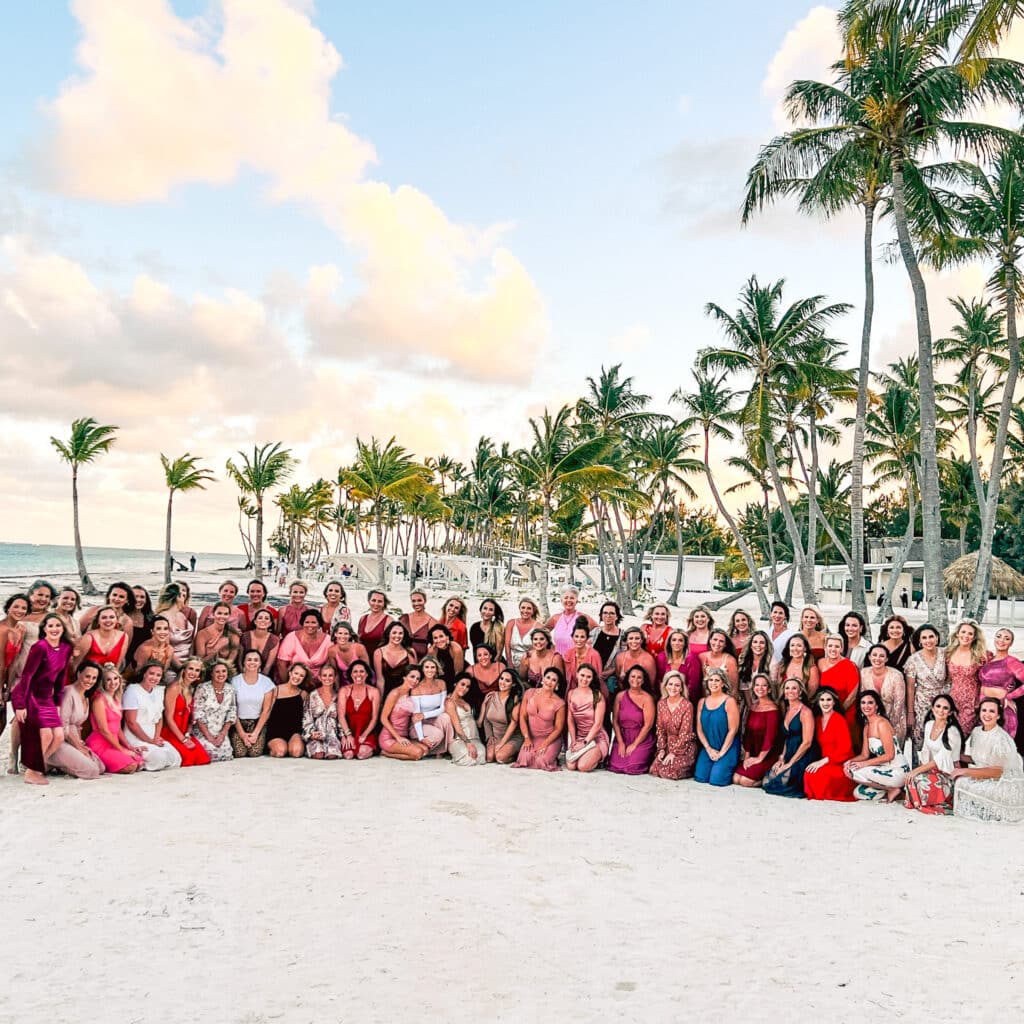 Seint is for all kinds of women! Whether you are a mom, a working woman, someone that has no experience with makeup, a cosmetologist or esthetician, young or old…this business can be for you! Here are some women that share how they make this business work or them:
This is more than just makeup and more than just a business! This opportunity has the potential to change your life. For me personally, it has allowed me to connect with women and help change their lives! It is also allowing our family to save everything that I make for retirement. It's such a great sense of security knowing I'm helping save for our future. You can see how this business has changed other women's lives:
What this business has done for some of us HERE.
What this business will do for us in the future HERE.
How to Become a Seint Artist
Once you make the decision to move forward, how do you become a Seint Artist? It's really easy! Follow these steps:
Head to the Seint website
Click on Artist Program
Select an artist you want to enroll with (I would love to mentor you and have you on my team! My name is JoEllen Woods)
Complete the enrollment- you will choose a store name. This is what will appear on your custom website url. Most women like to pick their first and last name to make it easy. You will also choose a username and password. Input your personal info and continue to checkout.
The final step is making your payment.
Once you have completed those steps, you will get an email from Seint with some important information to get started. If you signed up under me, then I will send you a welcome email with our team website information.
How to Become a Seint Makeup Consultant
A lot of social selling companies have different names for their reps: consultants, artists, reps, VIPs… For Seint, their makeup consultants are called Artists. To become a Seint makeup consultant (or Seint Artist), then follow the instructions above.
Join Our Seint Team
Why should you join our Seint team over another??? Our team is named Team Illuminate because we focus on illuminating women's lives! We strive to encourage, uplift, serve, and share with others. Beauty is much more than makeup and we try to live a life that helps women feel beautiful.
Our team has A TON of resources to help you build your business and learn and grow as a person. We believe that being a Seint Artist is more than just being a part of a social selling company to earn money…it's a personal development plan with a compensation plan attached! We believe that when we work on becoming better ourselves, we show up in a better way to serve others and help them. We teach service over sales mindset.
We have a team website made just for the women on Team Illuminate. It is filled with training galore! You'll learn all about:
Color Match Training
Makeup Training
Social Media Training
Time Management Training
Email Marketing Training
Facebook Party Training
Customer Care Training
And more!!
We have a 6-week jump start program that will help you learn all the things to get you started on the right track! We have weekly zoom trainings that will help you grow and connect with your teamies. You don't have to have experience in makeup or in any of the topics above. But if you are willing to show up, be consistent, learn, and get outside your comfort zone, then you will find success!
You can find a Seint Artist Guide HERE for more information or click the picture to take you to it.
Hopefully these Seint Artist Program FAQs were helpful! Also, check out this post about 5 reasons the Seint Artist Program might be right for you. If you still have questions, I would be happy to answer them! Email me and we can chat! You can learn more about being a part of my Seint team.  I love connecting with women and coaching them to become a better version of themselves! We have a great team!