Top 10 Questions About Maskcara Beauty
You may have heard of Maskcara Beauty, you may have not. Either way, we bet you're curious as to what this IIID foundation is all about. Here are the top 10 questions about Maskcara Beauty answered!
What is IIID foundation?
IIID foundation is a cream foundation that gives a woman's face dimension. Most foundations give your face a flat finish. It covers up the shadows and has one color. But with IIID foundation, you are bringing back the natural dimensions to your face. You are creating shadows and adding a flush to your face.
Maskcara IIID foundation comes with a highlight, contour, lip & cheek, and illuminator. You apply these 4 cream foundations on the places on your skin that you want that specific dimension. You don't need to layer 4 different colors right on top of each other to have a heavy look. It's one layer in different places.
Your highlight is your normal foundation skin color. Your contour is your foundation color that creates shadows. Your lip & cheek is your foundation that creates a natural flush to your cheeks. Your illuminator foundation adds a beautiful brightening glow to your cheekbones.
Who is the founder of Maskcara Beauty?
Cara Brook Killpack started Maskcara makeup as a beauty blogger. She taught makeup tips and tricks and showed a lot of before and afters. Cara always dreamed of creating her own makeup line and making beauty easier for the everyday woman. She created her own makeup line and sold it online for two years before opening it up for direct distributors in early 2017. Her business has grown tremendously over the past few years and continues to thrive!
Because she chose to create an MLM with her beauty products, she has created a sisterhood of women that work together to help other women feel beautiful and confident in their skin. This MLM is unlike any other! It is an inspiring and uplifting group that cheer and support each other.
What other products does Maskcara Beauty carry?
Besides cream foundations, Maskcara also carries many other beauty products! All of their high-quality makeup brushes are double ended, providing the consumer with more purpose and use with each brush.
Maskcara also sells eyeshadows that are such a beautiful creamy pigmented powder. Most competing eyeshadows come in 1.2 or 1.4 grams. Maskcara eyeshadows are sold in 2.5 grams.
Maskcara also sells skin care! From makeup remover wipes, to cleanser, toner, moisturizer, and a masque! Maskcara has all your skin care needs.
Maskcara also sells compacts. These compacts come in all sizes to fit your different needs. You can put foundation colors and eyeshadow colors and powders in whatever order you want.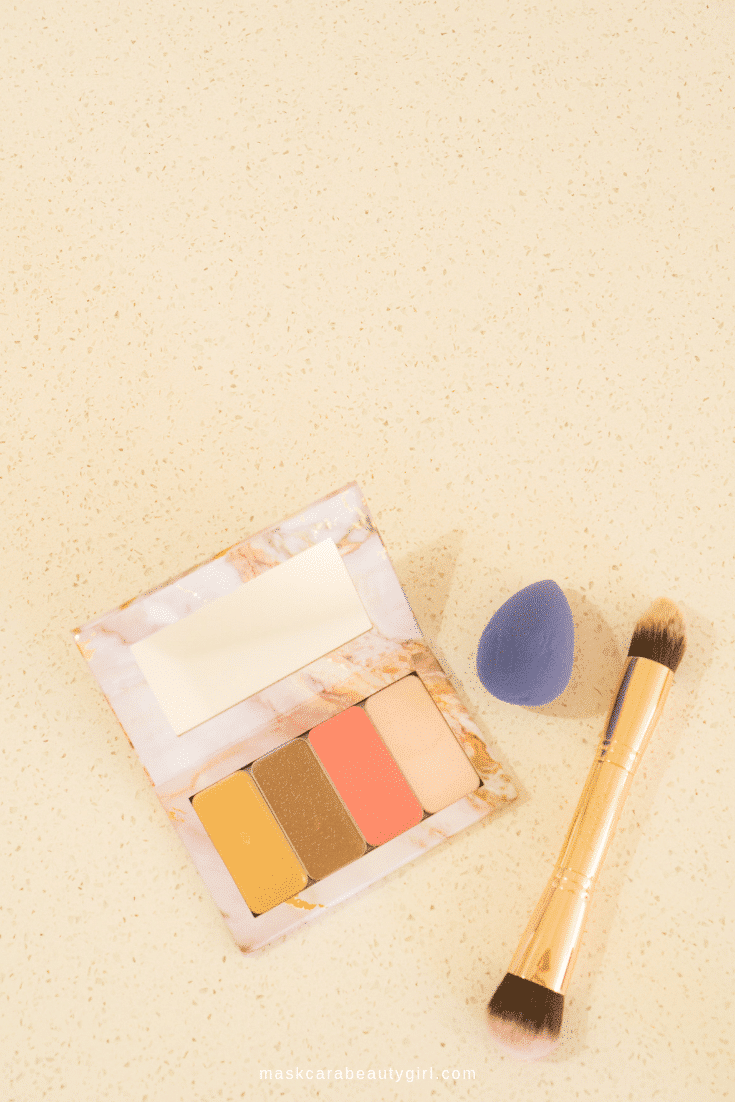 What ingredients are in Maskcara makeup products?
You can find all the list ingredients in Maskcara products HERE.
Is Maskcara makeup paraben free?
Yes!
Is Maskcara makeup cruelty free?
Yes!
Is Maskcara makeup gluten free?
Yes!

Is Maskcara makeup vegan?
No. Some Maskcara makeup products contain beeswax.
How much does Maskcara makeup cost?
Each Maskcara foundation color is only $14. The highlight usually lasts 2-4 months. The contour usually lasts 6 months. The Lip & Cheek usually lasts 6-12 months. And the illuminator usually lasts 12 months.
Maskcara eyeshadows are $12 each. They are sold in 2.5 grams.
Maskcara powders (setting powder and powder bronzer) are $16 each.
Maskcara makeup brushes prices range from $18-$36. They all come double sided and are multiuse!
Maskcara skin care products prices range from $10.50-$50.
Maskcara compacts prices range from $12-$115.
Is Maskcara makeup customizable?
Yes!! That's the best thing about Maskcara! Each compact is magnetic and each tin is metal so you can put your own custom colors in your compact and rearrange to your heart's content!
Those are your top 10 questions answered! If you have more questions, feel free to email us HERE. If you want to learn more about becoming a Maskcara Artist in the United States, click HERE. If you want to learn more about becoming a Maskcara Artist in Canada, clock HERE.