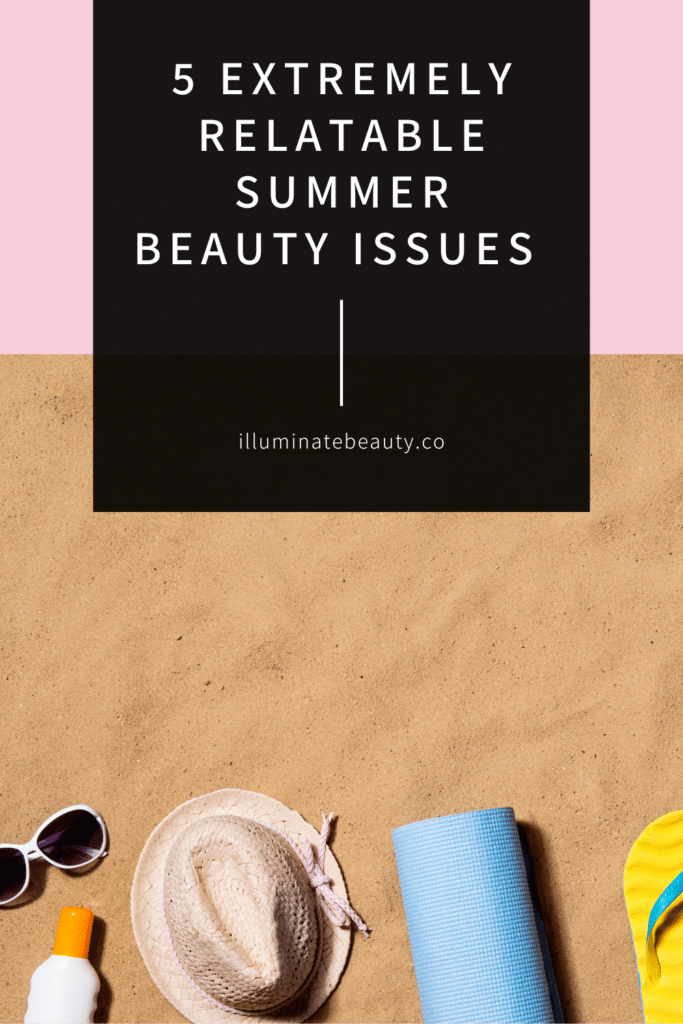 Summer is such a fun time! But when it comes to beauty, it can sometimes be frustrating. Here are 5 extremely relatable summer beauty issues and how to avoid them so you look great all season long!
Common Summer Beauty Issues
We've all been there. We take the time to look great for the day but because of the summer heat, our makeup just doesn't look awesome by the end of the day! Here are 5 common summer beauty issues:
Oily Skin
Makeup Breaking Up
Sunblock and Foundation too Heavy Together
Not Having Waterproof Makeup
Reapplying Sunscreen Over Makeup
Oily Skin
If you have oily skin, the summer heat can really accentuate it! Nobody likes to look like a greaseball midday so here are a few things you can do to keep the shine at bay all day:
Skip all the skin prep. Just stick to the basics. Cleanse your face in the morning but then skip the serums and moisturizers and primers. Just apply sunscreen (it acts like a moisturizer) and then apply your makeup. My 2 favorite sunscreens for oily skin is Elta MD and Dime Beauty Wonderscreen (use this code for 20% off: JOELLEN20). They both give you protection without the added oil.
Set your makeup with powder. This is KEY!! Use a powder brush and a powder to pat on your face to set your makeup.
Use shine tissues. If you notice that you are getting shiny throughout the day, then use these Shine Papers to lightly blot your face. They will absorb the excess oil without taking your makeup off. This cute metal case is perfect to toss in your purse!
Here are more oily skin makeup tips that will help you look fresh all day!
Makeup Breaking Up
Are you noticing your makeup breaking up? This is most likely because you're putting too much makeup on. Think less is more! Or it could be because you are wearing the wrong shade. Usually when you're wearing too light of a color, you will notice texture and your makeup will start breaking up and separating on your face.
If you need help figuring out what makeup shade you should be wearing, I can help! As a makeup artist, I work individually with women helping them find their perfect makeup shades as a complimentary service. You can fill out my quick makeup form to get started.
Sunblock and Foundation too Heavy Together
If your sunblock and foundation are too heavy together, it's time to use a different sunscreen! Here are some great options that work well with makeup: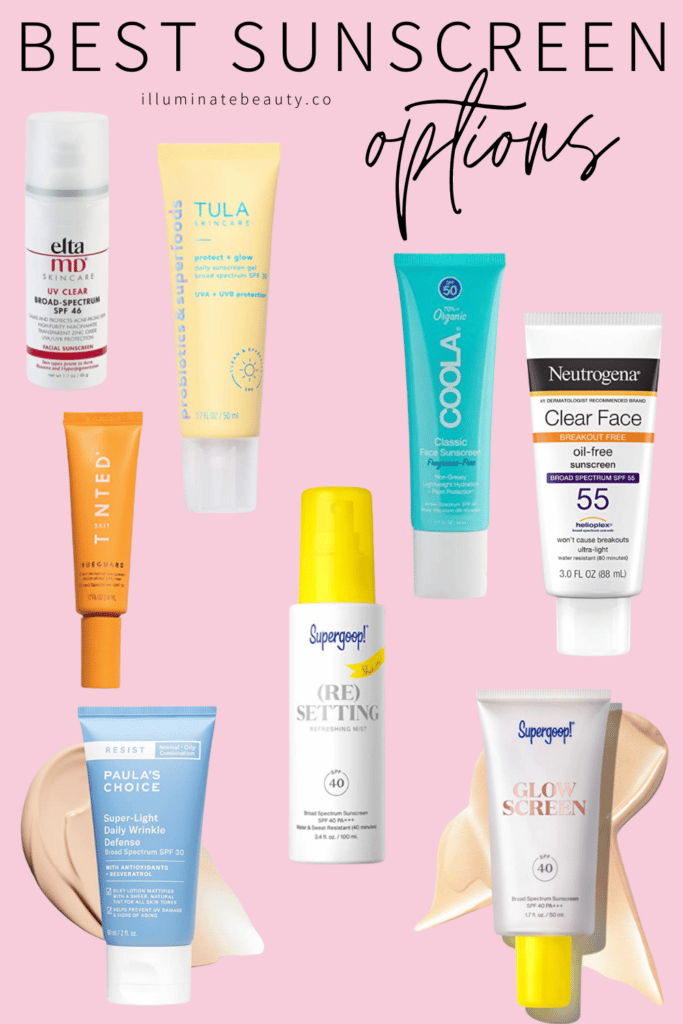 Not Having Waterproof Makeup
If your makeup is coming off in the water, try investing in some heavier duty makeup. Cream makeup is great for lasting well in the water. For mascara, opt for a water proof one that you can get at any drugstore. Or my favorite tubular mascara is Thrive mascara. It works so well!
You can also use a setting spray to help your makeup last all day!
Reapplying Sunscreen Over Makeup
What do you do once you have applied your makeup and you need to reapply your sunscreen? Nobody wants to reapply their makeup, right?!! I have the easiest solution!! Throughout the day, use a spray sunscreen or powder sunscreen to protect your face. It's super simple!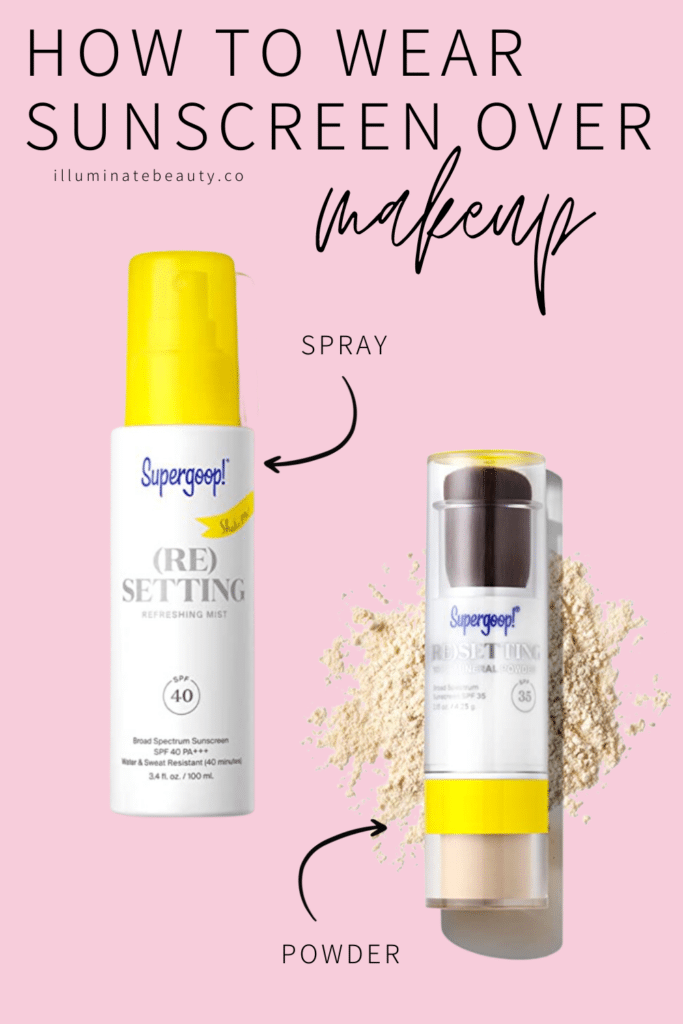 Hopefully those summer beauty tips will help you look and feel beautiful all day and all season long!
Here are other blogposts you might enjoy:
How to Color Match Yourself with Seint Makeup
How to Look Younger with Makeup for Women over 40
5 Minute Makeup for Women Over 40
Eyeshadow Tips for Hooded Eyes


About the Author
JoEllen is a licensed aesthetician, makeup mentor, and certified John Maxwell coach, speaker, and trainer. She has been working with women for 18 years helping them look and feel confident. She loves teaching women simple beauty techniques so they can feel empowered to try it at home. She believes that when you look and feel good, you do good!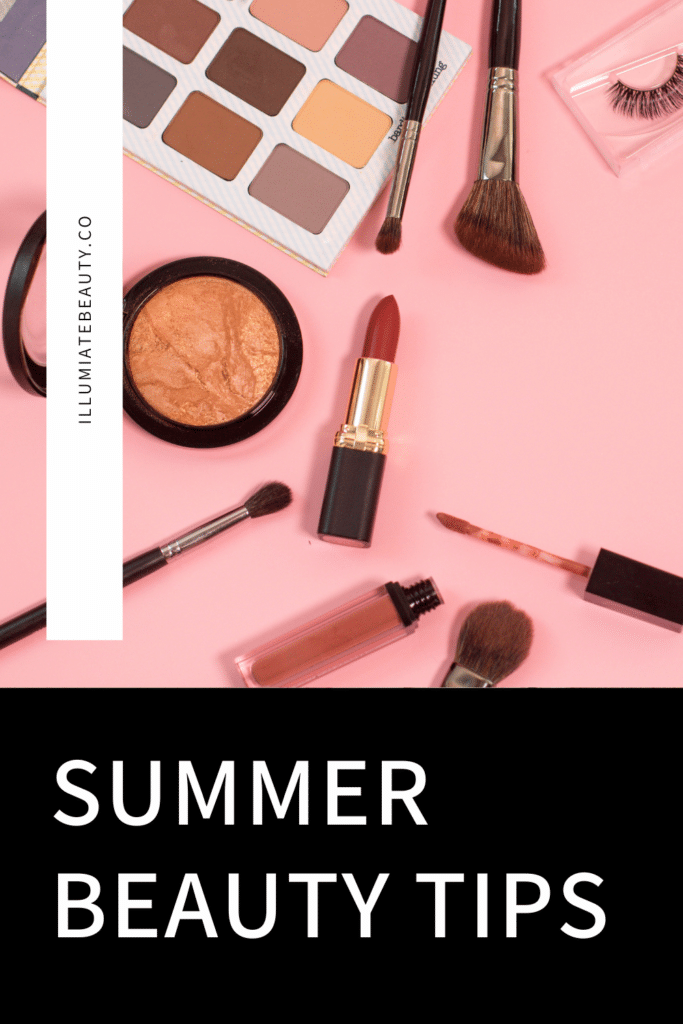 *This post contains affiliate links. If you choose to purchase an item featured in this post, I get a small portion from the sale. Thank you! It does not affect you at all.