Cute Summer Sandals for Ugly Feet
There's no shame in having not so pretty feet. We all have our strengths, and we all have our weaknesses. Embrace them both! If you feel like your feet aren't the most beautiful, it's ok! I'm sharing cute summer sandals for ugly feet that will help dress them up so they look their best!
Tips for Making Ugly Feet Prettier
Feet and toes come in all shapes and sizes. There's no right or wrong. If you don't love the way your feet look, then here are some simple tips you can use to help them look prettier:
Get a pedicure! Whether you want to pay a professional and get them done in a salon or if you want to do them at home, paint those toes! Painted toes look so much prettier and polished! A great nail system for at-home pedicures is this pedi system. It comes with all the essentials you need to create beautiful nails from the comfort of your home. (save 20% by using this code: "JoEllenW20"
File your feet! Rough and scaly feet are definitely not cute. Use a foot file to smooth your feet so they look more lady like and pretty.
Moisturize! Having moisturized feet will help your feet look soft and feminine.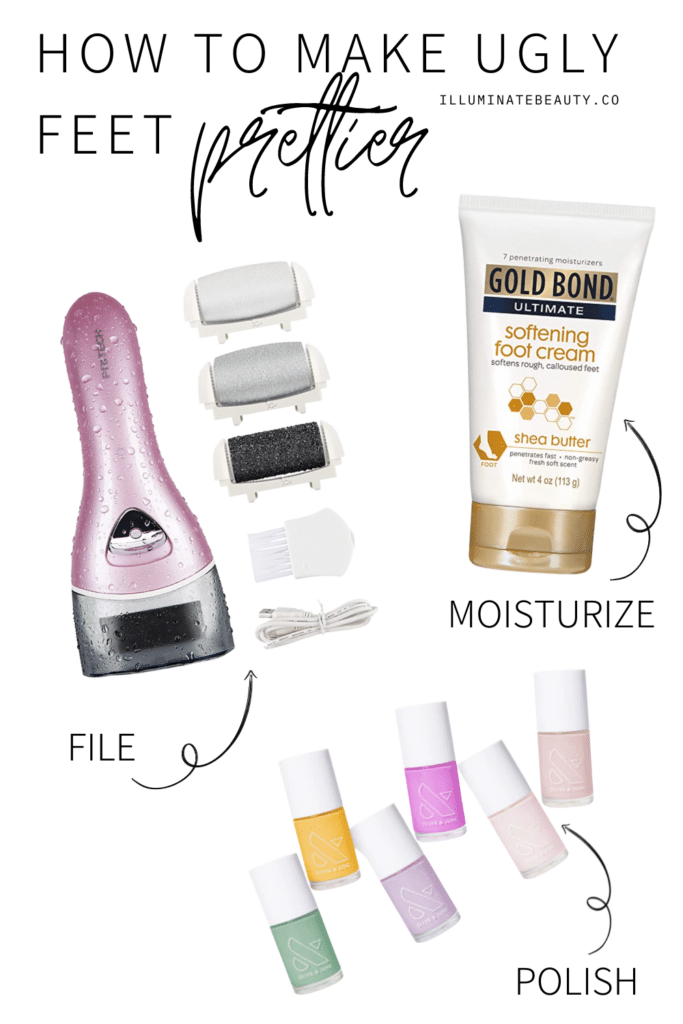 Shoes Matter!
Since you might not love the look of your feet, you might not take care in what you put on them. It doesn't matter what you wear, right?  We grab what's close or what's comfy. But shoes matter!! Shoes can really make or break your look!
You may have put some thought into your outfit, maybe a cute summery dress or shorts and a blouse. But then you ruin it by tossing on flip flops! Noooo! Flip flops are for the pool, beach, or lake. Flip flops are too casual.
Pick better sandals that will polish your look off and not look like you didn't out any thought into your look. They can still be comfortable. They can even still be casual. But shoes matter! Let me show you some better options….
Comfortable Sandals for Ugly Feet
If you prefer to look casual and comfy, you don't have to sacrifice style! You can have both! Here are some great comfortable sandal options that will help your feet look and feel great!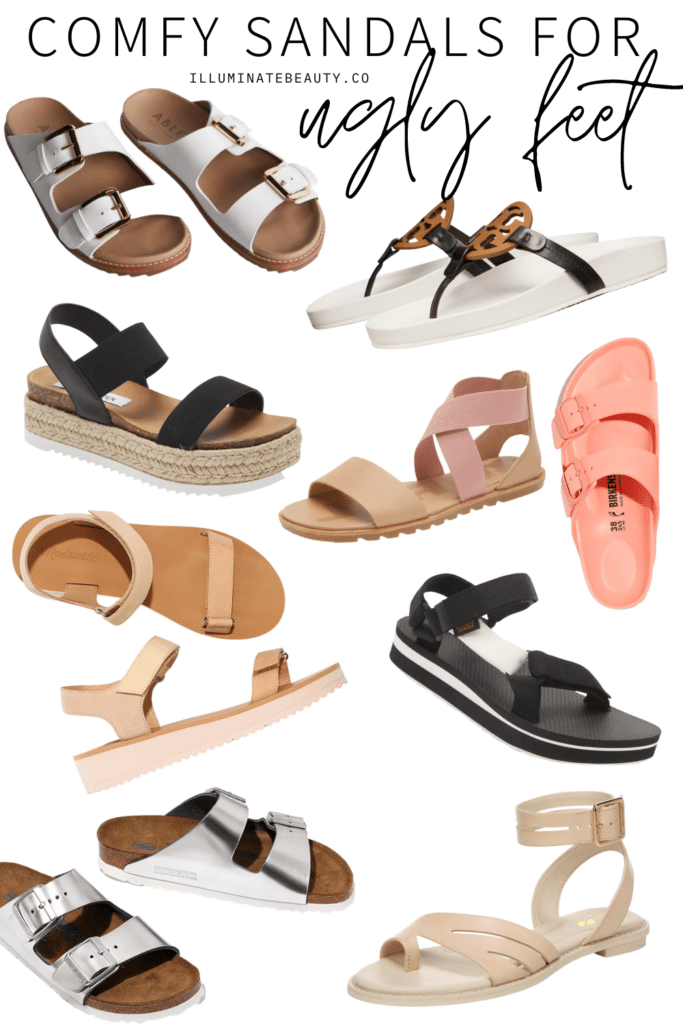 Cute Sandals for Ugly Feet
If you are up for wearing a little dressier and classier sandals, then here are some great versatile, high quality, and stylish options that you will love! When trying to dress up your feet, think feminine, fun, classy, chic, sleek. You don't want heavy or clunky because that isn't flattering. These are all great options….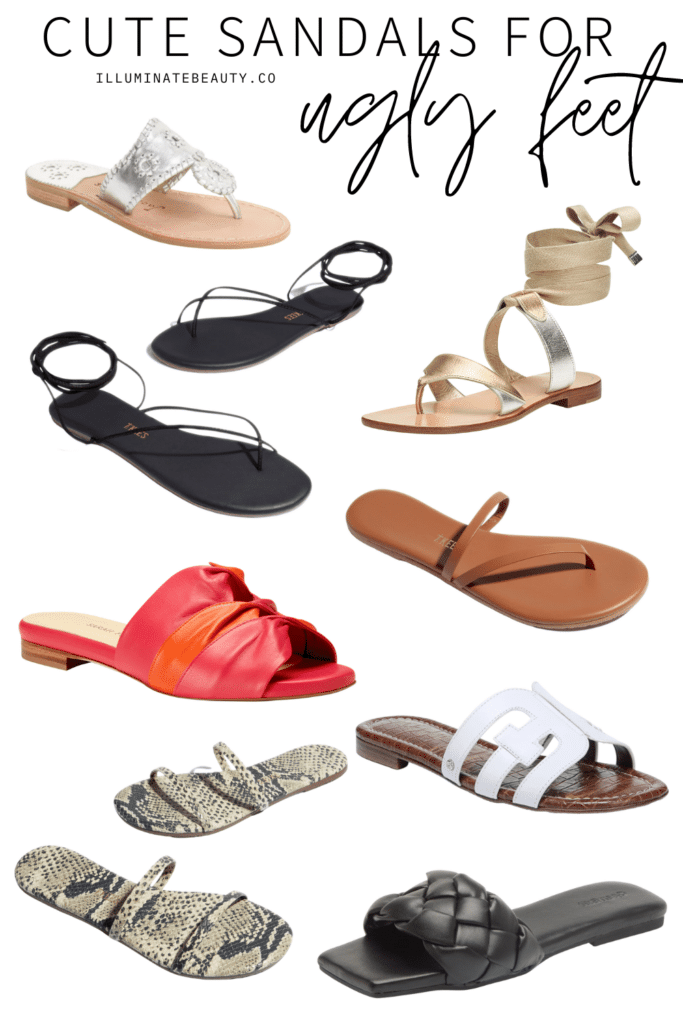 Classy Dressy Sandals for Ugly Feet
If you have an event that requires you to wear dressier sandals, then here are some pretty options. They're all comfortable, classy, and flattering. They're all really versatile so you can wear them with multiple colors and styles to get the most bang for your buck. Wear them on a date night, to church, to weddings, showers, or graduations, lunch dates. (Save $50 when you use this Sarah Flint discount code at checkout: SARAHFLINT-BAJOELLENW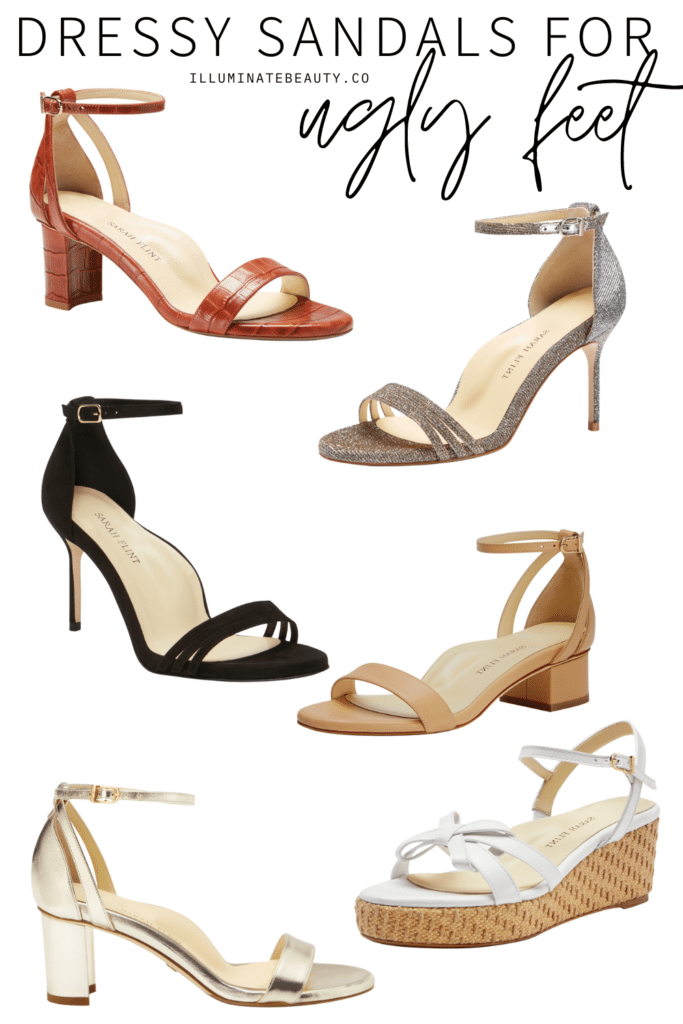 Invest in Better Shoes
Invest in a few cute sandals that are versatile and high quality so you can wear the life out of them! Refrain from buying cheaply made shoes because they won't be very comfy and they won't last! When you choose sandals that are versatile, you'll be able to mix and match them with lots of different looks. Wear them with a skirt, dress, or shorts. You'll end up saving money because your sandals will last all season and you can wear them over and over all summer long.
Don't hide your feet! Dress them up! Let them shine! And if you need simple style inspiration, head over to my Instagram for ways to wear things in different ways.
Other posts you may like:
Are Sarah Flint Shoes Worth It?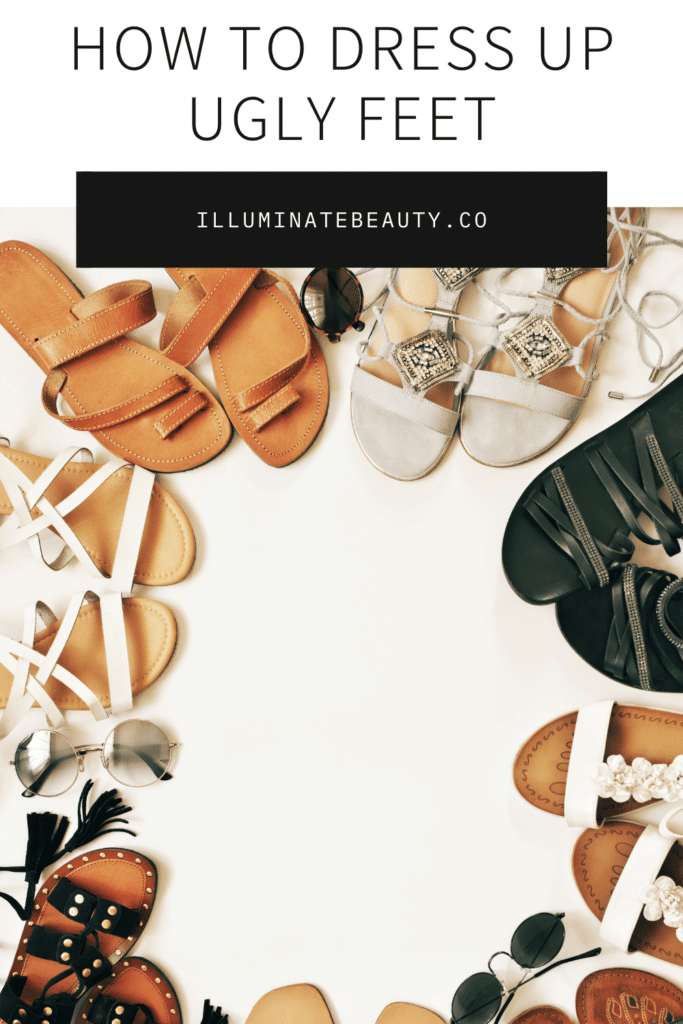 *This post contains affiliate links. If you choose to purchase an item featured in this post, I get a small portion from the sale. Thank you! It does not affect you at all.