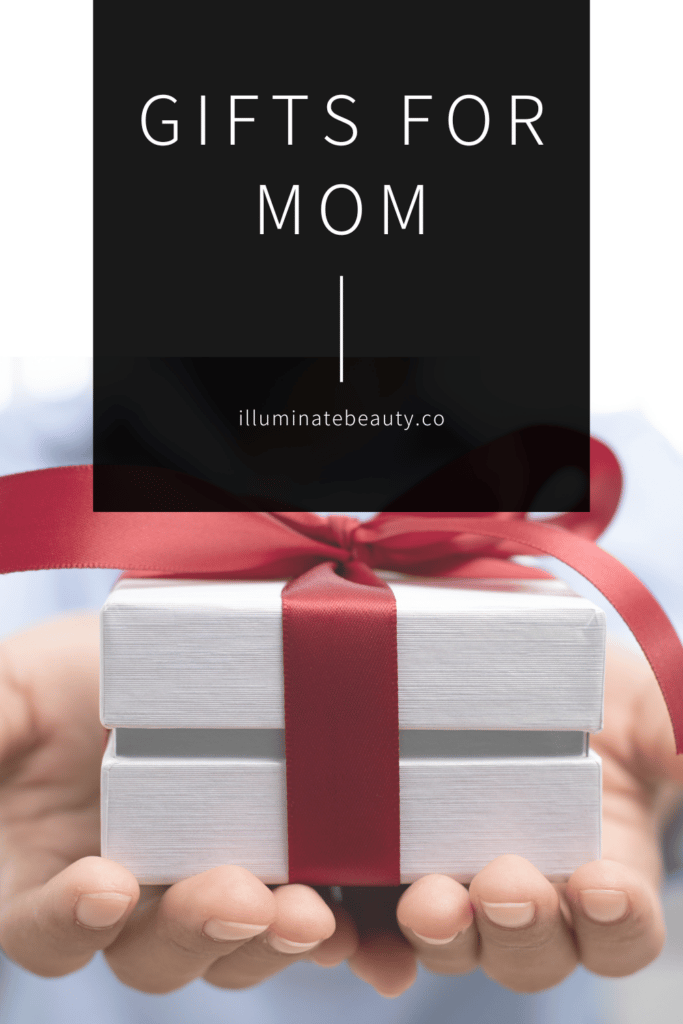 Moms can be really hard to shop for!! But they deserve to feel loved and spoiled. So I compiled a list of items from different price points and interests that she is bound to love! Scroll through these gifts for mom…you will definitely find something that will help her feel special!
Beauty Gifts for Moms
Moms work hard! They cook, clean, care for us, and work! They deserve to to feel loved, pampered, and special for all their sacrifice! Here are some gift ideas that she will love!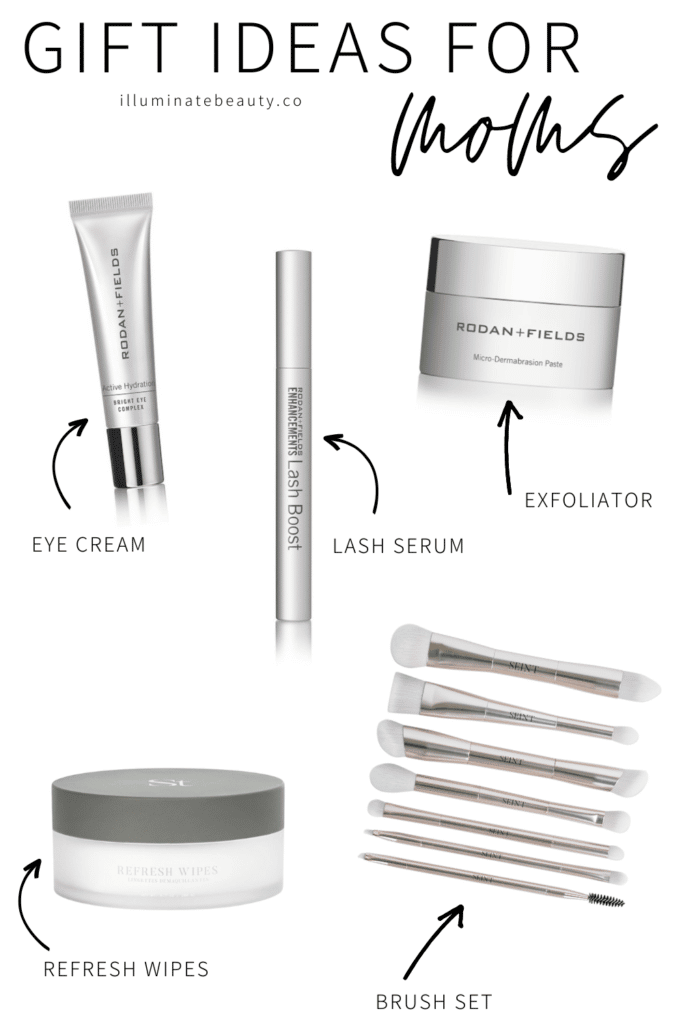 Eye Cream– Most women don't get the sleep they need, so this eye cream helps cover up those dark circles!
Exfoliator– Give her the gift of smooth skin! This exfoliator will slough off her dead skin cells and product buildup making her face as smooth as a baby's bum. Yup…I just said that.
Refresh Wipes– Moms are tired! The last thing they want to do is spend a ton of time washing their face before bed! These Refresh Wipes make it super quick and easy! They cleanse and tone in one step. She will love them!
Lash Serum– You will not find a better lash serum on the market! This will give her longer and healthier looking lashes in a matter of weeks!
Makeup Brush Set– Give her a flawless makeup finish with great makeup brushes!! These are high quality and beautiful…win win!
Style Gifts for Mom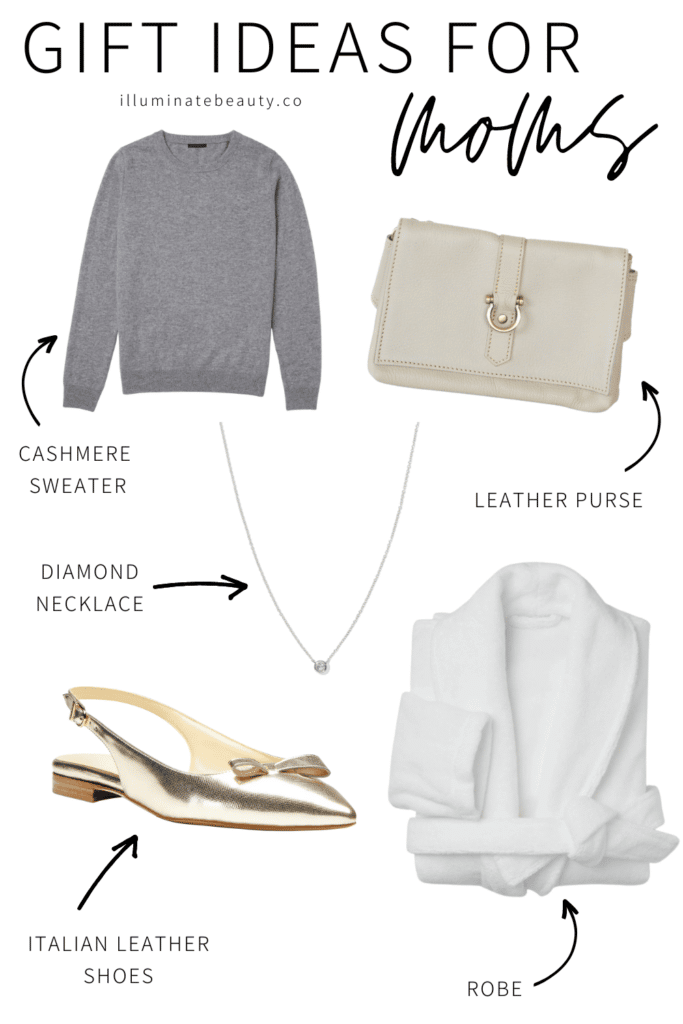 Cashmere Sweater– Cashmere is classy and cozy! She will love it and you will love the affordable price! This sweater is only $50, but save 10% with this Quince discount code at checkout: IAMJOELLEN10
Leather Purse– Give her a gift that will last for years! A purse is her best friend…it's always by her side! A leather purse will hold her essentials and help her look stylish. This leather purse can be worn as a cross body bag, shoulder bag, clutch, or belt bag! It is so versatile! Save 20% off with this Sapahn discount code at checkout: JOELLEN20
Diamond Necklace– What women doesn't like diamonds?! This danty diamond necklace is perfect for everyday wear. It looks great on its own or layered with other favorites. It comes in white and yellow gold and is very affordable! Save 10% with this Quince discount code at checkout: IAMJOELLEN10
Sarah Flint Shoes– If you really want to pamper your mom, then gift her Sarah Flint shoes! These are handmade in Italy, extremely comfortable, and super stylish. Save $50 with this Sarah Flint discount code at checkout: SARAHFLINT-BAJOELLENW
Robe– She will feel like she's at a resort with this luxurious robe! Save 10% with this Quince discount code at checkout: IAMJOELLEN10
Home Gifts for Mom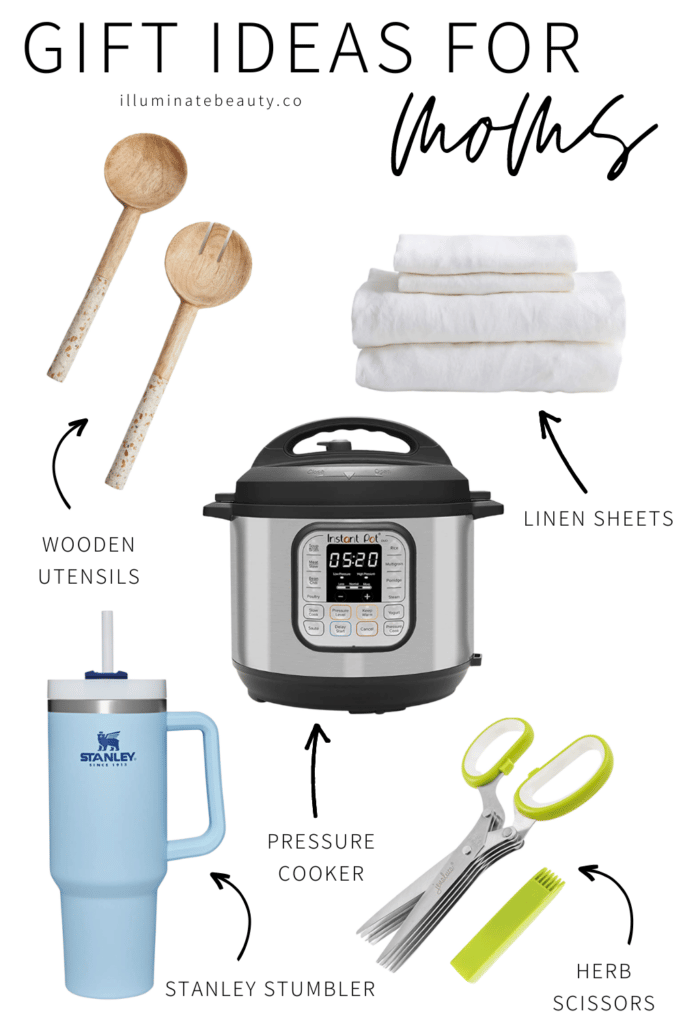 Linen Sheets– She will feel like she's sleeping in a 5-star hotel with these sheets! They are so soft and comfy! Save 10% with this Quince discount code at checkout: IAMJOELLEN10
Wooden Utensils– She will feel fancy cooking and serving with these pretty utensils! Save 15% with this ABLE discount code: JOELLEN15
Herb Scissors– These scissors will make her life easier in the kitchen! They make cutting those herbs a breeze!
Pressure Cooker– Save her time in the kitchen with this pressure cooker! It will cut back cooking time and help her make her meals quicker!
Stanley Tumbler– This cup will help her stay hydrated and stylish…win win!!
Non-Store Bought Gifts for Mom
If you are on a tight budget or if your mom truly appreciates more sentimental gifts, then here's a list of things you can give her:
Write your top 10 memories of her. Either handwrite or print it out for her to refer to when she needs a little cheering up!
Have an experience together- take her to lunch or dinner, get your nails done together, explore somewhere new, go on a hike, go on a scenic drive. The gift of time is priceless!
Write a thank you card.
Do some chores for her. Moms always have a long to-do list and not enough time to do it all! Help her check off some of those items.
Hopefully this gift list will give you some good ideas to give your mom this year. The best gift of all is making her feel loved and appreciated. So give her a hug and a nice note and she is bound to feel loved. If you're a mom, feel free to pass this blog post along to your significant other or someone that will be buying you a gift as a little hint hint 😉 Might as well make their life easier!
Here are some other blog posts that you may like: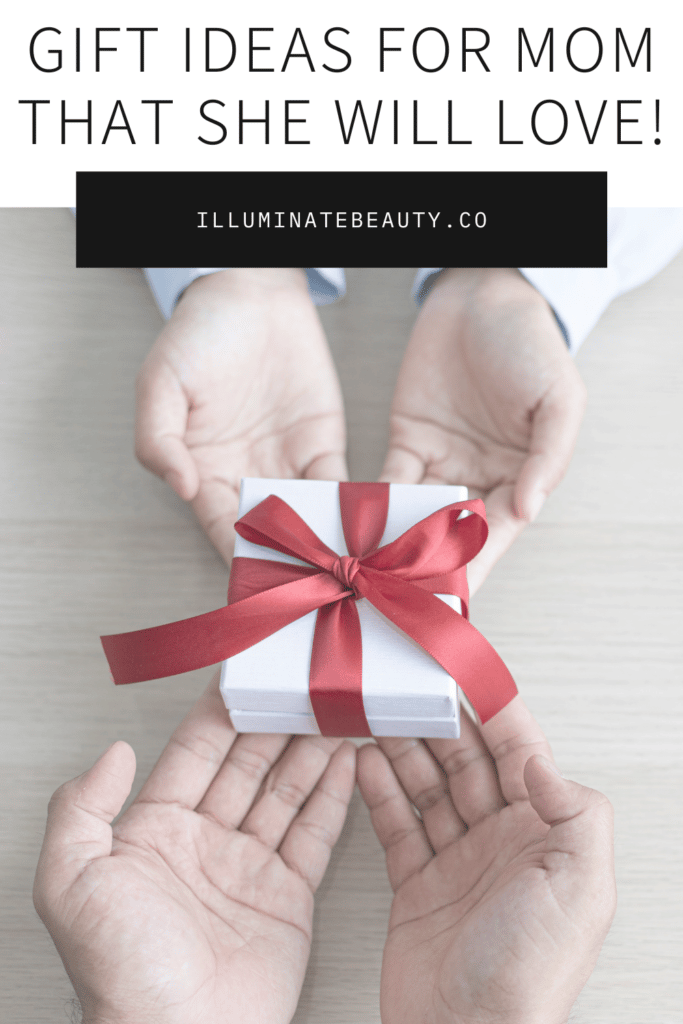 *This post contains affiliate links. If you choose to purchase something featured, I get a small percentage from the sale. Thank you! It does not affect you at all. =)