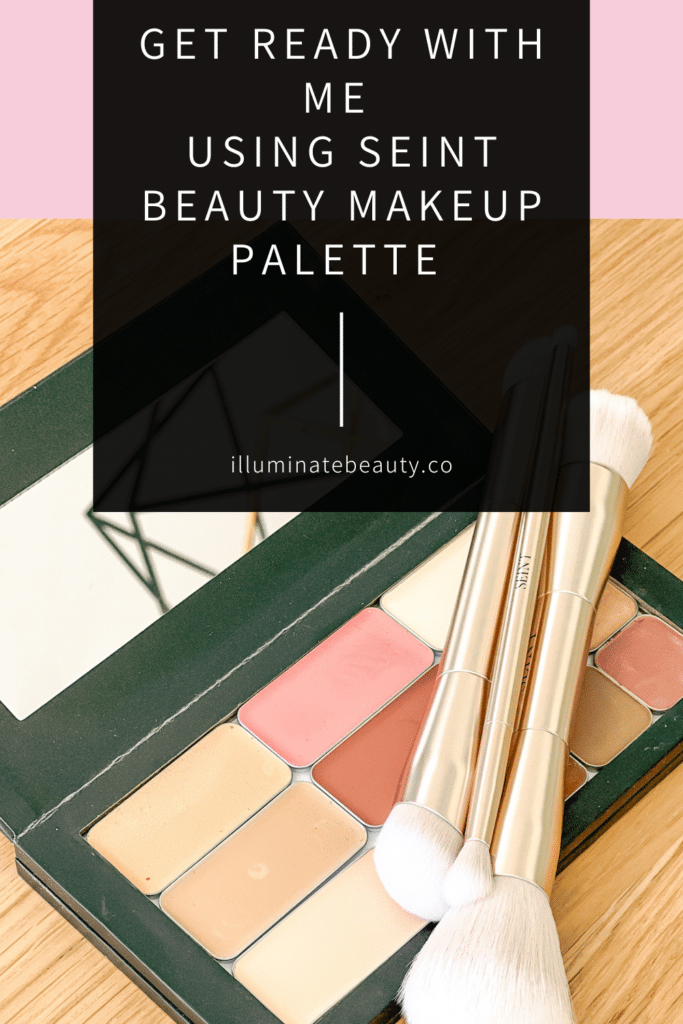 I don't know about you, but I find it fun to watch how others get ready. What's their routine? What products do they love? How long does it take? All the things! If you enjoy watching that too, then get ready with me using Seint Beauty makeup palette…
Prep Your Skin
Before I apply my makeup, I always prep my face. A great skincare routine is key for a great makeup application!
In the morning, start by cleansing your face. You can find all my favorite skincare products to achieve glass skin. Most women either don't prep their face at all or wear way too many products. Don't do either. After you cleanse your face, apply sunscreen. This will moisturize, prime, and protect your face all in one step! It's super easy. I use one of two sunscreens (either Dime Wonderscreen or Elta MD. Save 20% off Dime with this code: JOELLEN)
Then, I apply a lightweight eye cream to moisturize under my eyes. And I prep my eyelids for eyeshadow with an eyeshadow primer. My skin is now prepped and ready for makeup!
GRWM Using Seint Makeup
When it comes to applying makeup, it's a bit of personal preference. There are a lot of different ways you can apply Seint makeup and depending on my mood, I change my process up a little. But most of the time, I like to keep the process simple.
I always start by color correcting first. This helps me even out my skin tone and conceal any areas that are distracting. I color correct the dark circles under my eyes and the redness on my chin and nose. I use the Detail Brush which can do my whole face!
Next, I apply my highlight (foundation) on the parts of my face that need evening out: chin, jawline, nose, cheeks, and forehead.
I use a lighter highlight shade to brighten under my eyes. This acts as my concealer.
This is my favorite step…contour! I love how contour adds shape and dimension to your face! I apply it on my cheekbones, along my hairline on my forehead, and on the top sides of my nose.
I add a flush to my cheeks with cream blush. I have a narrow face so by applying blush to the apples of my cheeks they appear fuller.
At this point, I use a damp Perfector Sponge to blend the makeup into my skin so it looks natural.
Then I set my makeup with powder so it keeps the shine at bay all day!
I add a pretty glow to my cheekbones with powder illuminator.
Now onto the eyes! I use the Eyeshadow Brush to apply Lullaby in the outer corner and my crease. Then I apply On Wednesdays on my eyelid. And I apply Drift under my brow and on the inner part of my eye.
And that's it! A quick and easy makeup routine that anyone can do!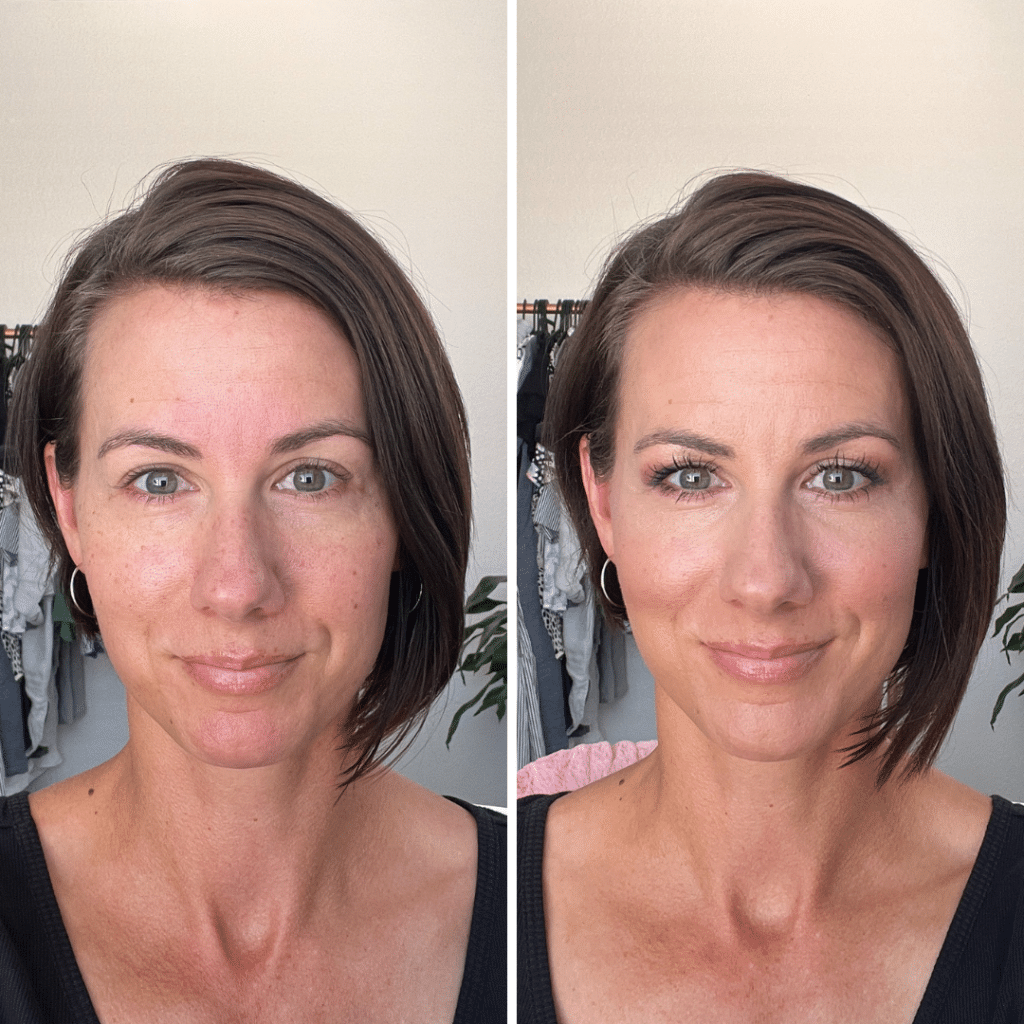 Here are the colors I'm wearing:
Color Corrector: Aspen contour
Contour: Henna
Blush: Hollywood
Illuminator: Photoshop
Powder: Vanilla Dust
Lips: Boardwalk
Eyeshadow: Lullaby, On Wednesdays, Drift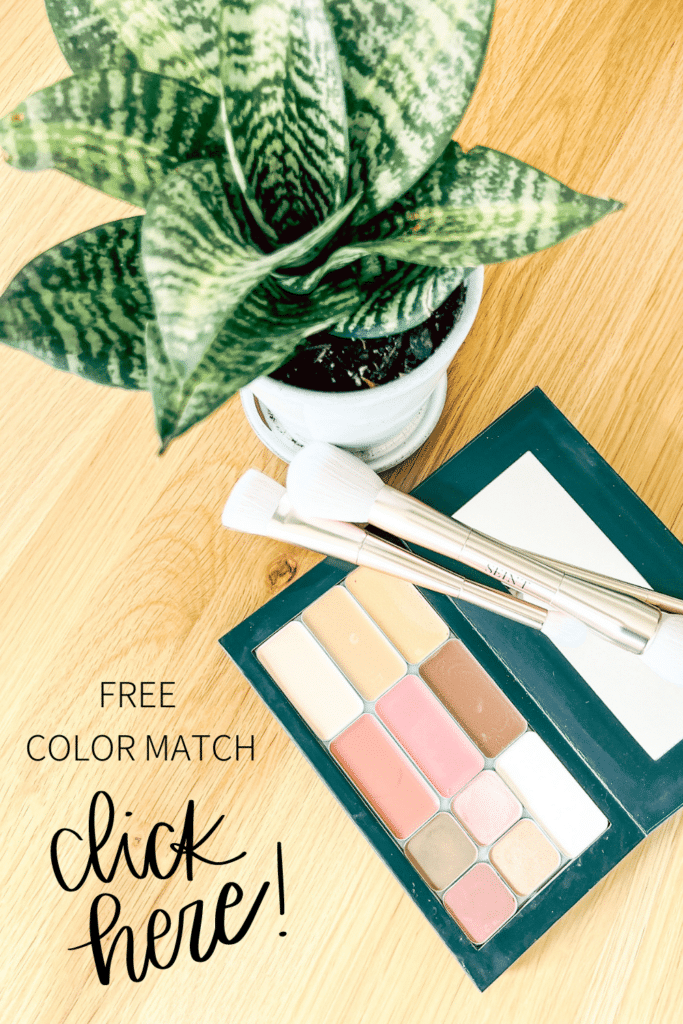 The Benefits of Seint Makeup
Every makeup company claims that you should buy their products for one reason or another. But not many can claim that they will do the following:
It saves space
It saves time
It saves money
But the Seint beauty makeup palette can! I've been using Seint makeup for 8 years and I can truly attest to the facts that it does save me time, space, and money. Here's how….
Seint Makeup Saves Space
Do you have a makeup bag or drawer full of tons of products?? I definitely used to!! I love beauty and I ended up collecting so many colors, so many products, so many samples over time that my drawer got really cluttered!
Seint makeup saves space!! You can fit everything (minus mascara) in just one compact! ONE! Your highlight, concealer, contour, blush, bronzer, illuminator, powder, eyeshadow, eyeliner, brow color, brow wax, lip liner, lip stick, perfume….it all fits into one palette!
Say goodbye to a drawer full of clutter and say hello to just one compact and a few brushes! It's the best makeup for minimalists or anyone that wants to simplify their routine.
Speaking of space…Seint makeup is amazing to travel with!! It's TSA approved so you can bring it in your carryon with you.
Seint Makeup Saves Time
Not only do you waste so much space with your large collection of makeup products, but you also waste so much time rummaging around looking for the product to use. Am I right??! Having everything you need at your fingertips really saves you time!
You spend less time looking for what you need and get to have fun looking pretty and then can get on with your day.
Seint Makeup Saves Money
How can Seint makeup save you money?? Have you ever bought a prebuilt palette of eyeshadows? It seems like a great way to get a coordinating combo of colors. But most times, you end up using one or two of the colors way more than the others. This prebuilt palette now becomes a waste of money because you run out of the shades before the other products are used up. So you end up tossing a partially used palette and wasting money.
But with Seint makeup, you can customize your palette so you get exactly what you want. When you are finished with a product, just replace that one product. Each tin is individual and the palettes are magnetic so you can replace as needed!
No more wasted product. No more wasted money. Win win!
I hope you enjoyed this get ready with me using Seint Beauty makeup palette post! Email me if you have any questions! Do you need help knowing what Seint makeup colors that will work for you??? Take the Seint Color Match Quiz!

Here are other blogposts you might enjoy:
Unleash Your Creativity with a Custom Eyeshadow Palette
How to Color Match Yourself with Seint Makeup
How to Look Younger with Makeup for Women over 40
Eyeshadow Tips for Hooded Eyes

About the Author
JoEllen is a licensed aesthetician, certified makeup artist, and certified John Maxwell coach, speaker, and trainer. She has been working with women for 18 years helping them look and feel confident. She loves teaching women simple beauty techniques so they can feel empowered to try it at home. She believes that when you look and feel good, you do good!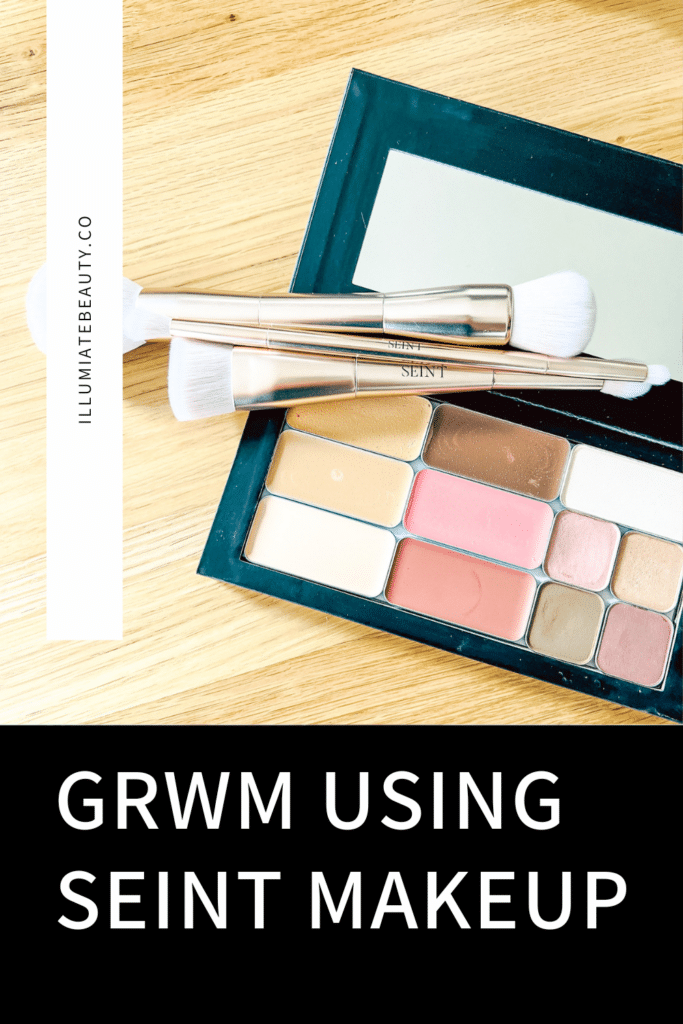 *This post contains affiliate links. If you choose to purchase an item featured in this post, I get a small portion from the sale. Thank you! It does not affect you at all.