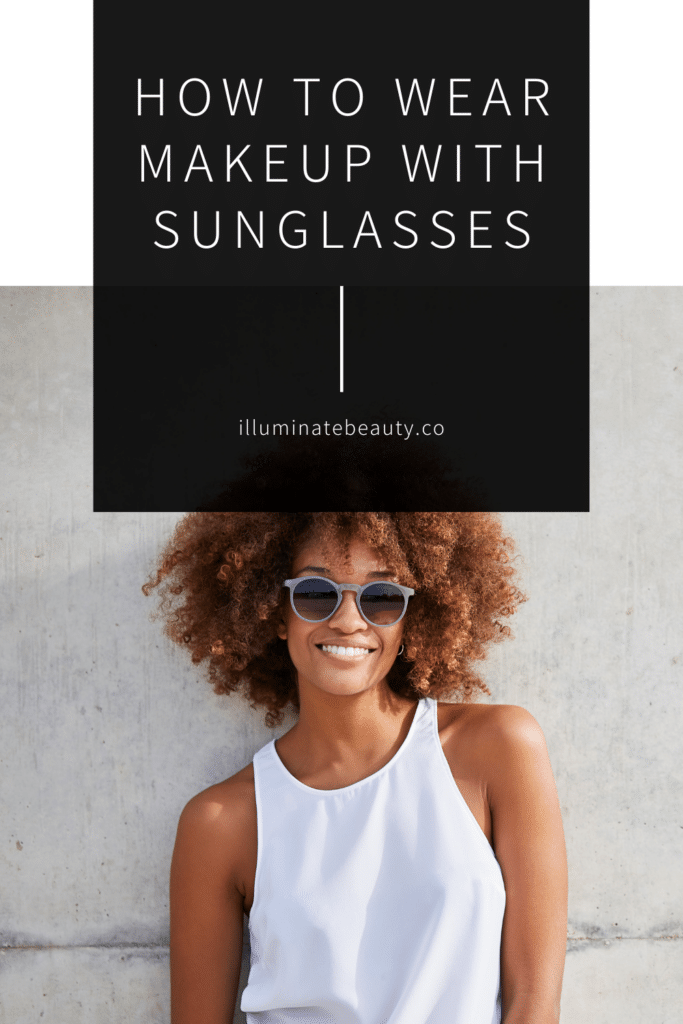 Raise your hand if you've ever done your makeup, worn sunglasses, and your makeup comes off at your nose! You are not alone!! How do you get your makeup to stay all day when you're wearing sunglasses or glasses? Here's how to wear makeup with sunglasses so you look your best ALL DAY LONG!
Start with a Clean Surface
A clean surface includes your face and your sunglasses. Before you put your makeup on for the day, wash your face. Get rid of your skin's natural oils so you can start with a clean face.
That also goes for your glasses. Take your glasses and wipe the nose with alcohol to remove any face oil or makeup product buildup.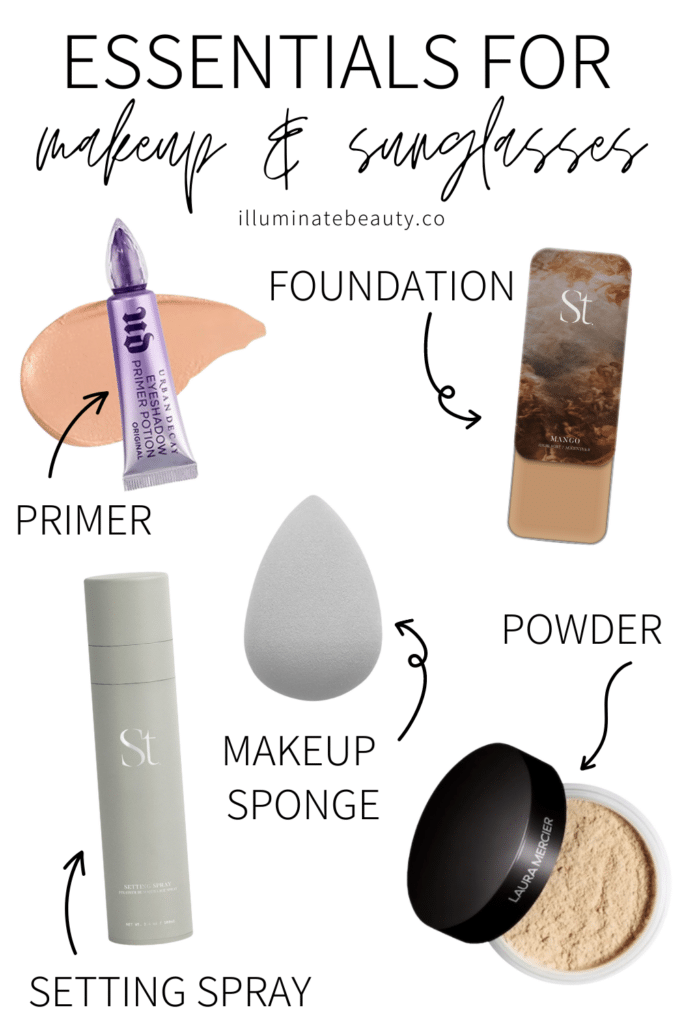 PRIMER | FOUNDATION | SETTING SPRAY | MAKEUP SPONGE | POWDER
Primer
Next up, use an eyeshadow primer right where your glasses touch your nose. This will help your makeup stay better and not shift easily.
Foundation
Apply your foundation and makeup as usual. My personal favorite makeup is cream makeup because it goes on smoothly and melts into your face giving you a natural appearance. It moves with your skin instead of sitting on the surface making it look cakey.
Setting Spray
Once you apply your makeup, take a makeup sponge and generously spray it with setting spray. Setting spray is like hairspray for your face! It helps your makeup stay put! Once your makeup sponge is sprayed, lightly dab and press the sponge on your nose where your glasses will hit.
Powder
Take that same makeup sponge and dip it into your pressed or loose powder and generously apply the powder on the same spots on your nose. Let it sit and absorb on your skin for a few minutes. If there is any excess, you can take a fluffy brush and LIGHTLY brush away the loose powder.
Add Powder to Glasses
The last thing to do is to add a bit of powder to your glasses. You can use your fingers or the makeup sponge and press some powder right on the nose of the glasses.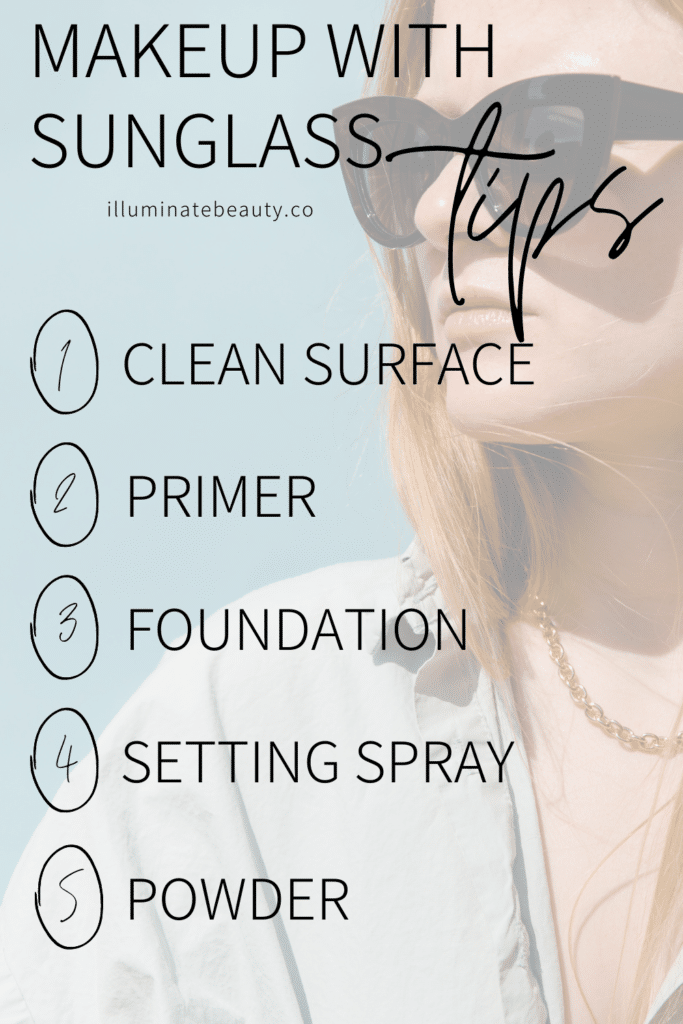 And voila! You are ready to wear sunglasses! If you notice that your makeup still shifts after wearing sunglasses, have no fret. Simply take your clean fingers and lightly press your makeup back into place once you remove your glasses. This is why I love cream makeup so much….it can easily be melted right back into your face.
Try those tips out for how to wear makeup with sunglasses and see how you like it!

Other blogposts you might like are:
What Sunscreen to Wear with Makeup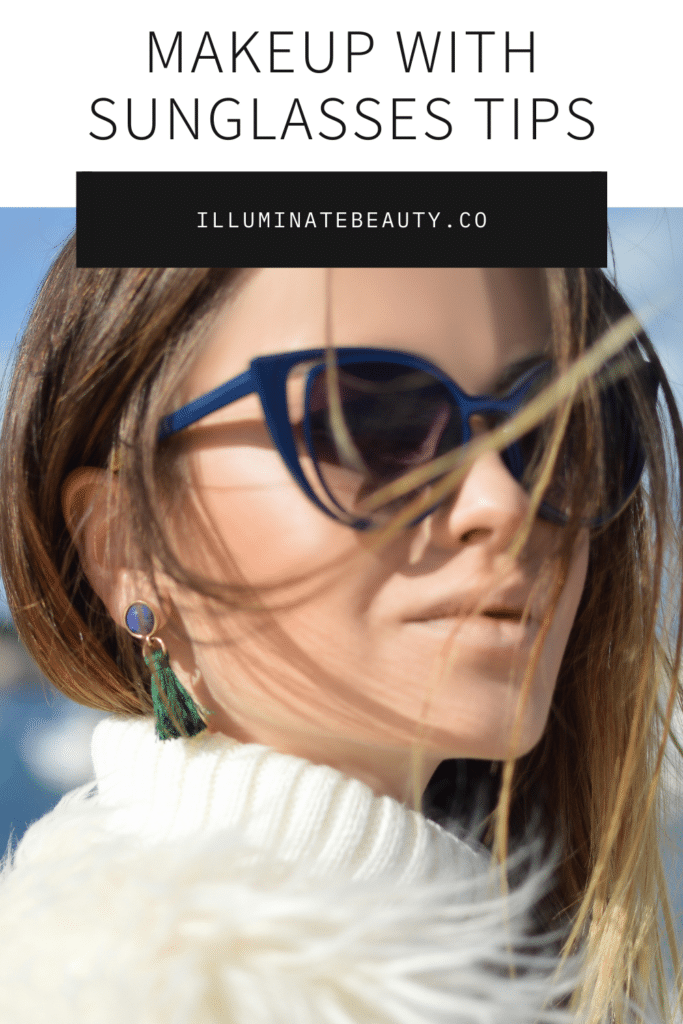 *This post contains affiliate links. If you choose to purchase an item featured in this post, I get a small portion from the sale. Thank you! It does not affect you at all.