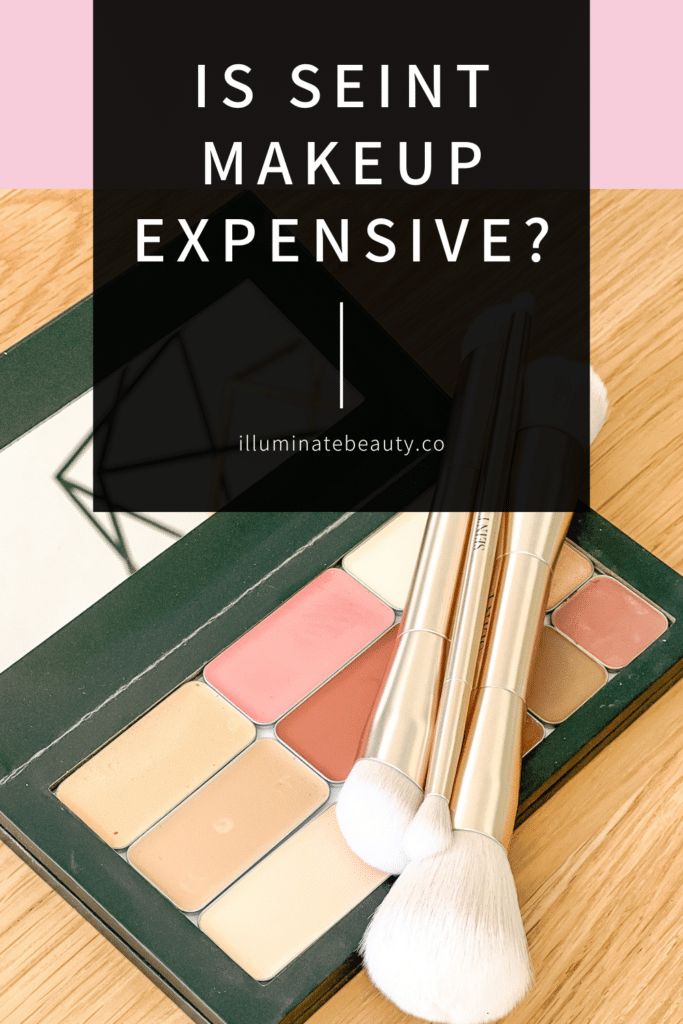 Is Seint makeup expensive?? No! Seint makeup is very affordable! Let's break it down…
What is Seint Makeup?
First off, what is Seint makeup?? Seint makeup is a iiid foundation cream makeup that comes in tins. The individual tins can be placed in a custom compact to create a personal makeup palette. The iiid foundation is meant to be applied using one layer of makeup to get a 3-dimensional look. Highlight, contour, lip + cheek, and illuminator add shape and dimension to your face without the heavy layers of makeup.
How Much is Seint Makeup?
Seint makeup ranges in price from $14-$20. Let's break it down more:
Eyeshadows: $14
Cream Eyeshadows: $16
Highlight (foundation): $16
Contour: $16
Lip + Cheek: $16
Cream Illuminator: $16
Powder Illuminator: $18
Bronzer: $16
Powder: $18
Demi Correctors: $20
Brow Wax: $20
Be aware, the tins look tiny! But they pack a mighty punch! These prices are totally affordable.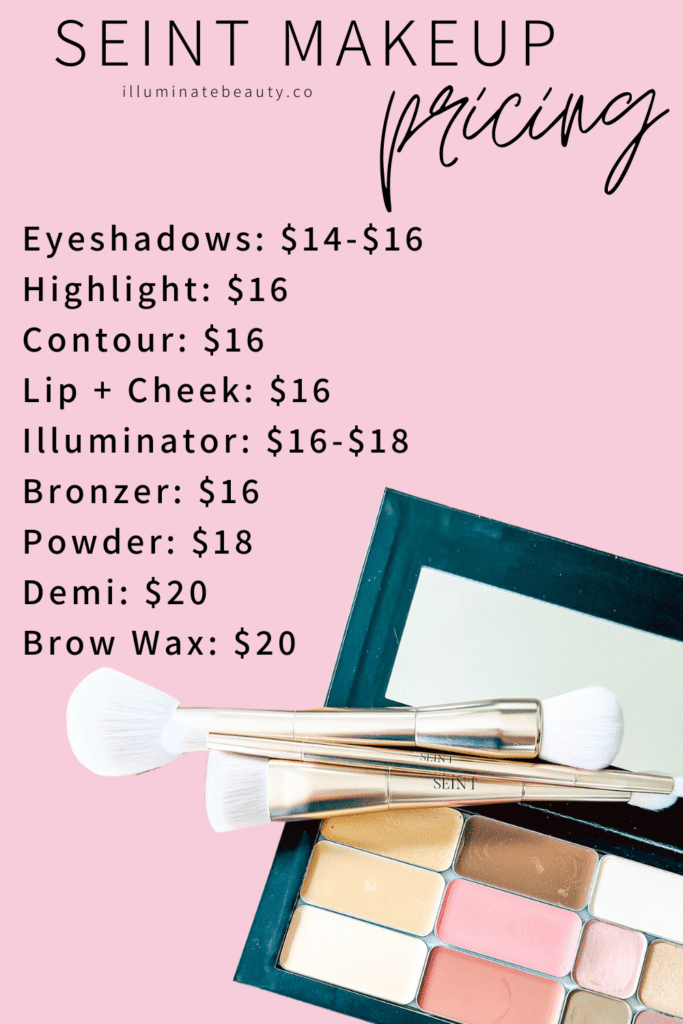 How Long Does Seint Makeup Last?
It really depends on how much makeup you wear and how often you wear it. But in general, this is how long Seint makeup lasts:
Highlight: 2-4 months
Contour: 3-6 months
Lip + Cheek: 6-12 months
Illuminator: 9-12 months
Eyeshadows: 1+ years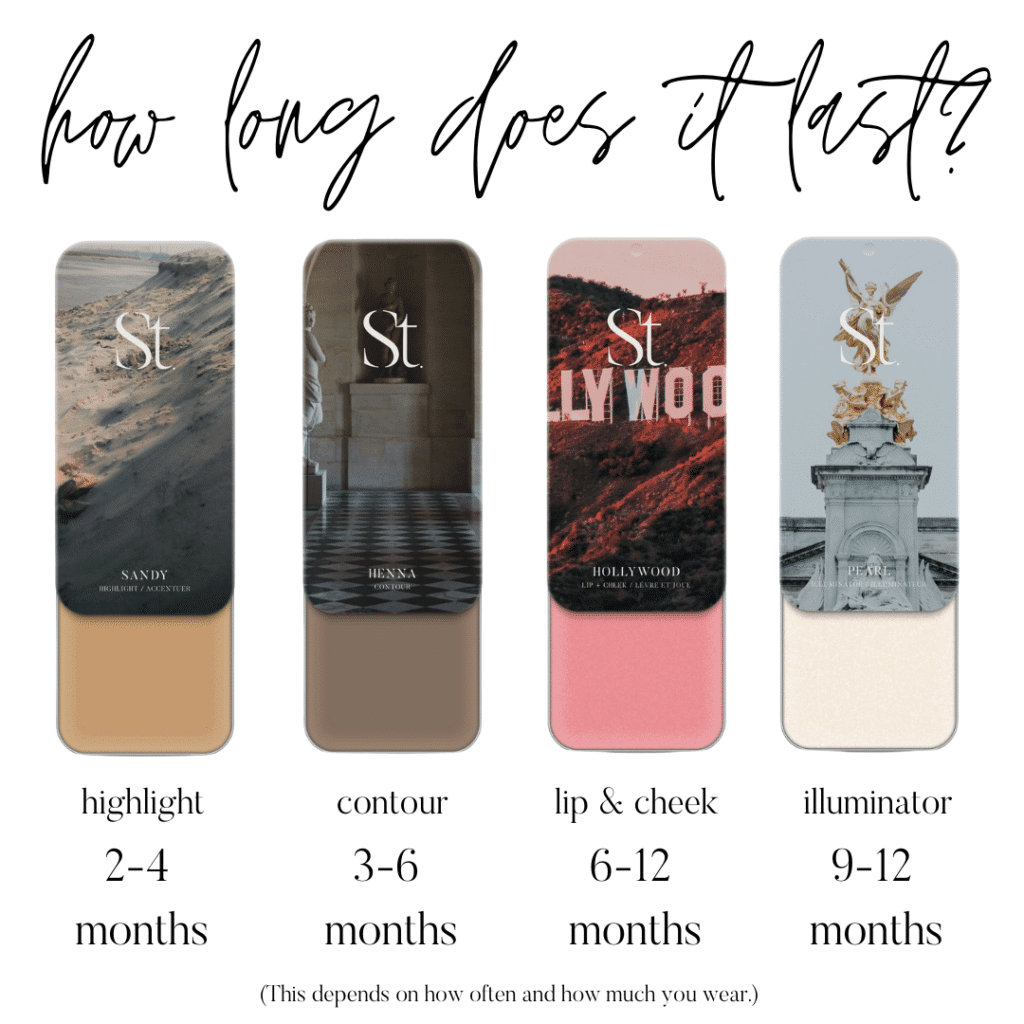 Where Can You Buy Seint Makeup?
It's really easy to buy Seint makeup! You can do everything online! Simply shop the online store. Find more info about where to buy Seint makeup online.
How Do You Know What Seint Colors To Buy?
There are a few ways to find your Seint makeup colors:
How Do You Apply Seint Makeup?
There are several different ways you can apply Seint makeup. Think of it like a paint-by-numbers coloring page. Apply highlight, contour, lip + cheek, and illuminator on certain parts of your face and blend!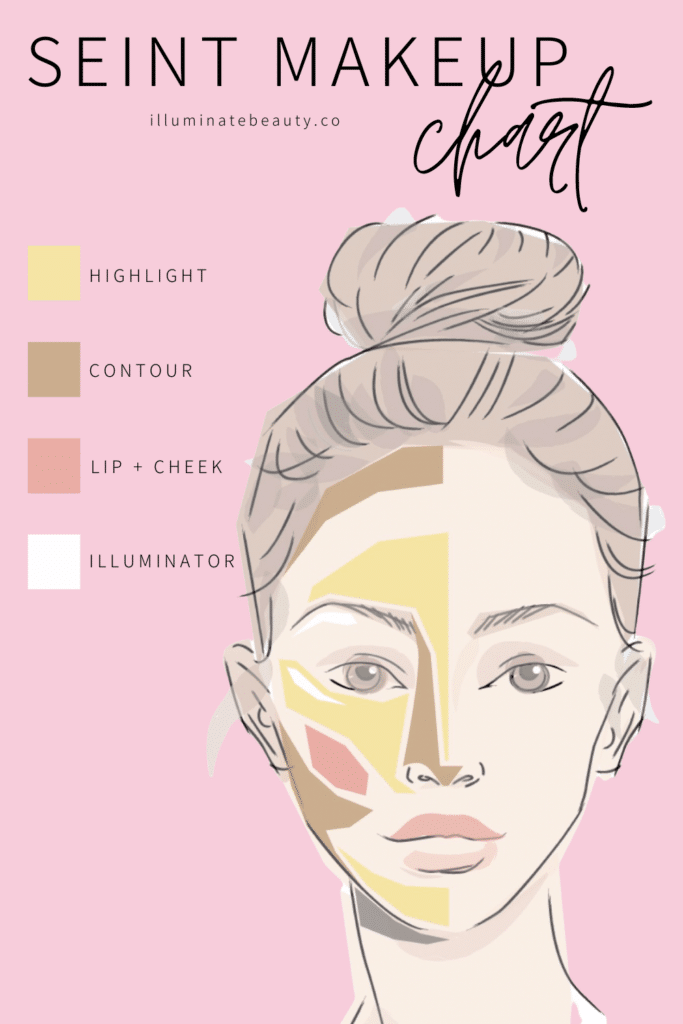 Benefits of Seint Makeup
There are many benefits to using Seint makeup. Here are 5 main pros:
Seint makeup is versatile
Seint makeup is great for traveling
Seint makeup saves time
Seint makeup saves space
Seint makeup saves money
Seint Makeup is Versatile
This cream makeup can be used in multiple ways! Lip + cheek can be worn as blush, lipstick, and eyeshadow. Contour can be used as contour, brow color, concealer, and lip liner. Illuminator can be used as illuminator, lipstick, and eyeshadow. And on and on! The options are endless!
Seint Makeup is Great for Traveling
Hands down, Seint makeup is the BEST makeup for traveling!! Everything fits into one palette. It's all TSA approved so you can carry it on in your personal items as you fly to your destination. You don't have to worry about spills or potential lost luggage.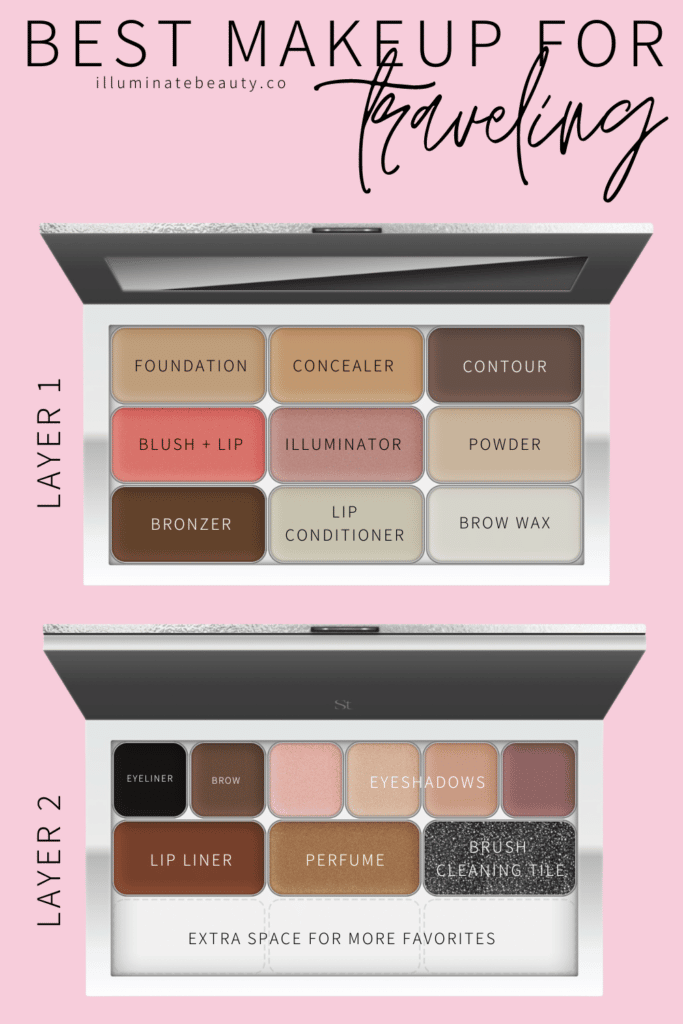 Seint Makeup Saves Time
Seint makeup is really quick and easy to apply, saving you time! You don't have to waste time rummaging through your cluttered makeup bag or drawer looking for the right product to apply…everything is at your fingertips!
Seint Makeup Saves Space
Everything, minus mascara, fits into one compact!! Foundation, concealer, contour, bronzer, blush, lipstick, illuminator, powder, brows, eyeshadow, eyeliner. It all fits. No more cluttered makeup bag or drawer. Just one palette. That's it!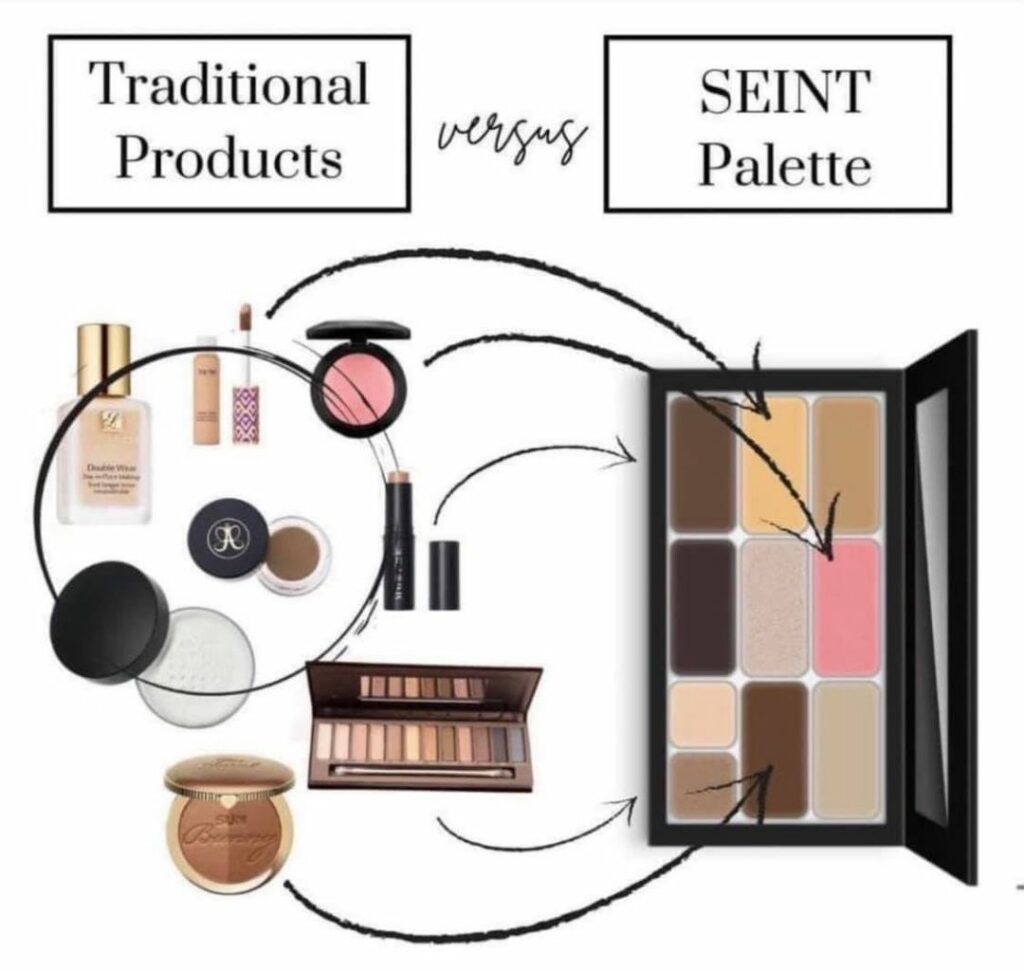 Seint Makeup Saves Money
Have you ever spent money on a prebuilt eyeshadow palette and you end up using one color a lot more than another? It's such a waste! With Seint makeup, you can choose exactly what colors you want in your palette. When you have finished one product, simply pop the tin out and replace that item. You don't end up wasting money!
So, is Seint makeup expensive? No! Not only is it totally affordable, but it also has many other cool benefits! What are you waiting for?? Start using it today!


Here are other blogposts you might enjoy:
How to Color Match Yourself with Seint Makeup
5 Minute Makeup for Women Over 40
Eyeshadow Tips for Hooded Eyes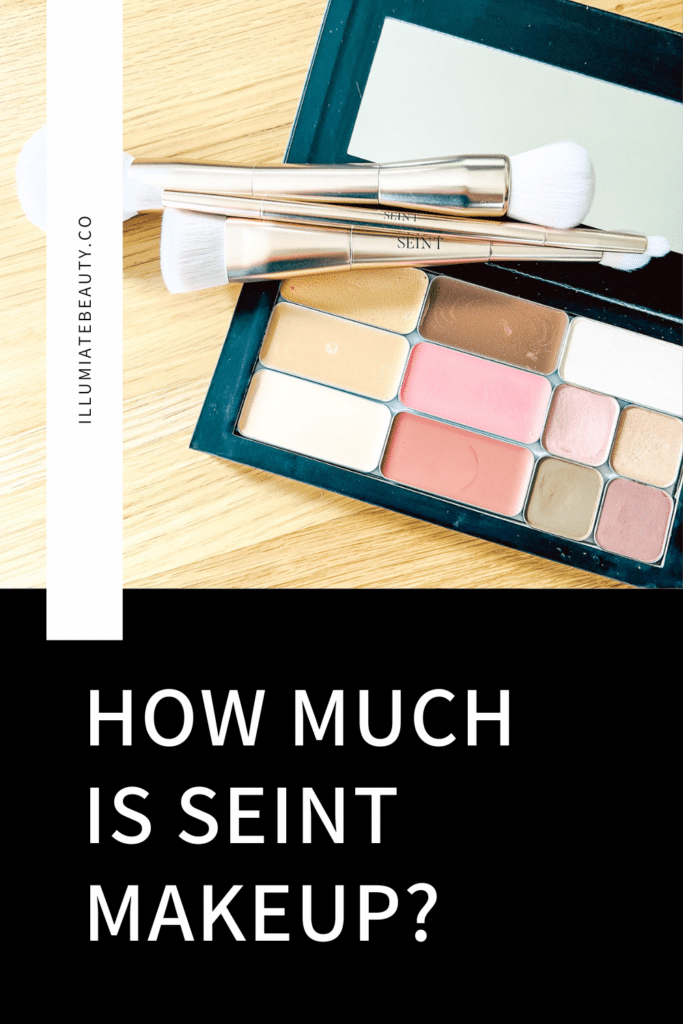 *This post contains affiliate links. If you choose to purchase an item featured in this post, I get a small portion from the sale. Thank you! It does not affect you at all.