Mother's Day Gift Guide
Whether you are shopping for a mother, a friend, a sister, an aunt, a grandma, or any woman in your life, she deserves to feel loved and pampered! I've curated a Mother's Day gift guide with gifts that she will love! From style to beauty and at different prices ranges, there is sure to be something that you can gift her…or yourself!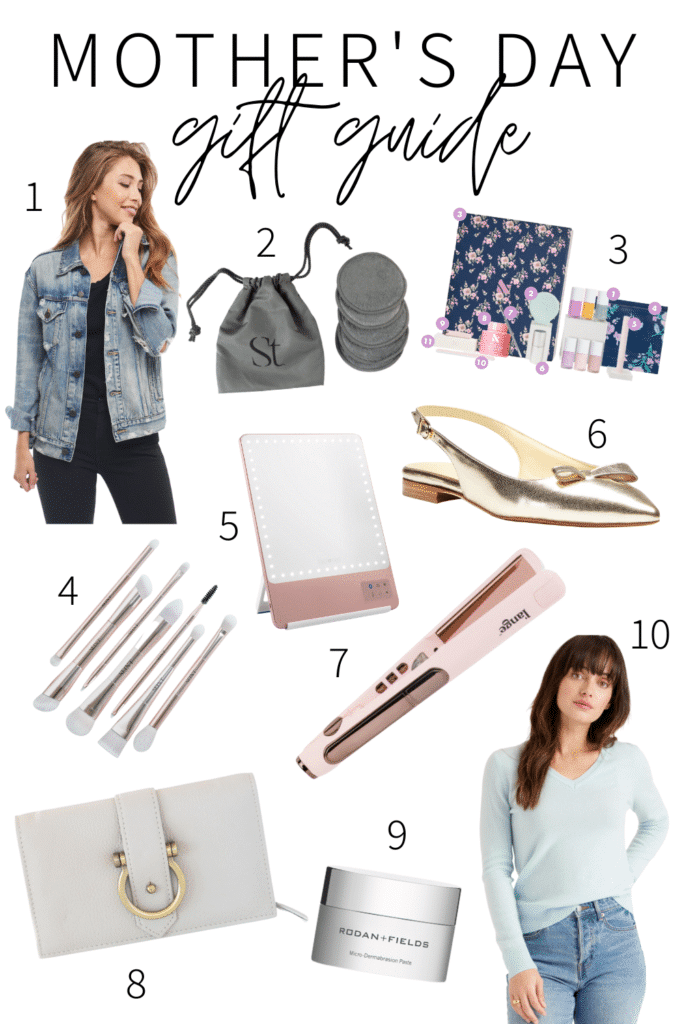 1. Jean Jacket– This is a staple piece that every woman needs in her closet! It comes in 3 different washes and a variety of sizes ranging from XXS-3XL. Get 15% off with this code: JOELLEN15
2.  Reusable Rounds– These are the perfect addition to any woman's skincare! They're super soft and you can use them over and over!
3. Olive & June Manicure Set– This set has everything she'll need to get pretty nails at home. Get 20% off with this code: JoEllenW20
4. Makeup Brush Collection– Every woman NEEDS good makeup brushes! This collection is double ended, high quality, super soft, and beautiful! She will have them for years!
5. Mirror– This mirror is perfect for getting ready every day…at home or on the go!
6. Metallic Flats– Pamper her with a gorgeous pair of flats! These flats are handmade in Italy, leather, comfortable, and chic! They go with everything and make any outfit look like a million bucks. Save $50 with this code: SARAHFLINT-BAJOELLENW
7. Hair Straightener– Not all flat irons are created equal! This one works awesome and she'll have it for years!
8. Leather Clutch– This is the perfect clutch! It can be worn in several different ways and goes with every outfit. You can see it in action HERE.
9. Microdermabrasion Paste– Give her the gift of good skincare! This exfoliator will get her skin feeling so healthy and smooth…she will love it!
10. Cashmere Sweater– What woman wouldn't want cashmere?? This is not only a beautiful and classy sweater but super affordable at $50!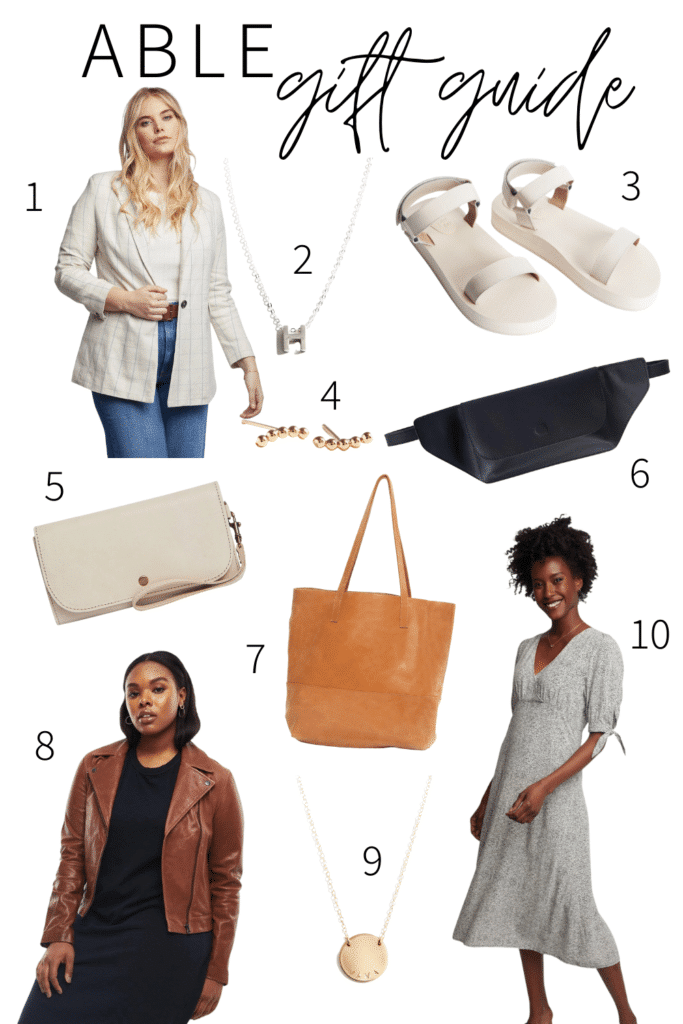 Able
is one of my favorite brands! Not just because they have amazing quality items that last for years but also because of their mission. They have built their business focusing on empowering women! They believe that when we lift up women, we can change communities. Able's mission for this Mother's Day is "Tell her what she means to you." Any of their products will help show her how much you love her. From their personalized leather goods and jewelry, their entertaining collections, clothing, and shoes…she will love that you thought of her. You can see
Able's Mother's Day gift guide
or see the one I curated. You can't go wrong! But save 20% with my special code through 4/26/22:
JOELLENMOM20
Or, you can always save 15% with my code: JOELLEN15
1. Cotton Blazer– A blazer is a timeless piece that she can wear for years! This cotton one is perfect for spring and summer! It helps dress up any look!
2. Initial Necklace– This is the perfect simple and chic necklace to wear daily! It comes in silver or gold and can be worn on its own or layered.
3. Sandals– Every closet needs a pair of casual yet stylish sandals. These ones are perfect! They're comfy, they're stylish, and they're versatile!
4. Earrings– These earrings are great for dressing up your ear but still being simple. Perfect for daily wear!
5. Leather Phone Wallet– Every woman needs to have her phone with her at all times! This clutch/phone wallet/purse is perfect for toting around and still looking stylish.
6. Leather Belt Bag– Belt bags are in! And this one is chic and functional. She will love it!
7. Leather Tote Bag– A leather tote is such a classic bag! This one is simple, chic, and practical. It comes in several colors….she'll have it for years!
8. Leather Jacket– This jacket is a dream! I wear it all the time! Every closet needs a leather jacket…it's timeless! It can be worn year round, dressed up or dressed down.
9. Customized Necklace– What woman wouldn't want a personalized necklace?? This is a great piece to wear on its own or layered with other pieces.
10. Dress– This is a great flattering dress that can be worn year round! It looks great with sandals, sneakers, flats, or heels.
If you still don't see something on this Mother's Day Gift Guide, then you can browse the websites for Seint makeup, Sarah Flint Shoes (use discount code: SARAHFLINT-BAJOELLENW),  Rodan & Fields skincare, Sapahn Purses, or Quince clothing (get $20 off with that link). Those are some of my very favorite brands that you are sure to find something you will love!


*This post contains affiliates links. If you choose to purchase something featured in this post, I get a small portion from the sale. Thank you! It does not affect you at all.