A purse is a gal's best friend! It's by her side everyday! So giving a gal (or yourself) on your Christmas list something from Sapahn is the right choice. I've rounded up some Sapahn favorites that any gal is sure to love! 
About Sapahn
Sapahn is a bag/purse company that sells a beautiful selection of handmade leather bags that come in tons of styles and colors. Not only are Sapahn bags high quality and versatile, but their mission is beautiful! This is what they say, "Sapahn, meaning bridge in Thai, is a purpose driven company that partners with highly skilled artisans in rural Thailand to bring their products to a market that would otherwise be inaccessible to them and you."
They put human rights first and give people in Thailand the opportunity to share their talents and make a living to help improve their communities. Wouldn't you rather support a brand that helps others over a huge fast fashion company that pops out products solely for profit?? I love helping others by making smarter purchases, purchases that will round out my closet and that I will get a lot of use out of.
Why Are Sapahn Bags Special?
Here are a few reasons why Sapahn bags are amazing:
They are handmade.
They are made from leather.
Their hardware is incredible quality.
Each bag is versatile, giving you more bang for your buck.
The quality is top notch, giving you a purse that will last for years!
Sapahn Gift Guide
You can't go wrong with any Sapahn item…they're all so good! But here are some great options for gifts that you can give: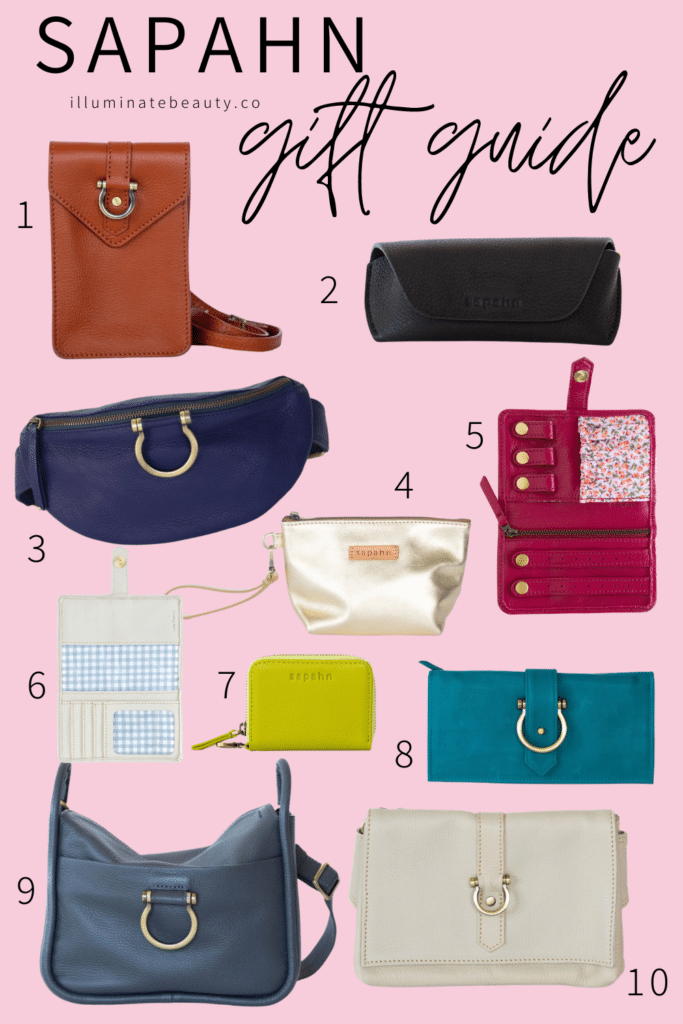 Grace Crossbody– This is the perfect bag for your essentials! It holds your phone, cards, cash, keys, hand sanitizer, lipgloss, and feminine products. The size is perfect for when you don't want to lug everything around with you!
Susette Sunglass Case– Give your sunglasses an upgrade with this classy leather case! It will keep your sunglasses protected and stylish.
Poole Belt Bag– We all know belt bags are all the rage right now! This one is stylish and functional…win win! It comes in lots of colors and is the perfect addition to any outfit!
Joslyn Pouch– I'm a sucker for metallic! This cute pouch is great for your essentials. Toss it in any bag or use on its own. It especially works great as a makeup bag!
Dana Jewelry Travel Organizer– Have you ever traveled with your jewelry in a plastic bag and everything gets tangled and jumbled up?! This travel organizer is so perfect for your jewelry as you explore!
Evita Passport Holder– Your passport deserves to look just as good as you! I love that this can hold your important cards and passport. Toss it in your purse and you're good to go!
Morrison Accordion Card Holder– If you like to keep things simple, this card holder will streamline your wallet clutter. Take with you just what you need.
Ciara Crossbody and Wallet– I love a purse that can be used and worn in multiple ways! This fun bag can be used as a crossbody or a wallet. Score!
Frida Shoulder Bag– This bag is a great size…big enough for the essentials but small enough to tote around everywhere. It makes a wonderful everyday bag!
Sarah Ann Crossbody Belt Bag– This is one of my very favorite bags! It does it all! It can be worn as a belt bag, crossbody bag, shoulder bag, or clutch. This is the bag I bring when I travel because I can get so many different looks from it just by switching out the strap. It's the BEST!!
All Sapahn bags and pieces come in multiple colors: black, white, gray, cream, camel, red, green, blues…and more! There is something she is bound to love! For some other ideas, check out this post about purses that will elevate your look.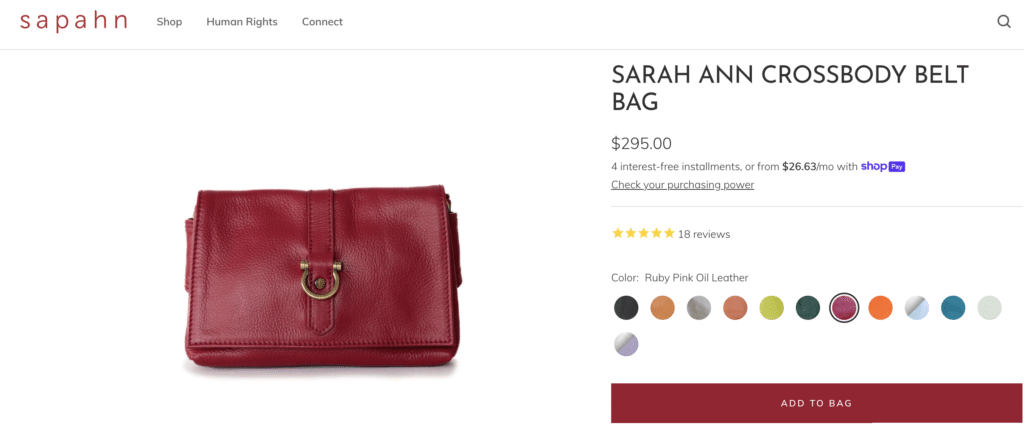 Sapahn Discount Code
A leather bag is an investment! But one that you won't regret because it will give you years of use! To ease the sting of the investment, save 20% with this Sapahn discount code at checkout: JOELLEN20
Hopefully this Sapahn Gift Guide is helpful! Any gal is sure to love something from Sapahn! Support a small brand doing good things in the world and get a stylish and functional leather purse that you will have for years…win win!
For other gift ideas, check out these gift guides:


About the Author
JoEllen is a licensed aesthetician, certified makeup artist, and certified John Maxwell coach, speaker, and trainer. She works with women helping them look and feel confident. She loves teaching women simple beauty techniques so they can feel empowered to try it at home. Her motto is that when you look and feel good, you do good!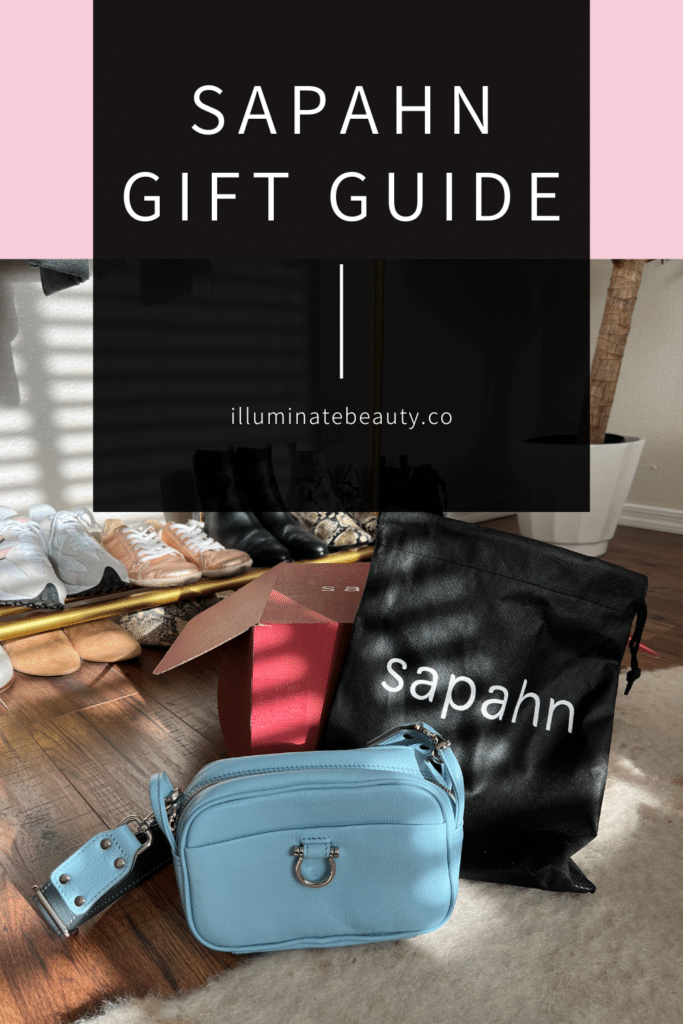 *This post contains affiliate links. If you choose to purchase an item featured in this post, I get a small portion from the sale. Thank you! It does not affect you at all.