The holiday season is coming fast! Don't let it sneak up on you, leaving you scrambling for a gift at the last minute! Do a little planning and get your shopping done early this year! If you need help with your gifts this holiday season, then you will love this Sarah Flint Gift Guide! It will make your shopping a breeze =)
Be an Intentional Shopper
This time of year can be a time that we get bombarded with a buy buy buy mentality. So, it's important to stop and think before you spend your money on something. A few questions I like to ask myself before I spend money on a gift are these:
Will she use it?
Is it high quality?
Is it versatile?
Will it bring her joy?
If you can answer yes to those questions, then it's usually a good sign that it's a great investment! You can ask yourself those same questions when you're shopping for yourself too!
A Little About Sarah Flint
Sarah Flint is a luxury shoe brand on a mission to help women look and feel beautiful while keeping her feet comfortable and happy!
This is Sarah Flint's motto: "Style Without Sacrifice. I believe in design that inspires, quality and style that endures and comfort that keeps you moving. Always."
Sarah Flint's shoes are leather and handmade in Italy with the highest quality products and love! I've walked the streets of where their factories are and it makes the shoes that much more special!
Sarah says, "I make sure we source the most exceptional materials, from triple-dyed Italian suedes to jacquards woven in 300-year-old British mills. Once they're crafted, our shoes then go through rounds of prototyping and fit-testing, because I won't give you what I wouldn't wear myself. … "I believe every woman deserves luxury, which is why I provide the highest quality shoes without charging the traditional retail mark-up."
Isn't that the type of brand you want to love and support?! I want shoes that are stylish. I want shoes that are comfortable. I want shoes that are timeless. And I know most women would want that too! That's why Sarah Flint shoes make the PERFECT gift for any gal (or for yourself!)
Are Sarah Flint shoes worth it?? I think so!
Sarah Flint Gift Guide
You cannot go wrong with any Sarah Flint shoe! Each shoe is handmade with love, with the highest quality products, and will last for YEARS!! This is a gift that will keep on giving! I don't think any woman would be sad to untie the satin blue ribbon and open up the signature blue box to find a beautiful pair of handcrafted shoes. From a gal in her 20s to a gal in her 80s, she will cherish her shoes! (Check out my Sarah Flint review)
I've curated a list of shoes that will go in any closet! The styles and the colors are all timeless. They are extremely versatile and can be worn dressed up, dressed down, and anything in between! They're classic picks that will make any closet and woman happy!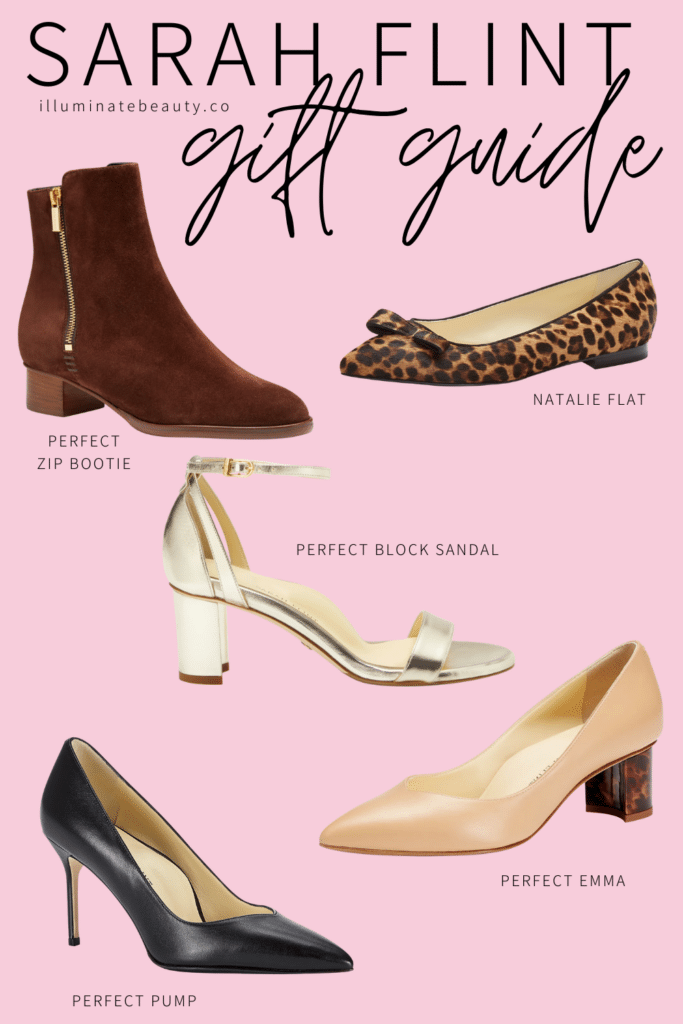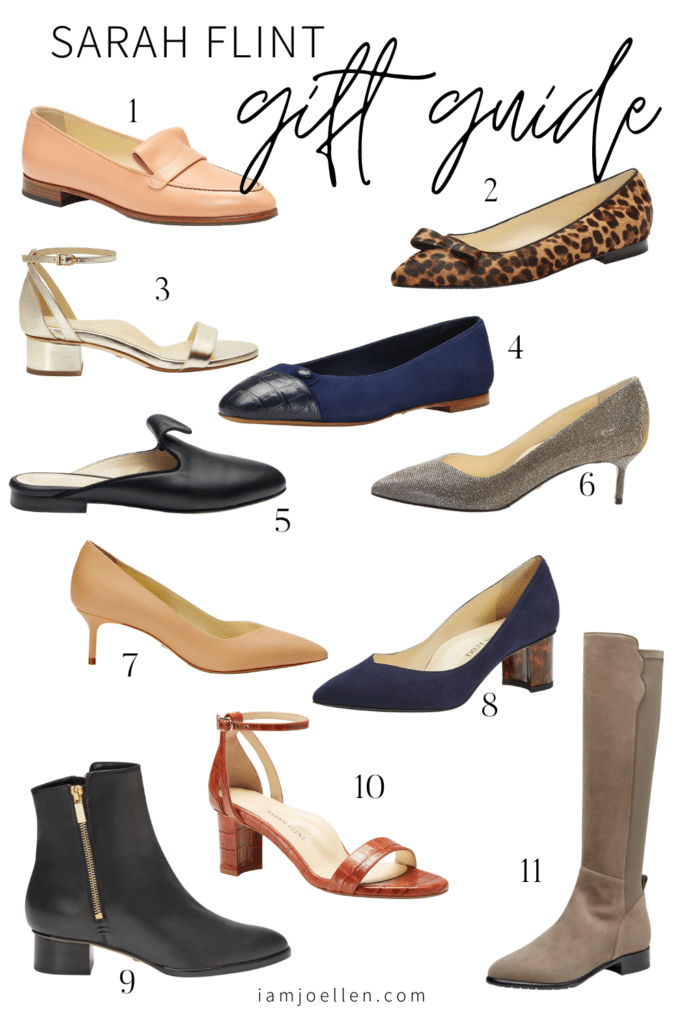 1 | 2 | 3 | 4 | 5 | 6 | 7 | 8 | 9 | 10 | 11

My Personal Favorite Sarah Flint Shoes
I have a quite a collection of Sarah Flint Shoes! I've carefully selected styles that I know I will wear for years, in lots of different ways. Here are my very favorite Sarah Flint shoes: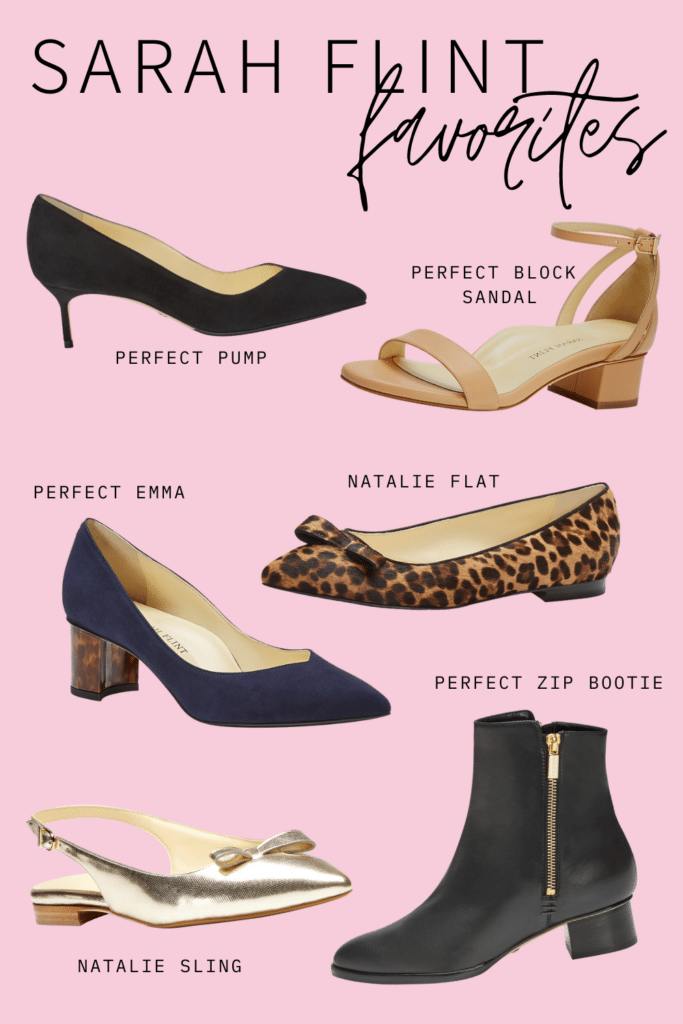 Sarah Flint Discount Code
If you haven't already fallen in love with these shoes, the best part is still yet to come! You can save 15% on Sarah Flint shoes with this Sarah Flint discount code at checkout: SARAHFLINT-CCJOELLEN1
Yes please! What are you waiting for?! Use this Sarah Flint gift guide to help your gal build a better closet that she loves with her first pair of luxury shoes. It will be the best gift under the Christmas tree! Or snag yourself a pair and wrap them up so they're waiting for you on Christmas morning… you won't regret it!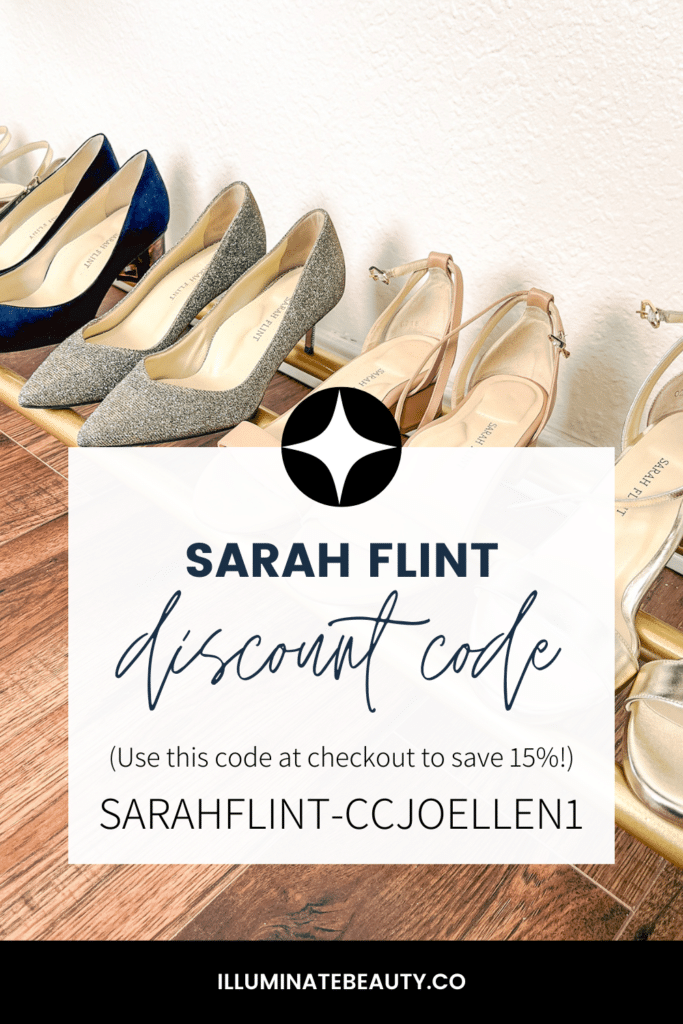 Need more gift ideas? Then you'll love these other gift guides:

About the Author
JoEllen is a licensed aesthetician, certified makeup artist, and certified John Maxwell coach, speaker, and trainer. She works with women helping them look and feel confident. She loves teaching women simple beauty techniques so they can feel empowered to try it at home. Her motto is that when you look and feel good, you do good!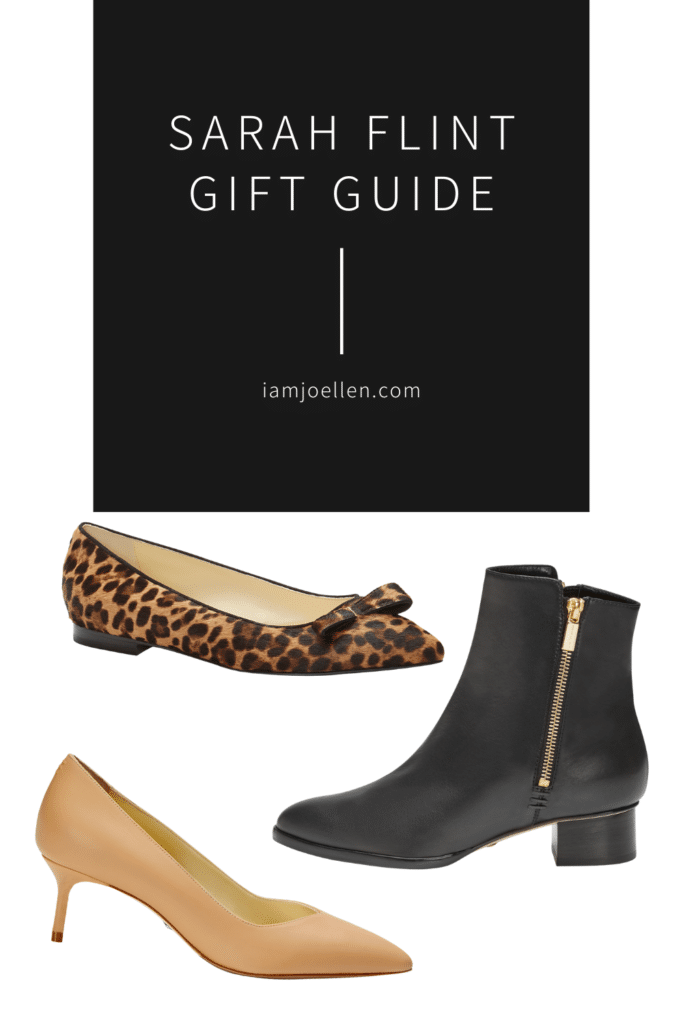 *This post contains affiliate links. If you choose to purchase an item featured in this post, I get a small portion from the sale. Thank you! It does not affect you at all.