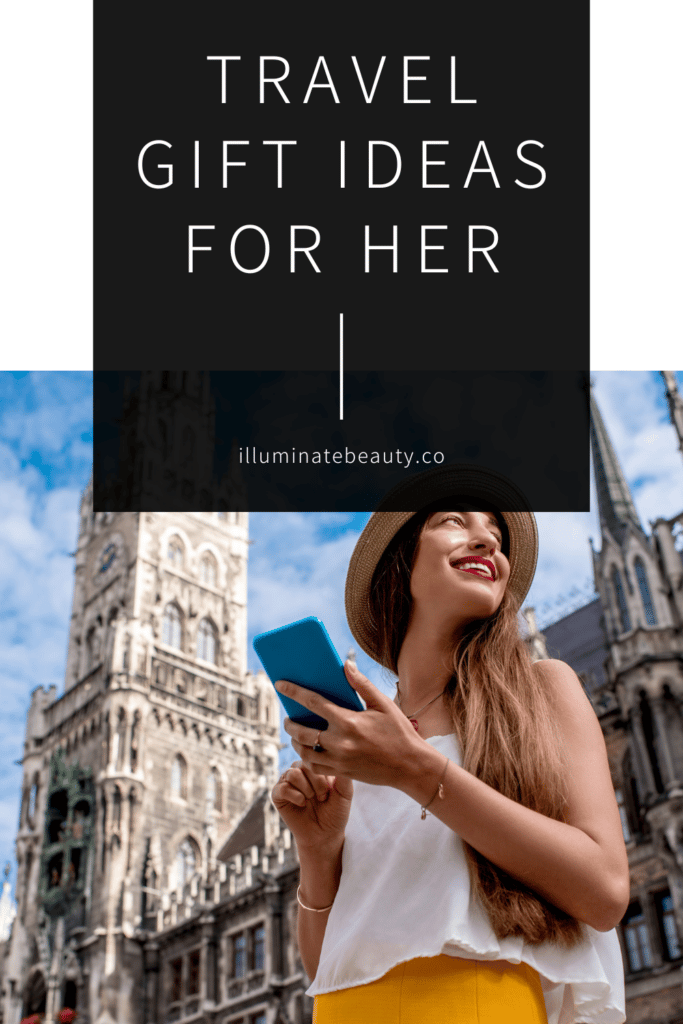 Do you have a gal on your Christmas list that loves to travel (or maybe that's you!)? Then here are some travel gift ideas for her that she will love! Use this travel gift guide to help you choose a gift that will help her create great memories! If you like to purchase gifts for yourself, then use this guide for you too…or pass it onto someone as a little hint hint 😉
Travel Lover Gift Guide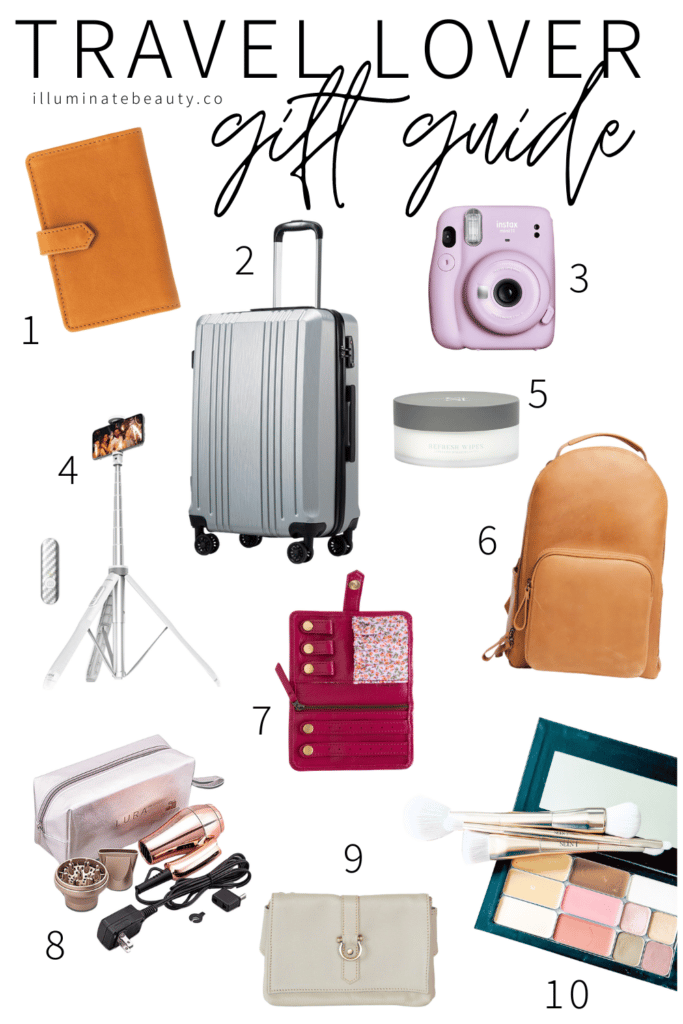 Passport Holder– She will love this fun passport case as she travels to new countries! (save 20% with this Sapahn discount code at checkout: JOELLEN20)
Suitcase– Every gal needs a good suitcase to tug along on her adventures. This hard shell suitcase is durable, easy to push and pull, and affordable!
Instant Camera– This fun camera makes the best souvenirs! She'll be able to make scrapbooks or tack up her pics in her room with these fun photos!
Tripod– A good travel tripod is a must so she can capture herself and her friends and family in her memory!
Travel Skincare– Just because she's traveling doesn't mean she wants to sacrifice her good skincare routine! Either this travel skincare set or these refresh wipes (or both!) will help her have great skin on the go! The skincare set can be tossed in her carryon. She won't have to worry about things spilling with the refresh wipes and they double as cleanser and toner in one!
Leather Backpack– A leather backpack can be worn for YEARS! It gets better and better with each adventure. It's the perfect carryon that's easy to wear and fits all her essentials. (save 15% with this Sapahn discount code at checkout: JOELLEN15)
Jewelry Case– This little case will fit all her favorite jewelry pieces, keeping them compact and safe. (save 20% with this Sapahn discount code at checkout: JOELLEN20)
Travel Blowdryer– There's nothing worse than being stuck without your favorite beauty tools. This blowdryer can be used internationally and it's nice and compact…win win!
Purse– This leather purse is small and mighty! It can be worn as a shoulder bag, cross body bag, belt bag, or clutch. It's so versatile! Its size is small enough to be easy to pack but big enough to hold all the essentials. It's so so good! (save 20% with this Sapahn discount code at checkout: JOELLEN20)
One Compact Makeup– This makeup is THE BEST for traveling! It's TSA approved so it can be tossed in a carryon. It's cream makeup so it won't spill and make a mess in luggage. And everything she needs (minus mascara) fits into ONE COMPACT! It's the best!! Depending on her needs, the No.4, No. 8, or No. 12 Collections are all great. You can easily choose her makeup colors by clicking on the "FIND YOUR SHADES" option and finding the group of pictures that most match her skin coloring. Easy peasy.

Other Travel Gift Ideas
Not all gifts can be held. Some of the best gifts are memories and experiences! Here are some other travel gift ideas that you can give:
Weekend Getaway- plan a trip for a quick weekend getaway! It doesn't have to be anything too fancy or far, just get away!
Airbnb Gift Card- this is great for her next travel adventure! She can use the gift card to help pay for her accommodations or an experience.
Photography Course- this will help her capture her memories beautifully!
Restaurant Gift Card- eating is the best part about traveling! Get a gift card that she can use on her next trip.
Hot Air Balloon Ride- this is a great activity for a peaceful and beautiful aerial view!
Scuba Lessons- does she love the ocean? Gift her scuba lessons so she can have fun exploring the under water world!
Helicopter Tour- she will love this adventure! She'll be able to experience somewhere cool on a whole new level!
Sky Diving/Paragliding- if she really loves adventure and adrenaline, then she is going to flip over this gift!
Here are some other blog posts that you may enjoy: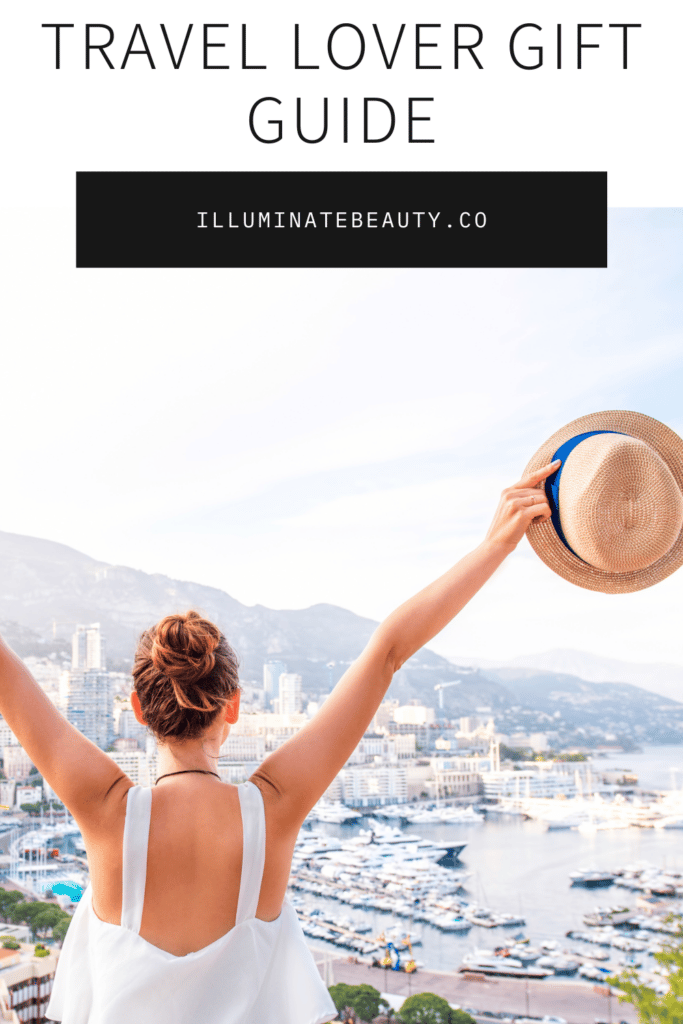 *This post contains affiliate links. If you choose to purchase an item featured in this post, I get a small portion from the sale. Thank you! It does not affect you at all.