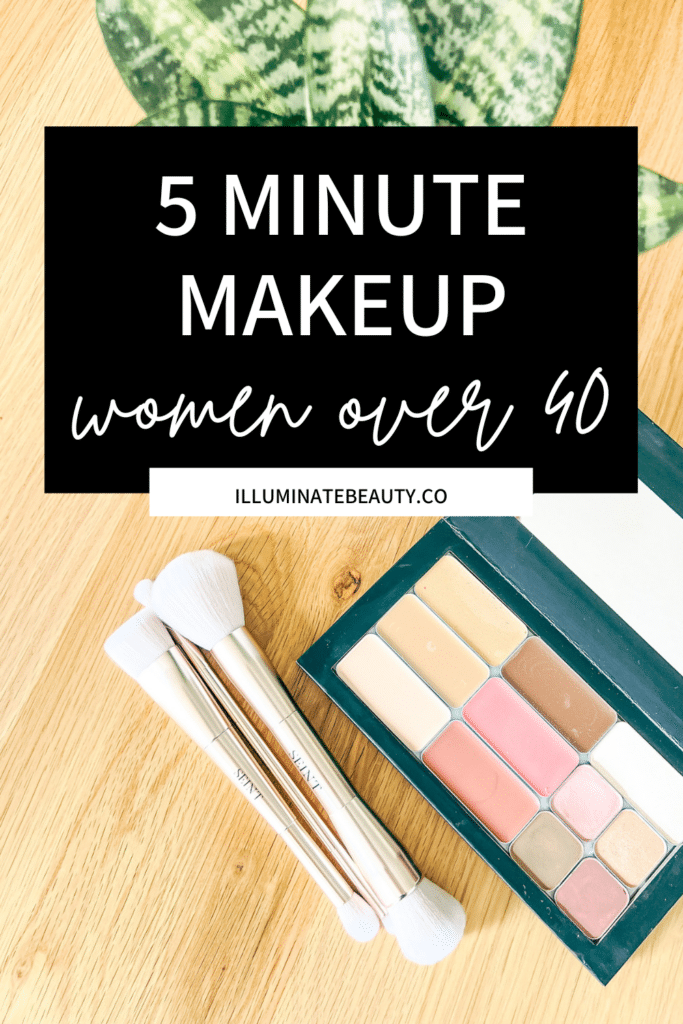 I think all women have something in common: we wish there was more time in the day! We have so many responsibilities, obligations, commitments, and duties that keep our day busy! Wouldn't you love to have a beauty routine that was quick and easy?! Here's a 5 minute makeup for over 40 routine that will help you look and feel beautiful in just a few minutes!
5 Minute Makeup for Women Over 40
If you are over 40, then you're noticing that your skin isn't as firm and soft as it used to be. It can be tricky knowing what makeup products work best for mature skin. The answer is cream makeup! Cream makeup applies and blends beautifully into your skin and the best part is that it can be done quickly! If you want a fast makeup routine, look no further!
5 Minute Makeup Kit
Before you start your fast beauty routine, it's important to have the right products! If you're like most women, you probably have a makeup bag or drawer or cabinet full of random beauty products! A big part of your makeup routine consists of wasting time rummaging through your products to find what you're looking for! I have a great solution for you!!
This custom makeup palette will hold everything you need (minus mascara) in one compact. It eliminates the time wasted looking for what you need because everything is at your fingertips!
Depending on what you need, this palette will hold your foundation, concealer, contour, bronzer, blush, powder, illuminator, eyeshadows, brows, lips, and eyeliner.
Cream makeup is the best makeup for women over 40! It melts into your skin, fine lines, wrinkles, and all! You will love how it gives you the coverage you need without making it look heavy and cakey.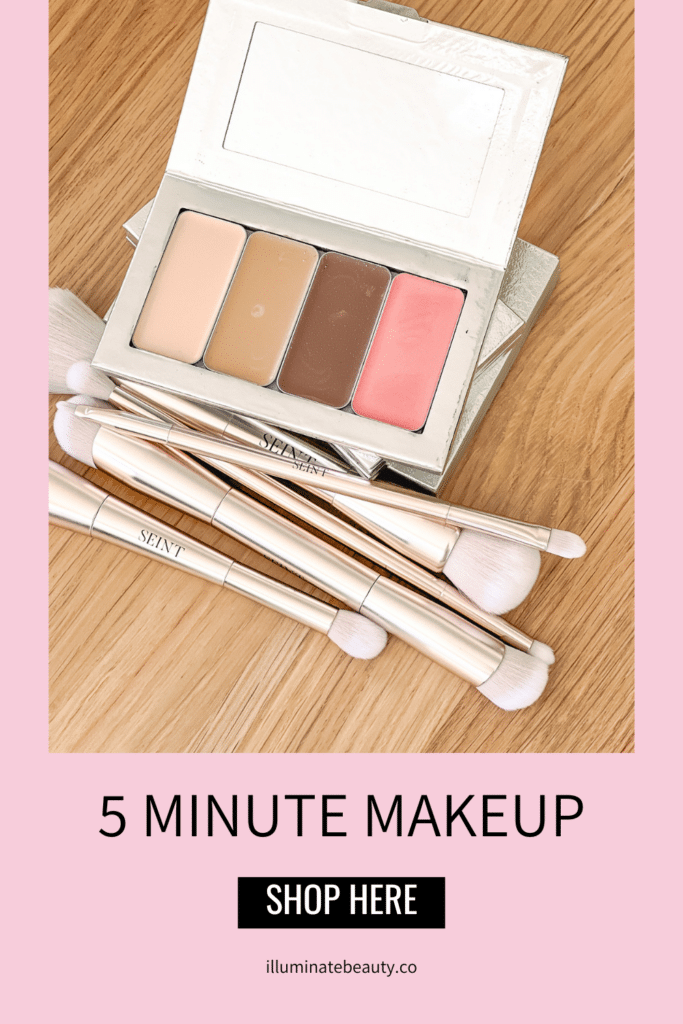 And if you're like most women, you probably get overwhelmed with knowing what colors to buy and wear…am I right?! I have 3 easy way for you to make that process easier:
Color Match Quiz: This is a quick way to get a general idea of what colors will look great on you. It takes just a few minutes!
Color Match Survey: This is a great way to get personally color matched by me! I will analyze your coloring and recommend the right products that will look the best on you.
Pre-built Collections: Make it super easy and buy a pre-built makeup palette with colors that all look great together. Just find your shade by looking at the images and choose the closest match.
Once you have the right makeup products, let's start the 5 minute makeup for over 40 process!
Everyday Makeup Tutorial
Watch this everyday makeup tutorial for women over 40! Cream makeup works beautifully for mature skin and you can see why here:
Step 1: Even Out Skin Tone
First up, it's time to even out your skin tone. I like to have 2-3 highlight (foundation) shades in my compact to help even out my skin tone. I use the darkest shade to color correct any redness, blemishes, dark circles, and hyperpigmentation.
Next, take your main shade and apply that everywhere else that needs coverage.
If you want to brighten under your eyes, then apply a lighter shade under your eyes.
Step 2: Contour
This is my favorite step in the 5 minute makeup process! Contouring adds shape, shadow, and dimension to your face. It livens it up! These are the best places to apply contour:
Cheekbones: Start at your hairline, follow your cheekbone, and stop at the outer corner of your eye. Then blend the product upwards.
Forehead: Apply contour along your hairline and blend it into your hair.
Jawline: Apply contour along your jawline by starting at your ear and following your jawbone around to the other side. Blend it down into your neck.
Nose: Apply contour on the top sides of your nose to create a slimmer look.
Step 3: Blush
Blush is a great way to add color into your face! Apply it on the apples of your cheek and blend it into your contour.
Step 4: Illuminator
Take cream illuminator and apply it on top of your cheekbones. This will give you a pretty glow when sun or light hits your face.
Step 5: Lips
Top your look off by using the same color you applied to your cheeks and apply it to your lips.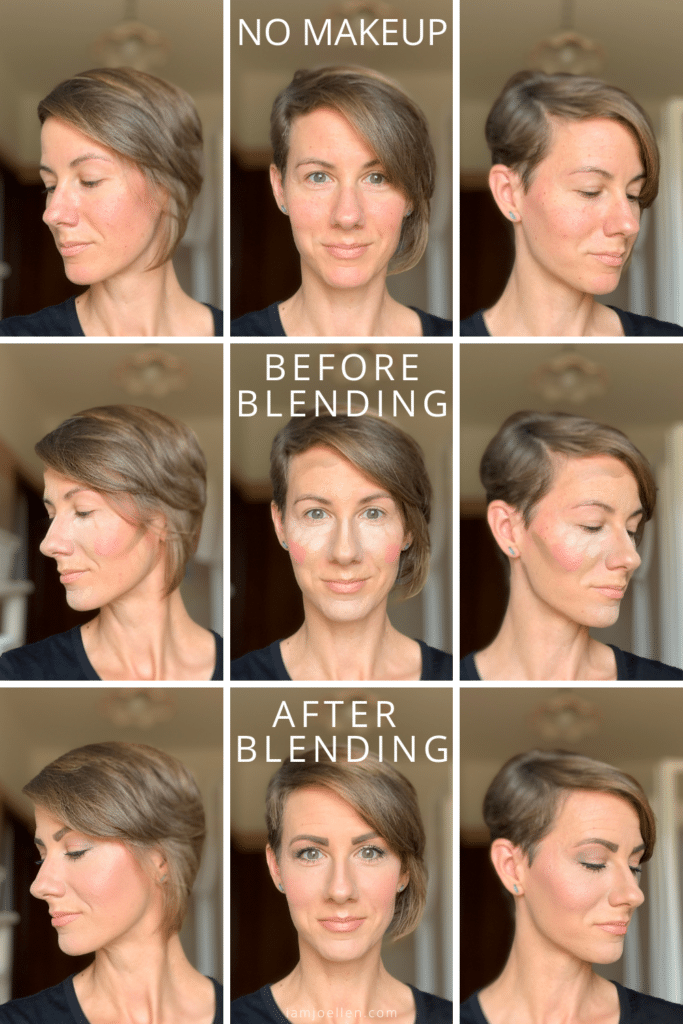 Hopefully this 5 minute makeup for over 40 will give you the confidence you need to look and feel great as you tackle your busy day! Want more makeup product and tip ideas for women over 40? Then you will love 7 Best Makeup Products and Makeup Tips for Women Over 40.

Here are other blogposts you might enjoy:
How to Color Match Yourself with Seint Makeup
How to Look Younger with Makeup for Women over 40
Eyeshadow Tips for Hooded Eyes

*This post contains affiliate links. If you choose to purchase an item featured in this post, I get a small portion from the sale. Thank you! It does not affect you at all.