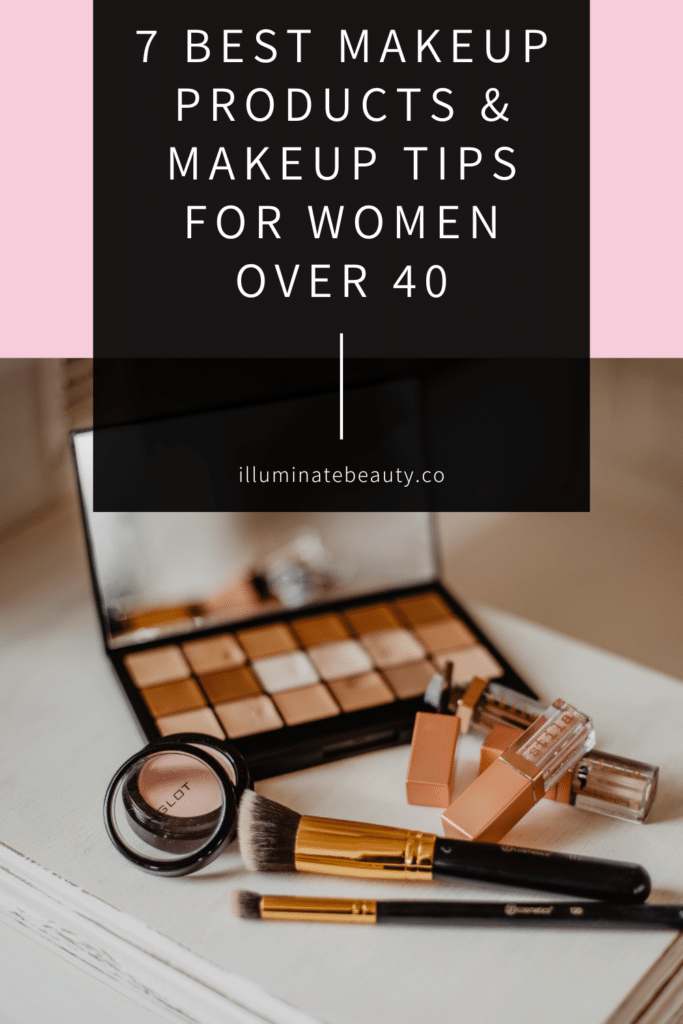 Are you stumped with knowing what products to buy and makeup techniques to use that will help you look more youthful?! You're not alone! Here are 7 best makeup products for women over 40 and makeup tips for women over 40 that will help you look and feel your best! If you use these products and follow these tips, you will look amazing…and younger 😉
7 Best Makeup Products for Women Over 40
As we age, it can be tricky knowing what products enhance our beauty and not enhance our age! We want to embrace a softer beauty. Here are 7 best makeup products for women our age that will help us look our best!
Best Primer for Women Over 40
Best Makeup for Women Over 40
Best Eyeshadow for Women Over 40
Best Eyeliner for Women Over 40
Best Setting Powder for Women Over 40
Best Setting Spray for Women Over 40
Best Makeup Brushes and Tools for Women Over 40
Best Primer for Women Over 40
We all know that we need to protect our skin if we want to avoid age spots, sunspots, wrinkles, and cancer! But not all sunscreens are created equal and not all sunscreens work well with makeup. I've tried lot of sunscreens and this Elta MD remains my favorite! It provides great sun protection, doesn't leave your skin feeling or looking oily, and acts as a primer too! Score!! I love when you can use a product that is multifunctional! This is my go-to sunscreen and primer…win win!
Best Makeup for Women Over 40
As we age, what we put on our face matters! Liquid and powder foundations don't cut it. They settle into our fine lines and wrinkles and enhance our age instead of our beauty! The better option is cream makeup!
Cream makeup melts into your face giving you the coverage you need without the heaviness and cakiness of other products. My very favorite cream makeup brand is Seint. It works so great with mature skin! It's also super cool that you can create a custom compact with your perfect colors. Your makeup palette can hold everything (minus mascara) in it! That means that your foundation, concealer, contour, blush, illuminator, powder, bronzer, eyeshadow, eyeliner, lipstick, and brow makeup all fits into one place! And bonus, it is a cleaner makeup brand! Seint makeup is gluten free, paraben free, sulfate free, cruelty free, and alcohol free.
Not sure what makeup colors to wear?? Use this color match guide or fill out this makeup survey to get personalized help by moi! I've color matched thousands of women and love helping them look their best!
Best Eyeshadow for Women Over 40
Not all eyeshadow is made from the best quality and will apply and blend well. That's why I love Seint eyeshadows…they are amazing quality and are a creamy powder that applies and blends beautifully!
Can women over 40 wear shimmer eyeshadows?? The answer is YES! A subtle shimmer can look very pretty, no matter your age. A trick for applying shimmer eyeshadows is to swipe your clean finger into the product and then swipe or pat it onto your eyelid. This will help you get the best application and most pigment. For matte eyeshadows, the Eyeshadow Brush is great for blending and the Smudge Brush is great for pressing on color to get a nice pigmented look.
Best Eyeliner for Women Over 40
As we age, our eyesight declines. This makes it tough to apply eyeliner cleanly! A great option is cream eyeliner applied with a tiny brush. This allows you to apply the eyeliner without having to be precise and also allows for a little error. Cream eyeliner is really easy to clean up if you get a little sloppy!
Best Setting Powder for Women Over 40
Powder is a great way to set your makeup so that it lasts all day! But what is the best powder for women over 40? I've tried a bunch and I think this Airspun loose powder works great! It's inexpensive and when you apply a light layer it will help keep the shine at bay all day! Apply it with this Powder Brush and you have a winning combination!
Since you have aging skin, it's best not to pack on the powder under your eyes. This will create texture and cakiness. Set your under eye area with setting spray with a makeup sponge instead.
Best Setting Spray for Women Over 40
Setting spray is another option for helping your makeup stay all day. It's like hairspray made especially for your face! The best setting spray for women over 40 is this Seint Stay Spray. You can spray your face directly with it and let it air dry or you can spray a makeup sponge with it and then tap the sponge on your face. This spray can also be used as a primer!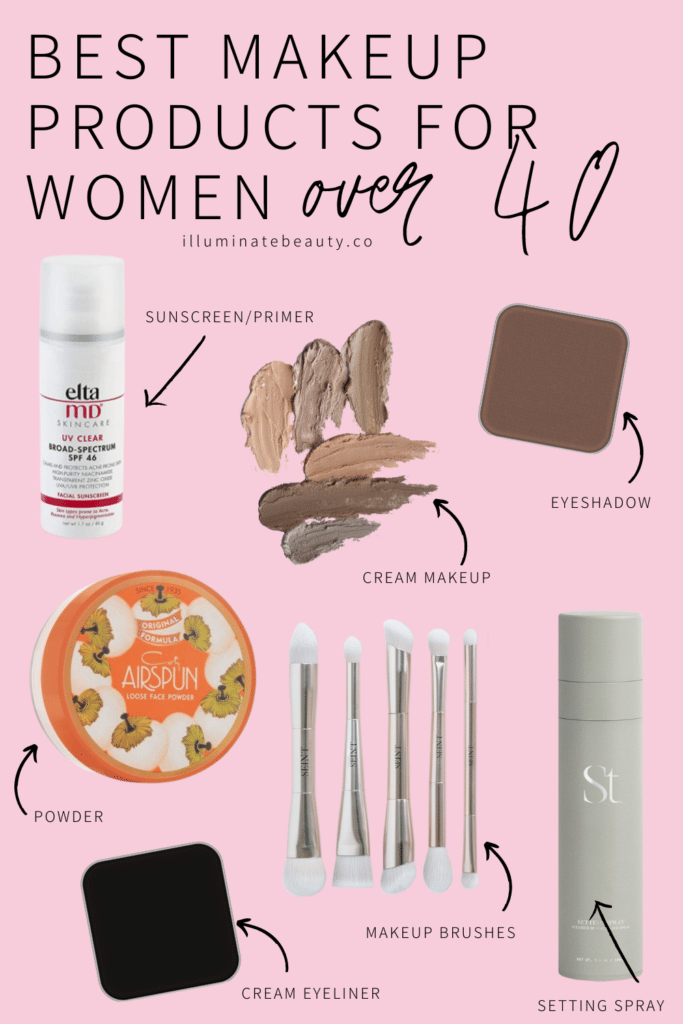 Best Makeup Brushes and Tools for Women Over 40
If you want a great makeup application, it's crucial to have great makeup brushes! Just like an artist needs nice quality brushes to create a masterpiece, you need quality brushes to create a masterpiece on your face!
When using cream makeup, you must use makeup brushes that are specifically made for cream makeup. These Seint makeup brushes are perfect for applying your makeup! And if you want a flawless look, use the Perfector sponge to blend your makeup beautifully!
Those are great products for women your age that will help you look your best!
Top 7 Makeup Tips for Women Over 40
Once you have the right makeup products and tools, you need some great tips too! Here are 7 makeup tips for women over 40 that will help you apply your makeup beautifully!
Have a good skin care routine
Shave your face
Wear the right makeup shades
Less is more
Contour
Apply blush upwards
Clean up any messes (mascara and eyeliner)
Have a Good Skin Care Routine
If you want to have a great makeup application, you must have a great skin care routine! You aren't in your 20s anymore so you can't get away with a relaxed routine. Commit to cleansing, toning, and moisturizing daily!
The best skin care for aging skin is an oil cleanser and oil serum. Oil based products dissolve makeup, oil, and dirt on your face better than any other skin care product. Oil cleansers help skin care products sink deeper into the skin, allowing for better results.
Here are my very favorite skin care products I use daily:
Oil cleanser (For 10% off, use this code at checkout: TDEJOELLEN)
Oil Serum (For 10% off, use this code at checkout: TDEJOELLEN)
If you want smooth skin, then you must exfoliate! Exfoliating helps slough off dead skin cells and helps circulate blood flow. This exfoliator is my absolute favorite! It's gentle enough to be used daily and helps your skin look and feel so healthy and smooth! (For 10% off, use this code at checkout: TDEJOELLEN)
Having a smooth surface will help your makeup apply and look better. Trust me, it makes a big difference!
Shave Your Face
Ok, now hear me out on this one. I know you're probably thinking that only men need to shave! But everyone, including YOU, has peach fuzz on your face. Some of us have more than others, but we all have it. That peach fuzz can get in the way of a beautiful makeup application.
Unlike people think, if women shave their faces, it will not grow back thicker or darker! I've been shaving my face for YEARS and all is still good in the world.
How do you shave your face? Simply wash your face and take a facial razor and gently shave off all the peach fuzz on your face. You can do it weekly or every other week or less or more often as needed.
When your skin is peach fuzz free, your skin care will absorb better into your skin, giving you better results and your makeup will apply much better too!
Wear the Right Shades
Wearing the right makeup shades makes a big difference! Most women think they are lighter than they really are and end up wearing too light of a foundation shade. This makes them look ghostly and lifeless. And that's not flattering!
This also goes for your blush, lip, and eyeshadow colors. Wearing the wrong shades will age you more! It's important to pick colors that will compliment your skin coloring so you look your best!
How do you know what makeup shades to wear? I have a makeup color match guide you can scroll through or you can take my makeup survey and I can give you personal makeup recommendations.
Less is More!
You've heard of a makeover, but have you heard of a make-under??? A lot of women are wearing too much makeup and it makes us look older!! I'm talking about fully lining your eyes with a dark eyeliner that makes you look heavy, wearing too much foundation that makes you look cakey, glittery eyeshadow that enhances your wrinkles, too bold of a cheek color that makes you look like a clown. It's harsh, but as your beauty bestie, someone has to help you look your best!
Makeup is not meant to hide your beauty but ENHANCE your beauty!! When you are wearing the right shades and the right amount, you are going to SHINE!!
Contour
This is my secret sauce to a fabulous makeup routine! But contouring can also be super intimidating. Most women think contouring is just for the models, actresses, and makeup artists, but contouring is for the average everyday woman too!
What is contouring? Contouring is using an ashy brown to add shape, shadow, and dimension to your face. It's applied to the cheekbones, hairline, jawline, and sides of nose to sculpt and lift the face.
It doesn't matter what makeup products you currently use, you can add contouring into your routine easily! You just need cream contour and a contour brush and you can get a gorgeous makeup look in a minute!
Apply Blush Upwards
Blush is a great way to add a pretty flush to your face! But too much blush and blush placed in the wrong place won't do you any favors. Instead of it helping you look more youthful, it will make you look like a hot sweaty mess! And that's not flattering.
There are 2 flattering ways that can apply blush:
Smile and apply a small amount of blush on the apple of your cheek and blend up into your contour. Make sure to leave space between your apple and your nose. There should not be blush about 2 finger widths from your nose.
Apply blush right on top of your contour and blend up. This will lift your face and add a pretty flush.
Cream blush helps you look natural and beautiful! Apply it with your finger and blend with a brush or use one of these brushes to apply: Blend Brush or Blush + Bronzer Brush
Clean Up Any Messes
As we age, our eyesight gets worse, and our hands get more unsteady. Because of this, our makeup application can get a little sloppy. And that's ok! Just make sure to clean up any messes you make in the process.
For instance, mascara can be a bit tricky to apply completely clean. So, if you get some black on your eyelids, let it completely dry and then take a q-tip and lightly rub it off. Eyeliner can also be a beast. Instead of using liquid liner that requires you to be precise, opt for a cream eyeliner and a makeup brush to apply. This will help you apply and blend it better and it won't look messy!
Eye Makeup for Hooded Eyes Ever 40
And here's a quick bonus! Many women struggle with eyeshadow, especially as they age! If you have hooded eyes (where you can't see your eyelids when your eyes are open) then you will definitely want to see these eyeshadow tips for hooded eyes! Just because you are aging doesn't mean you have to shy away from eyeshadow. You just need to learn how to apply it correctly.
How Should a 40 Year Old Wear Makeup
When thinking about how to apply your makeup as you age, think about how you want to look and feel as a mature woman. Embrace your age and wisdom and don't try to look like you're still in your twenties. It's ok to wear different makeup products and apply your makeup using different techniques than you did 20 years ago.
Wear softer and less dramatic makeup. Focus on shades that compliment your skin, eye, and hair coloring. Invest in products that will make your skin glow!
Hopefully these makeup tips for women over 40 and best makeup products for women over 40 will give you some ideas on how to apply your makeup in the most flattering way. You don't need makeup to cover up your aging, use it to enhance your natural beauty! You are beautiful just the way you are =)
Make sure to also check out 10 makeup mistakes to avoid in your 40s for more tips to help you shine!

Here are other blogposts you might enjoy:
5 Minute Makeup for Women Over 40
Is Seint Makeup Good for Women Over 40?
How to Look Younger with Makeup
How to Color Match Yourself with Seint Makeup
How to Conceal Dark Circles Under Eyes
Eyeshadow Tips for Hooded Eyes

*This post contains affiliate links. If you choose to purchase an item featured in this post, I get a small portion from the sale. Thank you! It does not affect you at all.