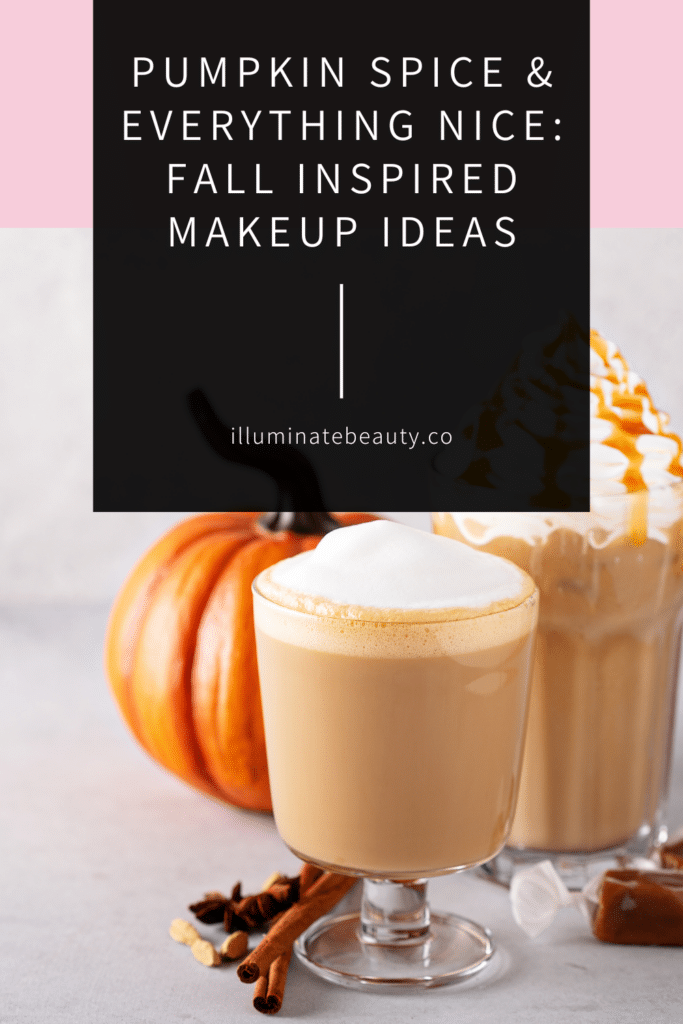 If you are a Starbucks Pumpkin Spiced Latte fan, or just love all the fall vibes, then you will love these pumpkin spice & everything nice fall inspired makeup ideas! You can channel all the fall feels with these easy fall makeup looks. Keep scrolling!
Starbucks PSL Makeup Inspo
A huge shoutout to Starbucks for bringing back the PSL (Pumpkin Spice Latte) in August!! They sure made many women happy!
I don't know about you, but I love fall! I love the stunning colors of the changing leaves. I love the apple flavored treats and pumpkin spiced everything. I love the pumpkin patches. I love the plaid. I love bundling up on the couch with a cozy blanket reading a good book or watching a series on Netflix.
How can we channel all the fall feels and create fall makeup inspired looks? You start with color. Fall is full of beautiful browns, reds, and oranges. The prefect pumpkin spiced colors! By adding those colors into your blush, lips, and eyeshadow shades you can easily create a fun fall makeup look!
The Best Products for Fall Inspired Makeup Looks
Check out these other fall makeup posts for fall inspired makeup looks:
Transitioning Your Makeup Routine for Fall: Tips and Tricks
Spice Up your Fall with this Pumpkin Patch Makeup Look
How to Recreate the Viral Latte Makeup Trend
But let's recreate a new fall look. A pumpkin spice and everything nice look! A fall look that will help you match your favorite fall drink…the Pumpkin Spice Latte!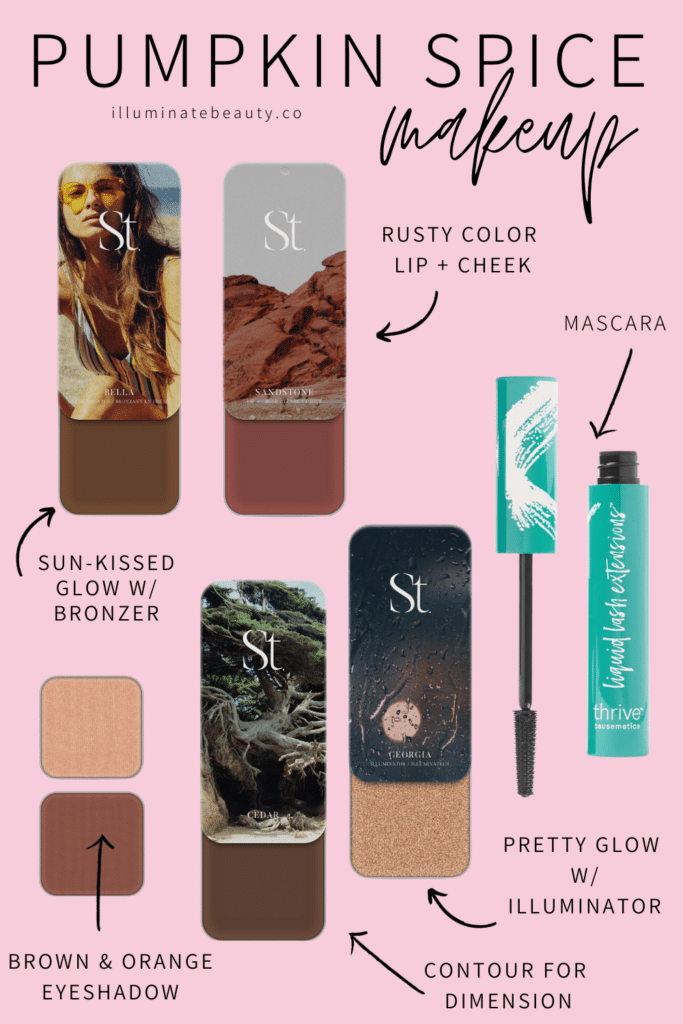 Here's what you'll need:
MAKEUP
Bronzer: Bella
Contour: Cedar
Lip + Cheek: Ibizia & Sandstone
Illuminator: Georgia
Eyeshadow: Zion, Crush, Chai, Drift, Spiced
BRUSHES
How to Achieve a Pumpkin Spice Fall Makeup Look
Here are the steps to get a pumpkin spice & everything nice makeup look:
Start by prepping your face. Wash your face and apply sunscreen. Sunscreen is a great way to prime, moisturize, and protect your face. My 2 favorite are Elta MD and Dime Wonderscreen (for 20% off, use this discount code: JOELLEN). Also apply an eyeshadow primer so your eyeshadow doesn't crease!
Add dimension to your face by applying contour along your cheekbones and along your hairline on your forehead.
Even out your skin tone by applying foundation on any area that you didn't apply your contour. If you want to brighten under your eyes, apply a light layer of concealer.
Use a fun fall color as your blush. Here are a few great options: Madrid, Saffron, Plum, Scarlet, Sandstone, Ibizia.
To set your makeup, apply a setting powder. This is a great pressed powder option or this is a great loose powder option.
Add a pretty glow with illuminator! Georgia is a great golden color…perfect for a pumpkin spiced look! Apply it to the tops of your cheekbones.
Use a fun fall color for your lips. You can use the same shade as you did for your blush or choose a coordinating color. Here are some good options: Madrid, Saffron, Plum, Scarlet, Sandstone, Ibizia
For the eyes, apply a darker shade on the outer and inner corner of the eye and a lighter shade on the middle of the eye and then blend! Add a light shimmer under your brow bone.
Use a brown shade for your eyeliner.
Apply mascara and you are done!
Here are some other makeup ideas you can use to recreate a pumpkin spiced makeup look: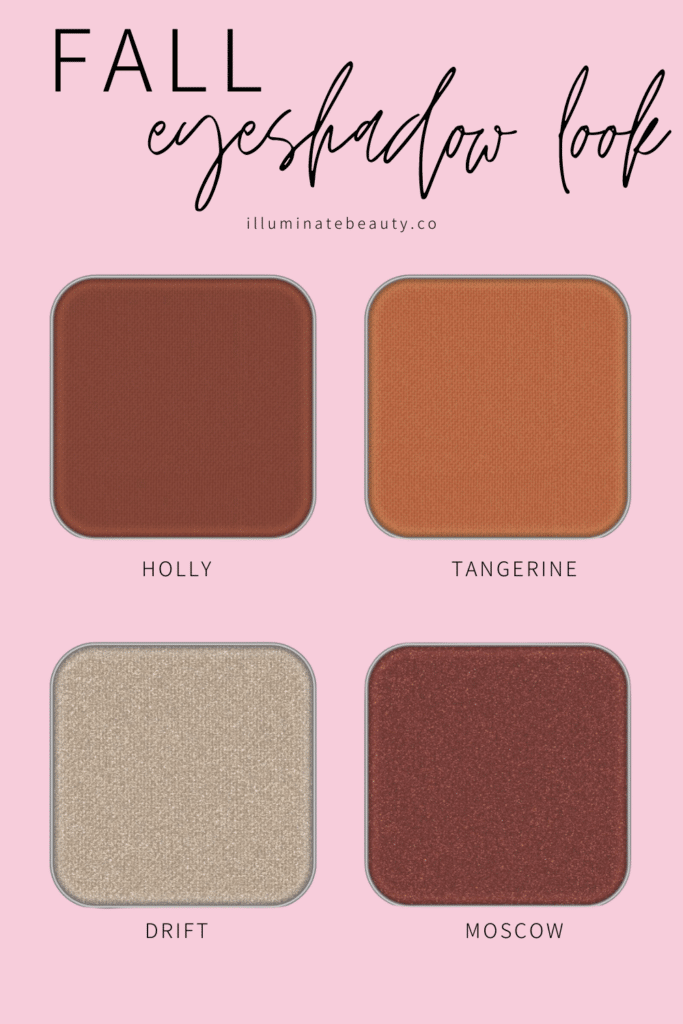 HOLLY | TANGERINE | DRIFT | MOSCOW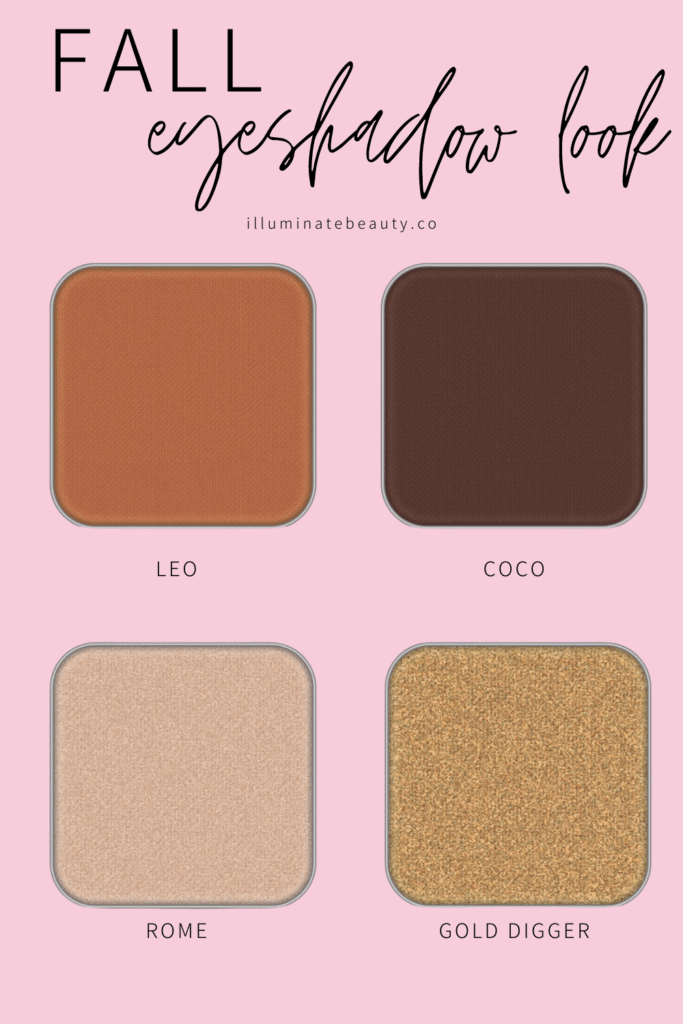 LEO | COCO | ROME | GOLD DIGGER
Use those simple tips and products for fall inspired makeup ideas so you look your best all season long!

Here are other blogposts you might enjoy:
Fall Hiking Outfits to Try this Autumn
Mesmerizing Blue Eye Makeup Ideas to Try This Fall
Fall Handbags to Elevate Your Look
Unleash Your Creativity with a Custom Eyeshadow Palette

About the Author
JoEllen is a licensed aesthetician, certified makeup artist, and certified John Maxwell coach, speaker, and trainer. She has been working with women for 18 years helping them look and feel confident. She loves teaching women simple beauty techniques so they can feel empowered to try it at home. She believes that when you look and feel good, you do good!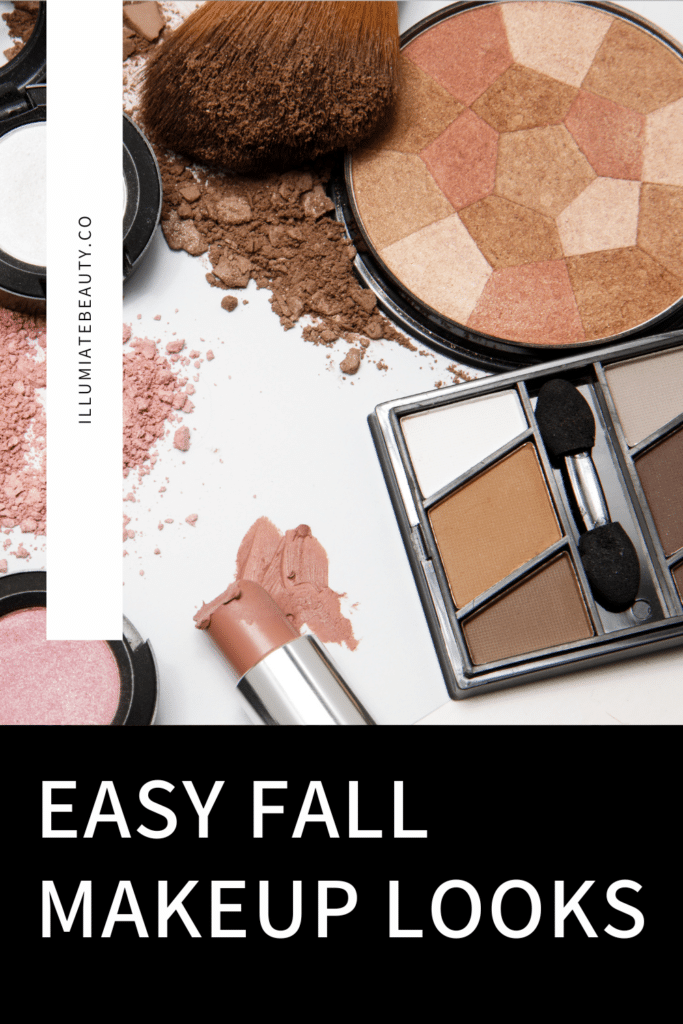 *This post contains affiliate links. If you choose to purchase an item featured in this post, I get a small portion from the sale. Thank you! It does not affect you at all.