Are you having a tough time figuring out what to wear for Halloween?? Turn to one of the most popular Halloween movies…Hocus Pocus! Channel Sarah Sanderson's enchanting style for the spookiest night of the year! Get the Sarah Sanderson look with makeup tips and products below…
FAQs
Who is Sarah Sanderson? Sarah Sanderson is one of the Sanderson sisters in the movie Hocus Pocus. She is played by Sarah Jessica Parker.
How can I achieve the Sarah Sanderson look for Halloween? Sarah Sanderson has smokey eyes, red lips, contour, a beauty mark on her chin, and defined eyebrows. You can get her look by following the steps below.
What makeup products do I need to get the Sarah Sanderson makeup look? The best makeup to use to recreate Sarah Sanderson's look are Seint eyeshadows, Seint contour, long lasting red lipstick from LipSense, black eyeliner, and a brow pen. Read more details below.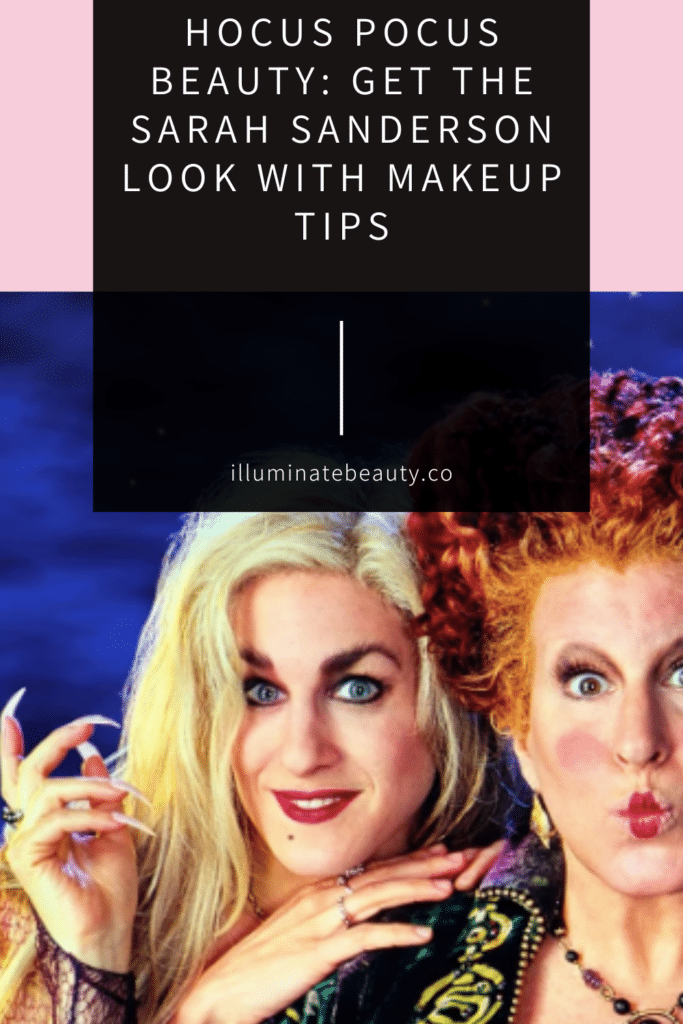 Makeup Tips to Get the Sarah Sanderson Makeup Look
It can be overwhelming trying to recreate a complete look. But when you break it down into little sections, it's really achievable! When you watch Hocus Pocus or search for Sarah Sanderson on Google, you notice a few things about her. Sarah Sanderson has:
Smokey eyes
Bold lips
Contour
Beauty mark on her chin
Defined eyebrows
You can recreate her sultry look by breaking it down to these steps. Here's how:
Smokey Eyes
In my makeup artist course, I learned how to do a really easy smokey eye, and you can learn how too! Here's what you'll need:
Here's how to get an easy smokey eye:
Apply black eyeliner with the Multitasker brush to the main part of your eyelid. Don't go above the crease.
With the same brush, set the eyeliner with a black eyeshadow.
Take a warm brown eyeshadow and pat it above the black to blend the harsh line. Blend it until it looks seamless.
Apply the shimmer eyeshadow under the brow and on the inner part of the eye.
If you want more drama, add black eyeliner along your upper and/or lower lashes.
Apply a thick layer of Mascara.
Bold Lips
A bold lip is the perfect addition to this Halloween makeup look! But the tricky thing with red lips is that it either fades quickly or comes off on your teeth! And you want to look great all evening!
The absolute BEST long-lasting lipstick is from SeneGence. You apply it in 3 thin layers to really seal in the color and then top it with a gloss for moisture. Your lip color will not budge for HOURS! You can eat, drink, kiss, laugh, and talk and it won't leave your lips.
Any of these long lasting LipSense shades would be perfect for this look: Red Blu, Plum, Lexi Berry, Fly Girl, Coco
Contour
Sarah Sanderson has defined cheekbones and you can easily get this look too! Here's what you'll need:
Here's how to get those contoured cheekbones:
Find your cheekbones on your face.
Start at your hairline near your ear and take the Detail Brush and the cream contour and draw a line right below your cheekbones.
End the line near the outer corner of your eye.
Then blend the contour upwards.
Beauty Mark on Chin
Take the same eyeliner you used and create a little beauty mark on your chin. Easy peasy!!
Defined Eyebrows
Sarah Sanderson has great brows! Use a brow pen to define your brows to make them frame your face. Follow the tips in the video below:
Makeup Products to Get the Sarah Sanderson Look
Here's a list of the makeup products and tools you need to create this look: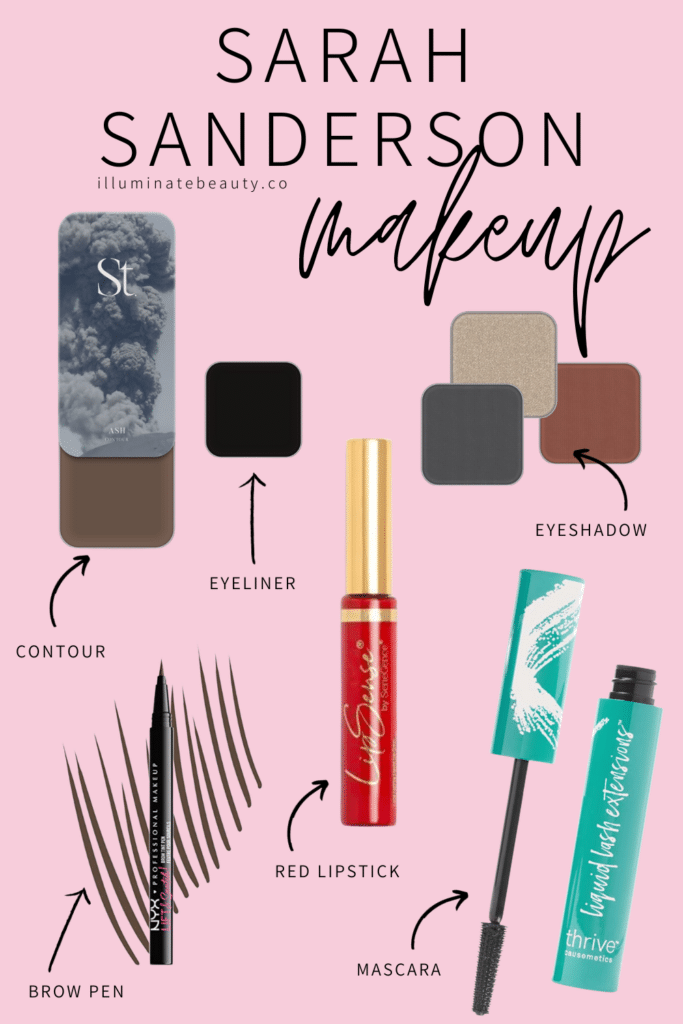 The great thing about this Sarah Sanderson look is that all the products can be used all year round! They're all versatile products that you can use daily. So there's no need to waste a ton of money….this is a practical Halloween look that won't require you to use products that you'll never use again!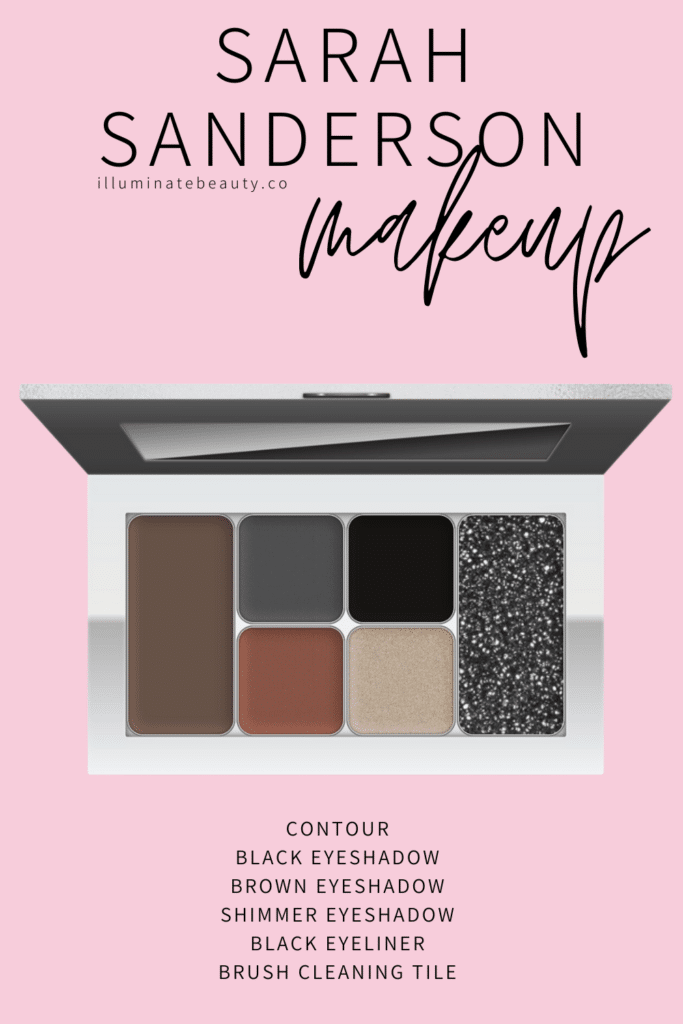 If you need more Halloween ideas, make sure to check out these posts too:

Here are other blogposts you might enjoy:
Sofia Richie's Wedding Makeup Look
Unleash Your Creativity with a Custom Eyeshadow Palette

About the Author
JoEllen is a licensed aesthetician, certified makeup artist, and certified John Maxwell coach, speaker, and trainer. She has been working with women for 18 years helping them look and feel confident. She loves teaching women simple beauty techniques so they can feel empowered to try it at home. She believes that when you look and feel good, you do good!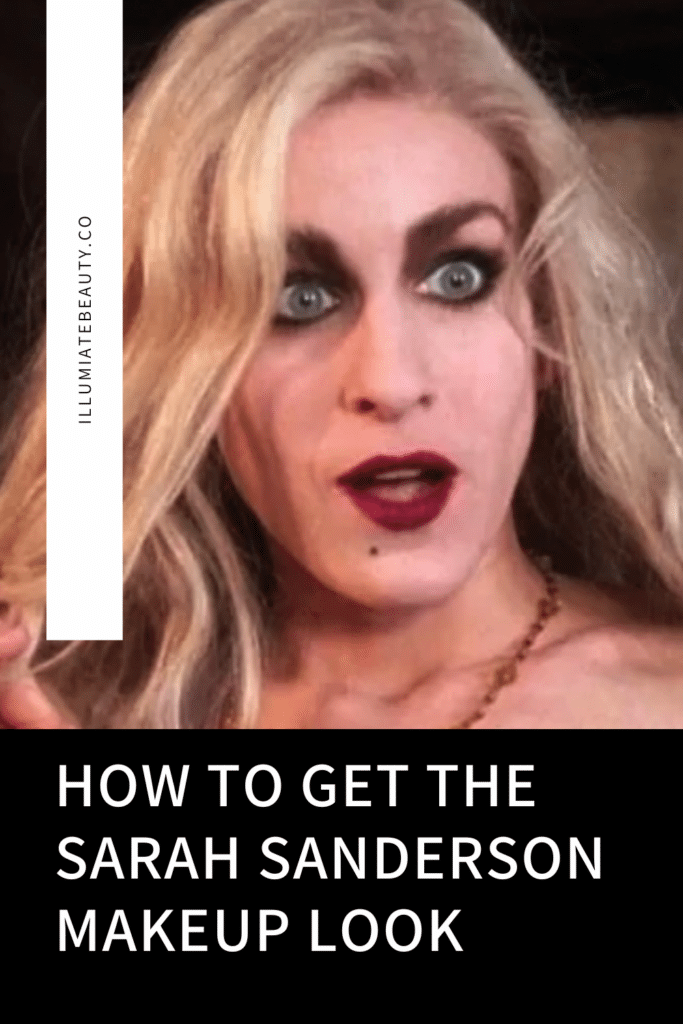 *This post contains affiliate links. If you choose to purchase an item featured in this post, I get a small portion from the sale. Thank you! It does not affect you at all.