Seint Artist Birthday Party
It's that time of year where we gather to celebrate the Seint Artist Birthday Party! This is always such a fun time to acknowledge success, growth, and share the love with other women.
Artist Birthday Party History
In 2017, Maskcara Beauty (now known as Seint Beauty) kicked off their Artist Program! The founder, Cara Brook Killpack, could have sold her innovative iiid makeup in stores but she wanted to make this a life changing business for more than just herself. She wanted this to change countless women's lives so they could build businesses of their own. So they could share their passion with other women. So they could empower other women to look and feel beautiful. And that is when and why the Artist Birthday Party was born!
Seint Artist Birthday Party Details
This year, we will be gathering together to celebrate the Artist Program's 4th birthday on January 15th from 10am-5pm MT on Instagram at @seintsandangels. It will be a day full of fun and giveaways!
This is what Seint headquarters says about the party: "The theme for the party this year is Revival. We are celebrating a restoration of our passion for beauty and for sharing it with others, and how we're so grateful to be able to do that via the Artist Program. We hope to create strong connections between our mission and potential Artists, and rekindle the feelings of excitement and purpose that sparked your passion for the brand when you became an Artist."
New Artist Incentive
You can become a Seint Artist any time, but when you join on the Artist Birthday, there is an incentive! This year's incentive is a good one!
Any new Artist that signs up on the day of the Artist Birthday Party (January 15th, 2021) will receive a $65 US | $90 CAN "Beauty Bonus." You can spend your "Beauty Bonus" on personal product or products to help build your business. This is such a great incentive!!
*To qualify for the incentive, you must sign up on January 15th between the hours of 3:00 am MST and 11:59 pm MST.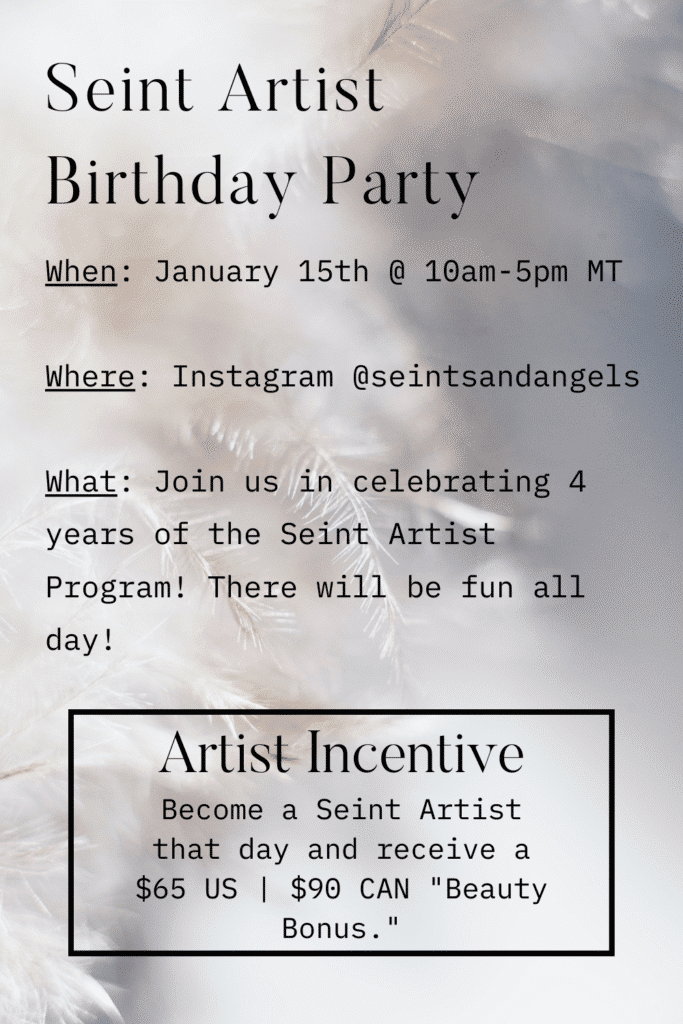 How to Become a Seint Artist
If you are interested in becoming a Seint Artist, then we would love to have you join my team! You can learn all about our team HERE. We love to help women look and feel beautiful! We love to illuminate women's lives and help them see the good in themselves and in others.
If you have any questions, reach out to me HERE.