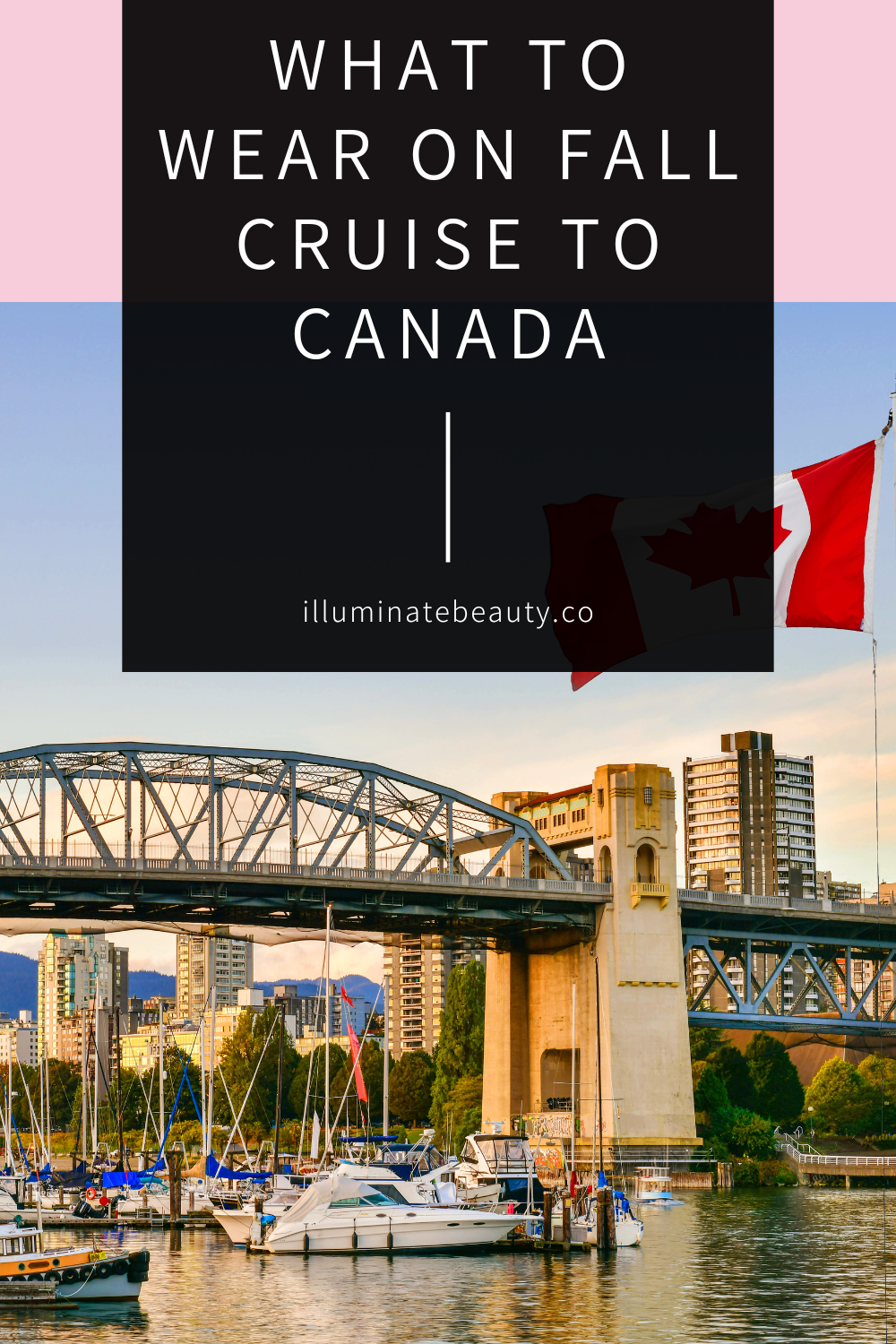 Do you have a fun fall cruise planned??? It can be overwhelming knowing what to pack without packing the kitchen sink! Here are some tips on what to wear on fall cruise to Canada (or New England, or Alaska!)
Packing Tips for Fall Cruise
When packing for any trip, it's key to follow a few rules to help you pack more strategically so you avoid overpacking! We've all been there. We pack all the things because we want to be prepared for anything. But you can still have everything covered without packing ALL THE THINGS!
Pick a Color Scheme
Pack Versatile Pieces
Pack Accessories
Check the Weather
Pick a Color Scheme
Picking a color scheme before you pack will help you tremendously! If you pack all the colors in the rainbow, you're going to have a suitcase full of clothes with nothing to wear. But if you pick a group of colors to wear, you'll be able to mix and match your tops and bottoms and shoes easily. A color scheme will help your purses, accessories, and shoes match well with your clothes. It's the key to packing less!
Pack Versatile Pieces
Along with picking a color scheme, pack versatile pieces. Choose tops and that can be worn with multiple bottoms and vice versa. For instance, a white button down shirt can be worn with jeans, white jeans, leggings, and a skirt. One top, worn 4 different ways! That's called smart packing! If you can't envision wearing an item in more than one way, then don't pack it.
Pack Accessories
You may think wearing the same top with different bottoms is boring. But you can spice your look up with accessories! Cute earrings, necklaces, bracelets, rings, or scarves can totally change the look. Plus, accessories take up little space so you can be generous in what you pack.
Check the Weather
It's so important for you to do a little research before you pack to know what the weather will be like while you travel. Yes, the weather will change. But, it will give you a good idea of what to plan for. There's no need in packing sandals if the weather will be chilly the entire time. Or there's no need to pack a heavy coat if the weather will only be in the 70s.
What to Pack for a Fall Cruise
What should you pack for a fall cruise?? It's best to ask yourself a few questions before you start packing your suitcase:
What will the weather be like?
What activities will I be doing?
How long will I be traveling?
Knowing the answers to these questions will prepare you to know what to pack. You have to do a little research before you start packing. It will save you so much frustration and wasted luggage space!
A fall cruise to Canada, New England, or Alaska will probably have weather in the 60s and 70s. That's not too cold and not too hot. You'll also probably do some shopping, a lot of walking, maybe a tour or two. At night, you'll have nice dinners on the ship. So you'll want to pack clothing that will be comfortable and stylish during the day and more dressy for dinner at night.
Cashmere is a great fabric to bring on a fall cruise! It's classy, it's comfortable, it's warm, and it's versatile! My favorite place to buy cashmere sweaters is Quince. They're only $50! They come in lots of colors and be worn in so many different ways!
Since you'll be doing a lot of walking, comfort is key! But you don't have to sacrifice style for comfort…you can have both! The outfits below have just 2 pairs of classy shoes mixed with all the looks. Just 2 shoes. That's it! Here are some casual outfit ideas for the day while you'll be touring fun new places.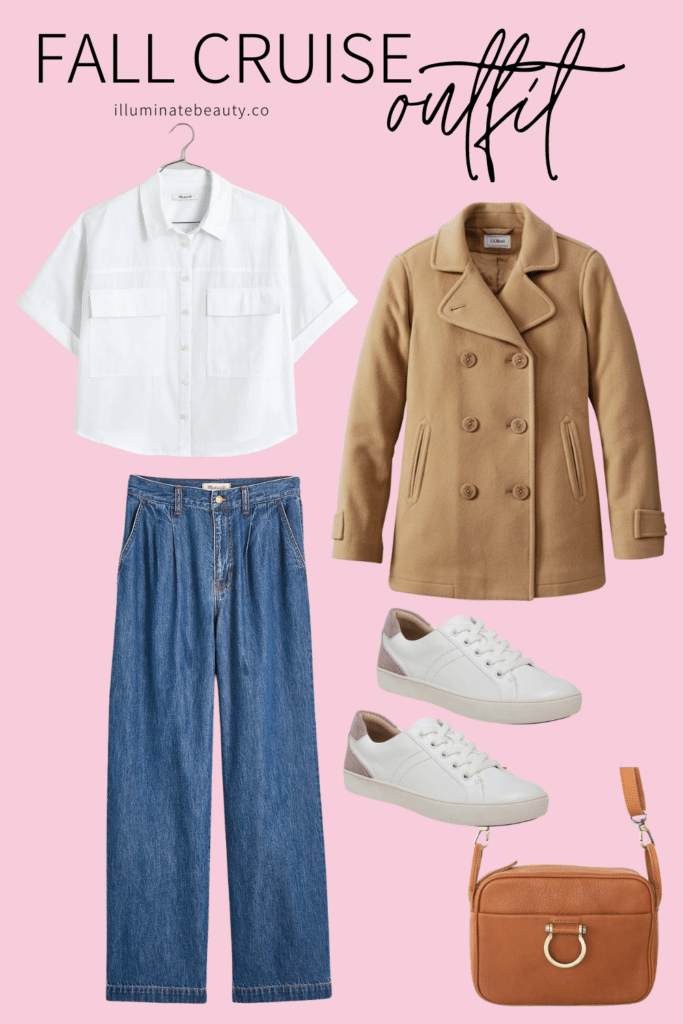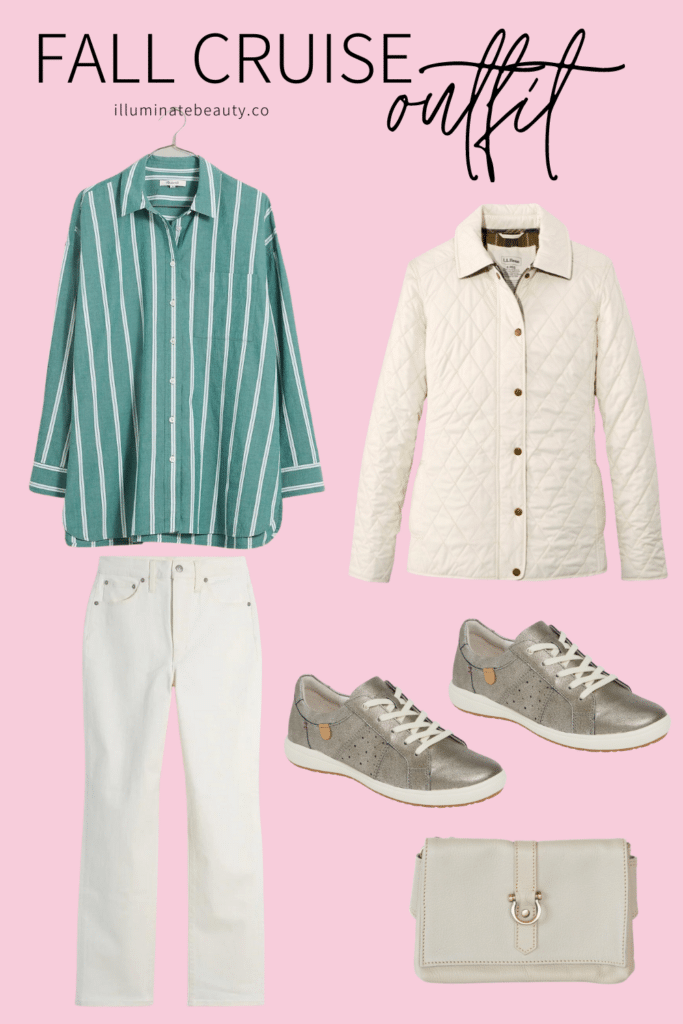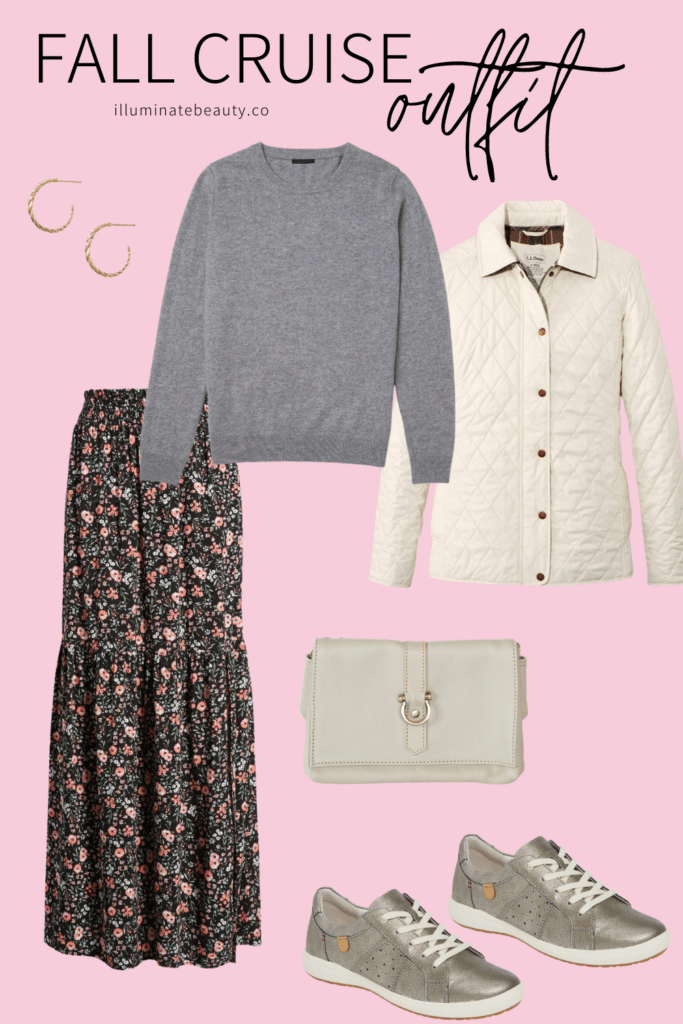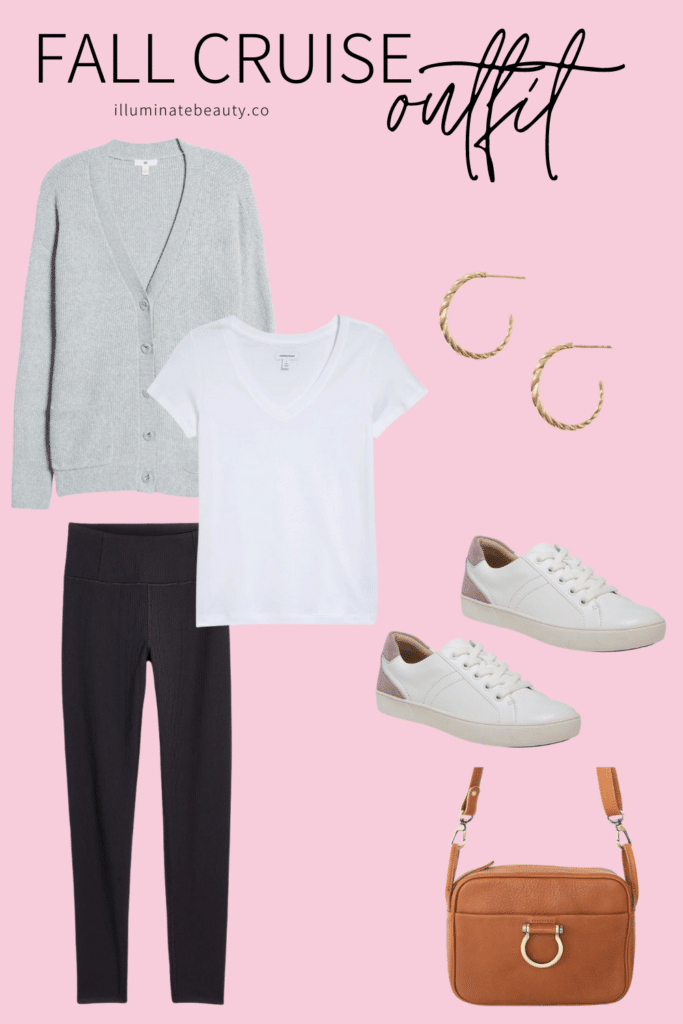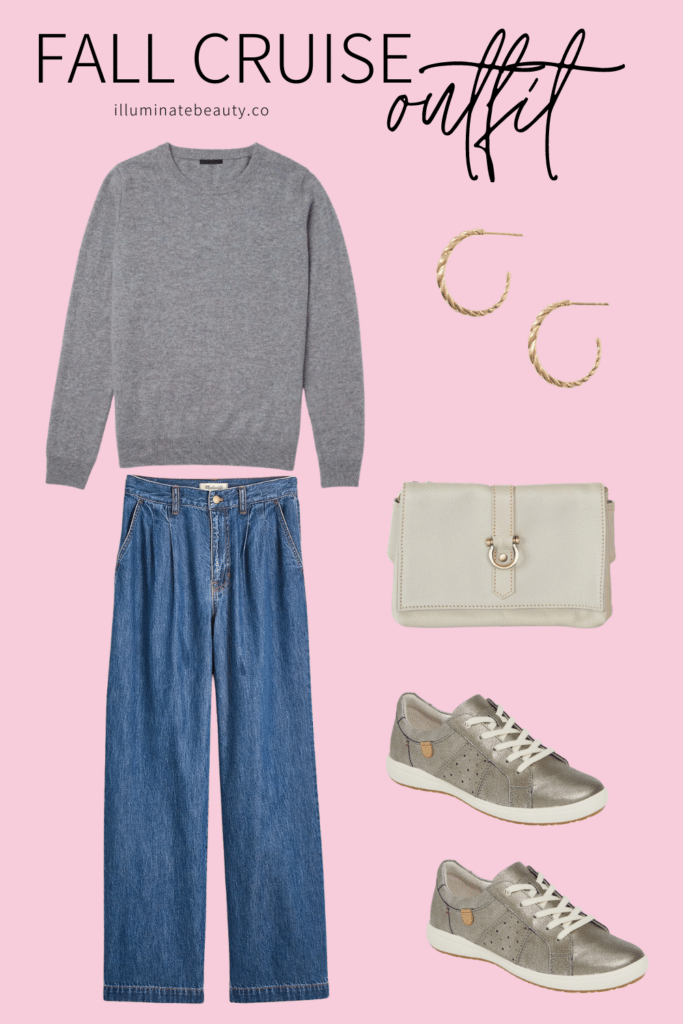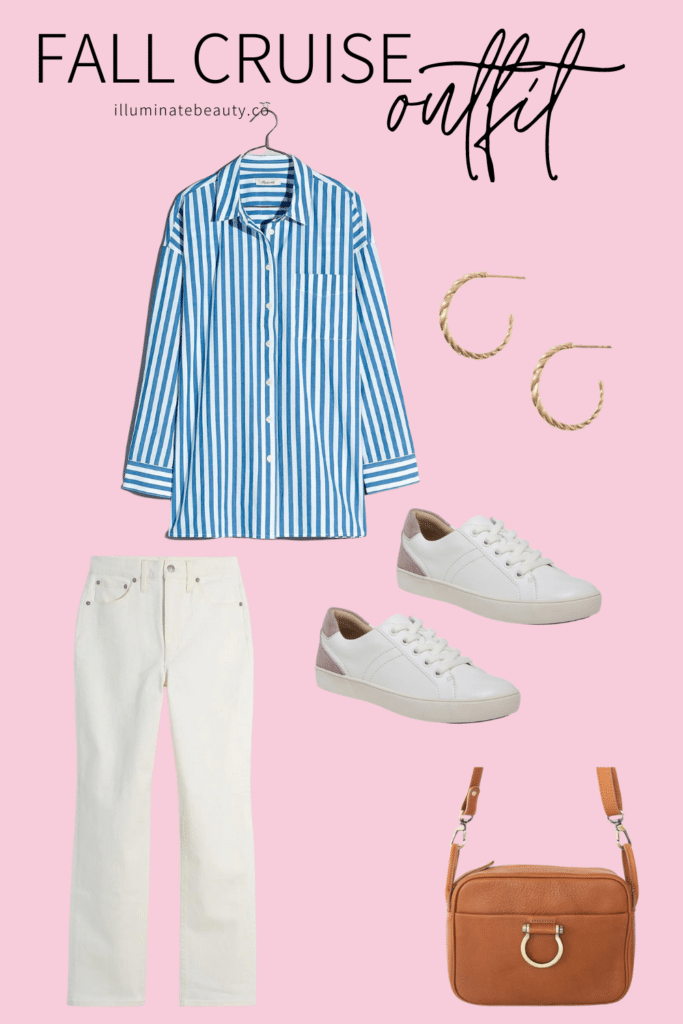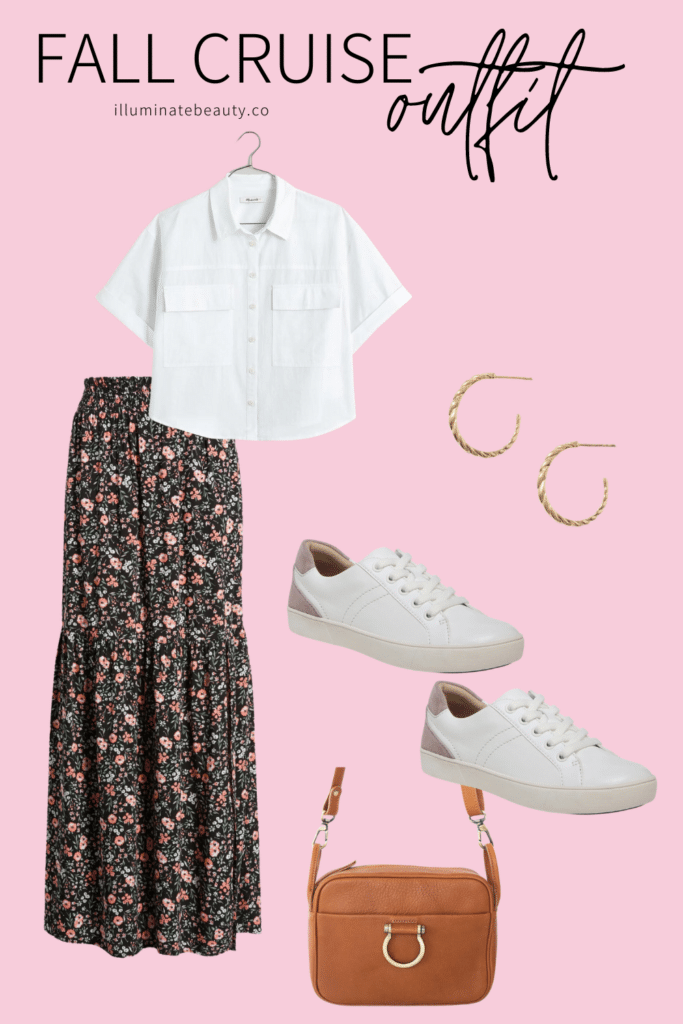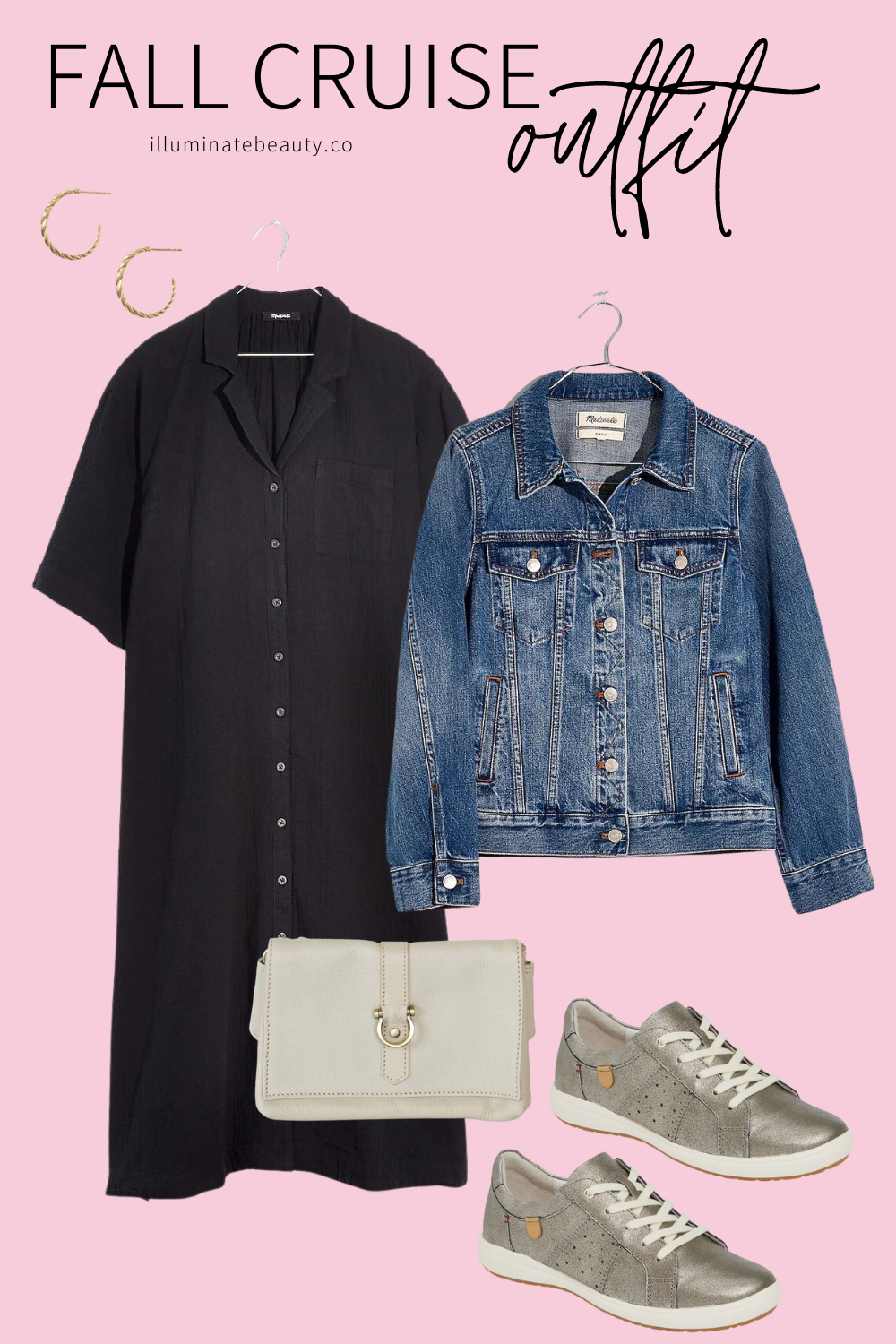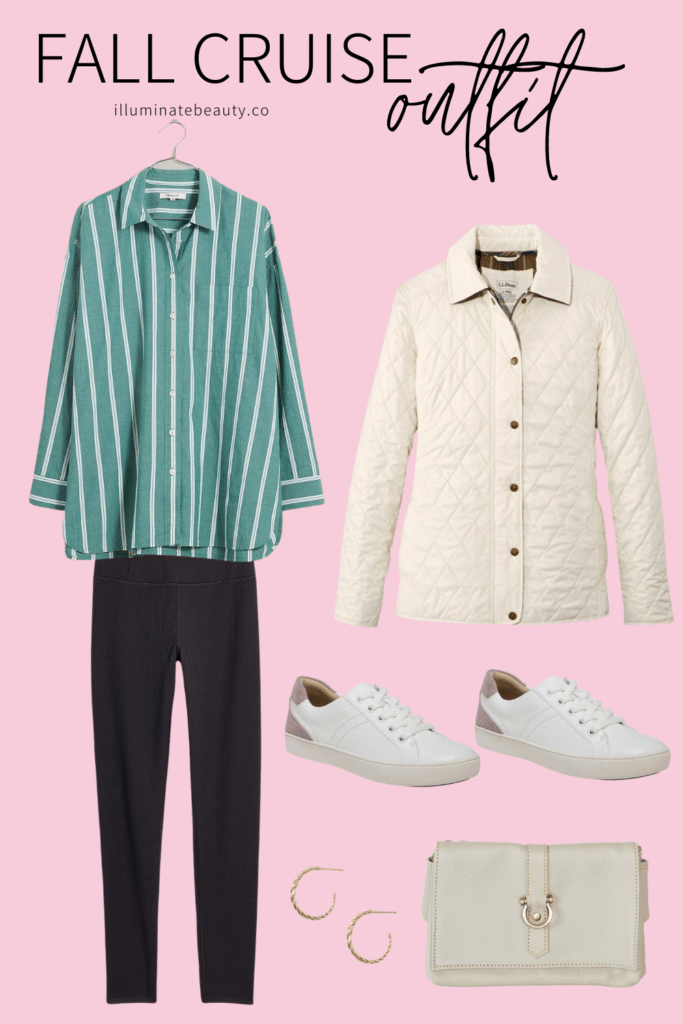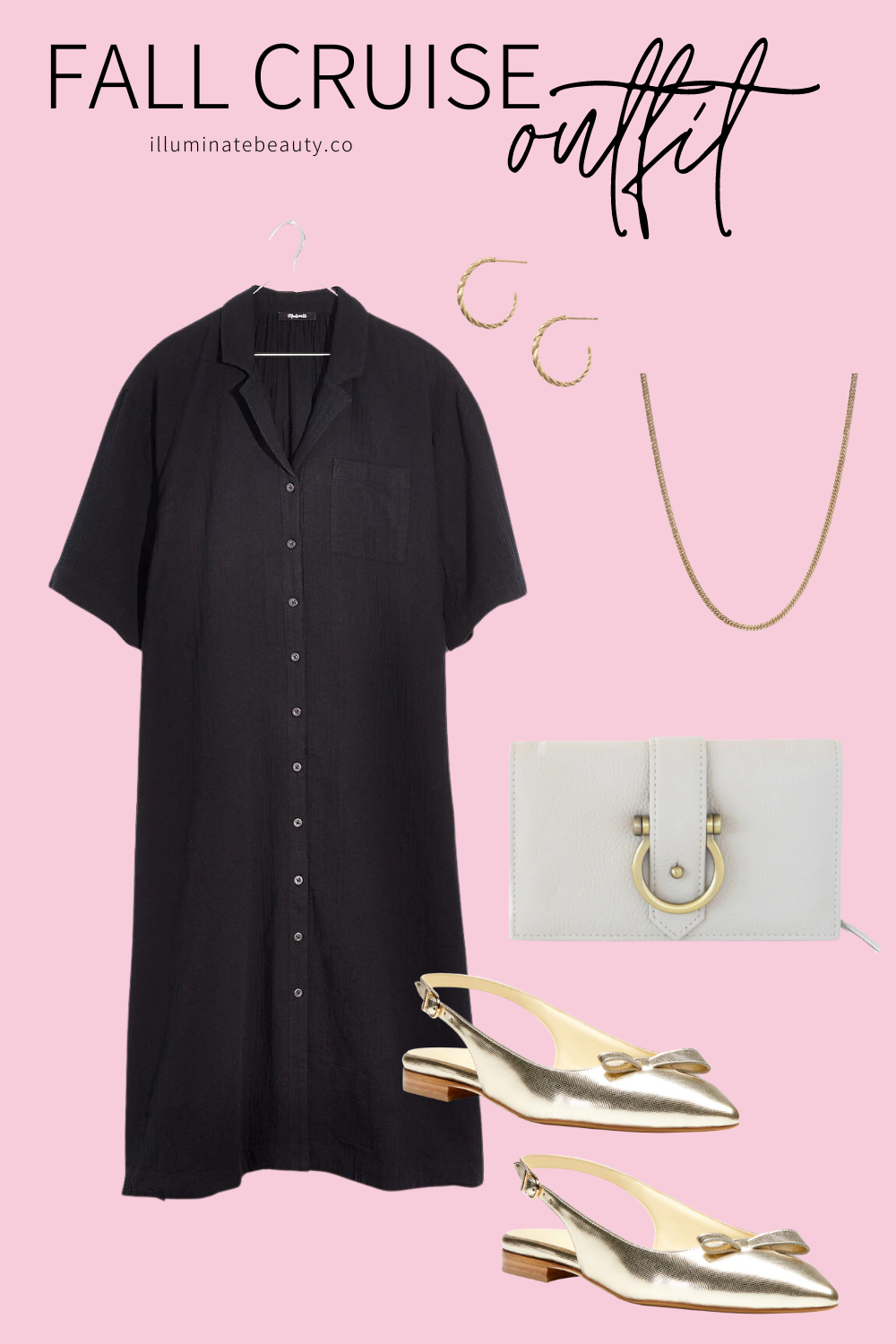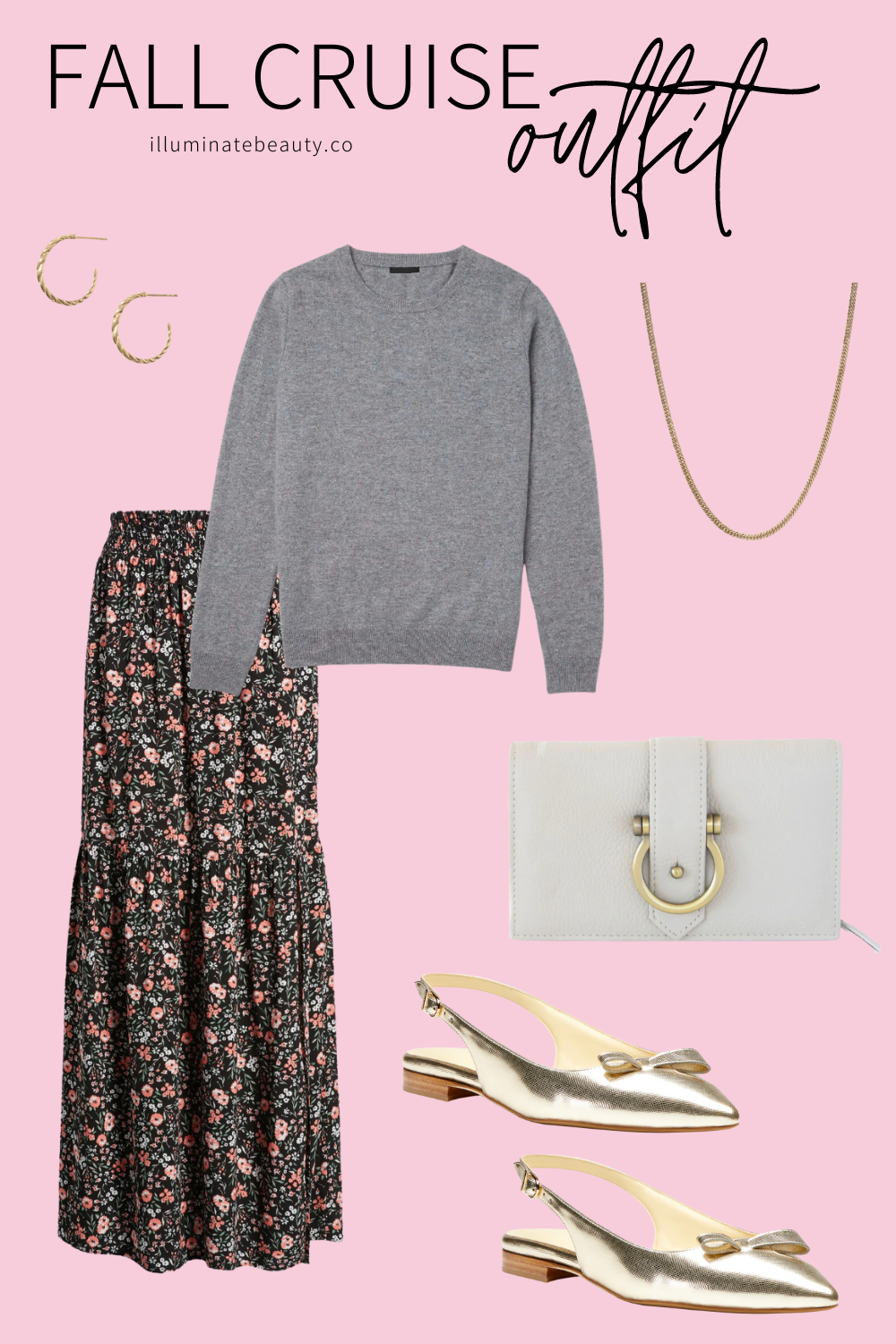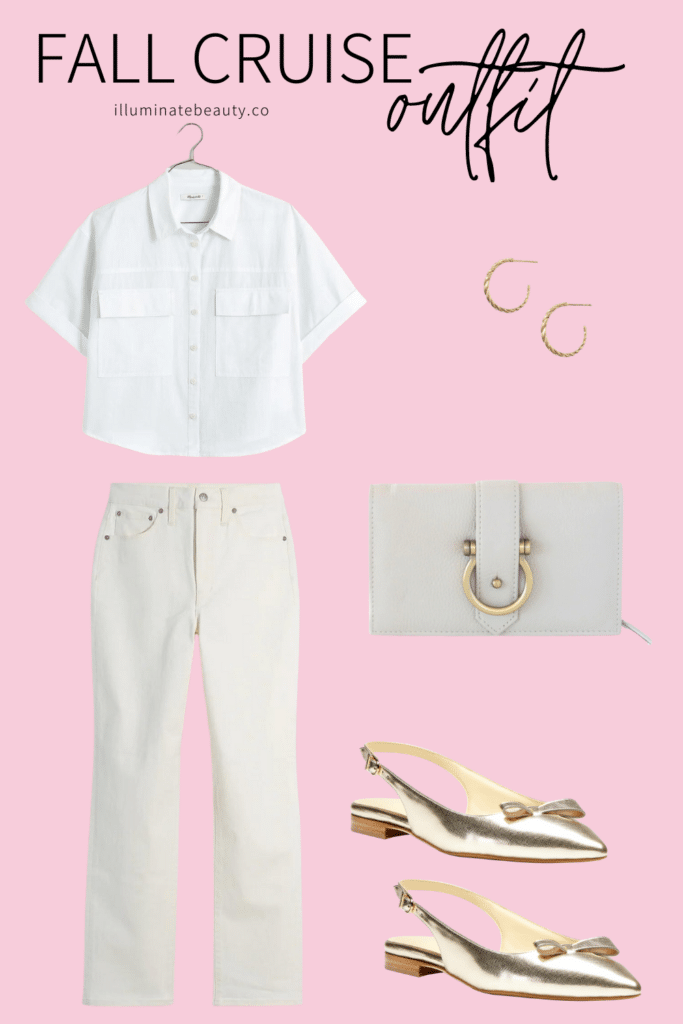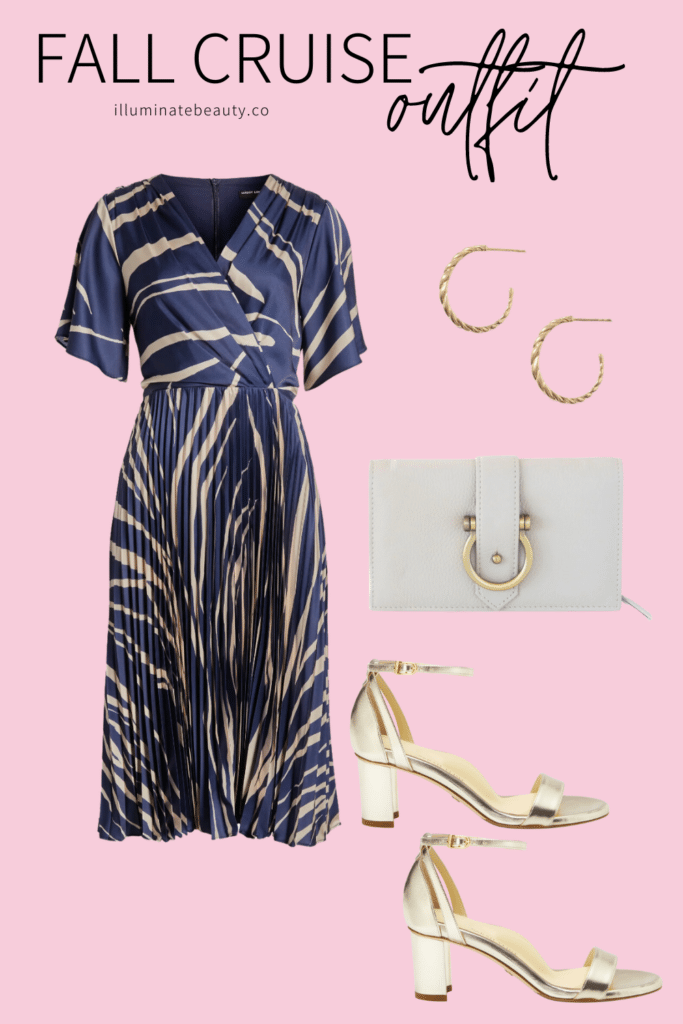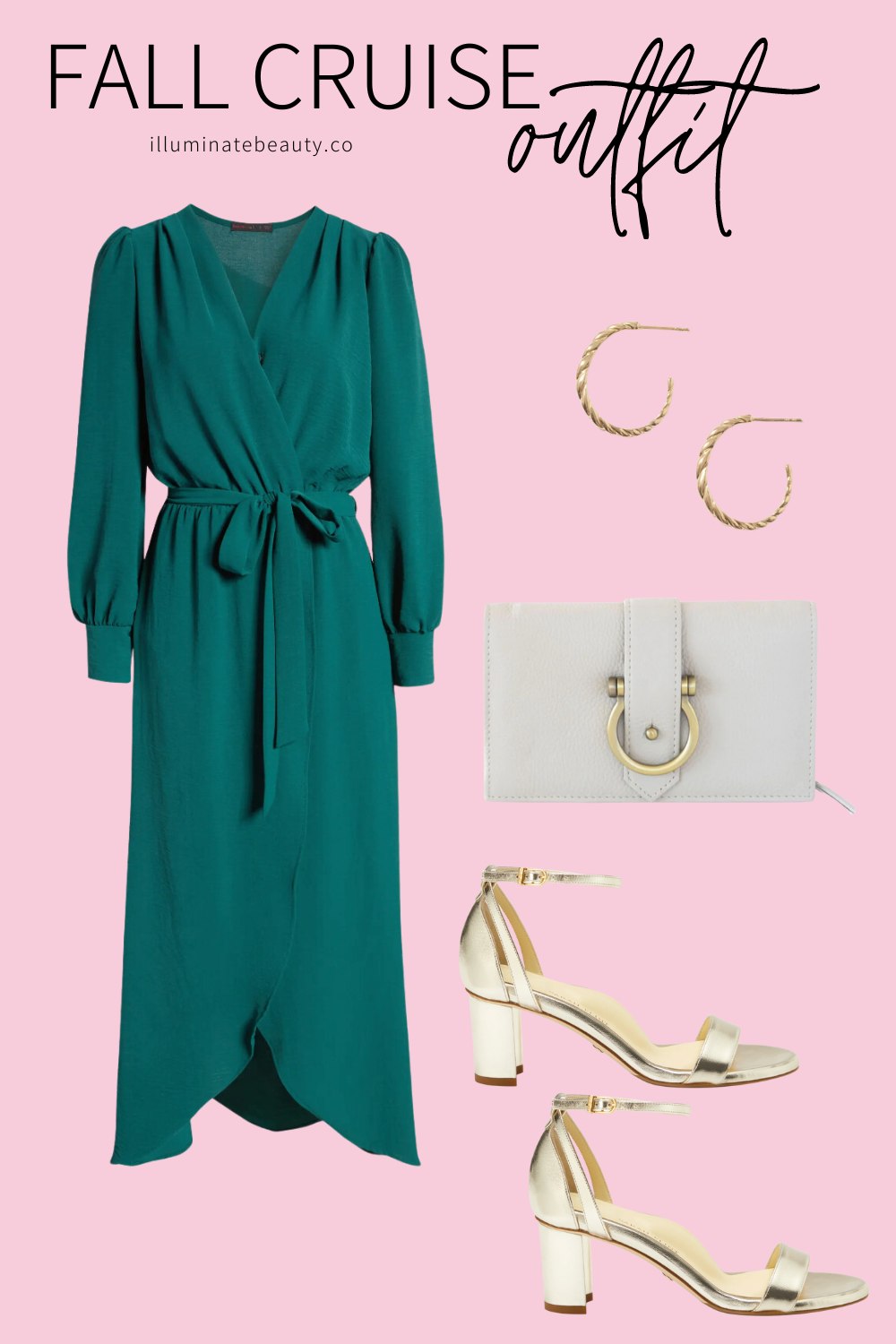 Any of these jackets can be mixed & matched with all the looks. They're high quality, they're versatile, they're stylish, and they're comfortable!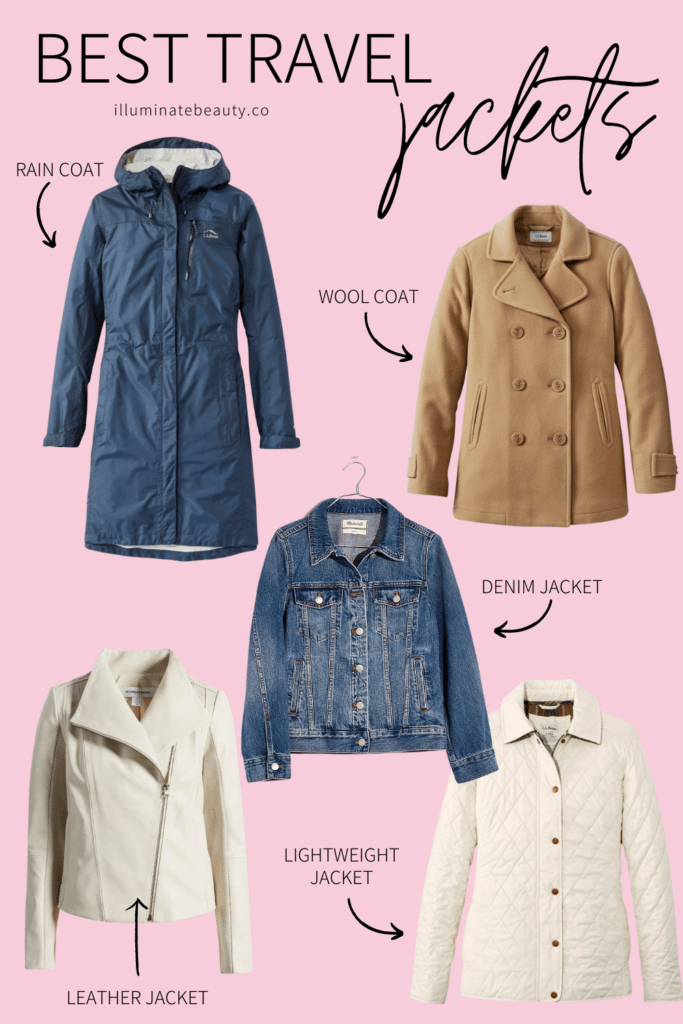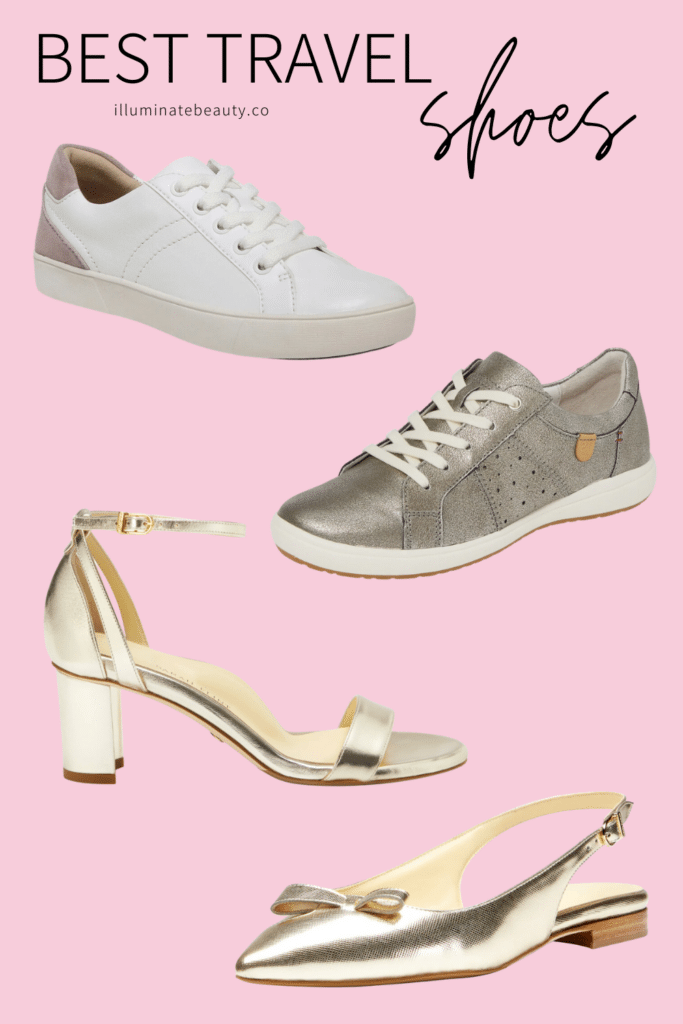 These shoes are all very versatile and comfortable! With a neutral color, you can wear them with any look! You don't need to pack all the shoes in your closet! Just pack a few solid options that you can mix and match. The most important thing is comfort! Sneakers that are sleek and comfy will look great with any casual look. Sarah Flint shoes are my absolute faves for dressier options because they are classy and stylish AND comfortable! They come with extra padding and arch support. See my favorite Sarah Flint shoes. Save 15% with this discount code at checkout: SARAHFLINT-CCJOELLEN1
The Best Makeup for Traveling
If you want to look great in your pictures, then it's important to wear makeup. If you're like most women, you probably have a drawer or bag FULL of your favorite products. There are probably lots of bottles and compacts. But if you want to pack smartly, it's best to leave your clutter at home. Plus, you don't want to risk your bottles exploding in your luggage, making a huge mess! It's the worst!
My absolute favorite makeup to travel with is Seint makeup. Everything you need (minus mascara) fits into one simple palette! One! You can build a custom compact with everything you want and need: foundation, concealer, contour, bronzer, blush, lipstick, illuminator, powder, eyeshadow, eyeliner, brows, lip liner….all the things! It saves so much space!
The makeup is iiid cream foundation so you won't have to worry about spills and pesky TSA requirements. You can toss it in your carryon without having to worry about losing it on your way to your destination. Each palette comes with a mirror, making it easy to do your makeup on the go or freshen up after a long flight.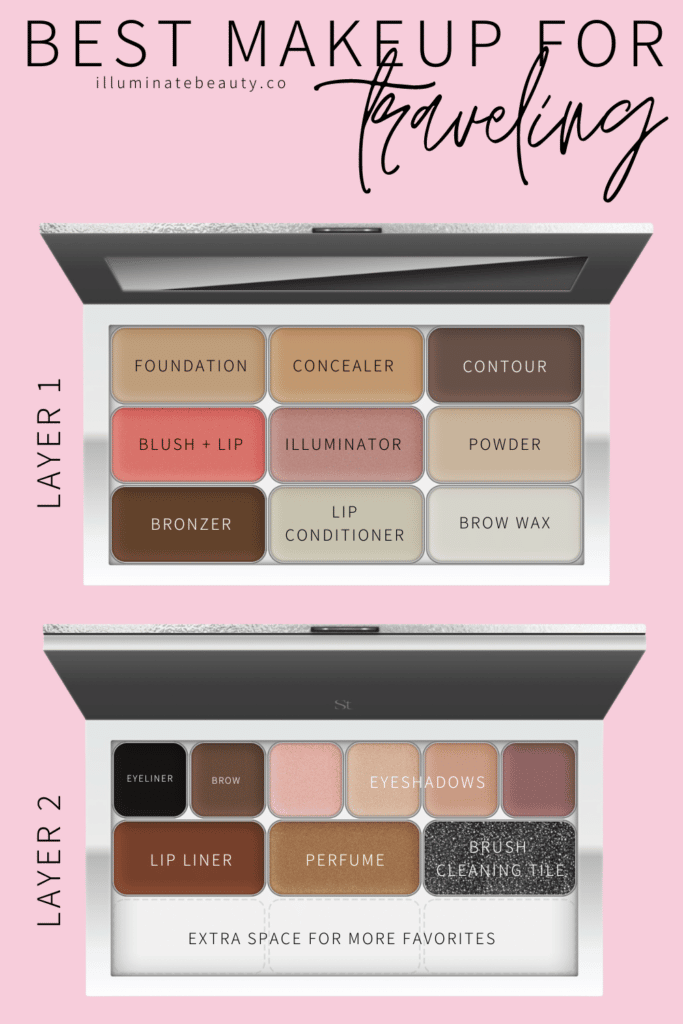 I specialize in helping women look their best in their makeup routines. If you want one on one help knowing what makeup colors and products will look great on you, then take my FREE makeup survey to get started! Or you can shop the prebuilt makeup collections on your own. Either way, you will LOVE how this makeup simplifies your life and helps you look and feel amazing!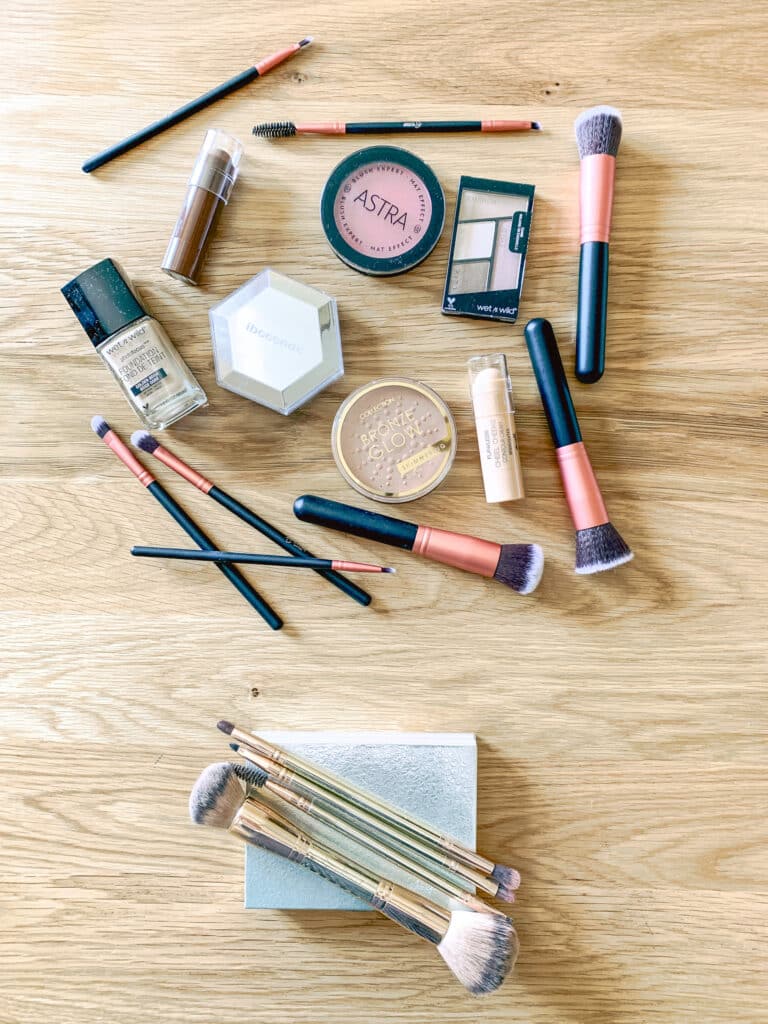 The Best Purses for Traveling
A purse is a girl's best friend! So it needs to come along on your adventures with you! There's no need to bring all your favorite purses. Just bring one or two or three =) You'll want something that is big enough to carry the essentials but not too big that your back is breaking by the end of the day! You'll want something that is comfortable, stylish, practical, and versatile. Is that too much to ask???
Sapahn purses are my very favorite purses to travel with! Why?? Because they tick all the boxes! They're handmade in Thailand from premium leather. They come in the most gorgeous colors and styles. They're high quality and functional. They're comfortable and cute. They're the best! I've taken my Sapahn purses around the world with me…they're amazing! Save 20% on your Sapahn purchase with this discount code at checkout: JOELLEN20
The Staney or the Sarah Ann are my personal faves because they can be worn in so many ways! They can be a clutch, shoulder bag, cross body bag, or belt bag! So many options in just one purse!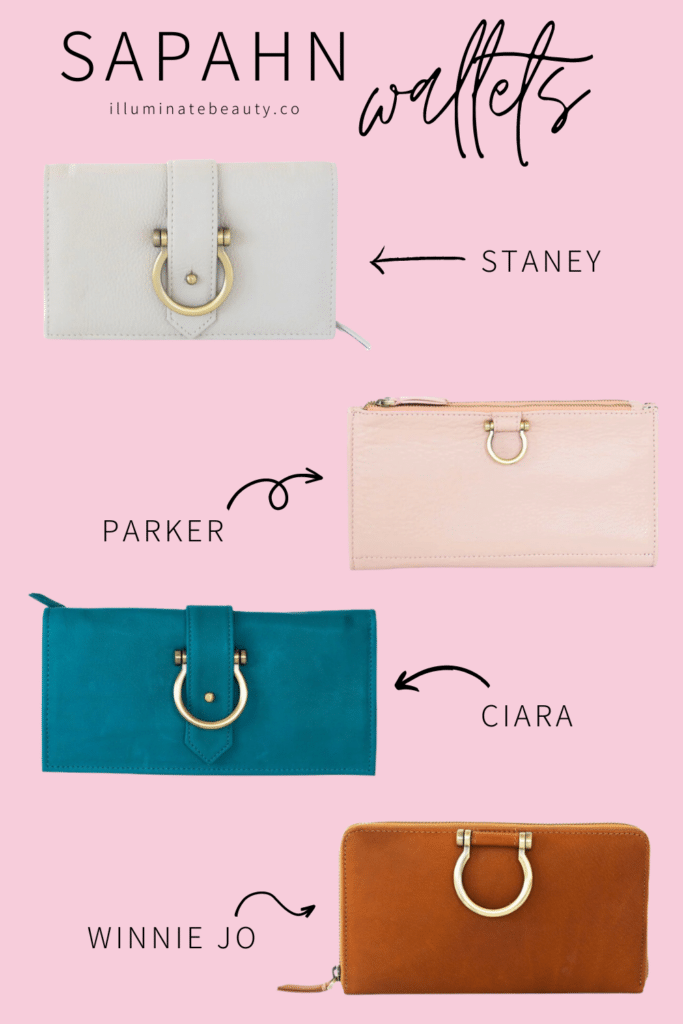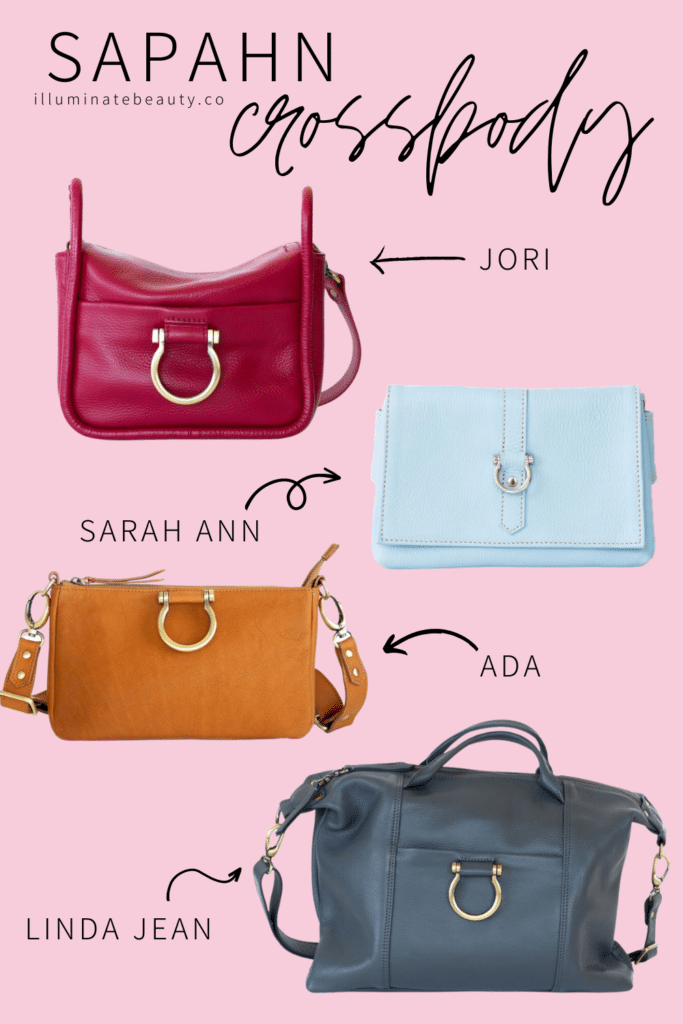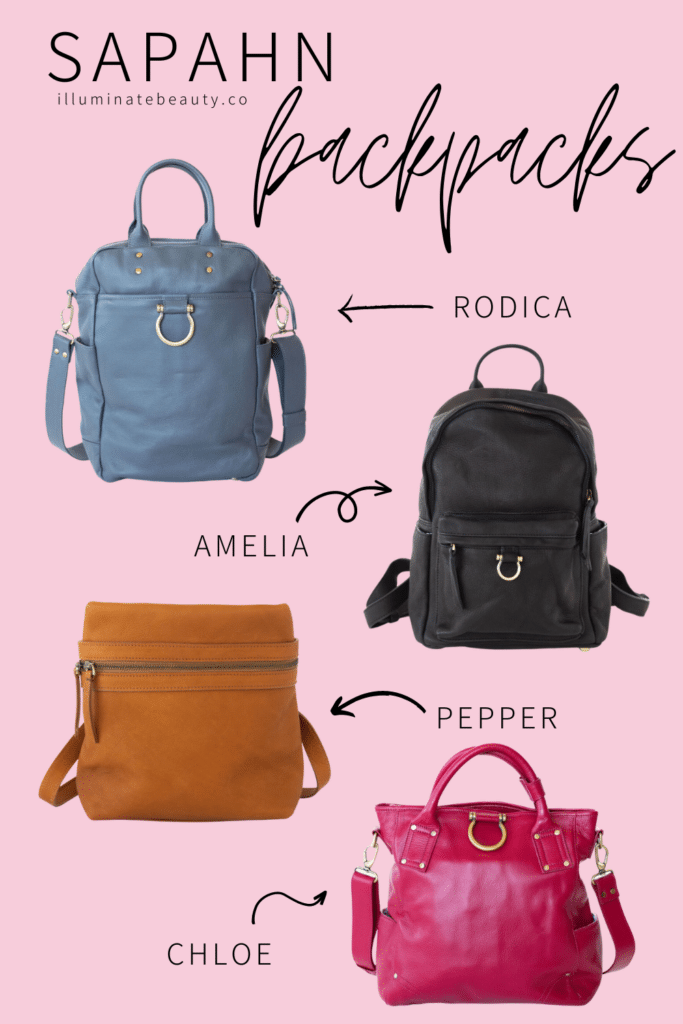 Space Saving Packing Tips
Here are a few other space saving packing tips that will help you pack smarter!
Accidents happen and you are bound to spill something on your clothes. Pack Tide Wipes or Tide Pens to help remove any stains on the go.
Shoes take up the most space in your suitcase, so wear your biggest pair on the airplane. Also, with a color scheme and packing versatile clothing, you can narrow your shoe choices down to just a few. Only pack 2-4 pairs that can be mixed and matched with your outfits.
Outerwear also takes up a lot of space, so wear your largest layer on the airplane.
Pack layers. This will allow you to be prepared for any weather and be comfortable while you tour. Just pack a few different outerwear options that you can mix and match easily with all your looks. For example, it's a smart idea to pack a cardigan, rain coat, lightweight jacket, and heavier jacket to accommodate for the change in weather so you can be prepared for anything and still look great =)
I hope those tips on what to pack on fall cruise to Canada will help you pack more smartly so you'll feel prepared to look and feel amazing without the extra baggage! Have the best time on your trip!

Here are other blog posts you might enjoy:
Spice Up Your Fall with this Pumpkin Patch Makeup Look
Fall Handbags to Elevate Your Look
How to Build a Fall Capsule Wardrobe
About the Author
JoEllen is a licensed aesthetician, makeup mentor, and certified John Maxwell coach, speaker, and trainer. She has been working with women for 18 years helping them look and feel confident. She loves teaching women simple beauty techniques so they can feel empowered to try it at home. She believes that when you look and feel good, you do good!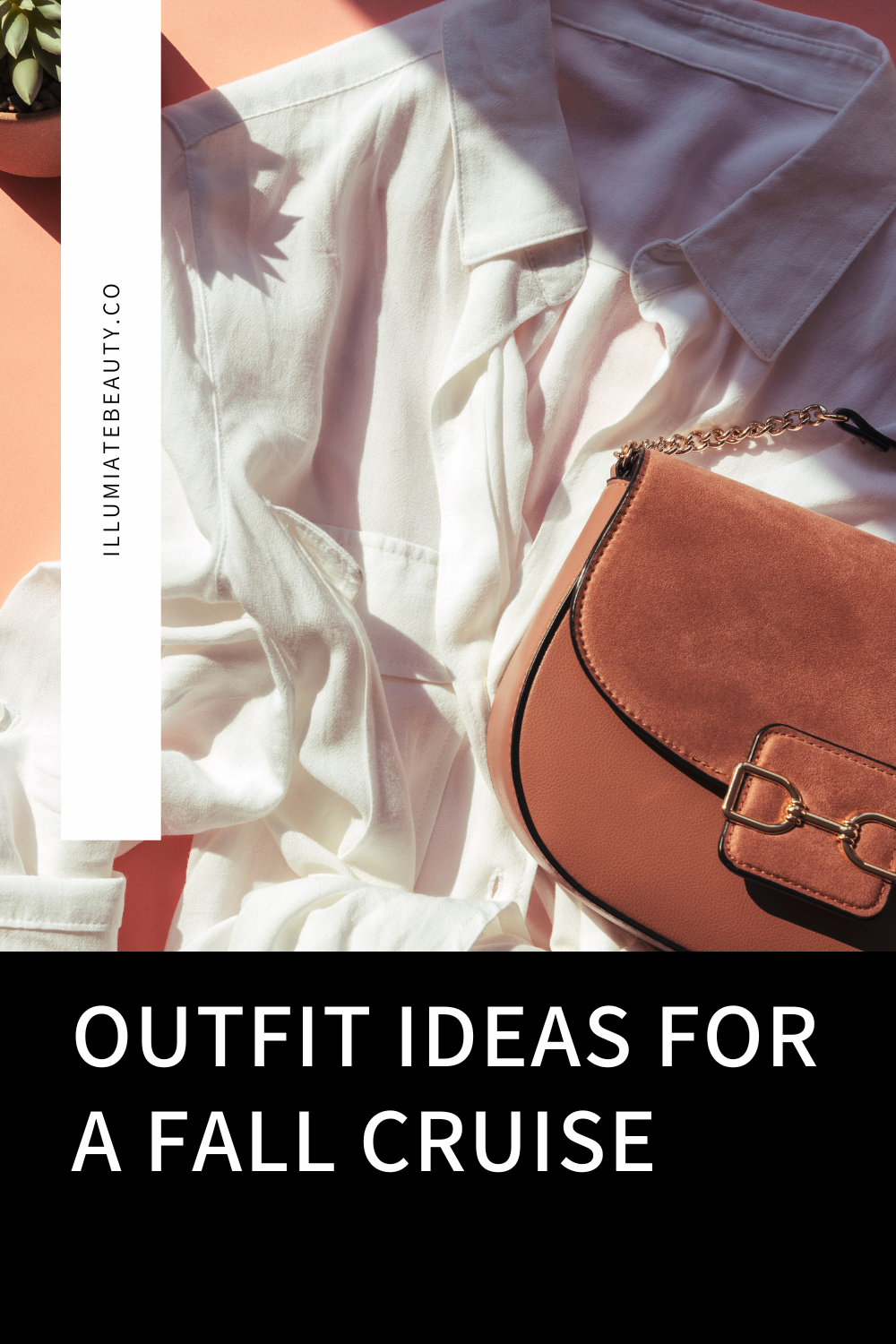 *This post contains affiliate links. If you choose to purchase an item featured in this post, I get a small portion from the sale. Thank you! It does not affect you at all.