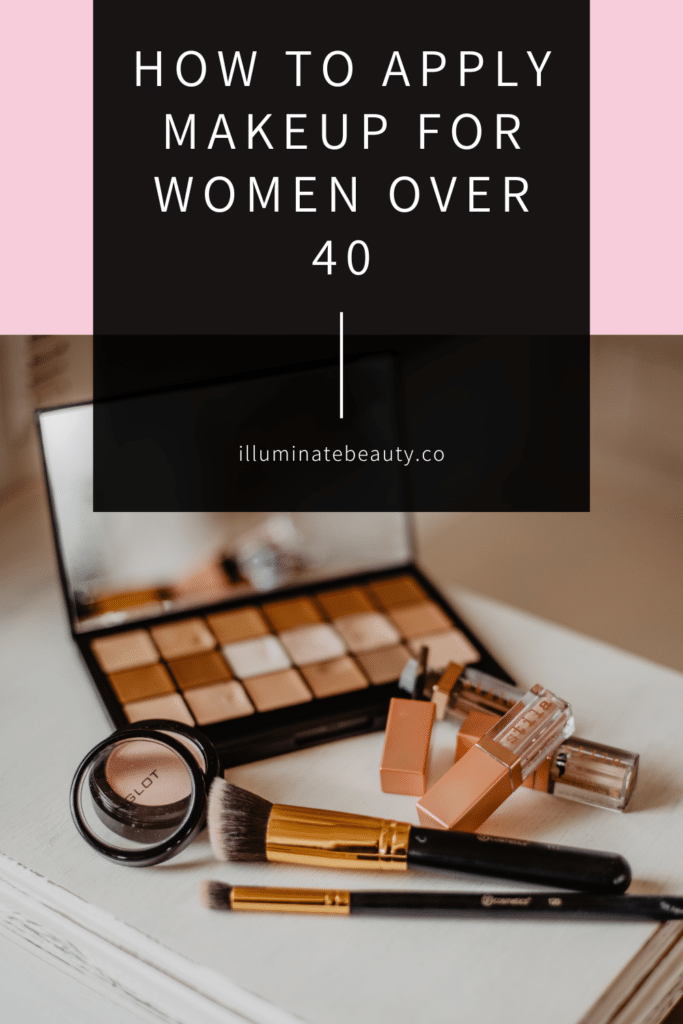 If you're over 40, you may be noticing some changes in your skin. And with those changes come frustrations with makeup application! You might be noticing that makeup isn't applying and blending as well. Here's how to apply makeup for women over 40 so you look and feel your best!
Makeup Tips for Women Over 40
You're not alone if you feel frustrated with your makeup routine. You may notice that your old makeup routine just isn't cutting it anymore. You may never have worn makeup before and feel like now's the time to start. Whatever the case may be, I'm sharing makeup tips for women over 40 that will help you look amazing! You may be aging, but that doesn't mean you have to look your age! Here are some tips that will help you look younger and enhance your beauty, not cover it up!
Prep your skin properly
Use cream makeup
Contouring is your friend
Don't forget blush
Blend!
Eye makeup
Love your lips
Prep Your Skin Properly
The first step in a great makeup application is to prep your face properly! Makeup won't apply and blend well on a dirty surface. So cleanse your face and then add a light layer of moisturizer or sunscreen before you apply your makeup. Allow your moisturizer or sunscreen to fully absorb into your skin for a good 5-10 minutes before applying your makeup. This will help your makeup stay on better.
Along with prepping your skin is making sure not to your skin care! If you want to have a great makeup application, you have to have a great skin care routine! It's crucial to have a healthy and happy canvas to paint on. Here are some basic skin care steps you should be doing daily:
And then add in exfoliating a few times a week and a mask weekly. Committing to these simple steps regularly will dramatically change your skin. It will glow!
Use Cream Makeup
There are lots of makeup products out there: liquids, powders, mineral powders, sticks. The best makeup for mature skin is cream makeup! Cream makeup blends beautifully into your skin, fine lines, wrinkles and all! Cream makeup also moves with your skin, making it appear natural. It still gives you the coverage you need, but without the heavy and cakey appearance. It also gives you a dewy and youthful glow.
Contouring is Your Friend
You may be thinking that contouring is only for the actresses, makeup artists, and models but it is also for the everyday woman! Contouring adds shape, shadow, and dimension to your face helping you look sculpted and youthful. Using the Detail Brush, apply cream contour on these areas:
Cheekbones- Apply contour on top of your cheekbones. This will help chisel and lift your cheeks. Start at the hairline at your ear and end at the outer corner of your eye. Blend upwards.
Forehead- Apply contour along your hairline on your forehead. Then blend into your hair.
Jawline- Apply contour along your jawline, starting at one ear and ending at the other ear. Blend downwards into your neck.
Tops sides of nose- If you want to slim your nose, apply contour along the top sides of your nose. Blend the color down the sides of your nose.
Under your lip- If you want to add fullness to your lips, apply a small amount under your lip and blend.
Read more Contour Tips and Tricks to master the technique.
Don't Forget Blush
Cream blush is a great way to add color and flush to your face. When you apply foundation all over your face to even out your skin tone, you have also erased your natural flush.
There are a few ways to apply blush:
Observe your face when you don't wear makeup. Where do you natural flush? That's where and how you want to apply blush. It will be your most flattering way to apply it.
Look at the mirror and smile. Apply blush on the squishiest part of your cheek and blend it into your contour.
Apply blush above your contour and blend.
Play around with the different techniques and placement and see what you like best. Blush will make you look more alive and youthful!
Blend!
There's nothing worse than a woman with a ton of makeup where you can see the harsh lines. The Perfector Sponge will be your best friend!! Make sure to prep your sponge properly by holding it under running water and squeezing the sponge in and out until it is double in size. Wring it completely out and then bounce it on your face. This will pick up any excess makeup and blend the makeup beautifully into the skin helping it look natural.
Eye Makeup
Heavy eye makeup can really age you! We've heard of makeovers, but there is also such a thing as makeunders! Fully lining the eye with a black eyeliner can make your eyes look older and heavier and smaller. Instead of a dramatic black pencil or liquid line, opt for using a cream eyeliner or dark eyeshadow applied with a small makeup brush.
For eyeshadow, don't be afraid to wear shimmer! Use these simple eyeshadow techniques to create a pretty look!
Love Your Lips
Don't forget your lips! Lips really top your look off. As we age, our lips age too. So make sure you keep your lips nice and moisturized. Use a cream lip + cheek or a long lasting lip color to enhance their beauty.
How to Get Color Matched
If you want to start using Seint cream makeup, then it's important you get the right colors that will look best on you. If you aren't wearing the right shades, it will enhance your fine lines and wrinkles. Here are a few ways to get color matched with Seint makeup:

Hopefully those tips on how to apply makeup for women over 40 will help you feel confident in your skin! You are beautiful!
Want more makeup product and tip ideas for women over 40? Then you will love 7 Best Makeup Products and Makeup Tips for Women Over 40.

Here are other blogposts you might enjoy:
How to Color Match Yourself with Seint Makeup
How to Look Younger with Makeup for Women over 40
5 Minute Makeup for Women Over 40
Makeup Mistakes to Avoid in your 40s
Eyeshadow Tips for Hooded Eyes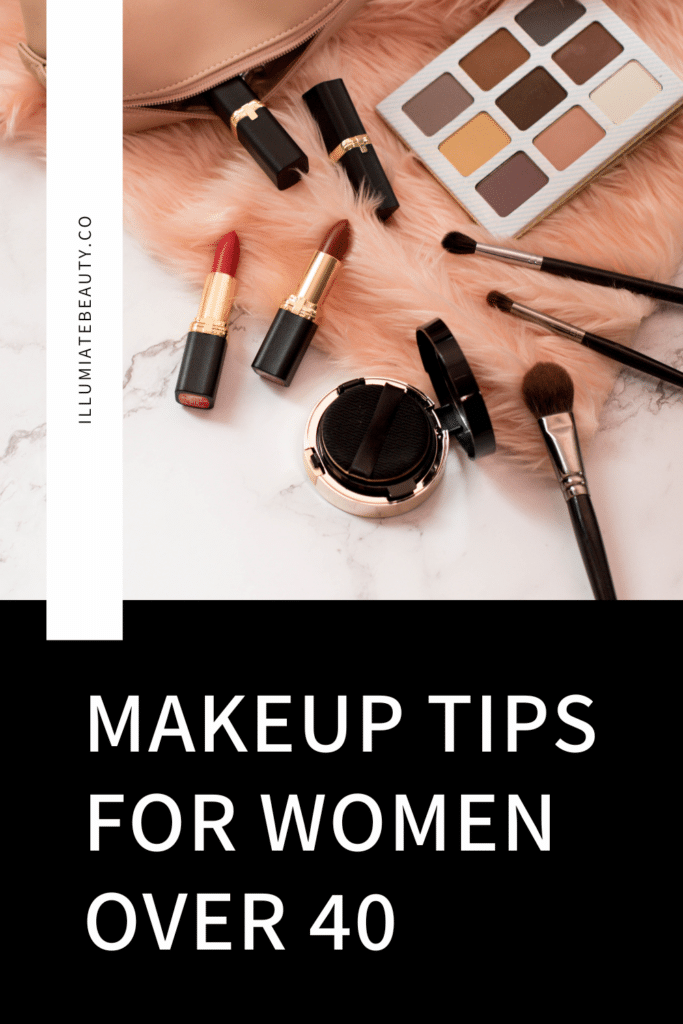 *This post contains affiliate links. If you choose to purchase an item featured in this post, I get a small portion from the sale. Thank you! It does not affect you at all.