Are you wondering what in the world to gift to the gals in your life this year? Whether it's a girlfriend, mom, sister, aunt, grandma, friend, coworker, neighbor, teacher or anything in between, you've gotta find something! Skincare makes the perfect gift! Keep reading this Rodan + Fields Gift Guide for some great ideas that she is bound to love!
Be an Intentional Shopper
This time of year can be a time that we get bombarded with a buy buy buy mentality. So, it's important to stop and think before you spend your money on something. A few questions I like to ask myself before I spend money on a gift are these:
Will she use it?
Is it high quality?
Will it make her feel special?
Will it bring her joy?
If you can answer yes to those questions, then it's usually a good sign that it's a great investment! You can ask yourself those same questions when you're shopping for yourself too!
A Little About Rodan + Fields
Rodan + Fields is a skincare company founded by 2 dermatologists. They wanted to make customized skincare available to the everyday woman. This is what they say about their company and products, "Our skincare philosophy sets us apart. We make skincare solutions designed to give you the best skin of your life and the confidence that comes with it."
Every woman has different skin needs and concerns. You can't use just one product line on everyone and expect good results. With Rodan + Fields, you can choose a regime according to your needs. It's completely customizable. It's the perfect way to get healthier skin!
Rodan + Fields Gift Guide
Why make an entire gift guide with Rodan + Fields products??? Because, they're that good! They answer all the questions above! Skincare makes a perfect gift because most women want to look and feel beautiful. And a lot of women have a hard time spending money on something like skincare because they don't think it's necessary….oh but it is! And high quality skincare is a million times better than drugstore skincare.
I've curated a list of products that will help her skin become smooth, glowing, healthy, and happy! I promise that she will love the results she gets from any of these products….but if she doesn't love the results, she can return up to 60 days with a full refund! How's that for an insurance policy?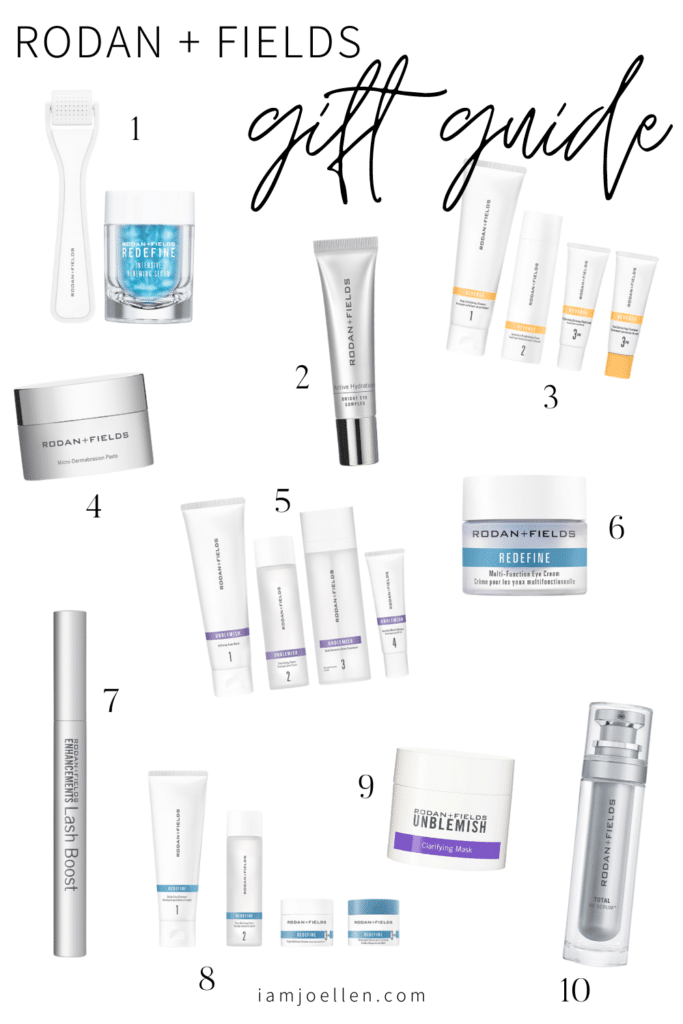 1 | 2 | 3 | 4 | 5 | 6 | 7 | 8 | 9 | 10
If you need help figuring out what products will work best, then you can take this quick skincare analysis quiz and I can guide you to choosing the best products.
Give the gift of healthy skin! It will help her dark under eyes disappear, her lashes grow longer, skin feel smoother, and help her glow! She will love it!

If you want some other gift ideas, check out these other gift guides:

About the Author
JoEllen is a licensed aesthetician, certified makeup artist, and certified John Maxwell coach, speaker, and trainer. She works with women helping them look and feel confident. She loves teaching women simple beauty techniques so they can feel empowered to try it at home. Her motto is that when you look and feel good, you do good!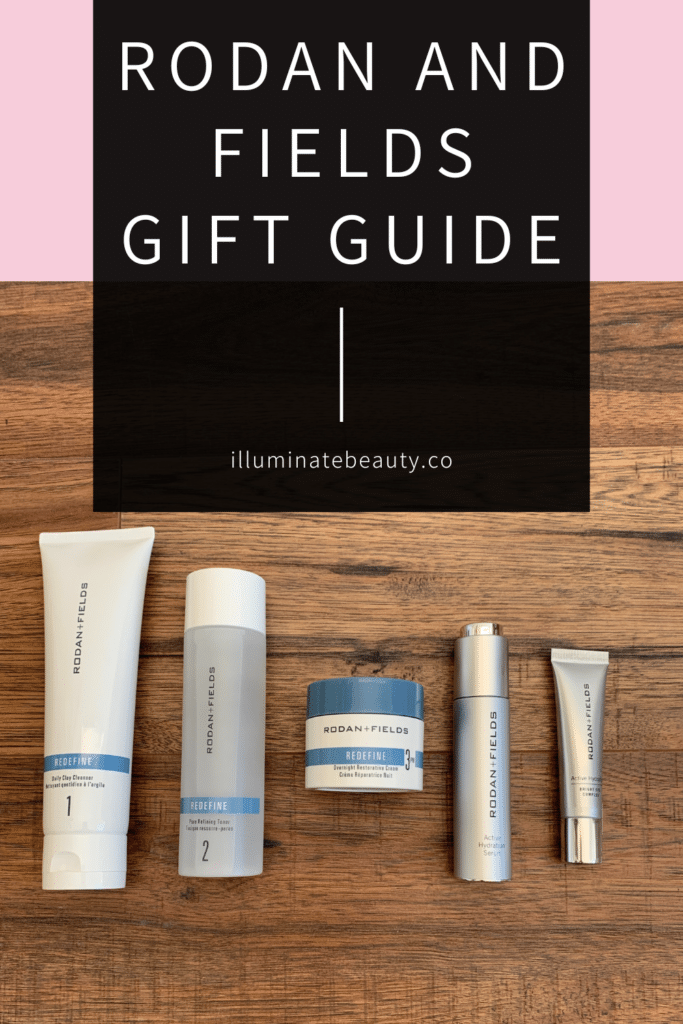 *This post contains affiliate links. If you choose to purchase an item featured in this post, I get a small portion from the sale. Thank you! It does not affect you at all.