Whether you like Taylor Swift or not, I think we can agree that her red lip is iconic. She's worn her bold red lip since 2009 in photo shoots, to multiple award events, in her sold-out Eras tour, and most recently as a spectator at the Kansas City Chief's game cheering for her "friend", Travis Kelce. Her bold red lip is gorgeous. It's flawless. It's chic. Here's how you can channel Taylor Swift's game day glam with this iconic Taylor swift makeup look…
When Did Taylor Swift Start Wearing Red Lipstick?
The story behind Taylor Swift's red lip is pretty cool! Gucci Westman, a makeup artist and founder of beauty brand Westman Atelier, used to do Taylor Swift's makeup. Back in 2009 is when Gucci first introduced Taylor to the idea of wearing a red lip. She was hesitant at first! Since she was still a teen, she had to get permission from her mom to wear the bold color.
The moral of the story is, get outside your comfort zone! You never know if you'll like something until you try! Just think, if Taylor had never had the guts to try red lipstick in the first place, she would not be known for her bold red lip now! So, try the thing.
How to Get the Taylor Swift Red Lip
As a makeup artist, I can attest to the difficulty in creating the perfect red lip. Red lipstick is tricky and messy to apply! It's such a bold color so it shows the slightest imperfections. Here are some tips on how to achieve a perfect red lip:
Moisturize your lips before applying lipstick. When creating a bold look, you don't want to enhance any dry, chapped, and flaky skin. You want your lips to be hydrated and supple before applying any color.
Line your lips. It really helps to line your lips first and then fill them in. Create the shape you want to go for and then take lipstick to fill the rest of the lip in to create that bold look. Using a lip stain and the Multitasker Brush is really helpful to get a good guide.
Start in the middle. Take the bold color and apply it to the middle of your top lip first and move it down towards the outside of your lips. Do the same on the bottom lip.
Slow and steady! Do not rush the process! Rest your elbow on a steady surface if you need to so you don't bump or shake. Go nice and slow and work in small sections at a time.
Don't forget the corners. Once you start in the middle, complete the lip by extending the color to the corners.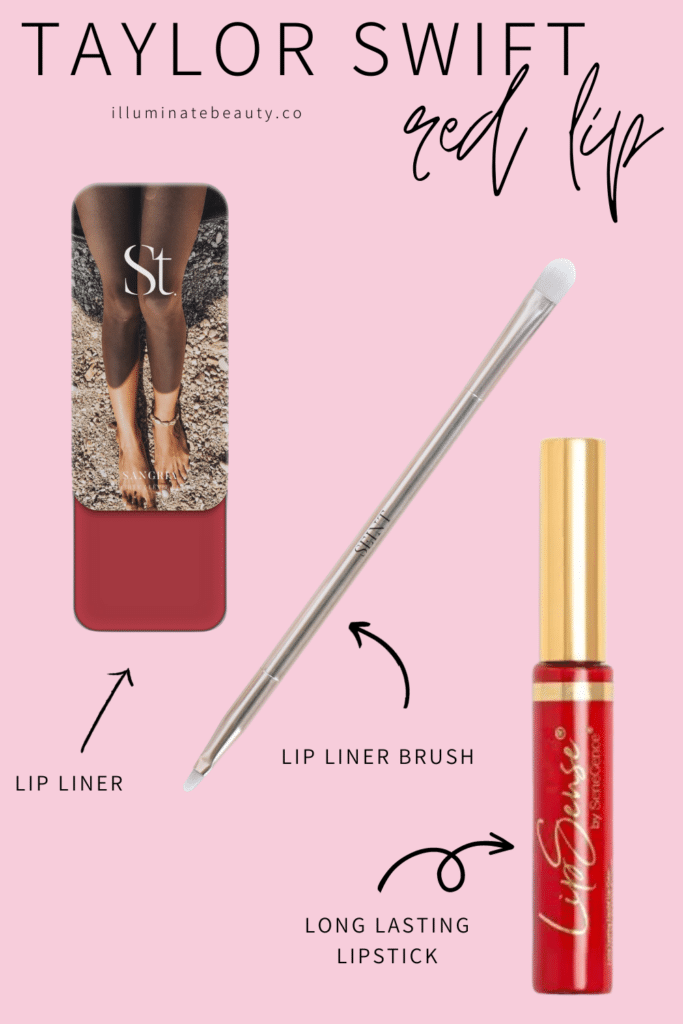 LIP LINER | LIP LINER BRUSH | LONG LASTING LIPSTICK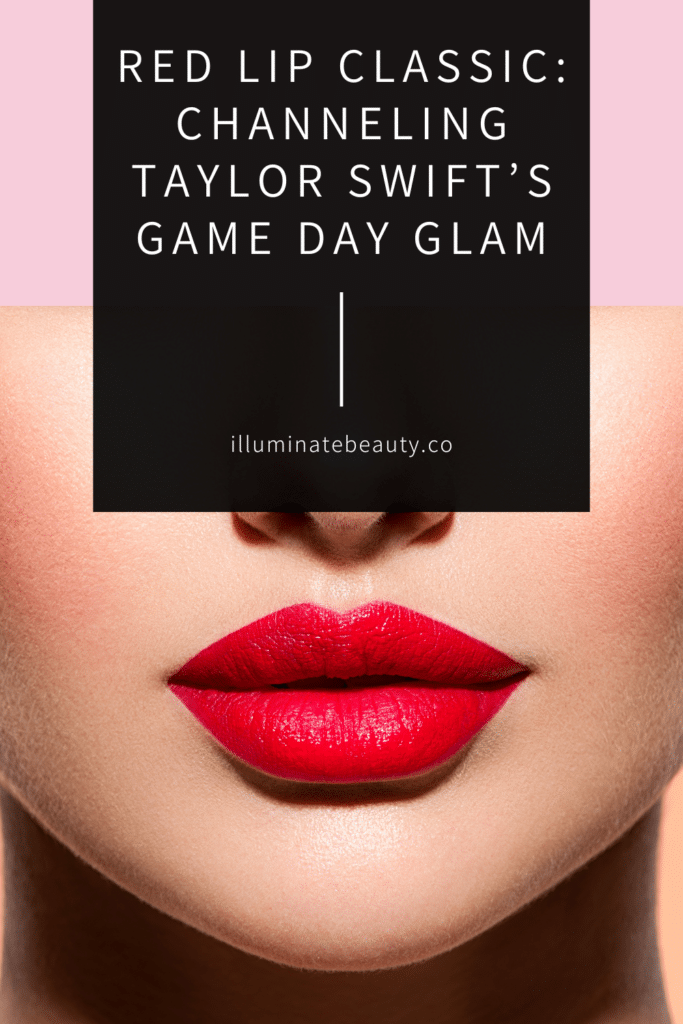 Where to Buy Taylor Swift Red Lipstick
Not all red lipstick is created equal! I think the most frustrating thing about lipstick is that it's not long-lasting. You don't want a bold lip to fade, bleed, or rub off on your teeth. It's key to invest in a red lipstick that will not budge!
To get a long-lasting lip color, you need to buy a lip stain or a water-proof lipstick. Here are the best options that will keep you looking fabulous for HOURS!
SeneGence LipSense is the BEST water-proof lipstick! You can kiss, drink, eat, laugh, smile, talk, and sing and the color will not budge! It lasts 4-18 hours!
Any of these red LipSense shades will help you get the Taylor Swift makeup look you want: Blu-Red, Strawberry Shortcake, Plumeria, Fly Girl, B Ruby, Pomegrante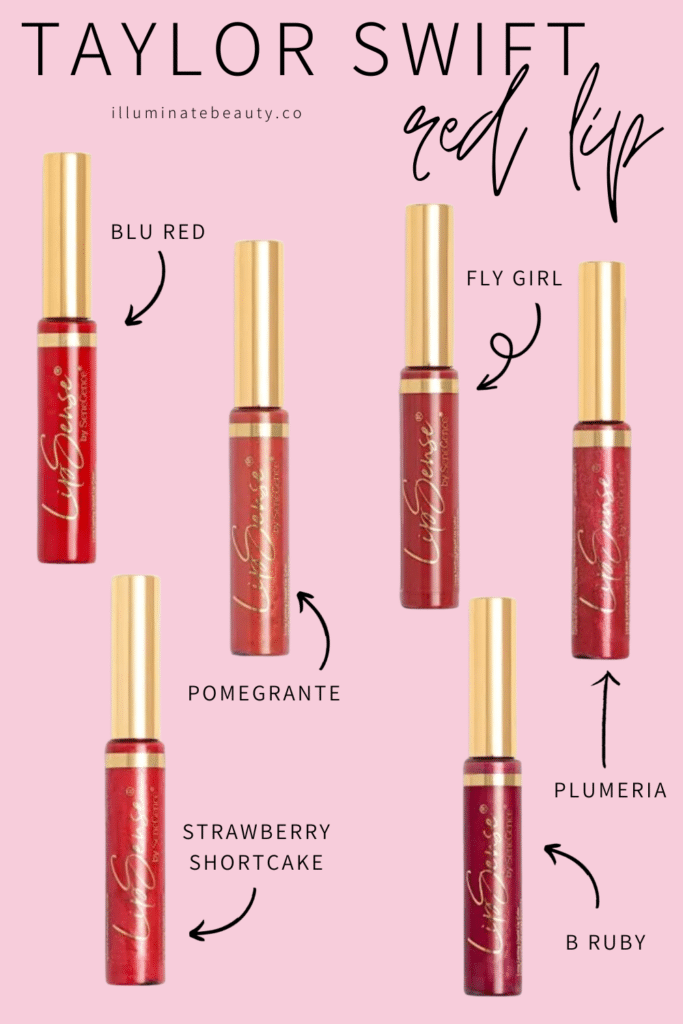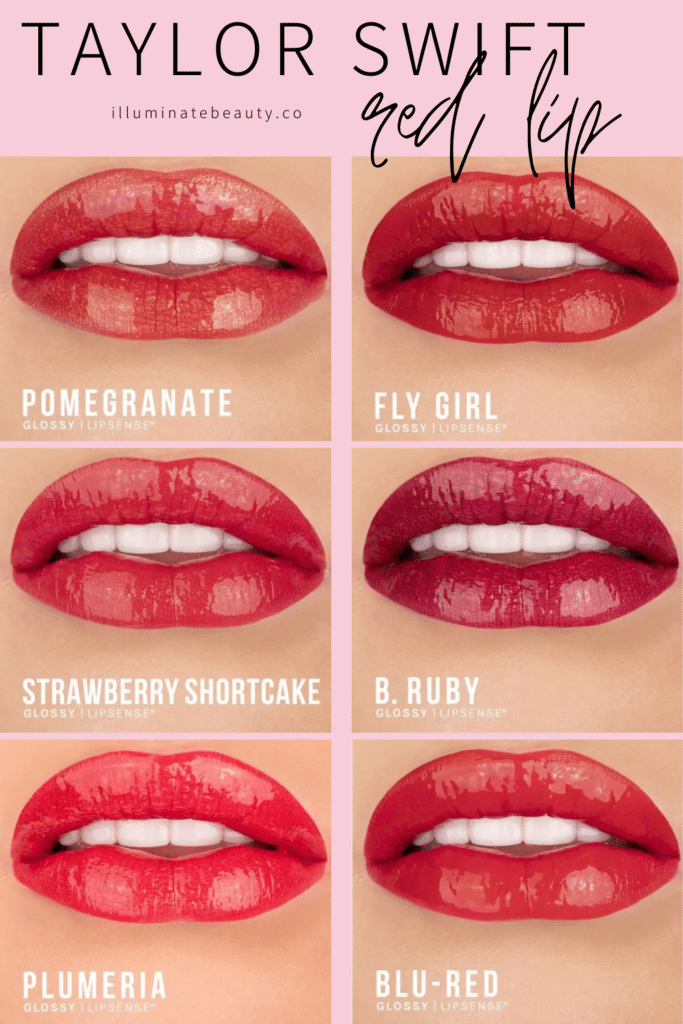 The key to helping your lip color stay and look perfect is to set it with a LipSense Gloss. It will help your lips look moisturized and perfect for hours!
Seint makeup has a few red lip options that are more like a stain. When you apply the color with the Multitasker Brush, it will stay on your lips for several hours.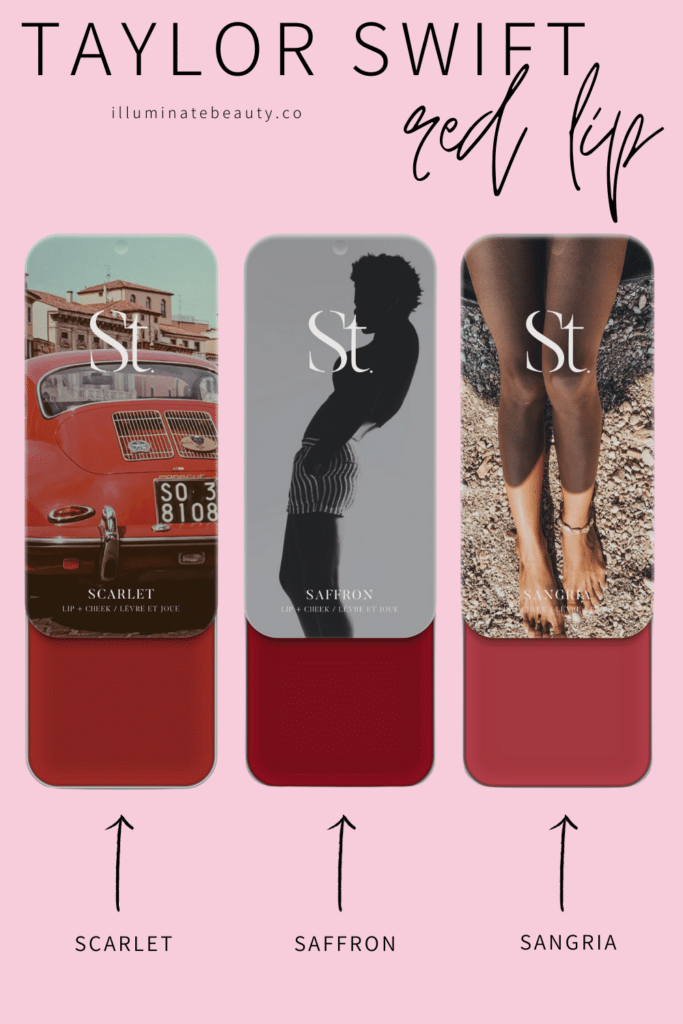 How to Choose the Perfect Red Lipstick
Have you ever tried red lipstick and immediately took it off because the color was just TOO MUCH! Yes, red lipstick is bright and bold. But you may not have liked the color because it was the wrong shade for you. Red lipstick can come in a variety of shades: warm or cool, deep or light. The key is finding the perfect red shade that looks great on YOU! Not all reds are the same.
So how do you choose the perfect red lipstick?? It really comes down to your skin tone. In general, if you have a cool skin tone, you need to look for reds that are cooler. This means a red that has some blue in it. If you have a warm skin tone, you need to look for reds that are warmer. This means a red that has some orange or yellow in it.
Here's a quick test to determine what skin tone you have (it's not the perfect test, but it will give you a general idea)
What are the colors of the vein on your wrist?
Blue/purple
Green
In between
When you wear jewelry, which color helps you feel more radiant and glowing?
Silver
Gold
Both
What colors help you feel more alive & beautiful when you wear them?
Black and white
Off-white and browns
Both
What color hair do you have?
Blonde, brown, black or hair with ashy tones
Strawberry blonde, red, brown, black or hair with golden tones
A mixture or gray hair
What colors do you tend to wear and gravitate towards?
Blues, greens, blue-greens, pink, purples
Yellows, oranges, reds, yellow-greens, ivories, olive greens
All the colors
Answers:
Mostly 1s: cool skin tone
Mostly 2s: warm skin tone
Mostly 3s: neutral skin tone
If you have a cool skin tone, lean towards red lipsticks that have blue in them. They will appear more berry-ish. These colors will look great on you: Saffron, Sangria, Blu-Red, Strawberry Shortcake, Plumeria, B Ruby, Pomegrante
If you have a warm skin tone, lean towards red lipsticks that yellow in them. They will appear more orangey. These colors will look great on you: Scarlet, Pop, Fly Girl, Summer Sunset
If you have a neutral skin tone, you get to play around with what shade of red you like best!
Get the Taylor Swift makeup look by embracing a bold red lip! When wearing a red lip, make the rest of your makeup less dramatic. Let the lips do the talking. You can go for the no makeup look with a dramatic lip or you can use iiid foundation to create a soft yet chiseled look with a red lip. Makeup should be fun! Play around with it until you look as beautiful as you feel!

Here are other blogposts you might enjoy:
Hocus Pocus Beauty: Get the Sarah Sanderson Makeup Look
How to Recreate the Viral Latte Makeup Look
How to Achieve the Barbiecore Aesthetic
Unleash Your Creativity with a Custom Eyeshadow Palette
How to Color Match Yourself with Seint Makeup

About the Author
JoEllen is a licensed aesthetician, certified makeup artist, and certified John Maxwell coach, speaker, and trainer. She works with women helping them look and feel confident. She loves teaching women simple beauty techniques so they can feel empowered to try it at home. Her motto is that when you look and feel good, you do good!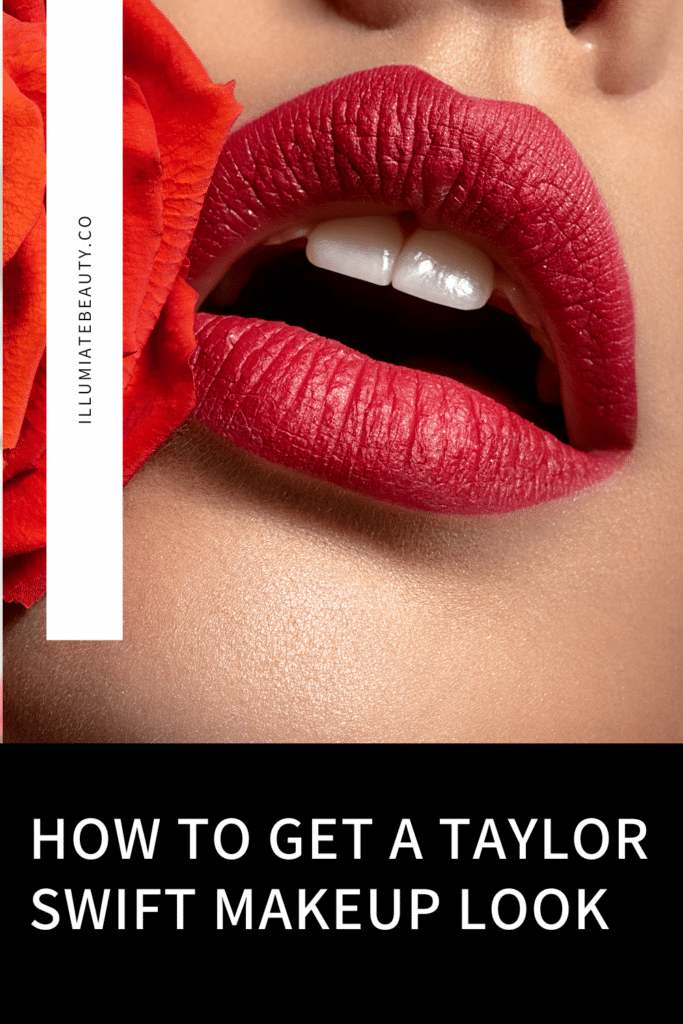 *This post contains affiliate links. If you choose to purchase an item featured in this post, I get a small portion from the sale. Thank you! It does not affect you at all.