Have you ever wondered is Seint makeup worth it? As a Seint Artist, I have thousands of customers! I asked one of my valued customers, Carol, to give an honest review of the makeup so you can hear from her experience. Here is her honest Seint customer review….
How long have you been using Seint makeup?
I've been using Seint makeup for over 3 ½ years. One of my friends told me about this line of makeup that she really liked. She said it didn't make her skin feel all heavy like it was caked with foundation. So I looked it up and JoEllen was the first one to reach out to me. I've been with her ever since.
What do you like about Seint makeup?
One of my favorite things about Seint is that I can customize my own eyeshadow palette. So many times I would go to a cosmetic counter and I would see some palettes that I like but then there would be 2 or 3 in the palette set that I didn't care for and so they were never used, which seemed like a waste of money to me. I love the fact that I can pick and choose the colors that I want and change them out with the seasons.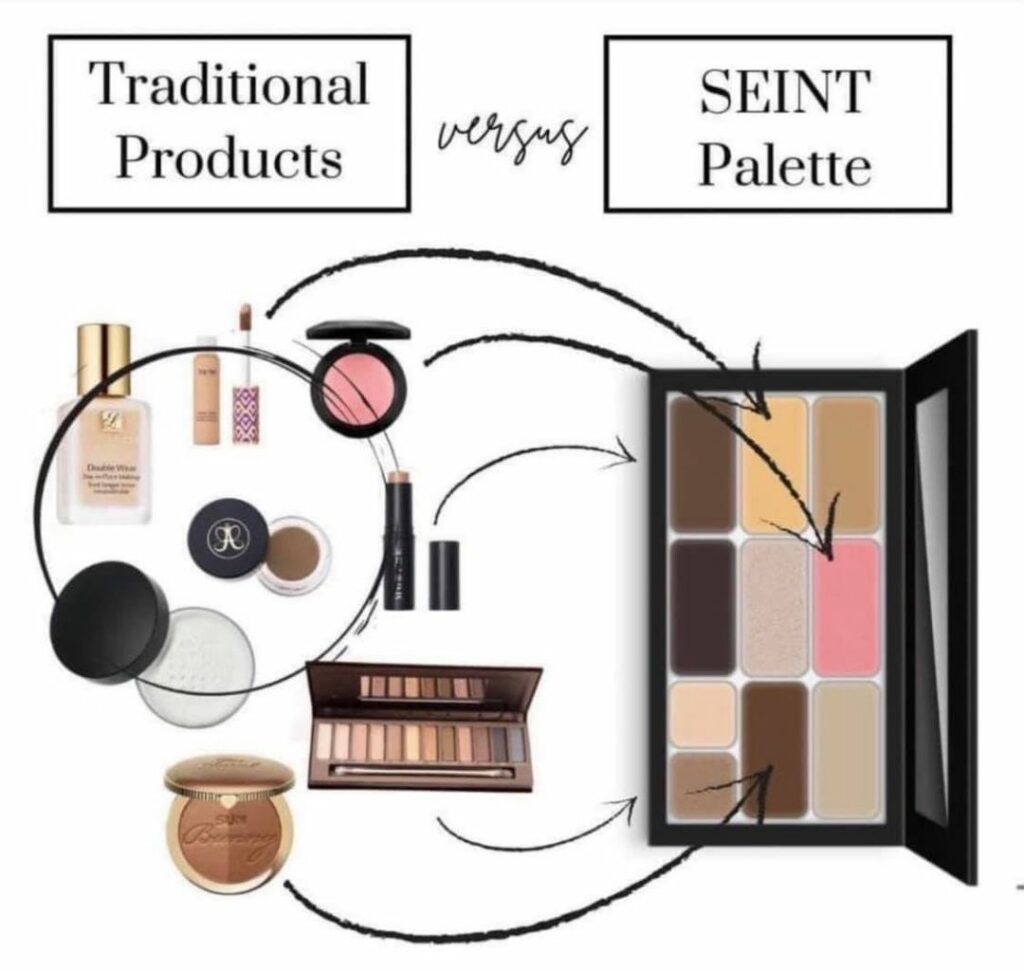 How does Seint compare to other makeup brands you have tried?
In comparing Seint makeup with other brands that I have used in the past, it certainly is a whole lot more convenient. Before, I would have my makeup bag which would be a jumbled up mess. I would be searching around for blushes, my foundations, eyeshadows, pencils and what have you. But now I have this compact and it is so much easier to travel. I just throw it in my bag and I am ready to go!

What's been your experience working with a Seint Artist?
Working with your own Seint Artist is definitely a must! First of all, just getting color matched with a highlight is not that easy if you're going to try to do it by yourself. But JoEllen knows exactly what she's doing and she color matched me spot on and helped me pick out the eyeshadows and blushes that I would need to look best on me. She's great!
Do you think Seint makeup is worth it?
Is Seint worth the price? I sure do think so. Initially I had a little bit of sticker shock when I was looking at everything that I wanted to get, but I just started off small palette with a highlight, blush, contour, and illuminator and probably a couple of brushes. And over the years I have added a little bit at a time and now I have this huge compact. And when I have to travel I have to pair it down to my smaller compact and that's hard to do because I like all the colors! But at any rate, it definitely makes getting through TSA a whole lot easier. I just love the product, obviously because I've been using it for 3 ½ years!
Seint 30 Day Guarantee
So, after reading and watching Carol's review, is Seint makeup worth it? It's worth a try! Seint has a 30-day guarantee. You can return or exchange any products within 30 days if you don't like it, you just have to pay a small return shipping fee.
How to Get Color Match with Seint Makeup
If Carol's review has peeked your interest, how can you get color matched for Seint makeup? Here are a 4 few ways you can choose from:
You can take the quiz, you can take the survey, or you can send me a selfie.
Seint Color Match Quiz
If you want to try the makeup and would rather just quickly figure out what colors would work well for you without the hassle of seeing a Seint Artist in person, contacting a Seint Artist and emailing them back and forth, or feeling self-conscious of sending a selfie to a stranger, then the Seint Color Match Quiz is perfect for you!
The Seint Color Match Quiz is designed to be an in and out experience to help you figure out what colors will suit you. It's a quick and easy process! Follow the step by step process to get started!
Seint Color Match Guide
If you want to make your own judgement on what colors will look best on you, then browse the Seint Color Match Guide. It will show you women with different skin tones to help you determine what highlight, contour, lip + cheek, and illuminator shades will look great on you. 
Seint Makeup Survey
If you want a more personalized makeup recommendation, then you can take my makeup survey. This will help me know what your makeup needs and preferences are so I can give you my most accurate recommendations. Consider me like your beauty bestie in your back pocket! You can email me with any beauty questions and I will guide you to what will look best on you!
In the makeup survey, I ask you some questions to get to know what your needs and preferences are. I don't want to sell you things that you don't need! I want to help you get set up with the perfect colors and products that will be great for what you'll use daily.
So, what are you waiting for?? Give Seint cream makeup a try!
Prebuilt Seint Collections
The quickest and easiest way to know what your Seint makeup colors are is to head over to the prebuilt Seint collections. You can choose between the No. 4 Collection, No. 8 Collection, or No. 12 Collection. (The No. 12 Collection is definitely the best deal!) Once you decide which collection fits your needs and preferences best, follow these steps:
Click on the collection you want
Click on "Find Your Shades"
Scroll through the images of the women and click "Select" on the group that most matches your skin coloring.
Click on "Add to Bag"
Click on the bag
Click on "Check Out"
Finish the check out process
Read more Seint makeup reviews before you take the plunge! But, as you can see, women LOVE it!!
Here are other blogposts you might enjoy:
How to Recreate the Viral Latte Makeup Look
Unleash Your Creativity with a Custom Eyeshadow Palette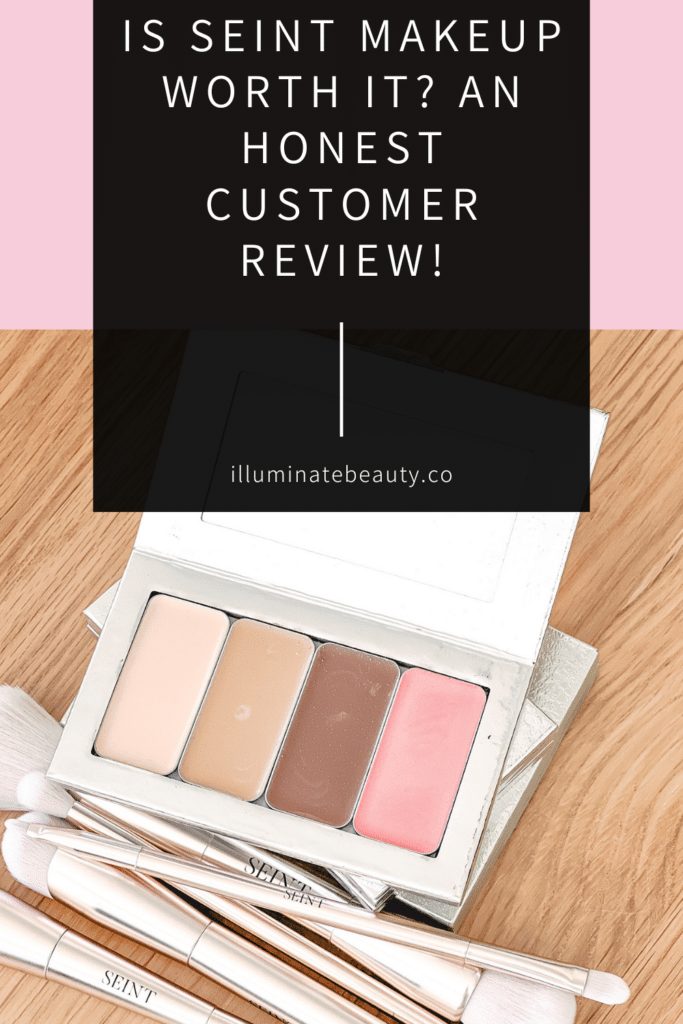 About the Author
JoEllen is a licensed aesthetician, certified makeup artist, and certified John Maxwell coach, speaker, and trainer. She works with women helping them look and feel confident. She loves teaching women simple beauty techniques so they can feel empowered to try it at home. Her motto is that when you look and feel good, you do good!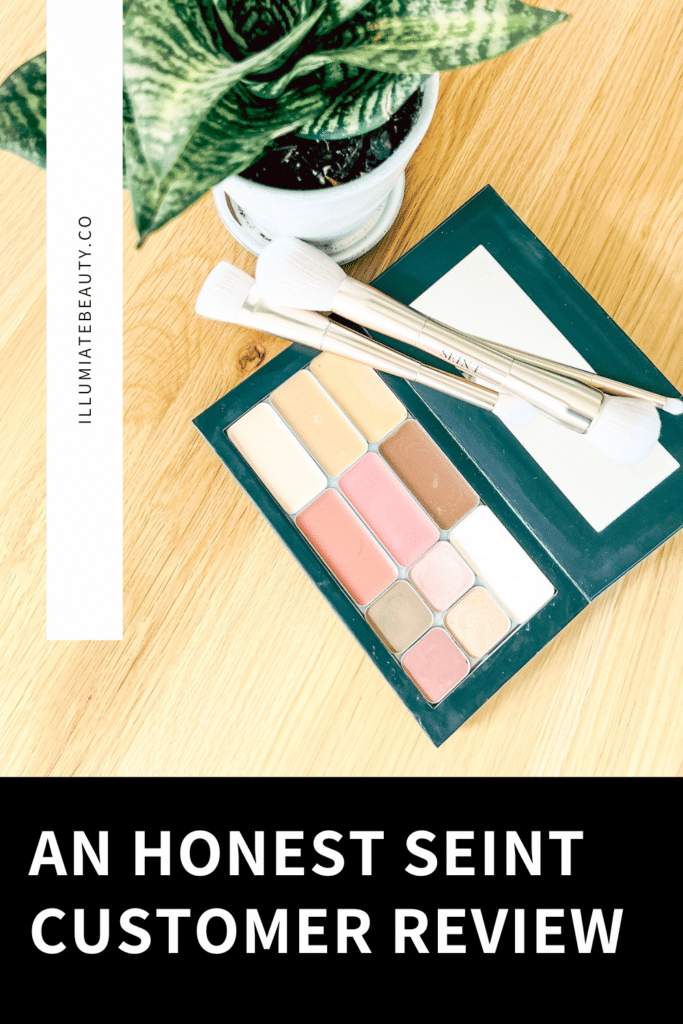 *This post contains affiliate links. If you choose to purchase an item featured in this post, I get a small portion from the sale. Thank you! It does not affect you at all.