Last year I hosted my first Favorite Things Party and it was such a hit that I am now making it an annual tradition! Keep scrolling to see what one it is, how to throw your own, and what some of our favorite things are!
What is a Favorite Things Party?
A Favorite Things Party is a gathering of people to share their favorite things with each other! It can be a simple get together or a full on shindig. It's totally up to the host/hostess. Everyone brings one of their favorite items to share. And everyone leaves the party with someone else's favorite thing.
What's the Purpose of a Favorite Things Party?
Every hostess has her own reasons for throwing a Favorite Things Party. For me, I did it for 4 reasons:
I wanted to gather as women and connect.
To come together and share something we love with each other.
To leave with a list of great ideas to gift our friends, family, co-workers, and neighbors! Coming up with gift ideas is tough, so this will make it easier on everyone having a list of cool things to gift!
I wanted to help these women feel special.
How I Hosted My Favorite Things Party
There are different ways that you can host a Favorite Things Party. The way I organized my party was I asked everyone to bring a wrapped gift priced around $25. When everyone arrived, each person drew a number. The person that drew number 1, chose a wrapped gift first. And we continued until everyone opened a gift. At the end, everyone had someone else's favorite thing and got to leave the party with it!
As someone was opening a gift, the person that brought that gift shared why it's their favorite thing. It was fun to see what everyone cherishes and makes their life enjoyable =) We all took notes of each item so we could buy it if we wanted to try it too.
I had an extra little surprise though! I wanted this to be memorable and I wanted these kind women to be spoiled. So I worked with a few of my favorite brands and each person got an extra gift to take home! My favorite brands are:
Party Details
Here are some of the party details that went into having a successful evening:
Food- I learned from the last party that I hosted that women don't like to eat much! So I kept it even simpler this year. I made some of my favorite recipes to share (sweet & salty almonds, English toffee, cookies, cheeseball and crackers, and cuties). I served everything on white dishes so it looked cohesive.
Drink- I made this yummy autumn harvest punch. It's pretty and it's delicious! I served it in a large jar and used a ladle to scoop.
Ambiance- I had Christmas music playing in the background, a fire burning on my tv, and a diffuser running with White Fir essential oil as the scent.
Decor- I set up my Christmas tree with gold ornaments. I also wrapped all the extra gifts with white and gold wrapping paper and ribbons. Tying everything together with a color scheme is an easy way to have everything look polished!
List- I created a simple list on Canva.com to help everyone take notes of all the favorite things being shared. I wanted to make it easy for everyone to remember the gifts so they can buy anything that interested them. I had a jar of pens so nobody had to rummage through their purse for an old pen!
My Favorite Recipes
It's not a good party without good food! I made some of my favorite treat recipes to share!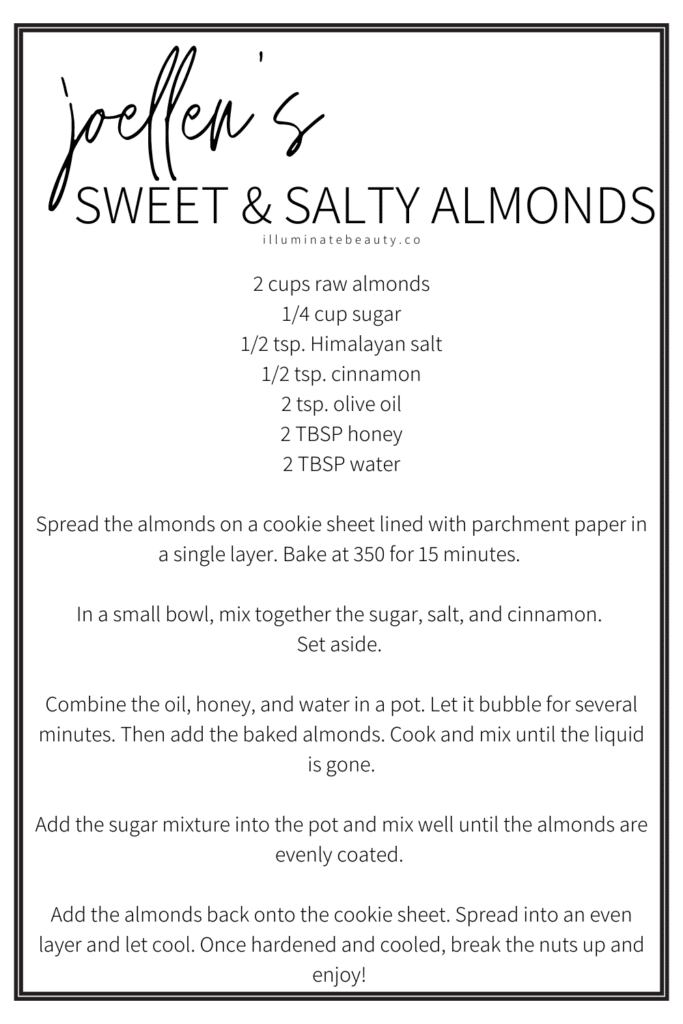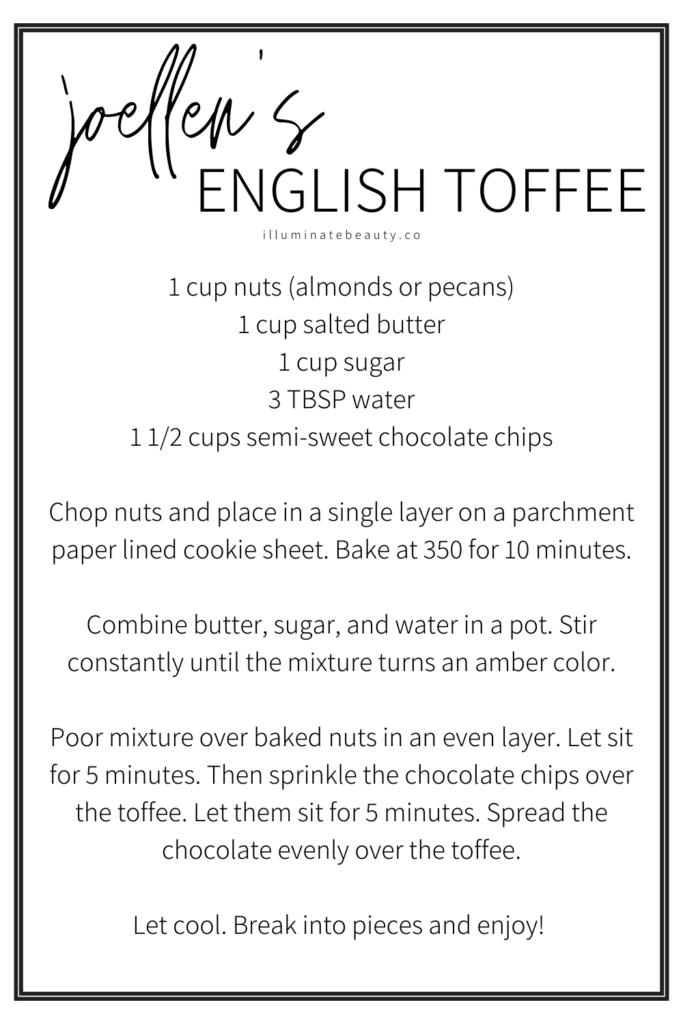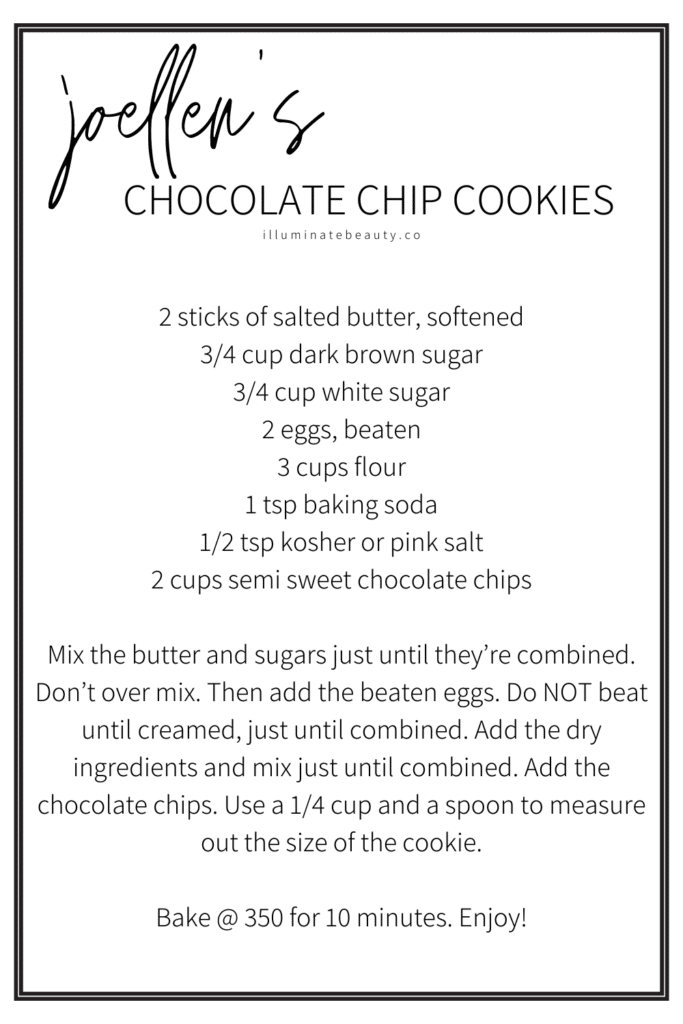 My Favorite Things
I wanted my friends to feel extra special, so not only did I share just one of my favorite things, but I also had a gift for everyone to take home. There was a wrapped gift under the Christmas tree for everyone to open, along with a goodie bag with a few smaller items. Some of my favorite brands donated items to share and everyone loved them! Here's what I shared: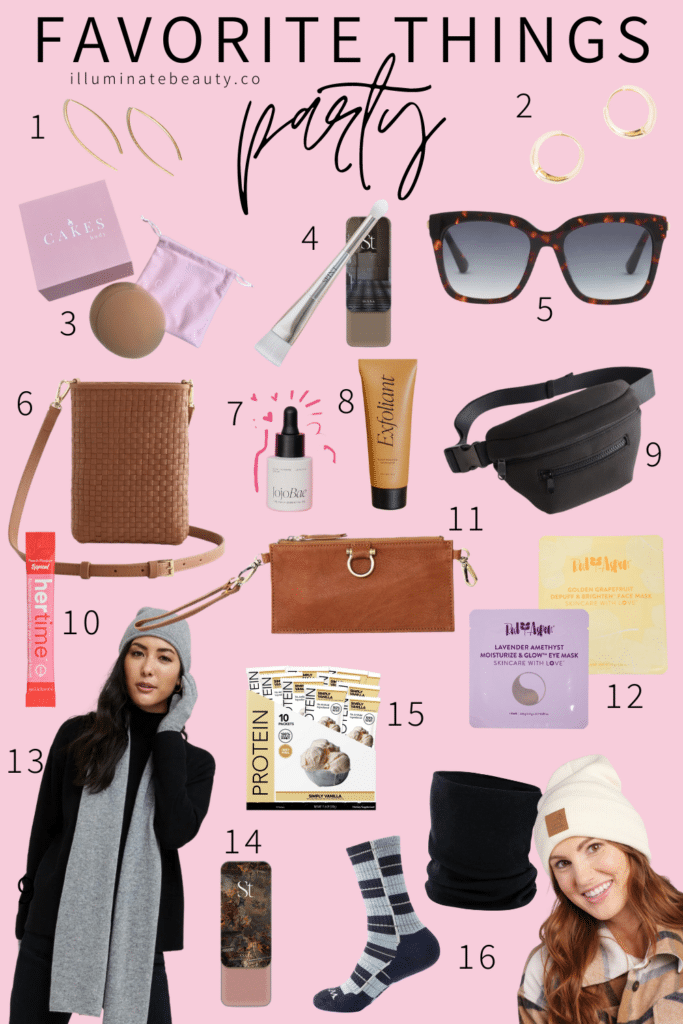 1. Gold Earrings (save 40% with this discount code: JOELLENHOLIDAY40)
2. Hey June Earrings (My favorite earrings & bracelets that can be worn sleeping, showering, and swimming!) (Save 15% with this code: JOELLEN)
3. Cakes Body Nipple Covers (Save 10% with this discount code: JOELLENWOODS)
4. Contour & Contour Brush (Every woman needs contour in their life! Read about contour tips & tricks!)
5. Luca Polarized Acetate Sunglasses
6. Italian Leather Handwoven Phone Crossbody
7. The Daily Essential Co JojoBae Serum (Save 10% with this discount code: TDEJOELLEN)
8. Exfoliant (my ABSOLUTE favorite skincare product! Helps your skin feel and look so smooth!) (Save 10% with this discount code: TDEJOELLEN)
10. Mixhers (Save 15% with this discount code: JoEllenW15)(11/13-11/28, use this code for 30% off: Joellen30)
11. Parker Deluxe Wristlet (Save 20% with this discount code: JOELLEN20)
12. Red Aspen Lip Mask, Eye Mask, Forehead Mask, Face Mask, ManiPrep Mask, and PediPrep Mask
15. Clean Simple Eats Protein Powder (Save 10% with this code: SQUAD10)
16. Beanie, socks, and neck gaiter from WoolX (Save 10% with this discount code: JOELLEN10)
My Friend's Favorite Things
Here is a list of all the things my friends brought to share!
Measuring Cups, Measuring Spoons, and Magnolia Table Cookbook
Vitamin C Serum
Isabella M Sterling Silver Cubic Zirconia Earrings
Magnetic Measuring Cups & Spoons
Mini Silicon Spatulas, Rolling Pin, Parchment Paper
And a friend shared one of her favorite bread recipes: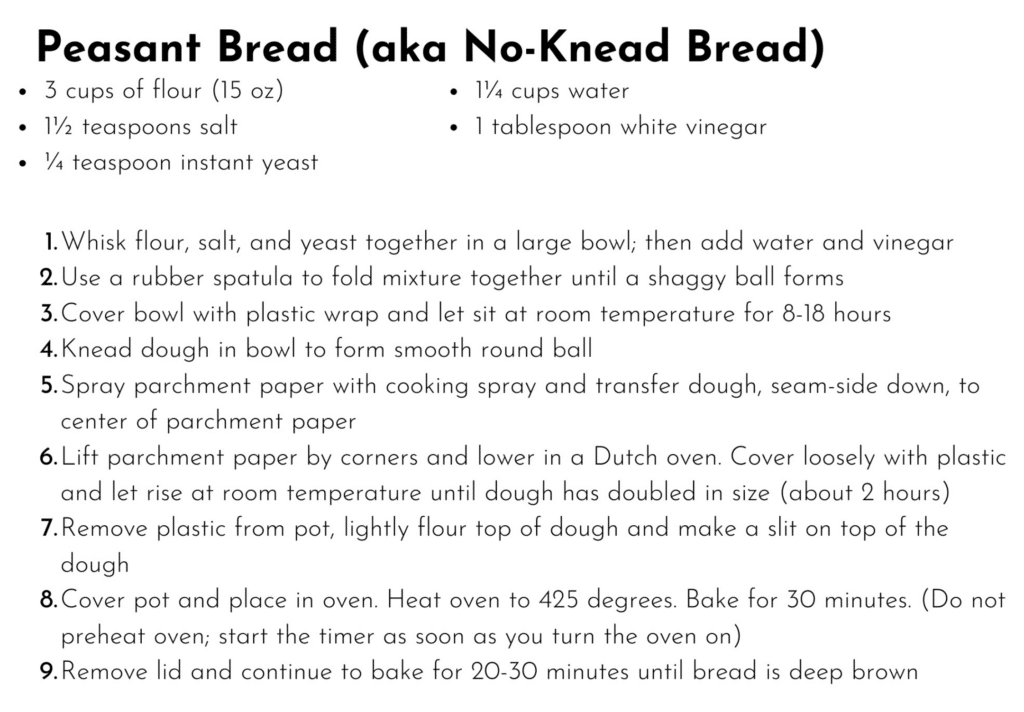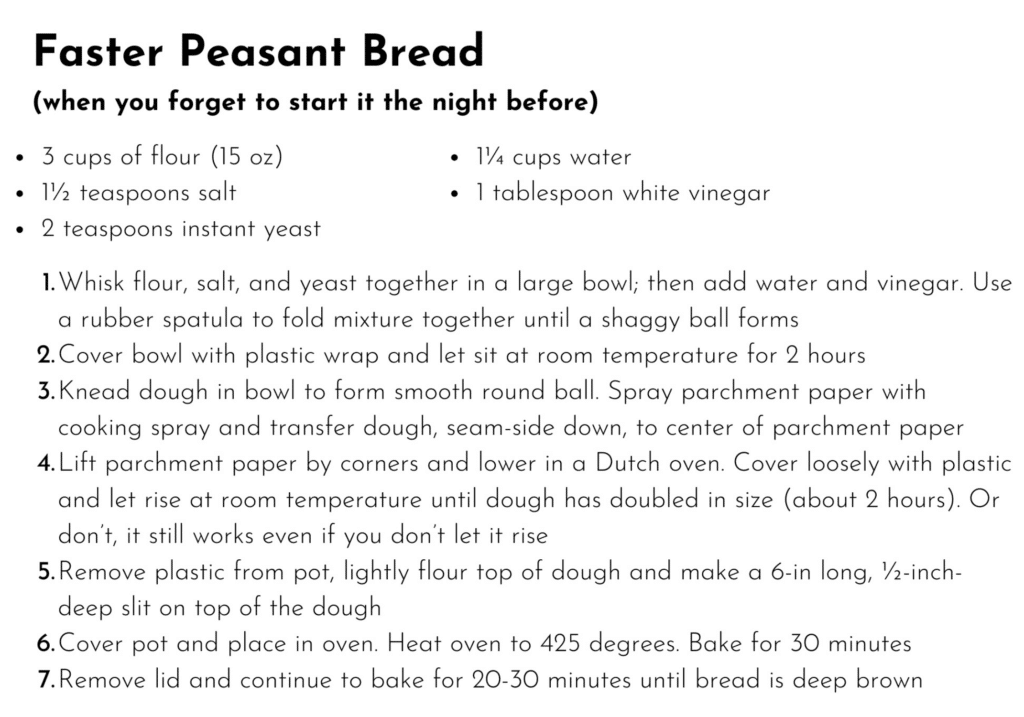 My Favorite Things Under $30
It was really hard for me to choose a favorite thing to share for my party! Here are some of my other favorite things under $30 that make great gifts! And, it will give you ideas if you get invited to a Favorite Things Party! These are all things I own and absolutely love!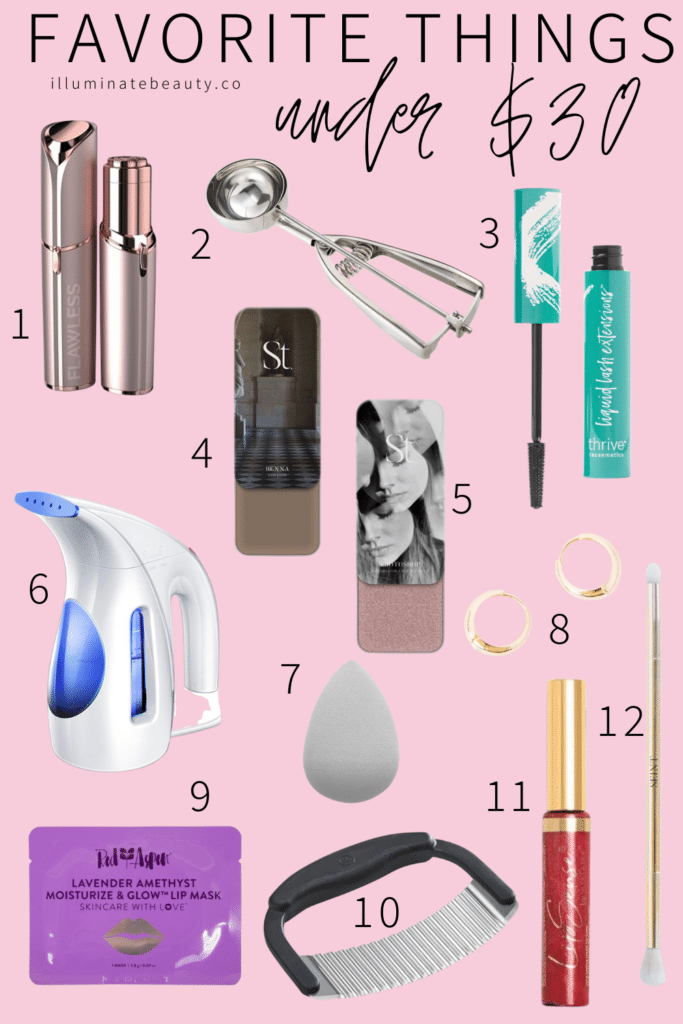 Favorite Things Under $50
If you're giving a gift at a little higher price point, here are some of my favorite things that are under $50! They make great gifts for any gal or for yourself 😉 These are all things I own and absolutely love!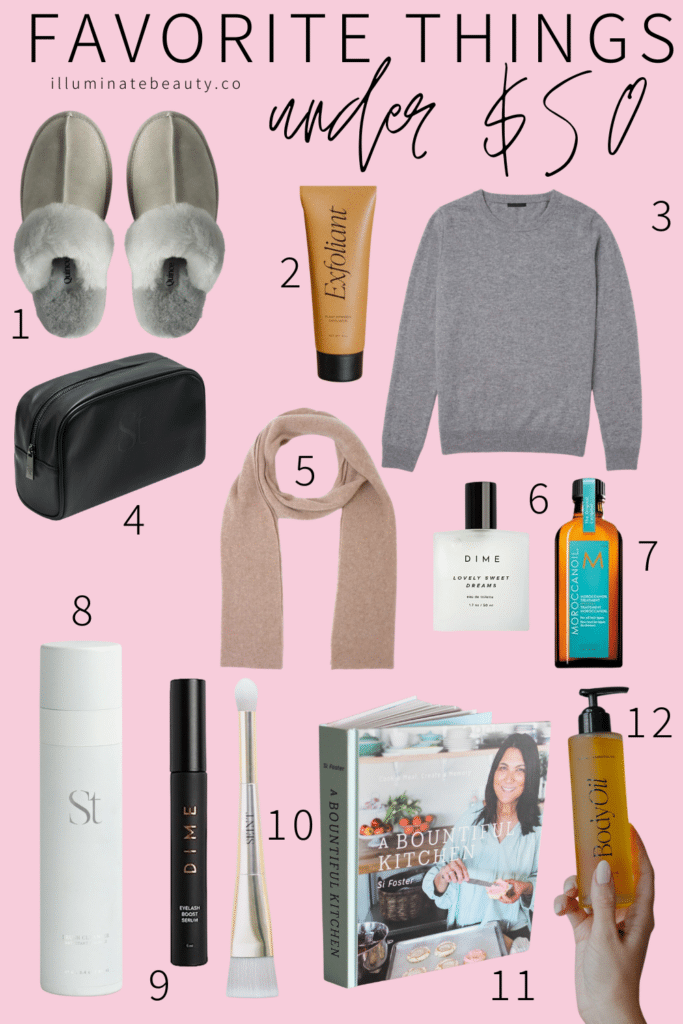 And that's a wrap! This night is always so fun and something we all look forward to every year! A big thanks to my favorite brands and to my friends for sharing what they love! Check out our favorite things from 2022!

If you need more gift ideas, check out these gift guides:

About the Author
JoEllen is a licensed aesthetician, certified makeup artist, and certified John Maxwell coach, speaker, and trainer. She works with women helping them look and feel confident. She loves teaching women simple beauty techniques so they can feel empowered to try it at home. Her motto is that when you look and feel good, you do good!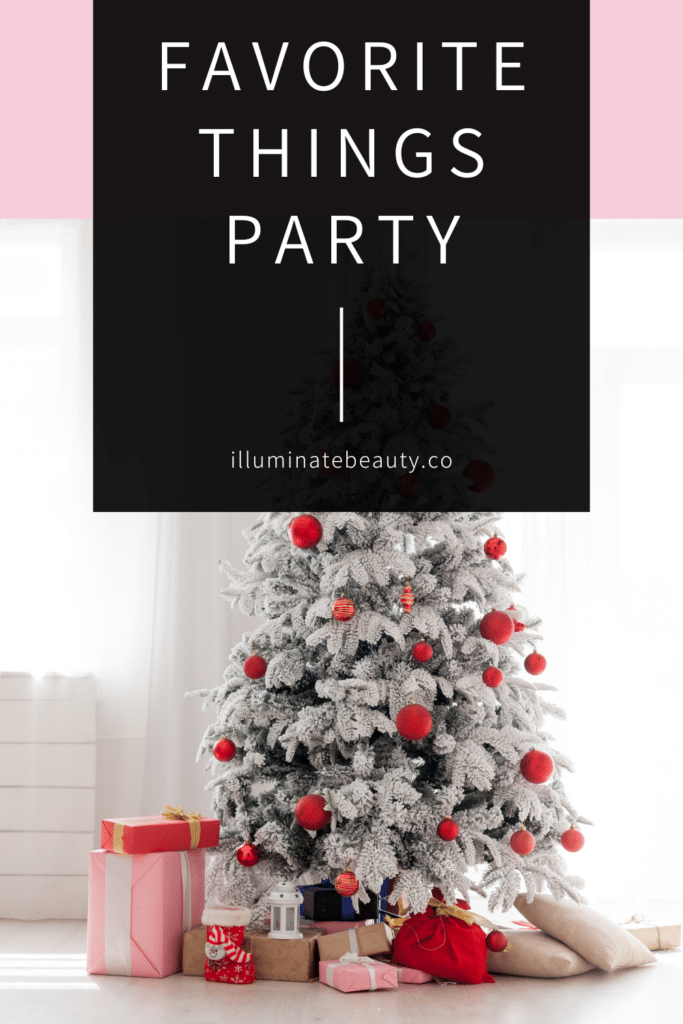 *This post contains affiliate links. If you choose to purchase an item featured in this post, I get a small portion from the sale. Thank you! It does not affect you at all.